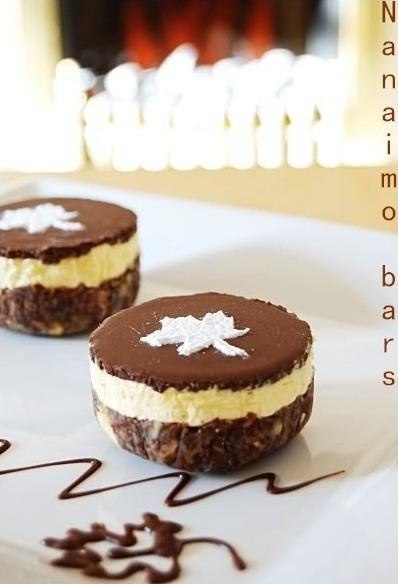 Ingredients:
200 grams of butter
50 grams of sugar
5 tablespoons cocoa powder
1 egg (lightly beaten)
1 tsp vanillin
200 grams of crumbled sweet biscuits
1 cup coconut
½ cup walnuts
50 ml. milk
2 cups powdered sugar
2 tablespoons vanilla sugar
½ tsp vanillin
115 grams of dark chocolate
Preparation:
1. 100 grams of butter in a saucepan melt. Add the sugar and cocoa and mix until smooth. Stir in the egg and vanilla, remove from heat.
2. Add the crumbled biscuits, coconut, nuts, and well mixed.
3. Put the mass in a greased with butter square and compressed. The shape should not be wide. Place in refrigerator for 20 minutes.
4. 70g softened butter beat with a mixer until creamy. Add the vanilla sugar, vanilla and milk. Continuing to whisk, gradually add powdered sugar. If the mixture is too thick will then add a few tablespoons of milk. Pour the mixture over the base and send in the refrigerator until this layer thickens.
5. Pieces of chocolate and melt the remaining butter in a pan and cool slightly. Pour the chocolate in the shape of the third layer and put in the refrigerator, but only up until the chocolate begins to harden.
6. Continue to make a knife "markup", ie mark the future cuts. Before the upper layer of hardened, cut into pieces dessert. Serve chilled dessert.