Surely in any refrigerator. stored for the winter a couple of kilos of berries: cherry, strawberry, raspberry, currant... Traditional compotes, jelly and tea with raspberry in winter days — it is certainly tasty and very useful. But frozen berries can become a highlight of the most original and unusual desserts!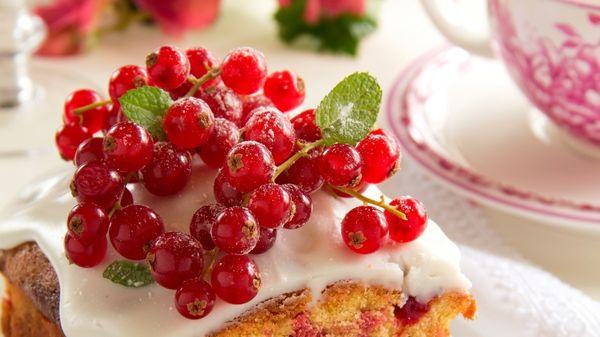 Vegetable pie with frozen cherries
Vegetable pastries useful and always relevant — not necessarily as an attribute of the lean days and months. And a pie with frozen cherries — one of those gourmet delicacies that will appeal to everyone. To prepare it, you don't even need the extra time to go to the store: this set of products is usually located in the kitchen of every housewife.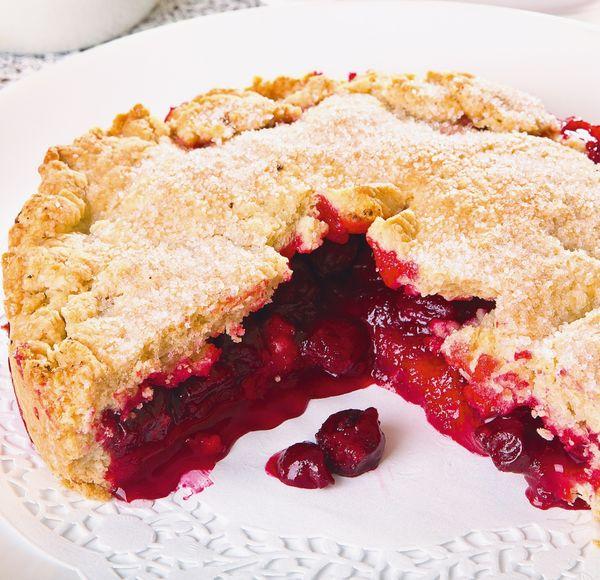 The recipe is from the magazine "Dobrye sovety" ID "Burda".  
You need To test:
Flour — 350 g
Sugar — 2 tbsp.
Vegetable oil — 5 tbsp
Vanilla sugar — 1 sachet
Soda — at the tip of a knife
Salt — pinch
Water ice 6 tablespoons
For the filling:
Frozen cherry without stones — 250 g
Sugar — 5 tbsp
Potato starch — 1 tbsp
How to cook Sift the flour slide, make a deepening in the middle and pour soda, sugar and salt. Mix well. Add oil and water. Knead the dough, wrap it in foil and send in the cold for half an hour.
Then roll the dough in 2 layers. The first spread in a greased form, making bumpers. Thawed cherries and mix with sugar and starch and place on the dough sheet. The second sheet to cover the expansion of the cherry, edge stung.
Use a fork to pierce the pie in the middle in several places, brush the top with vegetable oil and sprinkle with a little sugar. Bake in the oven at a temperature of +180°C for 35 minutes.
The whole process of cooking is 1 hour and 10 minutes, and the specified number of products is enough for a pie for a family of five.  
Lazy cheesecake
This dessert will appreciate both adults and children: it looks attractive and bright, but also — at summer fragrant, delicious and hearty. The preparation of cheesecake will not take much time. Moreover, its layer-by-layer unfolding the cups is quite possible to bring the baby — that's a double benefit)
You will need
Cookie (any) — 9 PCs
Raspberries frozen — 150 g
Corn starch — 2 tbsp.
Sugar — 30 g
Cottage cheese soft cheese (Philadelphia, Almette) — 300 g
Cream 30% — 100 g
Cold water — 250 ml
How to cook Biscuits crushed (can use a blender). Frozen berries in a saucepan (cooking pot) gently warm on low heat. The extracted juice to drain, add half the water, then the starch and carefully mix everything.
To the berries add the remaining water, add sugar and again put on fire. When the mixture is well warmed up, a thin stream pour in the juice with the starch, constantly stirring. The finished pudding to cool.
Beat cream cheese, gradually adding cream — get the cream cheese.
At the bottom of the glasses put crushed cookies. Top — layer cream cheese on it — raspberry jelly. Repeat the procedure: put alternately a layer of cookies, cream cheese and berry jelly. Garnish with mint leaves, berries, cream and a lazy cheesecake is ready!  
Strawberry ice cream cake
This cake is, without a doubt, will decorate the Sunday family table and will be long remembered by the children. It does not require expensive and scarce products, and harvested berries in the summer you will find very good use!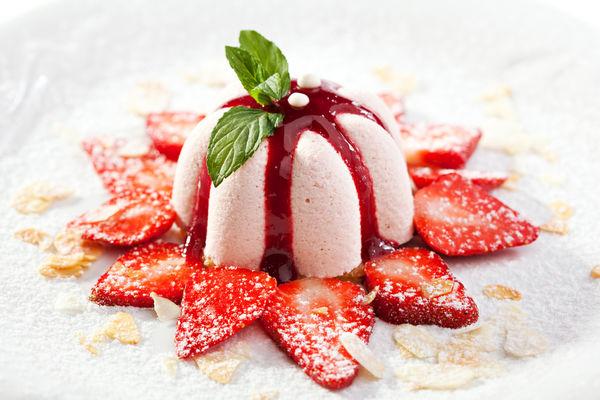 You will need
Frozen strawberries — 500 g
Cream 35-38% fat — 400ml
The yolks of eggs — 4 pieces
Powdered sugar — 175 g
Jam, syrup or jam for decoration
How to cook the strawberries, without waiting for the thawing, add 100 g icing sugar; grind in a blender (should be mashed). Whip the egg yolks with 75 g of powdered sugar on a water bath until they become thick and white. Allow to cool, stirring continuously. Cream beat well, add the egg yolks and approximately 4/5 strawberry puree.
The form you selected to make a film. Half berry-creamy mass pour in the form and send in the refrigerator for 30-35 minutes. Then in the middle put the remaining strawberry puree and pour him the second half of berries and butter cream.
Ready to put the cake in the fridge for 5-6 hours, then you can shift it on a dish and decorate with jam, jam or syrup (or those of the opposite sex).  
Smoothies with frozen berries
Funny name belongs to a dense cocktail of berries, fruits or vegetables combined with milk or yogurt, juice or eggs and many other products. The invention is us, caught us a good idea, but today, not all Housewives know about it.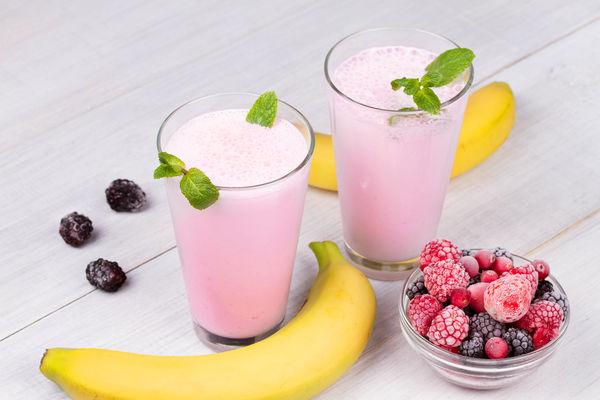 Short "characteristics of employment" smoothie:
it is healthier than juices, and fresh, because includes live fiber vegetables or fruits.
gives the imagination: they can make smoothies different, not like yesterday.
requires quite a bit of time to cook: took the berries, removed from fruit pits/seeds, has launched all ingredients in a blender and you're done.
Try it, you'll like it! Cook one minute, and the pleasure and benefit you will get many.  
You will need
Banana — 1 piece
Frozen raspberries — 50 g
Frozen blueberries — 50 g
Milk (yogurt, kefir, water) — 100 g
How to prepare peel and cut banana slices. In a blender put a banana, berries, add yogurt (or milk, yogurt or water). To include a blender)) ready! You can pour into glasses and garnish with mint leaves or slices of the same banana.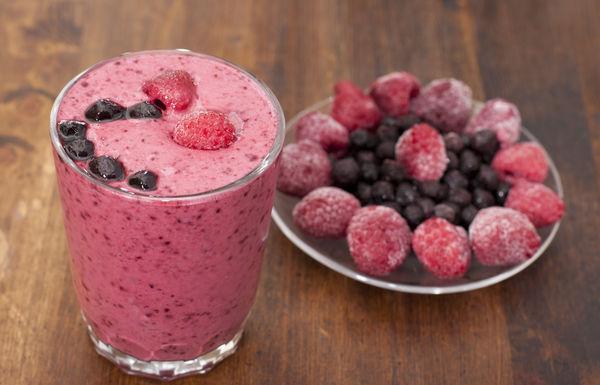 A few tips
The basis of the smoothie is very beneficial to take a banana, especially a little overripe. The banana will give the smoothie a pleasant softness, density and elasticity, besides it is sweet and rich
Smoothies based on milk or water will not be sweet. If you like sweet drinks, add immediately to the blender the sugar or honey according to your taste.
If you want the smoothie was filling, add a handful of nuts, seeds or bran that you love.
Instead of dairy products is quite possible to use the juices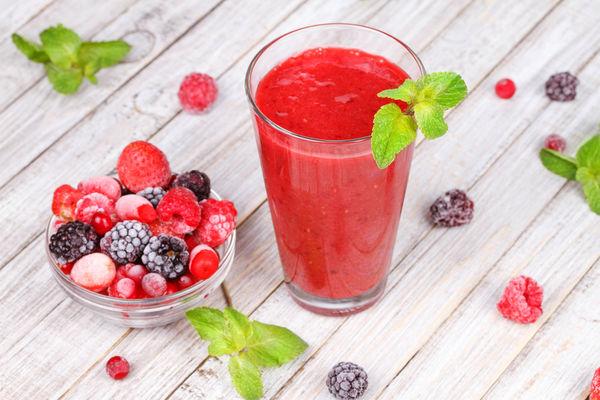 Yes, you will ask what is different from smoothie simple fruit smoothie? Only texture: this drink is it is thicker))  
Popsicles
I Think our people are not eating ice cream in winter? As it is not so! And eating ice cream, and snow, and icicles... if in doubt, ask the children) a Great alternative to icicles in your family can be a cold, but much more delicious dish of ice cream from the berries. Also frozen, among other things.  
Option 1: sorbet (sorbet)
Sorbet is a frozen dessert made from fruit puree, juice or syrup. As a rule, it does not add dairy products (cream, milk or cream).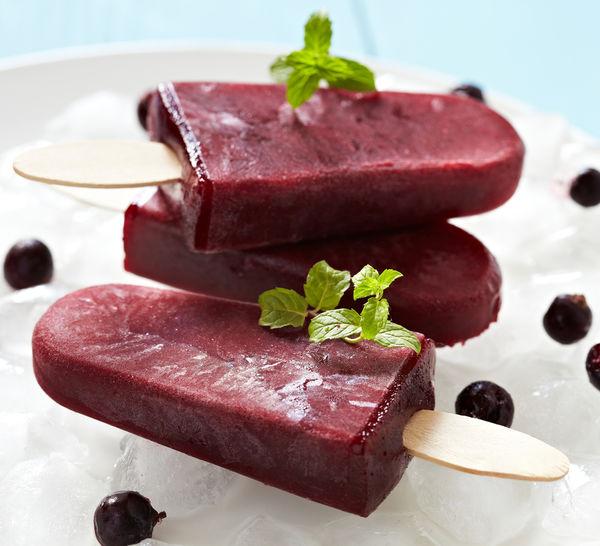 You will need
Frozen berries (raspberries, currants, strawberries... any) — 300 g
Sugar — 50 g
Lemon juice — 1 tbsp
Water — 30 ml
How to cook In a blender to lay the berries, sugar, lemon juice and water. Mix well. Ready weight pour into the special flat molds or plastic disposable cups. In the middle of the mass to stick a wooden stick and fix with foil or heavy paper with a slot. Send in the freezer for 2-3 hours.  
Option 2: ice cream five minutes
But in this dessert, we'll add the milk cream and get quite another... well, ice cream and other calories, of course)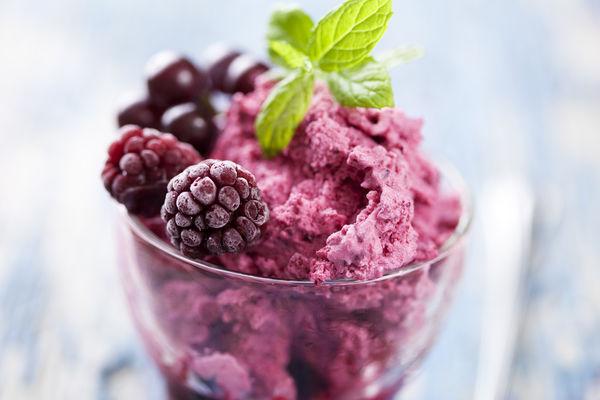 You will need
Cream with maximum fat content (35%) — 150 ml
Frozen berries (raspberries, blueberries, currants, strawberries, together) — 300 g
Sugar — 100 g
The specified number of products makes 4 servings  
How to cook Frozen berries put in blender, add sugar. Grind on small revs, then gradually pour the cream. When the product is homogeneous, ice cream is ready.
Dessert is ready to eat immediately, it can immediately serve. And you can send in the freezer where the ice cream perfectly preserved for 5-7 days.  
Tiramisu with frozen berries
This layered dessert of Italian origin have long loved by our sweet lovers. Like all popular dishes, tiramisu gradually gaining new features, enriched by the unusual and original supplements. Today we present a recipe based on unchanged mascarpone cheese, cookies Savoiardi, coffee and sugar.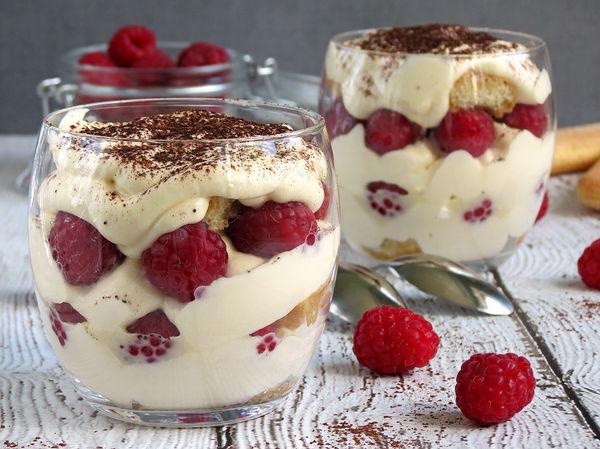 You will need
Frozen berries (cherries, raspberries, strawberries...) – 0.5 cups
Cheese curd Mascarpone – 150 g
Cream 35% fat – 100 ml
Cookies Savoiardi – 10-12 PCs
Chocolate – 30 g
Powdered sugar – 2-3 tbsp
Vanilla sugar – 0,3 tsp.
Coffee (natural or instant) – 100 ml
How to cook Cream and Mascarpone cheese, mix thoroughly in a homogeneous mass, add the vanilla sugar. The cream can be pre-beat (but not beat). Add the powdered sugar (to your taste — to the resulting cream was not too sweet).
Cook a strong coffee with sugar (any soluble natural or to your preference). If natural, then drain. If tiramisu is prepared for adults, you can add coffee 1-2 tbsp coffee liqueur. The berries thawed, juice maximally pumped.
In the prepared glasses (wine glasses, bowl, glass or crystal bowls) on the bottom spread a layer of Mascarpone cream with cream. Cookies Savoiardi (whole or crushed to pieces — depending on your idea and sizes of dishes) quickly dip one side into coffee and immediately put on the first layer of the creamy cream cheese. The cookies spread wrung from the juice of the berries.
Later in the same sequence, again alternating cream and cottage cheese cream, biscuits and berries. At the top layer of cream. The dessert is ready to send out for an hour or two in the fridge. Before serving, decorate the dessert using crushed chocolate or cocoa powder, cocktail cherries, mint leaves.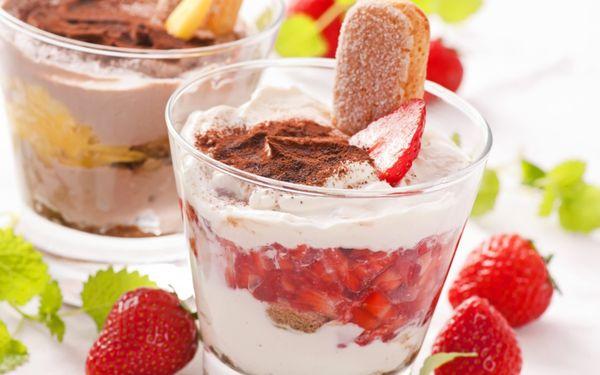 A little more about tiramisu
Instead of frozen cherries for dessert cooking you can successfully use raspberries, strawberries or wild berries.
Berry tiramisu can be placed and not the whole, and in the form of puree, whisking them in a blender.
Instead of Savoiardi biscuits you can bake a classic sponge cake.
Form of tiramisu is different. And this dessert is not necessarily prepared in batches — huge popular cakes tiramisu.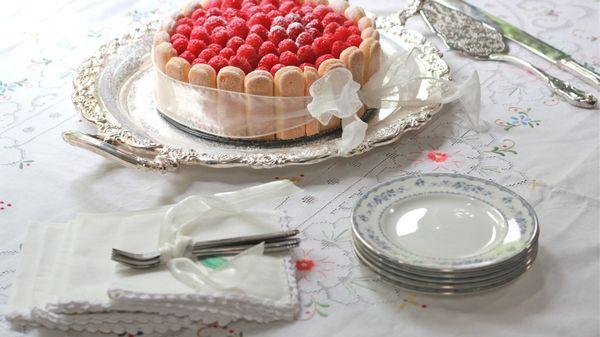 Mousse frozen berries
Mousse — interesting dessert, the highlight of which is original and a bit unusual foamy consistency. It is prepared quickly and is also a bit unusual for fruit dishes. Let's just say it's funny air of berries and semolina))
A fruit mousse is very pleasant to children. And even those kids who don't like porridge from this "monkey" certainly will not refuse.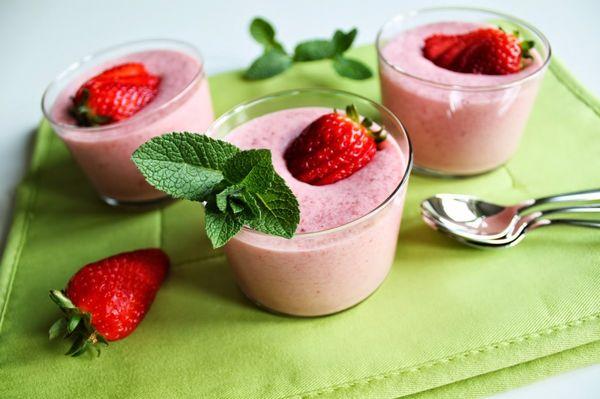 You will need
Berries, frozen (any) — 1 Cup
Semolina — 2 - 2.5 tbsp
Sugar — 4 tbsp.
Water — 0.5 l
For decoration — cream, candied mint leaves
How to cook the Berries to defrost. The extracted juice to drain (they will be ready to pour the mousse). The remaining berries and blend it into a puree, pour hot water, pour a thin stream while stirring the semolina, bring to a boil and cook for 7 - 8 minutes. Fruit in the finished porridge add the berry juice and cooling.
The cooled mass beat until thick foamy state (it will increase in volume by about half). Pour finished mousse into the prepared bowl, cups or glasses and refrigerate for an hour. Before serving, decorate the dessert with whipped cream, berries, mint leaves, candied fruit.
And finally — videorecipe delicious pie with frozen red currants from Alina Kolomoets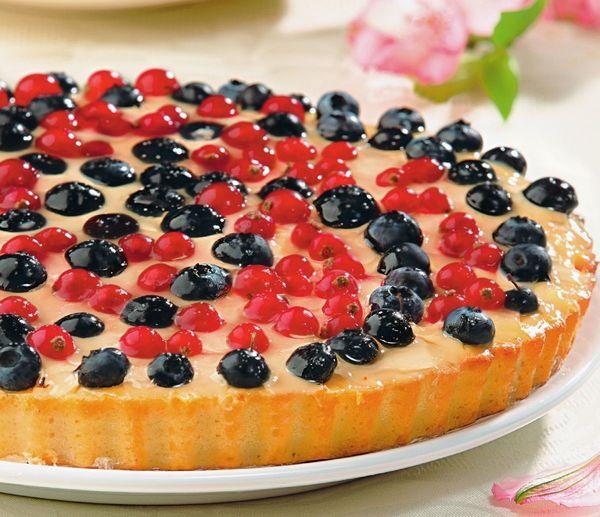 The snow, white and cold. And it's time to dilute white paint winter bright droplets of berries, which honestly was waiting in the freezing darkness of refrigerators. A small handful of raspberries or strawberries, scattered on the surface of the curd, decorate the melancholy morning, awakening memories of the Sunny days of the past summer. A new use for frozen vitamins will certainly tell you to your imagination... and our tips)
We will be very happy if you share with us your discoveries, interesting recipes and unusual ideas desserts from frozen fruit.
Source: www.7dach.ru