Let the summer is already far behind but the true gardeners stocked up in time for his gifts. Get frozen berries and jam: let's bake pies!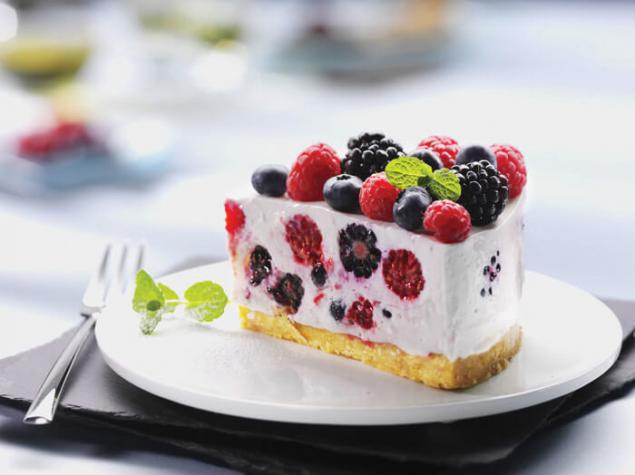 Besides, today there is a great reason to have a family tea party and congratulate your favorite mom. With a holiday! Let your house is always toasty warm and Sunny!
Cherry pie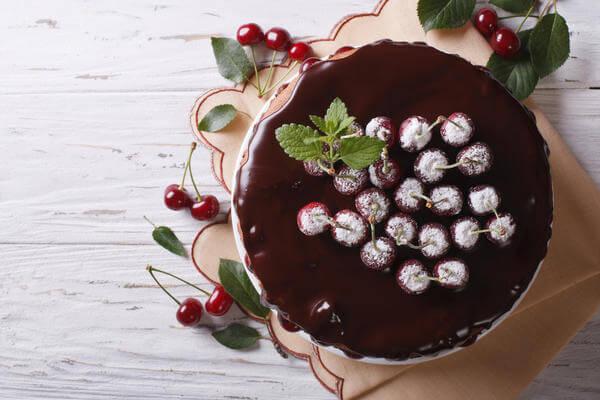 You will need:
500 g cherries, pitted
400 g of butter
300 g granulated sugar
1 sachet of vanilla sugar
1 pinch of salt
5 eggs
300 g flour
1 sachet of baking powder
2 table. a spoon of cocoa powder
320 ml milk
1 package dry vanilla pudding
150 g dark chocolate
Preparation:
preheat the Oven to 180 °C. 200 grams of butter whisk together 200 g sugar, vanilla sugar and salt to obtain a mass of uniform consistency. One by one, beat the eggs, each carefully vymeshivaem. Sift flour with baking powder, combine with egg-oil mass and knead the dough. Half of the dough place on greased any grease baking sheet. In the remaining dough add cocoa powder and 20 ml of milk. Put it on the light dough and mix lightly. Lay the prepared cherries, place in oven and bake for 25 min. For the cream cook the pudding, adding milk and remaining sugar. Allow to cool and connect with 200 grams of softened butter. The cooled cake cover with cream and refrigerate for 30 min. Chocolate melt in a water bath, cover them with cake and allow the glaze to harden.
Cake with blueberries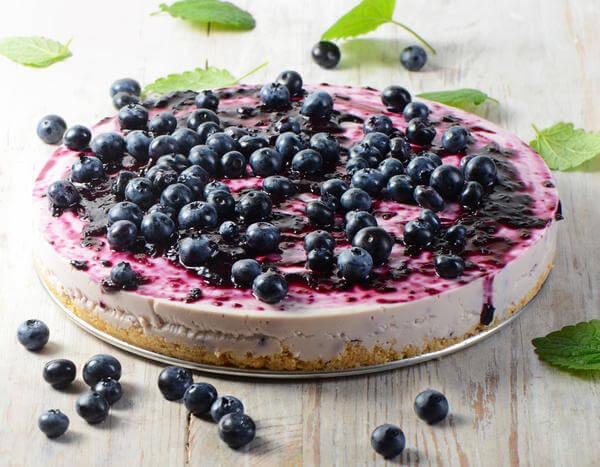 You will need:
For 16 persons
For the filling:
1 package of dry lemon pudding (500 ml)
For Korzh:
125 g butter
200 g oatmeal cookies
vegetable oil for greasing forms
For the cream:
200 grams of dietary cheese
90 g granulated sugar
1 sachet of vanilla sugar
3 tbsp lemon juice
300 g frozen blueberries
300 ml cream 30% fat
mint leaves for decoration
Preparation:
Mix pudding mix with sugar and pour 250 ml of cold water. Bring to a boil, let cool and refrigerate for 1 hour. A side split form grease with vegetable oil and place on a dish, also greased with vegetable oil. The butter will melt, cookies will acrolite and mix with butter. The mass lay on a dish and flatten. Cover with clingfilm and refrigerate for 30 minutes For the cream cheese mix with sugar, vanilla sugar and lemon juice. Part berries for garnishing. Whisk in the cream. Remove the jelly from the fridge, add the cheese and cream. The cake spread 1/3 of the cream and place a few berries. Put another layer of cream and top the remaining berries. Then the cream again and smooth. Garnish with mint leaves, berries and refrigerate for 3 h.
Raspberry pie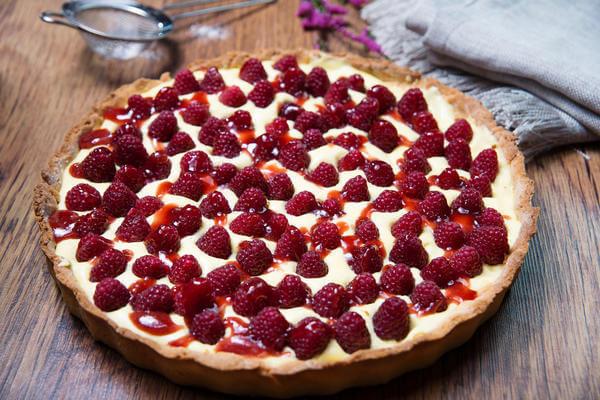 You will need:
For 12 persons
70 g flour
1 teaspoon baking powder
2 eggs
120 g icing sugar
50 g creamy processed cheese
zest of 1 lemon
1 tbsp lemon juice
100 g raspberries (frozen)
2-3 tablespoons berry jelly
cooked from a bag
Preparation:
preheat the Oven to 190 °C. sift Flour with baking powder. Whisk the eggs with 100 g sugar, mix with flour and baking powder. The form vystelit baking paper, pour the batter and flatten. Place in oven and bake for 25 min. Ready cake remove from the oven, allow to cool slightly in the form, then invert on a towel, remove the baking paper and leave until cool. Creamy processed cheese spread with lemon zest, lemon juice and remaining powdered sugar. The cooled cake put on a large platter and spread cheese mass. Defrost raspberries, drain and place them on the cheese mass. Prepare jelly and hot apply to raspberries. Refrigerate for 1 hour and then serve.
Cake "The Woodpile"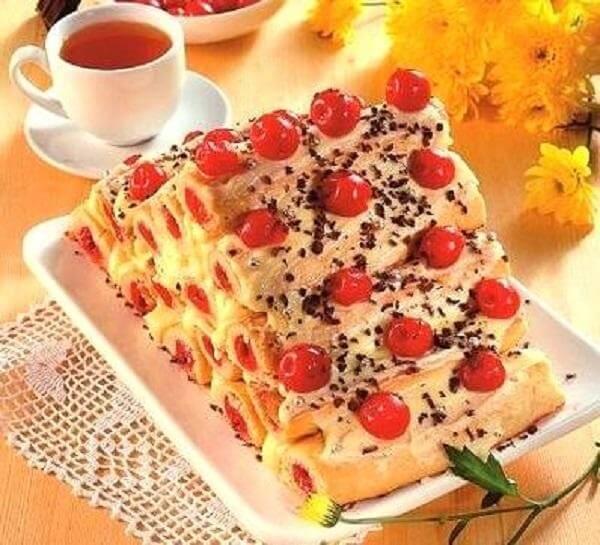 You will need:For the dough:
3 tbsp. flour
160 g of sour cream
1 egg
1/2 tsp. soda
3/4 tbsp. granulated sugar
For the cream:
200 g butter
2 eggs
1 tbsp. granulated sugar
1/2 Cup milk
1 pinch of vanillin
For the filling:
canned pitted sour cherries
sugar
Preparation:
of these ingredients knead the dough (soda repay lemon juice). Divide the dough into 15 pieces and put on 2 hours in the refrigerator. Cream sugar eggs with eggs. Pour in the milk and while stirring bring to a boil. The fire then remove and cool. Whisk the butter and gradually mix with it the milk mixture and vanilla. All 15 pieces of the dough roll into even sausage and roll into oblong reservoirs. On each spread the filling. Collapse tube, lay them on the lined baking sheet and place in oven. The finished tubes are removed and cooled. On a dish lay close to each other at first five tubes and oil cream on them — four, top — three, then two and finish one, with each following layer of fluff cream. The cake is cut into slices crosswise and arrange on plates.
Berry pie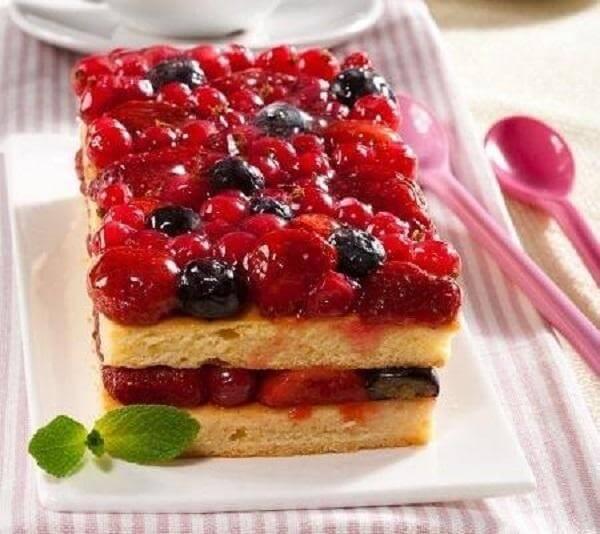 You will need:
1 tbsp. flour
1 tbsp. sugar
6 eggs
1 tbsp corn starch
I tablespoon grated lemon peel
vegetable oil for frying
0.5 kg of any berries
1 bag of jelly cake
Preparation:
Eggs to cool, combine with sugar and beat until the volume increases 3 times. Mix the flour with the starch, add to egg mass, add the lemon zest and mix quickly. The oven is heated to 180 °C. the Mass is poured into oiled and lined with baking paper form. Bake 50 min Oven not open. The finished cake to completely cool in the form, then cut lengthwise into 2 layers. On one layer put half of the berries, cover with another layer, spread the remaining berries. Pour jelly cake.
Pie with black currant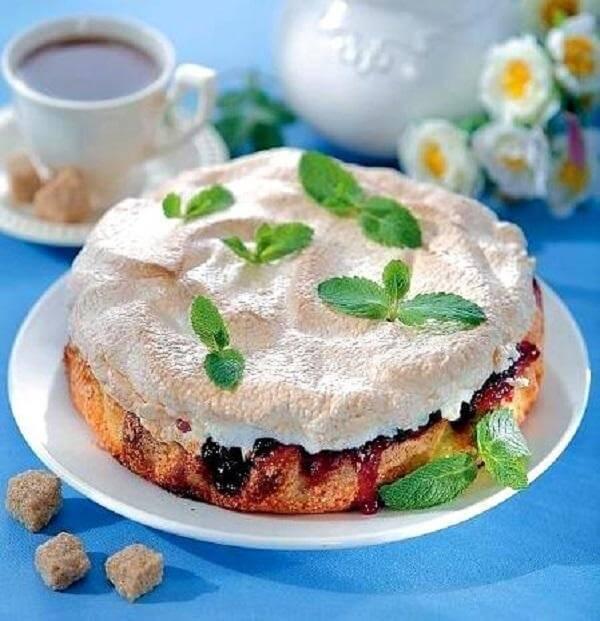 You will need:
For 6 persons
For the dough:
300 g flour
100 g granulated sugar
2 eggs
170 g butter of margarine
1 tbsp. of fortified wine
zest of 1 lemon
salt on the tip of a knife
For the filling:
300 g frozen blackcurrants
50 g granulated sugar
1 tbsp corn starch
Preparation:
sift Flour on a Board slide, in the center make a well, put the sugar, egg yolks, 150 g butter of margarine, cut into small pieces, lemon zest, salt, pour in the wine and quickly knead the dough. Give it a ball shape, wrap in parchment paper and put in the cold for 30 minutes, heat the Oven to 180 °C. grease the Form with the remaining margarine. Remove the dough from the refrigerator, lightly roll out, put in the form, cover with parchment paper. Top put dry peas or beans to the dough when baking didn't rise. Place the mold in the oven and bake the cake for 20 min. the Proteins shake in a solid foam. Add 150 g of sugar and beat until obtaining a homogeneous lush mass. In thawed currants, add sugar, starch and mix. Peas and beans along with the parchment, remove with a sand base. Reduce heat in the oven. Put the filling, pour the beaten egg whites and put in the oven for 15 mins
blueberry Pancakes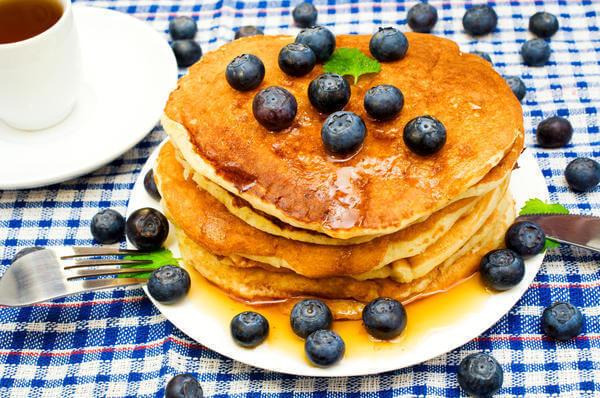 You will need:
For 10 servings:
2 teaspoons of baking powder
0.5 tsp. salt
1 tablespoon of sugar
2 eggs
720 ml buttermilk or natural yoghurt (drinking)
80 g melted butter
250 g blueberries
vegetable oil for frying
maple syrup or honey to taste
Preparation:
Connect the flour with the salt, sugar and baking powder. Add the eggs, buttermilk and butter, mix well. Preheat the pan on high heat, grease it with a small amount of vegetable oil. With a spoon put the dough into the pan. From top to immediately put the berries, slightly pressing them into the dough. Fry pancakes with two sides until Golden brown. Serve finished pancakes with berries, butter, honey or maple syrup.
Cake "Gourmand"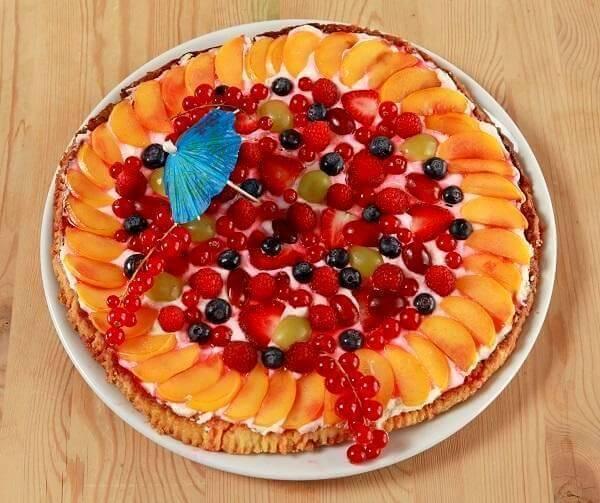 You will need:
150-200 grams of butter
1/3 Cup sugar
1,5 tbsp. flour
250 g mascarpone cheese
zest of 1 lemon
2/3 Cup powdered sugar
200 ml cream
any fresh or canned berries and fruit to taste
Preparation:
to Prepare the dough. Butter to cool, then cut into equal cubes. To combine the sugar with the flour, add the oil, grind all to a state of crumbs. To put on 10-20 minutes in the refrigerator, remove dough, knead, roll out into a circle shape and put in pre-soaked in cold water round silicone form for baking. Place the form with the dough in the oven, preheated to 180 °C. Bake the cake for about 15 min until it become light brown color. To get and cool. Cream whip with an egg beater or a mixer in a solid foam. Add cream to mascarpone and mix well. Then put grated lemon zest and powdered sugar and beat with a mixer at high speed until smooth lush consistency. Put on the cake. Fruit remove the seeds, large fruits and berries cut into slices. Pie put the slices of fruit and berries, put the pie in the refrigerator 20 min. Before serving, cut into portions pieces.
Cake "wood fairy tale"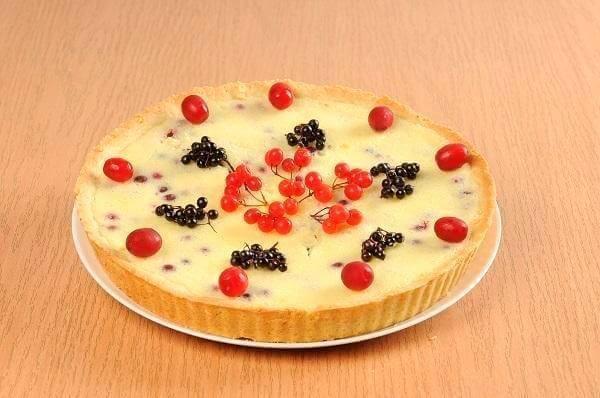 You will need:
110 g butter
1 egg
3 tbsp. sugar
1 Pak. vanilla sugar
a pinch of baking soda
For the filling:
100 g sugar
1 egg
1 tbsp. cranberry or viburnum
For decoration:
the berries of dogwood, viburnum and elderberry
Preparation:
Pre-softened at room temperature butter (100 g) whipped with sugar until fluffy mass. Add the egg, soda and vanilla sugar, beat for another 1-2 minutes. sift the Flour and adding parts in the egg-oil mass, knead the dough not sticking to hands. Then the dough roll into a ball, wrap in cling film and put in freezer for 15 min. For the filling, beat egg with sugar, add sour cream and mix well until smooth. Cranberry or viburnum wash and dry. Chilled roll out the dough on a floured work surface to a thickness of about 0.5–0.7 mm. the Form of grease remaining oil, sprinkle with flour, put into it the dough, occasionally lifting the edges by 3 cm, sprinkle the berries and pour the filling. Bake the pie in the oven for 30-40 min at 200 °C. the Finished pie to cool and serve, garnished with berries. published
P. S. And remember, only by changing their consumption — together we change the world! ©
Join us in Facebook , Vkontakte, Odnoklassniki
Source: 7dach.ru/lublu_gotovit/ustroim-prazdnik-10-receptov-vypechki-s-yagodami-33168.html