For those who have already satisfied his passion for seasonal berries fresh, Alena Spirina offers to prepare berry pies and shares her pie recipe with berries t curd cream.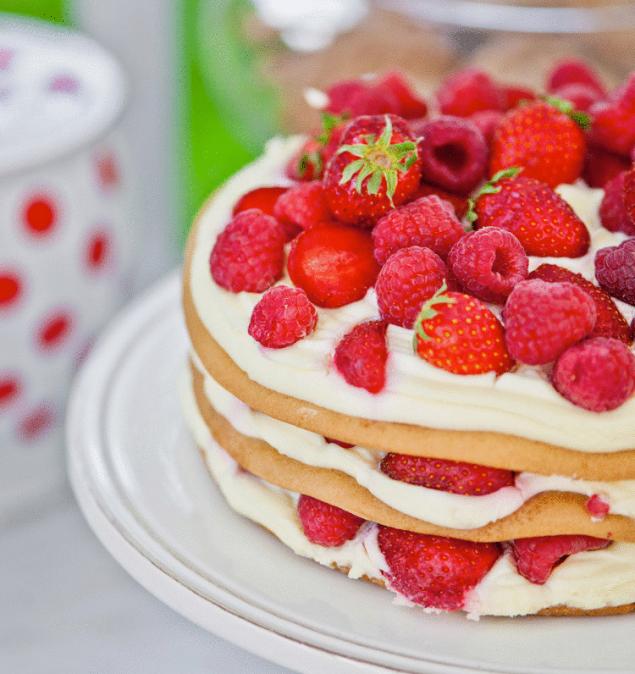 Not all berries are equally suited for
the pie
, especially if they go in the oven along with the dough. Someone annoying bones raspberry when baked, they become naked and start to live in the stuffing of its life. Black currant behaves in a similar way, but it is believed that the "currants, pitted – not currant.
Gooseberry noticeably wrinkled, and strawberries and is losing flavor and aroma. Perhaps the best solution would be a connection in the stuffing of different berries and add to them a more textured fruits, such as apples or rhubarb.
Also the question about cleaning the cherries for the filling. In principle, you can not remove the stone, do not forget to inform consumers, otherwise a trip to the dentist can not be avoided.
Each family has their own criteria for determining the ideality of the cake with berries, but most agree that the most important thing is to achieve a dry dough with berry filling. How to do it depends on the dough and form pie. For example, for a closed or semi-closed pie dough enough to cover the dough with starch, it will thicken the berry juice, and a relatively thick layer of dense dough won't get wet while baking.
Fans of berry pies out of cookie dough have to do more manipulation. For example, boil for a few minutes the berries with the sugar, then add starch which will bind the liberated juice. If juice is too much, the part can be drained or Supplement the action of the starch with a small amount of pectin. This technique helps dough grilled, not soaked in juice, but does not allow the stuffing to shrivel during baking, allowing you to fill all the space between the upper and lower layers of dough.
For those who prefer pies with fresh berries without heat treatment, the options are too many. For example, to bake a shortbread crust, fill it with berries and pour the jelly. Or prepare chocolate ganache by mixing melted chocolate with whipped cream, berry puree and a piece of butter, pour it in a baked basket, allow to cool and decorate with fresh berries.
And good
pies
from fancy pastry, the consistency resembles a cake batter with baking powder. For their preparation invented a special round shape tin with low sides grooved and the groove between them and a rounded bottom. The batter fills the groove, and when the shape of the baked cake is inverted and removed, in a soft basket with a low side. This basket can be impregnated with syrup and fill with fresh berries or put them under a layer of cream.
Donated or purchased as part of sets, such forms of many are in the economy, but are rarely used because of non-obviousness purposes. And it is absolutely vain – the pies are delicious, baked easily and quickly. And the test in such a little berry pies, and cream you can think of the taste and judgment: though the whipped cream, though custard, though useful cottage cheese.
Cake with berries and cottage cheese creamWhat you need:For the dough:
100 g butter at room temperature
100 g flour
100 g icing sugar
2 eggs at room temperature
1 tbsp milk
100 g ground almonds
1 teaspoon of vanilla infusion or vanilla sugar
1 tsp baking powder
¼ Tsp salt
For cream cheese:
150 g of cottage cheese with a fat content of 5-9%
50 g butter at room temperature
75 g icing sugar
2 tsp. of vanilla tincture
2 tsp orange zest
For decoration:
300 g of fresh berries
jelly cake
water
sugar
What to do:
The form for the cake butter and sprinkle with flour, shake off excess.
Sift flour with baking powder and salt, mix with the almond flour and mix with a whisk.
Beat butter with powdered sugar in the air. One by one, still whisking, add the 2 eggs warm. At the end add milk and vanilla tincture.
On the egg-butter
cream
sift flour mixture, stir until a homogeneous dough. It resembles the dough for the cupcake — not thick, but not flowing. Put the dough in shape, smooth.
Bake for 35-40 minutes at 180 C. the Finished cake should spring when pressed with your finger. Flip the cake on the grill, remove the form, to cool on a wire rack.
For the cream beat butter with a mixer and powder, add the cheese (if dry, be sure to wipe through a sieve), lemon zest and vanilla tincture. Beat for 1-2 minutes. The mixture should become smooth and creamy.
Spread the cream on the surface of the cake, decorate with berries, cover them with warm jelly cake, cooked according to package instructions. Serve immediately.
Source: www.gastronom.ru