We all know that Breakfast is the most important meal of the day, it starts our metabolism! Yes, he is one of the reasons why we can't lose weight even if you follow all the other rules. But still, in spite of this, 10-15% of people developed companies still ignore these rules. They continuously skip Breakfast.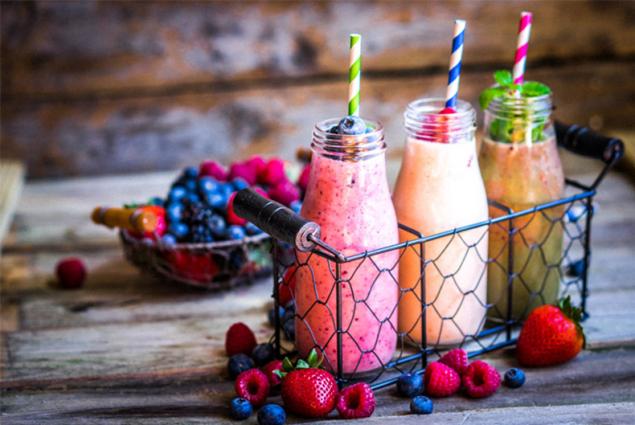 I wonder what is the reason? ... You know? ... I think that most just "Sony". Yeah they just don't want to get out of your warm bed in the morning! Here and all reason.
Then, I'm pretty sure that starts the rush and You no Breakfast again. How many want to find excuses, but I do know that You are not right. ...
If You are one of those people who skip Breakfast due to time constraints, these recipes for smoothies for Breakfast is designed for You.
Most of these recipes you can whip up, literally, for some two minutes, especially if You are prepared some of the ingredients the night before. And all these recipes just full of Superfoods, which means that You'll have the energy for a long time.
Cool? ... Then start ...
Super fast smoothie recipes for Breakfast
You ready to enjoy these cool recipes? It seems to me that You did not expect such a large list of really healthy recipes!
You will be pleasantly surprised!...
1. M... a Cocktail with Strawberries and Goji berries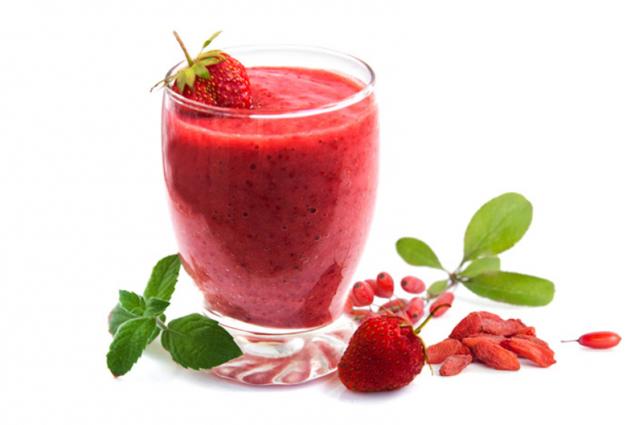 Remember, these berries are simply Packed with antioxidants, vitamins, minerals, and even the coarse fibers. And strawberry is one of the most popular fruits most of us, isn't it? It is sweet, reminiscent of a warm summer and full of vitamin C.
One Cup of strawberries contains as much as 149% of the recommended daily intake of vitamin C. This is more than a normal size orange.
Vitamin C helps our body absorb iron from plant foods and allows the immune system to calmly endure periods of virus and diseases. It is also vital for healthy skin.
Look he's just ... super-duper ...
Ingredients (for 2 cups):
2 tablespoons of Goji berries
10 medium strawberries
1 teaspoon of honey or a couple dates
300 ml almond milk
2-3 bananas (depending on size)
Ice (optional)
Method of preparation:
1. In a small bowl mix the Goji berries and 1 tablespoon of water, leave for 15 minutes so the berries become softer. (Note: this can also be done in advance — in the evening, if you wish).
2. Then mix in Goji berries and other ingredients in a blender until a homogeneous mass.
2. Shock smoothie with pineapple and Kale Kale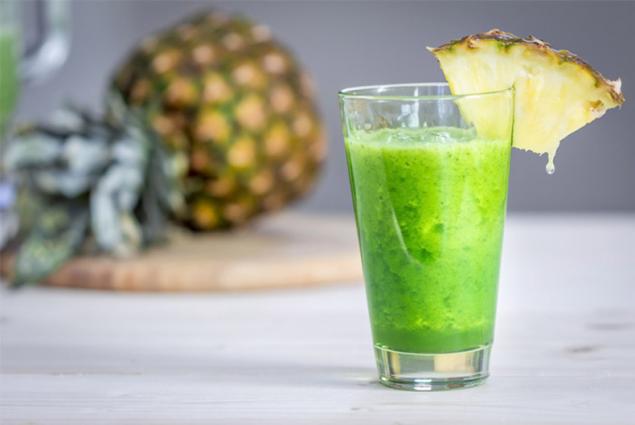 This green smoothie recipe with pineapple named shock, because he's fantastic, useful and delicious!
From the point of view of protein, this is a serious Breakfast for even the most active people. If you turn on the calculator and calculate, You will see one shake contains an incredible 27 grams of protein (approx), thanks to the Kale, yogurt, milk and peanut butter.
Pineapple is one of the richest sources of the enzyme bromelain in the world! Bromelain is simply unmatched in the fight against certain forms of cancer and AIDS digestion, and easy struggling with allergies, asthma, joint pain and infections.
This tropical fruit is also a rich source of manganese, which is important in the development of strong bones and connective tissues. Only a quarter of a Cup that we use in this cocktail, contains 20% of our daily allowance.
So, it's just yummy ...
Ingredients (for two portions):
2-3 leaves of Kale, picked and stems remove
3/4 Cup milk of choice (cashew, Brazil, almond, or coconut)
1 frozen banana, cut into chunks
1/4 Cup Greek yogurt (if not, I usually use simple low-fat 0 — 2% no sugar in composition)
1/4 Cup frozen pineapple, diced
2 tablespoons of peanut butter (not Nutella, magazine type, and so on).
1 teaspoon honey (to taste)
Method of preparation:
1. Mix all the ingredients until a homogeneous mass. Add more liquid if You prefer a more liquid cocktail (even filtered water).
Note: If You do not find the peanut butter, just omit it. But if there's no Kale at hand, use spinach leaves. Of course it's a bit less protein, but nothing, this cocktail will still be a great start to the day!
3. Superfood smoothie with Blueberries and Flax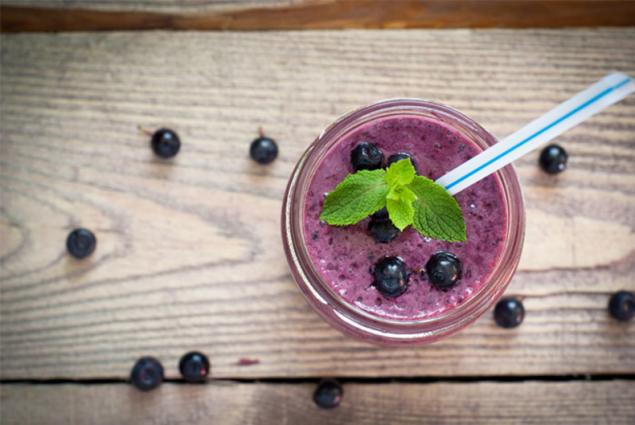 Blueberries, flax seed, spinach, Greek yogurt and coconut milk — a pretty impressive list Superfoods, do You think?
Blueberry is the Queen among Superfoods. She is the number one from the point of view of antioxidant activity, according to the website of the Ministry of agriculture compared to 40 other fresh fruits and vegetables.
One Cup of these bad boys contains 35% of the RDA of vitamin K. This fat-soluble vitamin helps You build strong bones, prevent heart disease and the absorption of vitamin D in the body.
According to some reports, Flaxseed is one of the most powerful plant foods on the planet. This is a great source of fiber, magnesium (especially if You feel the lack) and manganese.
Remember? ... Flaxseed reduces high blood pressure and cholesterol, prevents depression, reduces the risk of liver disease and some cancers.
Therefore, I believe this cocktail is super powerful start to the day!
Ingredients (for one serving):
1 Cup blueberries, frozen
1 tablespoon flax seed
a handful of spinach
1/4 Cup Greek yogurt
1 Cup coconut milk (if no, use coconut water)
Method of preparation:
1. Combine all ingredients in blender until smooth.
4. Blast smoothie with green tea
You know, I love to make green tea instead of coffee to enjoy the taste of a nice, warm drink.
It is full of antioxidants; fights cancer and fat, it is good for heart health and brain and also promotes hygiene in the oral cavity.
To be honest, this is my key drink with water if I think about melting my fat!
However, when I first learned that green tea can be used as the basis for a green smoothie, I was amazed. So if You hear this for the first time, congratulations! You've discovered an excellent alternative to many other liquids that can be used for smoothies.
I found a quality smoothie for Breakfast. It is more valuable from the nutritional point of view.
By the way, in this recipe, or even use Cayenne pepper (Chile). You know what it says? It's just a bomb, not a cocktail!
These peppers are capable of many things, from improving circulation of blood and lower blood sugar, to relieve any pain and a particularly strong burning excess fat.
Ingredients (for 1 serving)
3/4 Cup green tea, chilled
1/8 teaspoon Cayenne pepper (Chile)
Juice of 1 lemon
2 dates (you can use stevia or agave nectar)
1 small pear, remove the skin and cut into pieces
2 tablespoons low-fat yogurt
6-8 ice cubes
Method of preparation:
1. Mix all the ingredients until a homogeneous mass.
5. Cocktail-antioxidant Breakfast of berries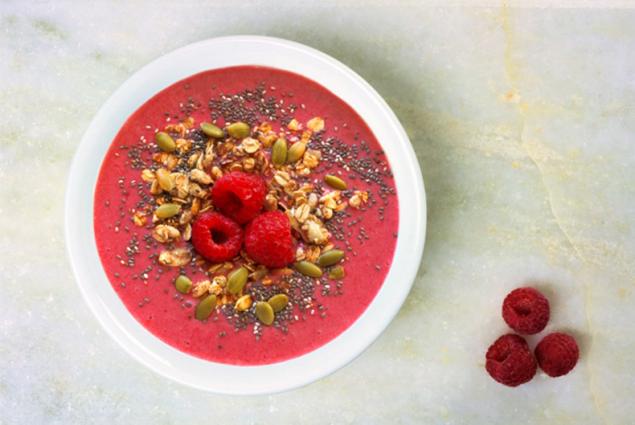 Sometimes, perhaps, really want to enjoy Breakfast at a leisurely pace that it is sometimes difficult to make yourself, even healthy cocktail. But, if You look at this recipe, You just get up five minutes earlier to enjoy all his Goodies ...
This is exactly what it sounds like! You can do it pohudei to eat slowly with a spoon, enjoying every drop of this berry puree.
You can also add some stuffing to have a little chew. Chewing will increase Your feeling of fullness, this is what it tells the brain that we are full and prevent overeating.
You can add this smoothie all the berries that catch the eye.
For example, cherry. It has low sugar level, if you compare it with many other berries and fruits. And it is a good choice for diabetics. They are also good for rejuvenating the body.
Also, it is proposed to add some hemp seeds. They have a great set of omega-3 and omega-6 fatty acids that are really important to overall health. They also contain all 20 amino acids ... Amazing! ... including 9 essential, which our bodies cannot produce.
I can't say about the grenade. Compound found only in pomegranates, benefits the health of the heart and blood vessels by reducing the cholesterol level and blood pressure.
Ingredients (for one serving):
1 banana frozen
1/2 Cup frozen cherries and other frozen or fresh berries (raspberries, blackberries, currants, red or black)
1 tablespoon hemp seeds
1/2 Cup almond milk
1/2 banana, fresh
1 teaspoon Chia seeds (you can substitute flax)
1 tablespoon coconut flakes
1/4 Cup pomegranate seeds
Way of preparation:
1. Add the frozen cherries, banana, hemp seeds and almond milk in a blender. Blend until smooth and pour into a bowl.
2. Then simply mix the cocktail with sliced bananas, raspberries, blackberries, Chia seeds (flax), coconut and pomegranate seeds until a homogeneous mass.
6. Chocolate smoothie with avocado for Breakfast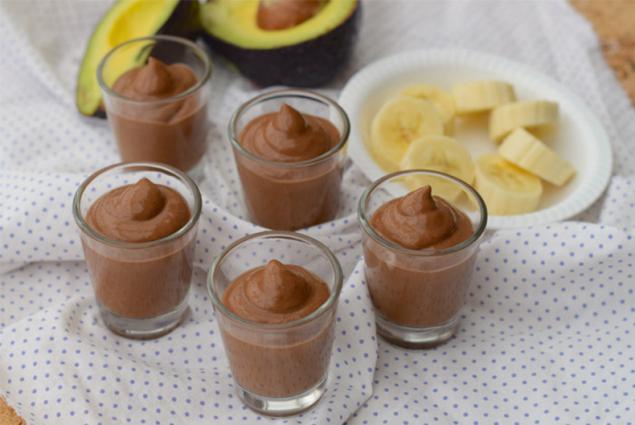 Who said that dark chocolate on a diet or at Breakfast is impossible! I heard an opinion? Don't worry, I know that You will be not only fed in the morning, but will become healthier many times.
This is a creamy recipe based on avocado is not only a great vegetarian Breakfast, and dessert in a glass. Look at this lovely picture above ...
By the way, this cocktail is one more way to love avocados, if You are not friends with him and fill the body with the most beneficial fats. Avocado makes this Breakfast so damn creamy, but it is one of the main ingredients of smoothies in our diet.
As you know, the healthy fats in avocado can prevent osteoporosis and some degenerative eye diseases and also help in weight loss and digestion.
Cocoa is a rich source of antioxidant flavonoids. As we have mentioned earlier, it reduces the risk of cardiovascular diseases and death from them, especially in older men, but they also improve blood flow to the brain and heart. No wonder they say that chocolate is good for the brain, right? ... One small tablespoon of raw cacao powder provides a dose of manganese and copper, so necessary for us.
Copper is often overlooked as a mineral that is essential for the formation of collagen for healthy skin, as well as energy production and absorption of iron by our body.
Ingredients (for 2 servings):
1 avocado
2 frozen bananas
1/2 Cup raspberries, fresh or frozen (if not, replace with other berries)
1-2 tablespoons cocoa powder (unsweetened, mind you, but raw)
2 cups almond or coconut milk
Method of preparation:
1. Mix all the ingredients until a homogeneous mass.
7. Percussion smoothie recipe with Plum and Quinoa Breakfast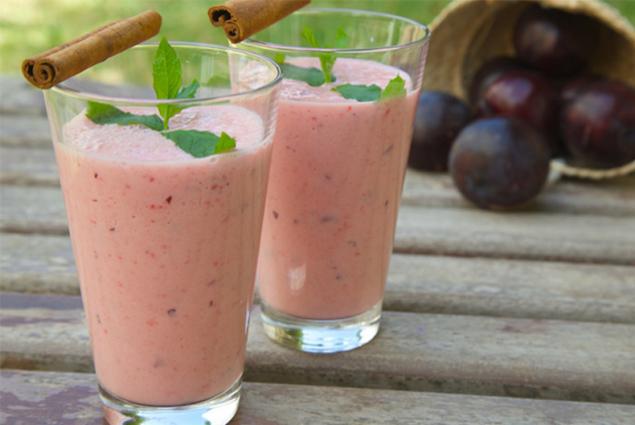 Have you tried to add quinoa in your cocktail? Now ... let's try!
Quinoa has been used as energy in the warriors of the Incas, so this drink will definitely fill You with energy before a busy day. These seeds are also a rich source of iron
Cinnamon, like many spices, has a strong antioxidant activity. When compared with other herbs and spices, cinnamon bypasses all.
This spice mimics sweetness, meaning it can be used instead of sugar to satisfy your sugar cravings.
Ingredients:
1 — 2 large ripe plums, pitted and cut into chunks
1/2 large frozen banana
1/4 Cup cooked quinoa
1 Cup unsweetened almond milk
1 teaspoon pure vanilla extract (not vanilla sugar!)
1/4 teaspoon cinnamon
4 — 5 ice cubes
Method of preparation:
1. Mix all the ingredients until a homogeneous mass.
8. Super cocktail with cereal and Coconut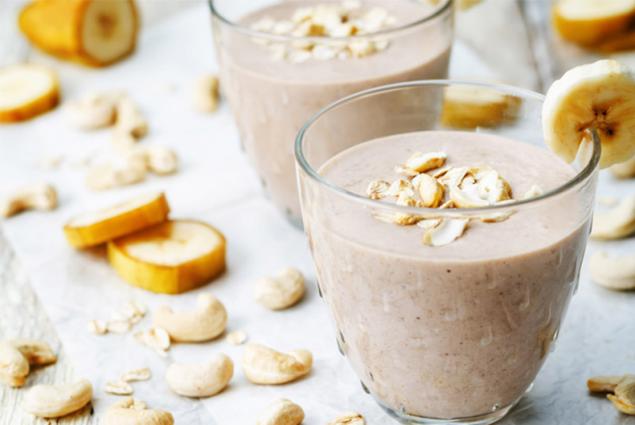 Oats are an amazing Breakfast food.
Why? ... It lowers cholesterol, regulates blood pressure, improves digestion and immunity, and can help You in losing weight and give a lot of energy.
This amazing cocktail also contains coconut oil which is full of lauric acid, as coconut water help to balance cholesterol levels. Just before adding to the cocktail, melt the coconut oil, otherwise You will catch not a very pleasant garden.
Ingredients:
1/2 banana
1/2 Cup rolled oats
1/3 Cup yogurt
2 tablespoons coconut oil
1 tablespoon of honey
1/3 Cup freshly squeezed orange juice
a few ice cubes
Method of preparation:
1. Mix all the ingredients until a homogeneous mass.
9. Super green smoothie recipe for Breakfast
If you think about the green smoothie for Breakfast, then this recipe is perfect.
YES, he is not handsome. We can say that it looks like a swamp. But it is very useful.
First and foremost, there is broccoli. YES, if You haven't tried to add broccoli to a smoothie, You have the chance. It is a great source of fiber and vitamins and minerals that can even fight certain types of cancer.
Spinach — another green ingredient of this drink ... and it makes the cocktail even healthier. The spinach in the morning can provide satiety for longer time and promotes weight loss.
Ingredients:
10 strawberries
1/2 small banana
1/2 Cup broccoli, steamed or raw (better, but for a good blender)
1 handful of spinach
1 Cup almond milk
1 tablespoon cocoa
3 tablespoons protein powder
1 tablespoon hemp seeds
Stevia or honey (to taste and optional)
Method of preparation:
1.Mix all the ingredients until a homogeneous mass.
10. Morning smoothie with anti-aging effect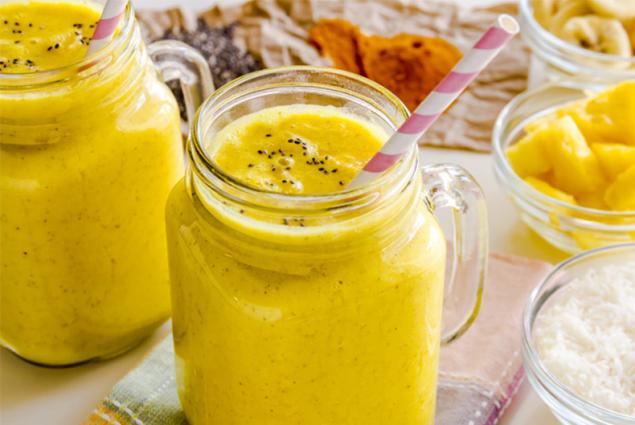 Smoothie with turmeric is a super tool for rejuvenation of the body, which is very loved by many stars and models. Are you ready to become a star?...
Turmeric has a wide range of medicinal properties, powerful anti-inflammatory and antioxidant properties, which are mainly related to curcumin, the connection of turmeric is most noted for its medicinal powers. "Golden root" can also be useful in calming digestive problems and reduce the body's inflammatory response.
And if You wonder why black pepper in the ingredients list, know that the healing properties of turmeric work best paired with black pepper. Plus invigorating lime juice, mango and peach contribute with immune-boosting vitamin C and fiber. Not bad for a simple smoothie, right?
Ingredients:
1/2 Cup frozen mango (can be fresh)
1/2 Cup frozen peaches (can be fresh)
1 Cup coconut water
Juice of 1/2 lime
1 ginger root, peel and slice
1/8 tsp black pepper
1/4 tsp of turmeric powder
Method of preparation:
1. Mix all the ingredients until a homogeneous mass.  
In conclusion
So now You have the best smoothie recipes for Breakfast that You will ever meet. They are full of healthy ingredients and Superfoods. They will help You to fill your body with nutrients and vitamins than any other food. published  
P. S. And remember, only by changing their consumption — together we change the world! ©
Join us in Facebook , Vkontakte, Odnoklassniki
Source: ngrinko.com/2015/11/13/%D0%B1%D1%8B%D1%81%D1%82%D1%80%D1%8B%D0%B5-%D1%80%D0%B5%D1%86%D0%B5%D0%BF%D1%82%D1%8B-%D1%81%D0%BC%D1%83%D0%B7%D0%B8-%D0%BD%D0%B0-%D0%B7%D0%B0%D0%B2%D1%82%D1%80%D0%B0%D0%BA/