To cook a delicious Breakfast, lunch or dinner, not necessarily every day to stand at the stove. This is especially true of those who really want to part with excess weight. Today there is a wonderful way to lose weight and health is a vitamin drink with an exotic name "smoothie". It is a thick cocktail of vegetables or fruit mixed together. Smoothies can be prepared with different fillings. The basis is usually taken juice, milk, kefir, ryazhenka.
Freshly made smoothies are quite capable to replace a full meal. It is possible to arrange fasting days or just eat this dish as a delicious dessert. It is thick or thin, that allows to drink through a straw or eat with a spoon.
Except that many people use smoothies for weight loss, this dish will be useful for health promotion. By grinding the fruits and vegetables which in themselves are of great value, we receive a loading dose of vitamins. In one glass can be a storehouse of useful substances. Therefore, various vegetable or fruit smoothie is an ideal food for adults and children.
Today we will prepare tasty and healthy smoothies from fruits and cucumber. Refreshing cucumber smoothie, combined with fresh Apple and kiwi has a very delicate and original taste.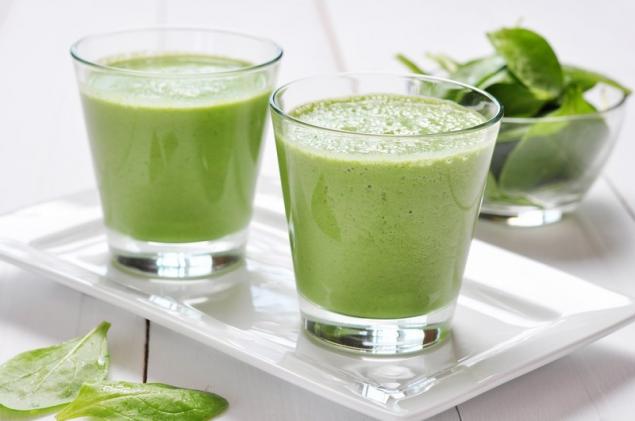 The recipe is simple enough – preparing smoothies in just a few minutes. For this you will need this set of products:        
Apple – 1 PC.
kiwi – 1 PC.
cucumber – 1 big or 2 small
How to make smoothie from cucumber and fruit
peel the Apple and cut it into several parts. Place it into the container of a blender, chop.  
Cut the peeled kiwi and also cut into pieces. Add to the Apple puree and chop.
Now peel and cut into several pieces cucumber. Place in a bowl and chop.
Vitamin cucumber smoothies with fruits is ready. As you can see, the time for preparation of the required minimum so that you can manage to do it even in the morning, hurrying to work. Moreover, it is not appropriate no sugar, no other additives. Juiciness, aroma and excellent taste of these ingredients makes the cocktail rich and exquisite.
The combination of tastes of cucumber, kiwi and Apple allow you to achieve extraordinary results. And remember that you can endlessly experiment with different foods to create their unique smoothie recipes for weight loss and strongest health.published
P. S. And remember, only by changing their consumption — together we change the world! ©
Join us in Facebook , Vkontakte, Odnoklassniki    
Source: www.mybodyflex.ru/publ/ogurechnyj_smuzi_dlja_pokhudenija/14-1-0-180