In the heat do not want to eat heavy food. And come to the aid of cold soups, light salads of greens and vegetables that provide vitamins and replenish stocks of fluid in our body.
13 offer you light meals and drinks cucumber that will help you to have a bite and cool off this summer.
Smoothies with spinach and celery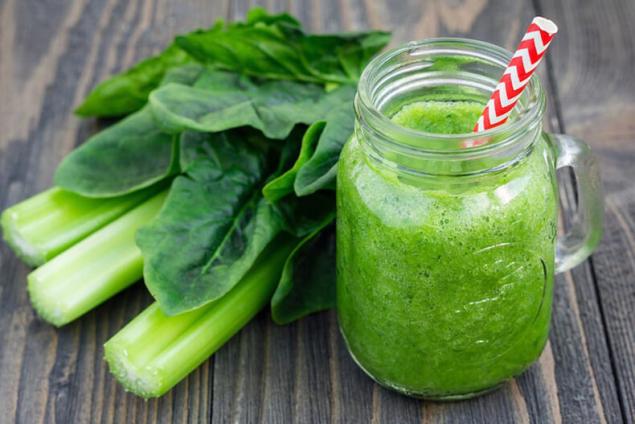 You will need:
100 g of spinach
1 green Apple
1 cucumber
1 stalk celery
1 piece of ginger
2 tbsp lemon juice
Preparation:
1. Apple remove seeds. Cut pieces of Apple, celery, cucumber, ginger.
2. Download all in a blender and grind to puree.
3. Pour into a glass, add lemon juice. Ready!  
Rolls with feta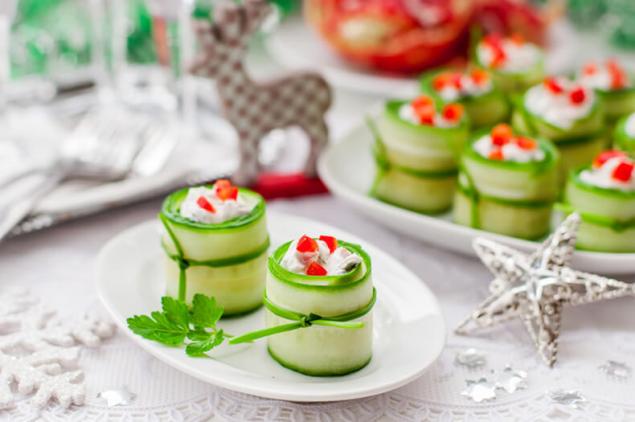 You will need:
2 cucumbers
120 g feta
4 tbsp yogurt
50 g of olives
½ Bell pepper
1 tbsp dill
2 tbsp lemon juice
¼ Tsp ground black pepper
Preparation:
1. Pepper grease with vegetable oil and bake until ready in the oven. Let cool, peeled and seeds and cut into small strips.
2. Crumble feta, add unsweetened yogurt, roasted peppers, sliced olives, fresh dill. Dressed with lemon juice and sprinkle ground black pepper. Stuffing mix well.
3. Cucumbers cut into lengthwise thin slices and on each slice put 1 tbsp filling, rolled into a roll and fasten with a toothpick.  
The cucumber salad and yogurt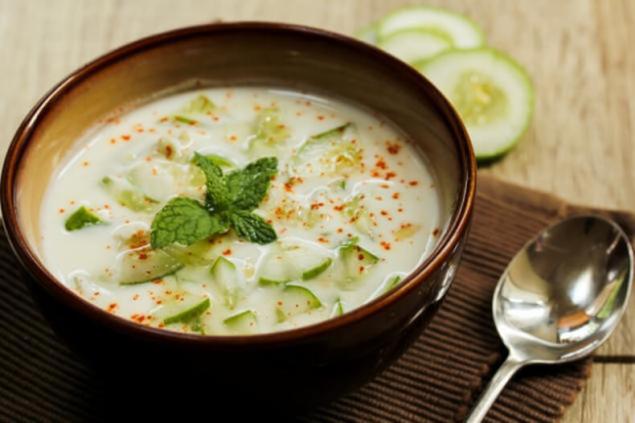 You will need:
2-3 medium cucumber
400 g yoghurt
2-3 cloves of garlic
olive oil
salt
Preparation:
1. Peeled cucumber finely cut into strips or grate on a coarse grater. Then put them in a colander, sprinkle with coarse salt and mash. Leave for 15-20 minutes.
2. In a bowl put the yogurt. Grate the garlic, add salt, oil and finely chopped dill. Before putting the cucumbers in a bowl, squeeze them. All products mix well.  
Appetizer with smoked salmon and cream cheese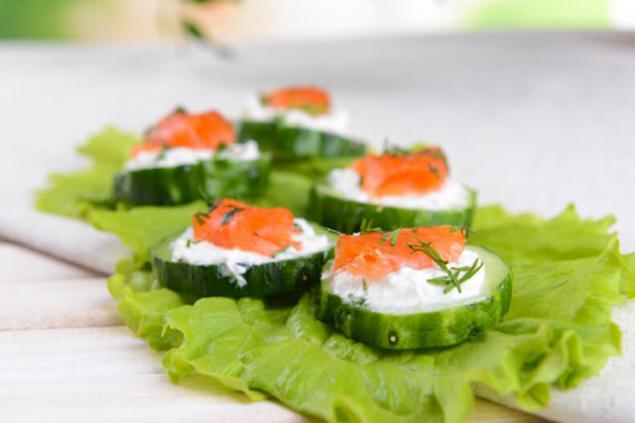 You will need:
3 cucumber
90 g cream cheese
30 g salmon
Basil
Preparation:
1. Cucumbers cut into slices. With a teaspoon take out the core.
2. Fish and Basil finely crumble and mix with cream cheese until smooth. Spread a small amount of curd into each cucumber.  
Refreshing drink of lime and watermelon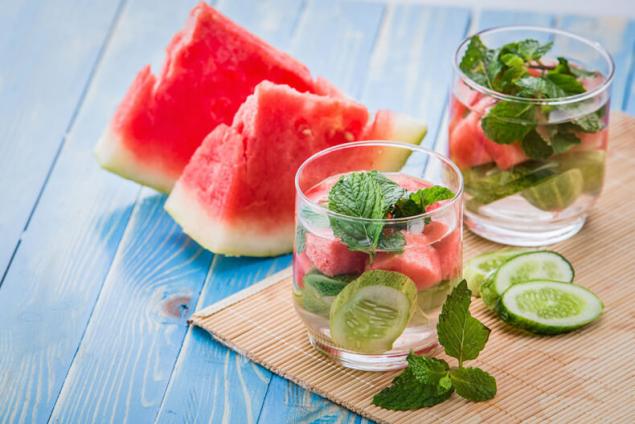 You will need:
½ Cucumber
½ Lime
bunch of mint
200 g of pulp of watermelon
raspberries or blackberries for decoration
water
Preparation:
1. Cut watermelon slices and put in pitcher. Cucumber peel, cut lengthwise into 2 parts and remove the middle with seeds. The main dense part of a cucumber cut into cubes and also put in the jug.
2. Cut lime into slices and add to other ingredients along with the mint leaves. Fill with water and insist in the refrigerator overnight.
3. Serve, adding a glass of raspberries or blackberries.  
Toast with avocado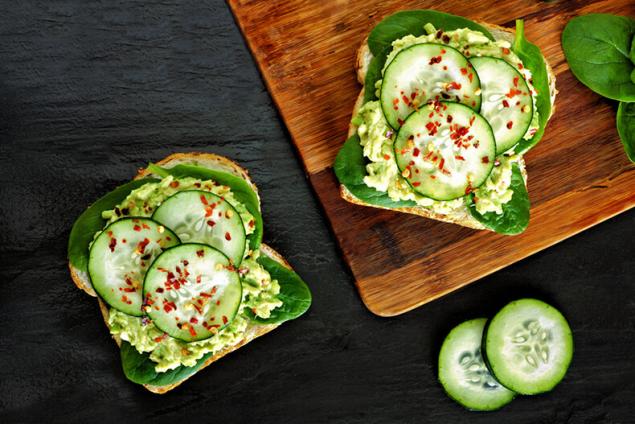 You will need:
½ Ripe avocado
1 medium fresh cucumber
1 tbsp sesame seeds
1 tbsp olive oil
1 tsp vinegar
1 clove of garlic
salt and pepper to taste
Preparation:
1. Cucumber cut into cubes.
2. Sesame fry in a dry pan for flavor and mix with cucumber, oil, vinegar, crushed garlic, salt and pepper.
3. Avocado peeled and spread on bread like butter. Sprinkle with salt and pepper to taste.
4. Spread on top of cucumber mass.  
A light salad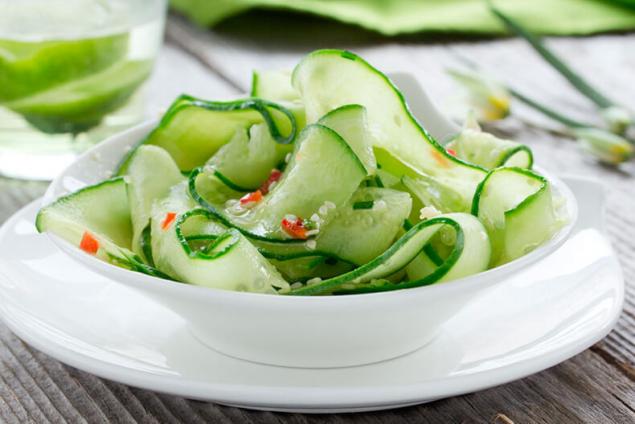 You will need:
3 cucumber
1 bunch fresh cilantro
1 chili pepper
ginger
1 tsp sesame seeds
1 lime
1 tbsp sesame oil
3 tbsp olive oil
3 tbsp soy sauce
Preparation:
1. In a bowl, in which you will serve the salad, grate the ginger root, the same grater, remove the zest from quarter of lime. Add the lime juice, sesame oil, olive oil and soy sauce. Mix thoroughly.
2. Interrupts the cilantro leaves from the stems, cut chilli, fry in a pan the sesame seeds.
3. With the help of the slider being cut in the plate with dressing cucumber long thin strips, cut before the seeds on all four sides. Then add the cooked coriander leaves, chilli and sprinkle all with sesame seeds.  
Mini sandwiches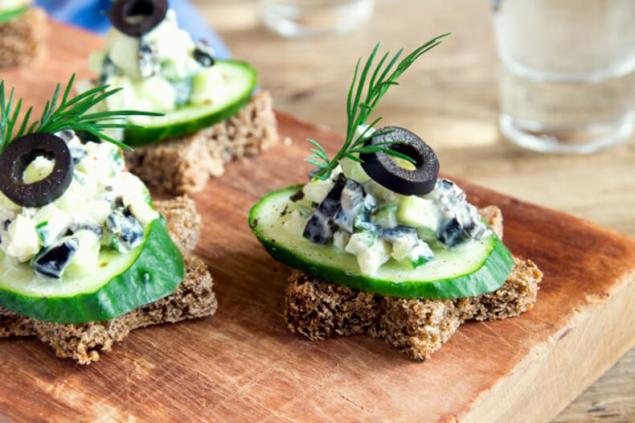 You will need:
1 Bank of canned fish in its own juice
1 cucumber
bread
1 jar of olives
mayonnaise
greens
Preparation:
1. Bread cut using molds for cookies or square.
2. Drain the juice from the canned and mix with finely chopped cucumber and olives. Mayonnaise.
3. Cucumbers cut into slices, put the bread on top and spread with paste made from fish, olives, and cucumbers. Decorate with greens.  
Summer soup with avocado
You will need:
1 tbsp olive oil
1 small onion
1 clove of garlic
1 tbsp lemon juice
4 cups cucumbers, peeled from the skin and seeds, finely chopped
1.5 cups of water
½ Tsp salt
¼ Tsp freshly ground black pepper
a pinch of chili pepper
1 avocado
fresh dill or parsley to taste
½ Cup of yogurt with low fat
Preparation:
1. Heat oil in a large saucepan over medium heat. Add the garlic and onion, cook 1-4 minutes, until they soften. Add lemon juice and cook for 1 minute.
2. Add the cucumbers (leave some for garnish), broth, salt and pepper and bring to a boil. Cook on low heat until cucumber softens.
3. Whisk the soup in a blender.
4. Put avocado and greens. Cool the soup, pour the yogurt and decorate with slices of cucumber and greens.  
Salad with cucumber and carrots in Korean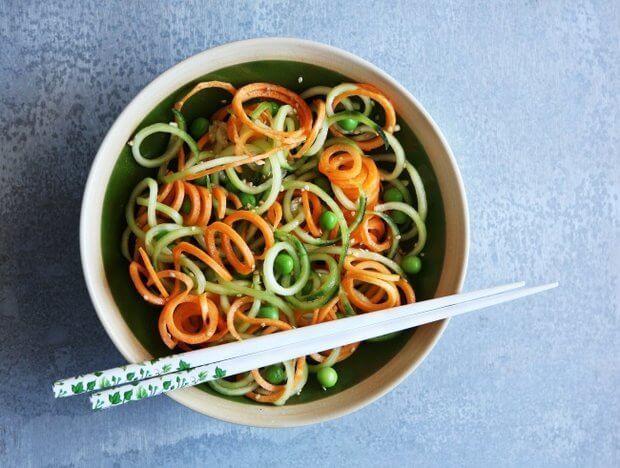 You will need:
3 carrots
2 cucumbers
3-4 cloves of garlic
1 onions
salt and ground black pepper to taste
½ Tsp of vinegar
½ Tsp sugar
3 tbsp soy sauce
5 tbsp vegetable oil
Preparation:
1. RUB the carrot long strips, put in a deep bowl, pour vinegar, add salt, ground black pepper, sugar and mix everything thoroughly. Then put the carrots in the marinade, cover and set aside to steep.
2. Cucumbers cut along the thin slices, each slice cut into long strips, the thickness is at your discretion. Add the cucumber to the carrot and mix everything thoroughly.
3. Garlic cloves passed through a garlic press, sent into a common bowl to the salad. There add soy sauce and stir.
4. Onions cut into very thin half-rings. Parboil onions in boiling vegetable oil. Then pour the vegetables and hot oil with onions and immediately stir. Give the salad to infuse, then spread on a plate and serve.  
Delicious toast for Breakfast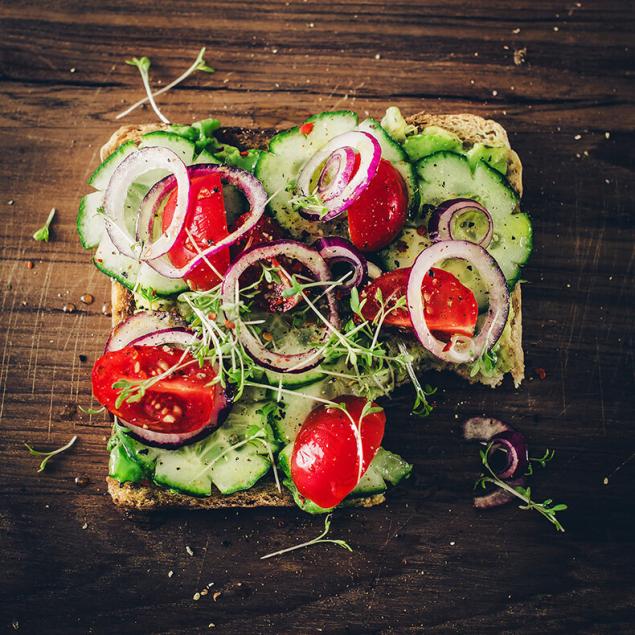 You will need:
1 avocado
3 tbsp lemon juice
2 tbsp olive oil
2 tsp grain mustard
salt, pepper
2 tomatoes
1 cucumber
2-3 radishes
bread
Preparation:
1. Grind in a blender the flesh of the avocado, add the oil, lemon juice, mustard, pepper and salt.
2. Bread cut into slices, dried in the toaster oven (instead of bread can take bread). Spread on each toast a paste of avocado, put on top of slices of tomatoes, cucumbers and radishes.  
Cucumber water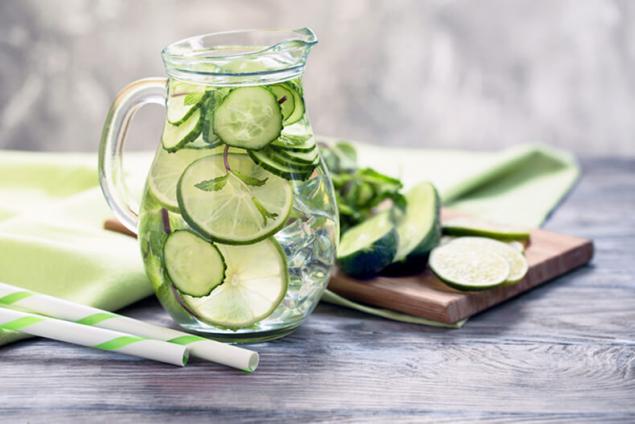 You will need:
2 slices of cucumber
3-10 ice cubes
1 bottle of water
mint
lemon juice
Preparation:
1. Pour water into the pitcher. RUB the mint and put it there. Add lemon juice.
2. Cut the cucumbers and add a couple of slices. Take out of the freezer ice, pour into pitcher and stir.  
Salad of watermelon and cucumber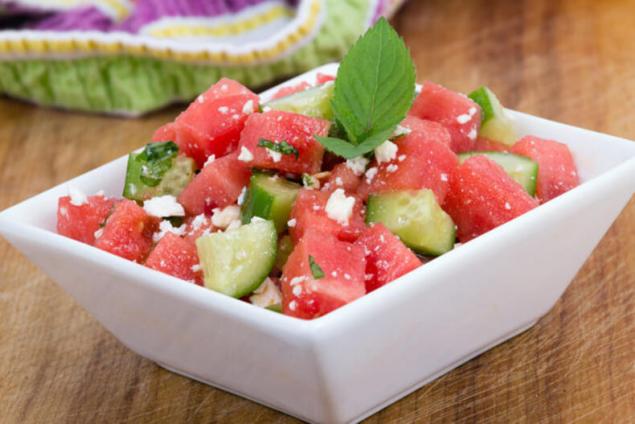 You will need:
50 g watercress
250 g of pulp of watermelon
2 medium cucumber
2 sprigs Basil
1 tbsp pine nuts
Preparation:
1. The flesh of watermelon seedless cut into small cubes. Cucumbers cut into thin strips.
2. Watercress and Basil is broken down into branches. Put in a bowl, watermelon, cucumbers and greens, gently stir.
3. Pine nuts fry on a dry pan for 5 minutes, sprinkle with their salad. Served separately thick natural yoghurt.published  
 A light dessert Pavlova with raspberriesPurify the body: 10 recipes
P. S. And remember, only by changing their consumption — together we change the world! ©
Source: lady.tut.by/news/food/504051.html