Vegetable vegetable soups in recent years acquired an extraordinary popularity. And today, in the period of lent, they are in the center of attention. We decided to present several original. They are very different, and I hope that everyone will find something he likes.
Soup-puree of carrot with ginger
Despite the fact that carrot is one of the most affordable and cheap products that are easy and healthy soups from it do not often appear on our tables. And it is in vain. They have a tender texture, pleasant sweet taste and distinctive vegetable flavor.
Besides, carrots — surprisingly plastic shell: carrot soup you can add rice, cheese or bread, potatoes or cream; decorate to taste and smell nutmeg, coriander, garlic or ginger. And nutrients the carrot is better digested, well fill a soup of oil.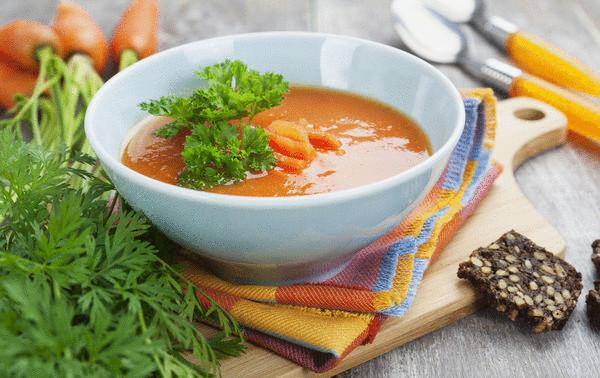 You will need:
Carrots — 0.5 kg
Onion — 1 piece
Low-fat cream — 1 Cup
Vegetable oil — 2 tbsp
Butter — 1 tbsp
Ginger powder — 1 tsp
Vegetable broth (or water) — 2 cups
Salt — to taste (0.5 tsp)
Ground pepper — to taste
Greens
How to cook
Scrape the carrots and cut into medium-sized pieces, onion finely crumble. In a saucepan with a thick bottom, heat the oil and saute the chopped onion until it becomes transparent and tender — about 4-5 minutes.
Add the carrots and ginger, stir and slightly warm; pour water (or broth) and cook on medium heat for 25-30 minutes (check with a fork whether the carrots are soft; if not — keep frying for another).
Beat the carrot in a blender until puréed, and pour into a saucepan, add cream, salt and pepper to taste. When serving you can decorate with greens.
Tip: if you have no cream, you can replace the milk and butter to add a little more.
In the next video — cooking carrot soup with rice the classic recipe from the Book about tasty and healthy food  
Cream soup of pumpkin with cream
If you fall so far is a couple of orange flavored tyquin (somewhere on the balcony, in the garage or under the bed), then you today can please home original and very beautiful and bright dish! Pumpkin is a surprisingly tasty and hearty soup. Moreover, the set of products for him is so simple and accessible that even from the kitchen will not have to go))
Depending on, you are going to make this dish meatless or not, you can choose one of 2 options: with cream or just with vegetable broth. And another small but very important caveat: the next day this soup is even better!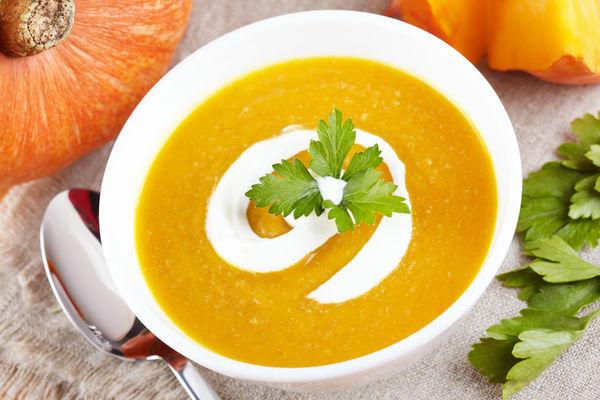 You will need: Pumpkin — 1 kg
Onion — 1 piece
Garlic — 1-2 cloves
Cream — 100 ml
Vegetable oil (olive) 2 tbsp
Salt — to taste
Sugar — 1/3 tsp.
Ground black pepper — optional
Water — 1.2 l
For serving — greens, red pepper, croutons, pumpkin seeds
As gotovitch peel and seeds, cut into small pieces. Peel the onion and chop the garlic finely chop or skip through chesnokodavku.
Fry the onions in a saucepan on low heat until transparent (fans of thyme can add at this point, 1-2 sprigs of seasoning, it will give the soup a special taste). Add the garlic and a little (for a minute) fry. Put in a saucepan the chopped pumpkin, stir with onions and garlic, add sepatuku sugar and fry for 5-7 minutes, stirring as needed. Then pour water, bring to a boil and cook for 20 minutes.
The immersion blender attachment to grind the softened pumpkin, puree (you can use kartoffelsalat). Pour the cream, season to taste with salt, pepper. Mix thoroughly. When serving, decorate as desired: herbs, pumpkin seeds, colourful pieces of bitter pepper, add bacon bits, or simply crackers.
In the notebook:
It is noteworthy that soups pumpkin is popular all over the world. However, it is prepared everywhere in its own way. We too can make this wonderful healthy dish using "foreign" clues. So, the British added to pumpkin soup apples and leeks, Uzbeks make soup with milk, Australians, flavored with plenty of spices, and the Italians cook soup with cheese, rice and even... wine. So, having to go home a few pumpkins from his garden, it is possible to diversify our winter-spring table))  
Lentil soup with vegetables
Lentil surprisingly pliable and very versatile product. The extraordinary appeal of her is that she is simultaneously satisfying and low calorie: high protein complex carbohydrates and practically no fats. So prepare lentil huge number of dishes: soups, salads and side dishes, meatballs, meatballs and meatballs, bread and sweets.
The first dish of lentils prepared quickly and easily, and produces rich, delicious and hearty. For soups it's better to use red lentils: she cooks very quickly. And if you "missed" and digest it — you can, mix well and safely serve the dish as a soup, it will not be less tasty and healthy!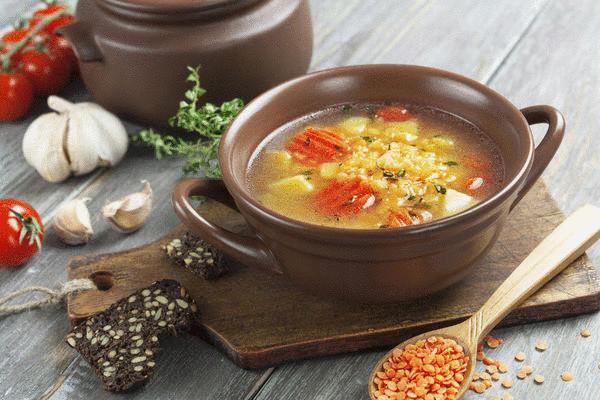 You will need:
Red lentils — 250 g
Bulgarian sweet pepper — 2 PCs
Carrots — 150 g
Onions — 150 g
Leeks — bunch
Celery (stalks) — 150 g
Garlic — 2 cloves
Vegetable oil (or olive) for frying
Spices — to taste (fresh, dry)
Salt, pepper — to taste
Water — 2.5 l
How to cook
Lentils, rinse, cover with water and put on fire. Once the broth boils, the fire abated and cook on low heat for about 10 minutes.
Crumble the onions, leeks and celery, carrot and bell pepper cut into strips or conceived figure, and crush the garlic in chesnokodavku. Vegetables slightly pripustit in vegetable oil, add the broth and lentils and simmer for about 10-12 minutes.
At the end add salt, add spices (parsley, Basil, etc.). Turn off the heat and let the soup to infuse for 10-15 minutes. Pour into bowls, garnish with greens. Serve the red lentil soup with fresh bread. You can add a spoon of sour cream.
In the notebook:
Some prefer to eat lentil soup is not hot, but warm, claiming that it tastes better.
Optionally, soup to "break" in a blender and serve as soup.
A little undercooked red lentils will decorate almost any cold salad.
Lovers of soups with meat can when cooking to replace water for broth.
The caloric value of raw lentils — 106 Kcal, cooked has 111 Calories, and fried — 101 Kcal.  
Vegetarian soup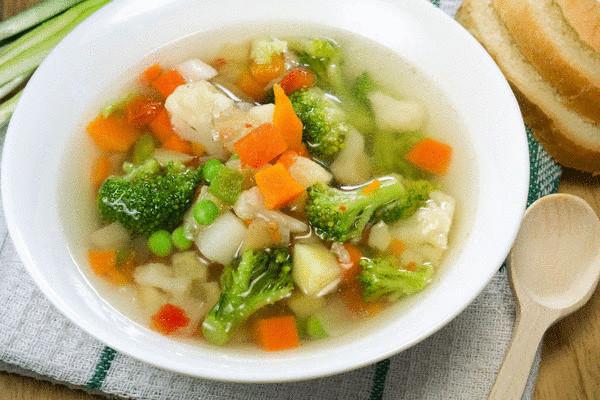 You will need:Broccoli — 300 g
Potatoes — 300 g
Carrots — 100 g
Green peas (frozen or canned) — 100 g
Leeks — 100 g
Vegetable oil — 50 g
Ground black pepper — optional
Salt — to taste
Spices — to taste
How to cook
Potatoes peel and cut into cubes or cubes. Cabbage disassemble on inflorescences. Peel the carrot and cut into cubes or slices. Leeks cut into slices.
Carrots and leeks to put in the heated oil and sauté on low heat. In boiling salted water put the potatoes and cook until tender (15-20 minutes). If canned, you can put as soon as the water after adding the potatoes to boil again. If frozen green peas shopping, then add it 5 minutes before the potatoes are done, if your, a little earlier — for 7-8 minutes.
As soon as the potatoes cook, in a saucepan put broccoli and sauteed vegetables, bring to boil, add spices. Cover, remove from heat and allow to "walk" for 10-15 minutes. The original flavor will give the soup crushed walnuts. If the condition is not recommended the addition of roasted ingredients, carrots and onions together with potatoes boiled without sauteed.
Tip: it is very important to prepare vegetable broth for a vegetarian soup. It's made from potatoes, onions, carrots, cabbage, celery, parsley and other vegetables. Chopped large chunks of vegetables pour well heated water and boil under lid on low heat for about half an hour. After disabling fire broth give still to steep for 15-20 minutes, then vegetables and greens as much as possible will give the broth its flavor and aroma.  
Cold creamy soup with rice and dried apricots
Is one of those soups that can become a favorite dish of the day. Preparing easy, delicious and looks beautiful)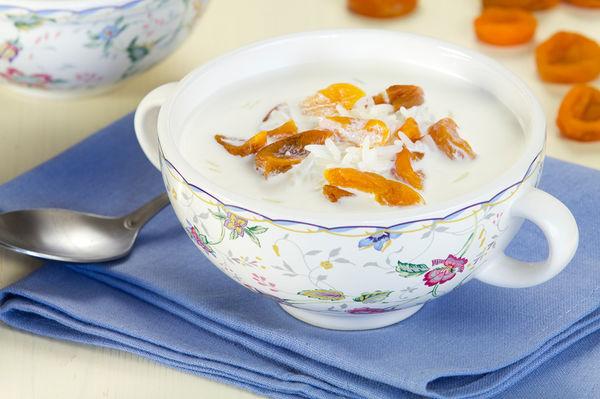 You will need:dried Apricots - 150 g
Rice — 45 g
Sugar 30 g
Cream 50 ml  
As katowickiego rinse, cover with water, add sugar and put on fire. When the apricots will be ready, part of it will need to wipe through a sieve and leave in one piece.
The rice is rinsed first in cold, then in warm and hot water and boil (do not overcook it to remain crisp). Before serving, gently stir rice with pureed dried apricots, add cooled broth of dried apricots and fill with cream.
Tip: the sweetness of the soup can be different — depending on taste. Sweet tooth the amount of sugar you can add, prefer foods without sugar — simply ignore, the soup from this charm will not lose. If desired, the sugar can be replaced honey. Then the honey is added just before serving.  
Tomato soup with beans
is a Wonderful meatless recipe. This soup will satisfy not only vegetarians and fasting. Hearty and spicy, it is sure to be appreciated by the male half.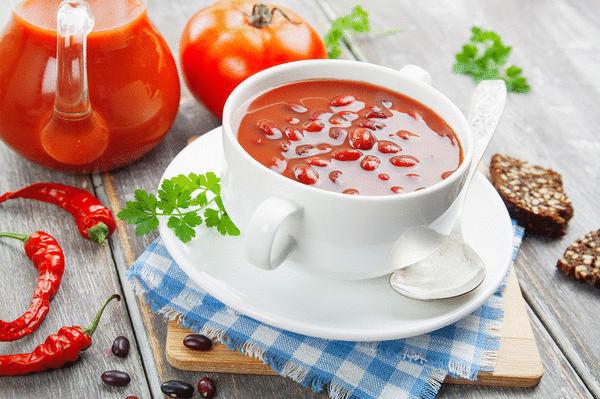 You will need:Beans — 1 Cup
Carrots — 1 piece
Tomato paste — 150 g (you can substitute grinded tomato pulp)
Onion — 1 PC.
Olive oil - for frying (3-4 tbsp.)
Spices (garlic, chilli, thyme, parsley) — to taste
Salt — to taste  
As golovicher rinse, cover with cold water and leave for a day. After that, rinse again, put in a pot, add 2 liters of water and cook until tender. Drain beans in a colander. The broth in which it cooked, bring the water to the original volume of 2 liters and put on a small fire.
Finely chopped carrots and onions fry in olive oil until tender consistency and add to the broth. When boiling resumes, add the tomato paste and ¾ parts of boiled beans over medium heat and cook for 10-12 minutes.
Drain the broth, beans and vegetables to blend into a homogeneous mass and then add the broth. Put into the soup the remaining beans, bring to a boil, add salt and spices to taste. You can serve soup with croutons, sprinkling them directly into the soup.
Tip: if you decide to use ready canned beans, the cooking time of soup is much reduced. Literally to 20, maximum 25 minutes. This soup must be thick, otherwise it will have "poor" taste.
Chickpea soup with peanuts and herbs
chickpea Soup is extremely tasty and nutritious. Its buttery texture and light nutty flavor gives a pleasant tenderness and flavor. Besides, chickpeas are a very useful product; it is recommended for diabetics and those who suffer from skin diseases and frequent consumption of chickpeas even help get rid of depression.
Chickpea soup is delicious as meat broth and no added meat. And thanks to the properties of the chickpea, on the second day the dish will be even tastier!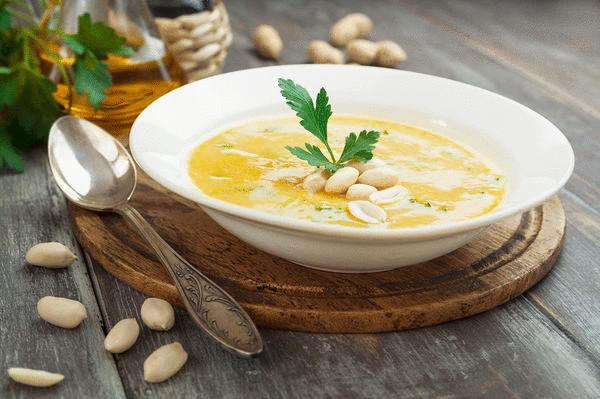 You will need: Beef on the bone — 500 g
Chickpea (dry) — 1 Cup
Potatoes — 4-5 PCs
Carrots — 1-2 PCs
Onions — 1-2 PCs
Salt — to taste
Herbs, spices — to taste
How to cook
In the pot while laying the washed meat and chickpeas, pour water, bring to boil, remove the foam. Reduce the heat, cover and leave over low heat (braising) for 2.5-3 hours. After about 2.5 hours add salt, potatoes, diced, fried onions and carrots and cook until tender. 2-3 minutes before end of cooking add spices.
Gram soup with garlic, coriander, red pepper. When serving, pour into the soup a handful of peanuts, crumble into the bowl of greens.
Tip: dry the chickpeas can be soaked in the evening in plenty of salted water. You need a lot of water, because the chickpeas in the soaking greatly increases in volume. Pre-soaked, it cooks three times faster — usually an hour reaches readiness. Soups made from canned chickpeas also make a delicious. Besides, the cooking time generally is reduced to 20-25 minutes.
Corn soup with pumpkin and pepper
soup This original should appeal to many — he smells of the sun, the South and the village in the summer. In the season the corn you can chop straight from the cob, now is suitable for either canned or frozen. Soup is a snap and cooking time takes only one hour.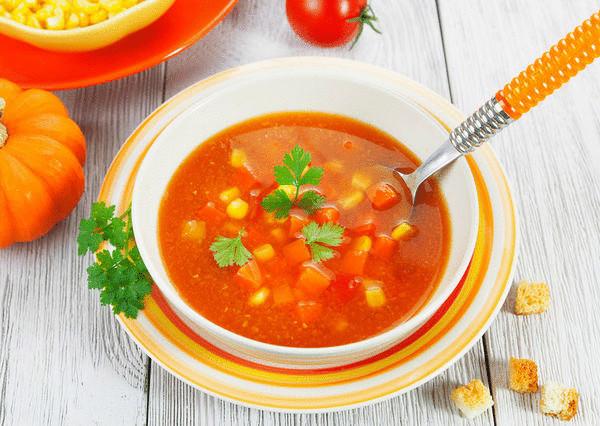 You will need:Pumpkin (already cleaned) – 200-250 g
Ripe tomato – 1 large
The sweet Bulgarian pepper — 2 PCs
Corn milk – 4 medium cob (frozen or canned — 1 jar)
Garlic – 2 cloves
Leeks – 1 medium stalk
Pepper red sharp Chile – 1 small pod
Vegetable oil – 2 tbsp
Butter – for frying (1 - 1.5 tbsp)
Bay leaf – 2 PCs
Salt – to taste
water – 1 l
How to cook
Pepper bake in the oven (or grill) to tan, remove the skin and clean away core with seeds. Cut into stripes. Pumpkin cut into cubes. Tomato peel and also cut into small cubes. Leeks and garlic finely crumble. Corn cut from the cob (canned is open). Chilli pepper cut into rings.
In a saucepan with a thick bottom fry in butter chopped onion, add the diced tomatoes and garlic and fry for 3-4 minutes. Add to the mixture the chopped pumpkin, pour 0.5 liters of broth (or water), stir, add Bay leaf and salt. On low heat cook for 20-25 minutes.
In the remaining 0.5 l of broth to boil for 5 minutes corn. Get it and fry in butter along with slices of Chile for 2-3 minutes (add broth to the pan with the vegetables). Roasted corn and bell pepper, add to pan and keep frying for 3 minutes. The soup is ready. When serving, it is possible to decorate with greens.
Tip: if you want to make soup, before adding the corn, put the bell pepper and whisk the vegetables with a blender. Then add roasted corn with Chile and a 2-3 minute hold on the fire.  
Vegetable soup with pickles
pickles is not only a traditional snack "crunching", but also a perfect ingredient for the first course. Without them it is impossible to imagine a pickle; they will give the original taste of beet friedge, spicy Rybnik or mushroom necklace. Today we will introduce you with one of these original recipes.
You will need:for 1 liter of water
Poultry meat (and innards) — 400 g
Potatoes — 180 g
Pickled cucumber — 1 PCs (can be replaced marinated)
Butter — 20 g
Vegetable oil — 2 tbsp
Onion — 1 piece
Leeks — 10 g
The root of parsley — 20 g
Celery root - 10 g
Garlic — 5 g
Spinach — 40 g
Sorrel — 30 g
Salad green 30 g
Parsley herbs — 20 g
Bay leaf, pepper — to taste
Salt — to taste
Sour cream — 20 g
How to cook
Meat and poultry giblets cook over low heat until the meat starts to separate from bone. Strain the broth, meat cut into small pieces. Potatoes cut into cubes (or cubes), put in broth and cook until soft.
Onions, leeks, parsley and celery cut into strips and fry in oil. Sorrel, spinach and lettuce wash and chop. To grind the garlic with salt. Salted (or pickled) cucumber, remove skin and cut into cubes. All cooked foods add to the pan to half the potatoes and cook the soup for another 15 - 20 minutes. Season with salt, add seasonings. Keep frying for 1-2 minutes. If necessary, you can add cucumber pickle. When serving the soup to put sour cream, meat slices and greens.
Tip: good if you whip the cream with the egg yolk, pour them with boiling soup and sprinkle with chopped greens.
Potage of turnip leek and garlic
Soup is a light soup, which is based on water and vegetables. It's always meatless dish because, unlike soup, the stew not cooked in meat broth, does not provide for the roasting of the components with oil and fat. Eat this soup immediately after cooking — hot. To leave her the next day is not recommended.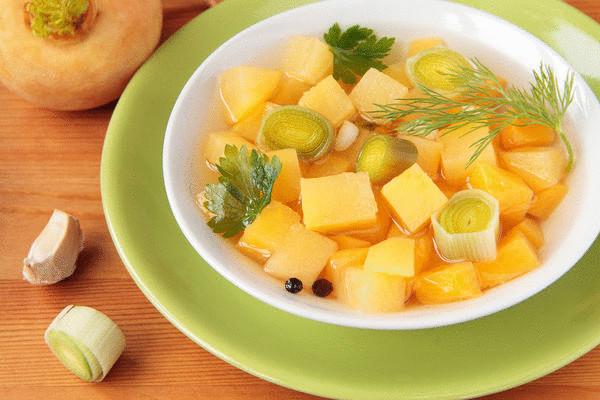 You will need:leeks — 3 pen
Garlic — 3 cloves
Bell pepper — 5 PCs
Parsley, dill
Salt — to taste
How to cook
In salted boiling water put the diced turnip and ring-kruglyashi leek. Add the bell pepper. Cook until tender turnips. 3 minutes before removing from heat add the chopped garlic for 1-2 minutes — the greens. The soup should remain clear; if to digest, the broth is turbid, and the scent will evaporate. Cooking time — not more than 25-30 minutes. Serve this soup well with black bread.
Tip: soup made from turnips not only useful as a first course — she is also an excellent tool for the treatment of viral diseases and colds. Therefore, "God himself commanded" to prescribe turnip in my apartment for a permanent residence
And finally — the original peasant turnip soup "negretyanki" submission from Sergey malachowski. published    
Source: www.7dach.ru/Tangeya/originalnye-ovoschnye-supy-dlya-zimnego-stola-15296.html