Offer you recipes simple vegetable soup: potato and broccoli (mashed), soup with lentils and cold soup of avocado.
To cook them quite simply, and to eat in the Post — very nice. Because it is delicious.
Potato soup with broccoli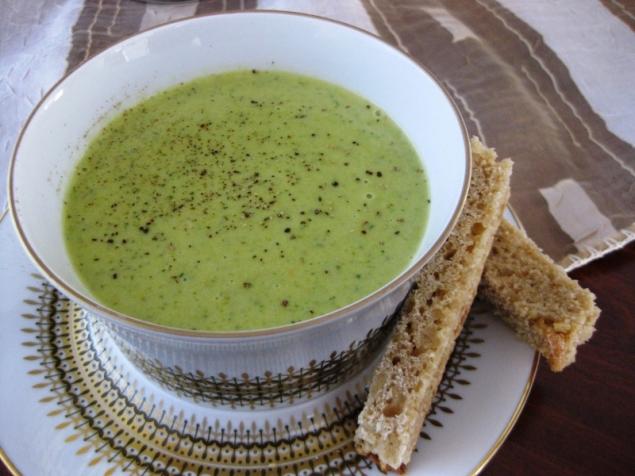 A gentle cream-soup from broccoli to cook very quickly, it is important not to lazy to stain and then to wash the blender when grinding cooked vegetables into a puree.
If you don't have broccoli, add the soup of cauliflower and parsley (or spinach). And a bit of lemon juice. Will be delicious.
And, you can weld and grind into a puree ready purchase frozen vegetables (for example, Hawaiian blend or paprikash).
What you need for a soup with broccoli
4 servings (casserole 1.8-2 liters)
Olive oil -3 tablespoons;
Onion — 1-2 large onions (cut into cubes);
Garlic — 3 cloves (cut into slices);
Broccoli — 300 g (disassemble on inflorescences);
Potato — 1 medium tuber (cubes);
Vegetable broth or water — 4 cups;
Grated nutmeg — 1/4 teaspoon;
Salt and pepper — to taste.
How to cook broccoli soup
Heat the oil right in the soup pot and fry the onions with the garlic (to mitigate and first smell).
Pour into the pan broth. Bring to boil and add broccoli and potatoes. Again bring to a boil and cook over medium heat for 15 minutes.
Remove the cooked vegetables from the soup with a slotted spoon. And grind them into a puree with a blender. Return the puree to the pot and again bring to boil.
Add the nutmeg. Season with salt and pepper.
When serving, decorate with greens (parsley, Basil, dill). Fans can acidify the soup with lemon juice.
Still delicious served vegetable soup of broccoli with garlic croutons.  
Lentil soup and rice and spinach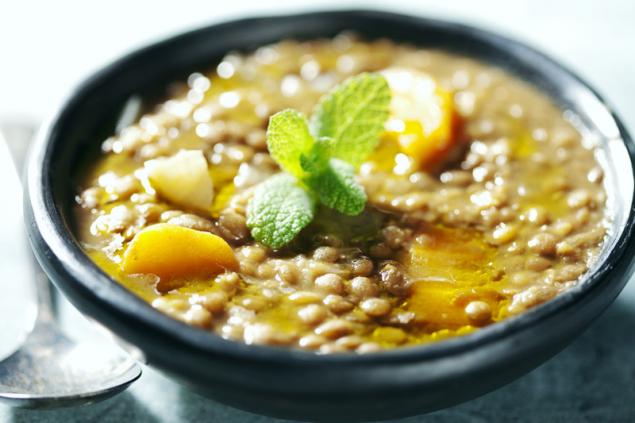 When you walk past the brown (green) lentils in the store, it seems that she's so modest and simple... what delicious to cook from her?
To lentils was delicious, and it is necessary to combine it with the correct products and be sure to acidify dishes of lentils. It sour notes enliven the meals from the legumes.
And then you life will love this inconspicuous rump, which fills the dishes of tranquility and consumer — pleasant fed warm inside.
The composition of the lentil soup with rice (vegan)
6 servings
Green (brown) lentils -500 g;
Spinach — 250 g (wash, cut into as sorrel);
Leeks — 2 (the white part cut into rings) or 4 small onion (thin half-rings);
Carrots — 2 (cut into cubes);
Sweet peppers — 2 red and one green pepper (cut into pieces);
Herbs (celery or parsley) — a small bunch (grind);
Bay leaf — 1 piece;
Tomato paste — 2 tablespoons;
Garlic — 1 clove (pieces);
Olive oil
Balsamic vinegar (or lemon juice), salt, pepper;
You can even 1/2 Cup of rice (optional).
How to cook lentil soup with rice and vegetables
to Prepare lentils for soup
Sort through the lentils, if you come across stones to remove. If lentils are of high quality (no garbage) — just rinse under running water.
Throw the lentils in boiling water. To remove the resulting foam with a slotted spoon. Cook for 5 minutes. Then drain the cooked lentils in a colander and rinse under running water.
Cook vegetable soup with lentils
Fill a pot with fresh water, return the lentils. Bring to a boil and add the rice, carrots, garlic, tomato paste, a little olive oil, Bay leaf and celery greens. To cook under a lid for about 40 minutes.
Add the leeks, spinach, sweet pepper, rice. Continue to cook for about 20 minutes (until the lentils are soft. If necessary, longer). Salt. Pepper.
Submit a lentil soup to the table
Serve with a small amount of balsamic vinegar (or lemon juice) and herbs. You can add a little olive oil in each bowl.
Is it possible to replace the green lentils red
of Course, possible. Red (orange) lentils are rich in starch and quickly prepared, razvalilas into a puree. Very tender and delicious. It is a real delicacy. Which needs to fill with lemon juice to correct the taste.
And green lentils and remains with the seeds, it has more modest taste. But also very nice, especially in combination with vegetables. 
Soup-puree of avocado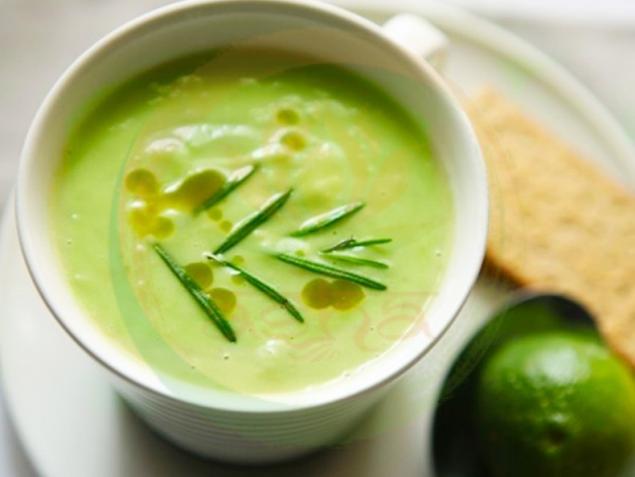 Of course, this meatless soup from avocado is hard to take seriously because it requires no cooking, just all the ingredients are blended in a puree of fresh, flavored with vegetables and is served at the table.
This puree is rich in vitamins and the first dish especially good in the heat, as the Spanish vegetable soup with a tomato gazpacho. But avocado soup is interesting and a Great Post to anyone who wants to diversify their modest menu.
What you need for vegetable soup with avocado
on 2 servings
Ripe avocado, soft — 1 piece;
Tomato — 1 piece;
Garlic — 2 cloves;
Salt, pepper — to taste;
Olive oil — 4 tablespoons;
Lemon (half for juice)
How to cook cold soup of avocado
Halve the avocados, remove the stone. Slice the avocado inside the skin cubes and with a spoon remove the pulp. Or slice the peeled avocado in any other way.
Grind in a blender all the ingredients: avocado, tomato and garlic. Season with salt and pepper. Season with olive oil and sprinkle lemon juice (to taste). If you like more liquid puree, you can add boiled and cool water.
To serve, sprinkle with herbs. It is possible with toast, pita bread or warmed pita bread Arabic.
What can I add in avocado soup
vegetable soup delicious avocado add sweet and hot peppers (Chile) or take instead of fresh tomatoes — canned (for example, in its own juice). Then the taste of our vitamin soup will become more sharp and expressive.
You can eat it tender, puree it with a bit of sugar marinated olives and spicy green pepper. Pickled vegetables will be in harmony with velvety vegetable soup.
But if you have crunchy cucumbers or mushrooms (in marinade), you can chop them in small pieces and mix with the finished soup. Very tasty. But then try, lemon will require just a little bit, and it will be sour.
Author: Natalia Grekova  
Cook with love!
P. S. And remember, only by changing their consumption — together we change the world! ©
Source: parakalo.ru/postnyiy-sup-po-grecheski/