Cold soups, perfect for menu on hot days, they not only saturate the body and helps you to feel fresh and fresh.
The most popular category of cold soups is, of course, all sorts of hash, which can be prepared in a lighter and vegetarian option, with meat for those who like to eat hearty even in the summer heat, yogurt, kvass and other basics. For centuries our ancestors prepared these soups in the warmer time of the year to the meal brought the body only feels good saturation with no feeling of heaviness.
But
hash is not the only option,
because recipes cold soups today there are many. So, quite common now and cold Sokolniki, borscht, cabbage soup and other famous Russian soups. Today we offer you to get acquainted with other interesting options for cold soups, less known but no less delicious, healthy and refreshing.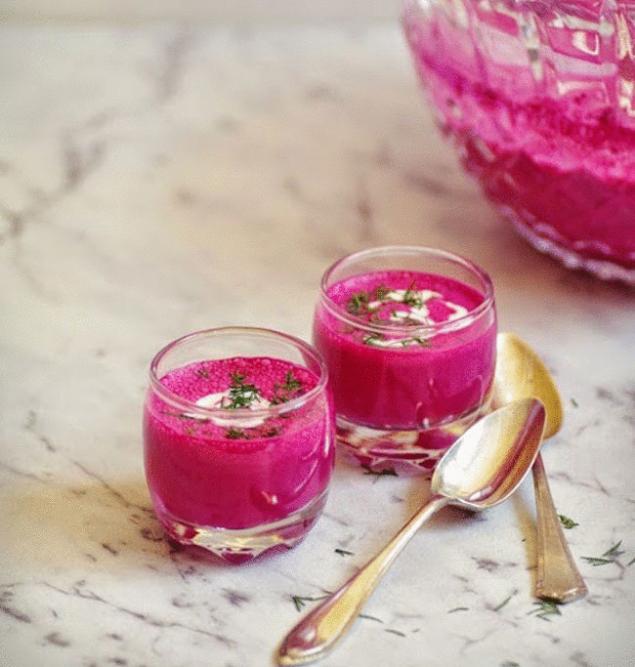 COLD BEETROOT AND SORREL SOUP
You will need: 200 g beet tops and sorrel, 100 g of radish, 50 g green onion 30 g dill, 1 cucumber, ¼ Cup of sour cream, and salt.
How to prepare cold beet soup with sorrel. To start rinse the beet tops and finely slice it, place in a pot of boiling water and boil for 10 min. Wash the sorrel and finely chop, add to the tops in the pan for another 10 min. boil, after which all the sunflower and leave the soup to cool. Slice the cucumber, chop the herbs and green onions, add to the cold soup. Serve this soup with sour cream.
If today is such a soup recipe someone may wonder that 100 years ago these foods were the cause of the most casual and common. Soups on beet tops are traditional Russian cuisine, they are our ancestors prepared for centuries from the most ancient times.
Eat beet tops can safely, it contains nutrients and is the same full product as the beets, but if the preparation of this soup you still not solved, try to make soup with only one sorrel.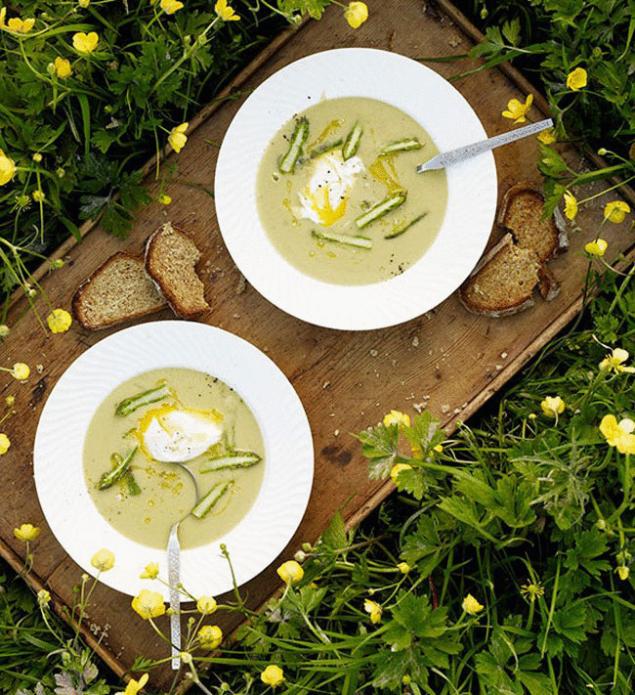 COLD SORREL SOUP WITH EGG AND CUCUMBERS
will Need:
250 g of fresh cucumbers,
150 g of sour cream and onions
3-4 hard boiled eggs,
1 kg of sorrel.
How to make a cold soup of sorrel, cucumbers, and egg. Well wash the sorrel in cold water, slice it, pour boiling water and cook for 5-10 minutes at a strong boil to soften the leaves. Cool the cooked sorrel broth in cold weather. Separate the egg whites from the yolks, finely chop the onion. Cucumbers cleaned, cut into strips. Season cold soup with sugar and salt to taste, put the chopped egg whites, cucumbers and green onions. Mash yolks with sour cream, put the mixture into the soup and stir it well. Sprinkle with chopped dill when serving.
COLD MUSHROOM SOUP WITH the VEGETABLES
you will Need:
60 g carrots,
50 g dried mushrooms,
50 ml vegetable oil,
40 g onions,
30 g of parsley root,
20 g of flour and parsley,
15 g of celery root.
How to cook cold soup from dried mushrooms. Wash the mushrooms, soak for 1-2 hours in cold water, then wring out and finely chop, add fresh water and bring to a boil. Put the soup chopped parsley, the same way chopped carrots, onions and celery, boil until tender all vegetables. Flour and fried in a pan with vegetable oil, fill it to the soup 5 minutes before end of cooking. Before serving the soup to cool, sprinkle with chopped parsley.
This soup turns out very rich and flavorful, will appeal to all lovers of mushrooms. It may be cooked with mushrooms or oyster mushrooms, but the flavor of the soup will not be as intense.
Prepare cold soups you can, of course, not only on the water. Very tasty and refreshing soup will be on the yogurt.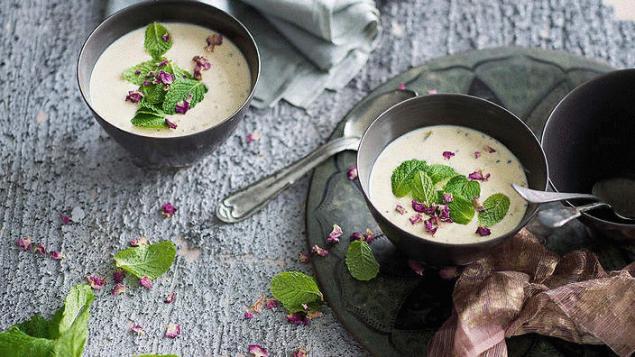 COLD SOUP OF CUCUMBERS IN the YOGURT
you will Need:
1.5 l yogurt,
800 g cucumbers,
3-5 cloves of garlic,
2/3 Cup peanuts,
dill, salt.
How to cook cold soup with yogurt. Rinse peanuts, dry it and bake on a dry frying pan, peel and finely crushed nuts. Medium-sized slice cucumbers, mix with nuts, add pressed garlic and chopped dill (about 1 bunch), salt, mix, and pour the soup yogurt. Serve cold.
If you want the cold soup was more nutritious, cook it with fish.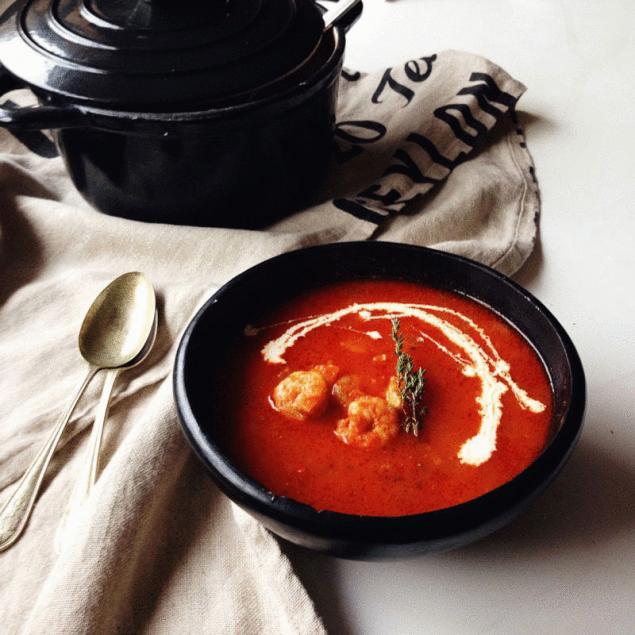 COLD TOMATO SOUP WITH FISH
you will Need:
1 liter of tomato juice,
300 g fish or shrimp
1-2 cucumber,
1 hard-boiled egg,
4 tbsp green onions and sour cream, and salt.
How to cook cold tomato soup with fish. Green onions finely chopped, and salt to release the juice grind. Cubes cut fresh cucumbers and egg, add to the onions, mix, and pour all the tomato juice. Put sliced fillet of cooked, smoked or grilled fish, season the soup with sour cream and serve, sprinkled with dill.
More delicious this soup will be from home-made tomato juice.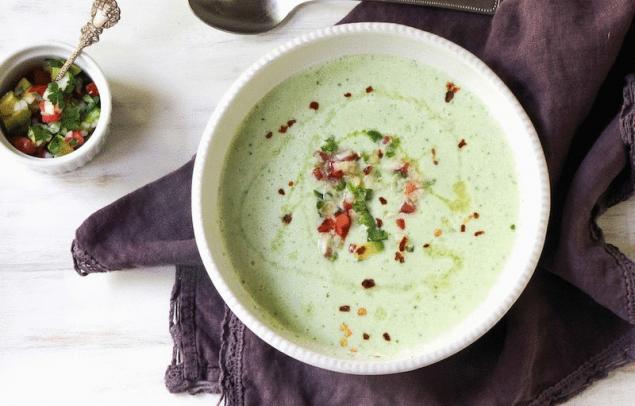 COLD YOGURT SOUP WITH CUCUMBERS AND WALNUTS
you will Need:
300 g natural yoghurt,
60 g walnuts, roasted
15 g parsley leaves,
1 clove of garlic and a large cucumber
4 tbsp water
2 tbsp olive oil,
1 tbsp of lemon juice.
How to cook cold yogurt soup.
Cucumber to clean, to cut along and remove seeds with a teaspoon, cut into pieces about 2 cm Into the food processor or the bowl of a blender put the nuts, garlic, parsley, water, and butter, and half a cucumber, blend. Put the remaining cucumber, salt and pour lemon juice, whisk to mix. Add to the soup, laid out in a tureen, yoghurt, pepper and salt to taste, if desired add more lemon juice under the hood to withstand the soup before serving for half an hour, to decorate plates mint.
Cold soups are great because in the heat help to maintain a sense of lightness, thirst and hunger, this is a great option for those who seek relief from the diet during the warmer time of the year. If you have never tried these soups, start with the easiest options with the usual combination of products – you will love it! published
P. S. And remember, only by changing their consumption — together we change the world! ©
Source: ovkuse.ru/recipes/xolodnye-supy/