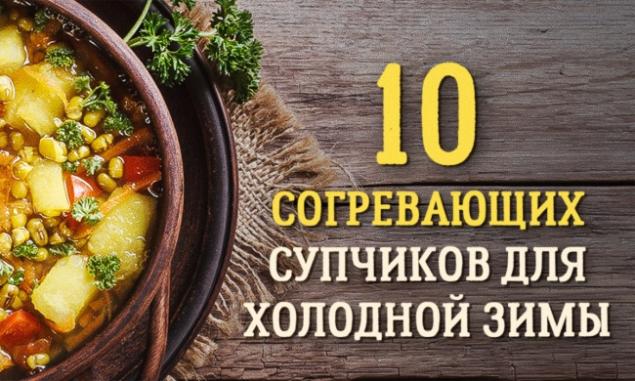 motto winter can be: "Not a day without the soup." Soup and were satisfied, and will please the soul and warm - and that is exactly what is needed in the cold season. No wonder the further north people live, the more soup in his kitchen.
Website gathered for you the best recipes of delicious warming soup that will delight on a snowy winter day.




Turkish lentil soup h3>






Lentil soup - one of the most popular dishes of Turkish cuisine, much like borsch in Russia. Despite the simplicity of the preparation of this delicious moment, and even children devours his cheeks (naturally, hot spices in this case it is better not to put). The soup can be cooked and on the water: the taste of it will not lose.

You will need:


lentils - 1 cup wheat semolina or bulgur - 0, 5 cups onion - 1 pc. tomato paste - 1 tbsp . l. beef bones for broth - 1-2 pieces. butter - 1 tbsp. l. hot pepper, meal or paprika, dried peppermint, thyme and cumin, salt water or beef broth or chicken - 2 l. How to prepare:


Put the lentils in a glass of water or broth, put on fire. After about 10 minutes of boiling, add the wheat. Then cook the soup over low heat until the barley is not seethe. It takes about 30-40 minutes. In the meantime, fry the finely chopped onion in butter, a cup of broth 1 full breed with top spoon of tomato paste. Pour the tomato paste to the onions and give simmer for 2-3 minutes. Put the soup and season with salt it. For 15 minutes until cooked add the spices to the soup: half a teaspoon of mint, cumin and thyme. After removing the soup from the heat, let it stand 10 minutes before serving. Ready soup can pyurirovat blender, and you can eat as soup is thick and almost uniform. Before serving, sprinkle with coarse black pepper or paprika.


Pumpkin soup with curry h3>






Pumpkin will provide vitamins, so necessary in cold weather and warm curry and give an intense aroma. Cream "make friends" and the pumpkin curry and soup will taste sweeter.

You will need:


pumpkin - 1 kg large onion - 1 pc. parsley - 1 bunch vegetable broth, water or meat broth - 1 5 l. cream - 100 ml butter - 3 tablespoons. l. olive oil - 1 tbsp. l. curry - 1 ch. l. salt - to taste How to prepare:


Heat the butter in a large saucepan and olive oil and fry the chopped onions until transparent, then pour the curry and stir. Pumpkin cut into large pieces and remove the skins. Send squash to the onions, simmer for about a minute, stirring, then pour the vegetable broth and boil until cooked pumpkin, 25-30 minutes. Drain off most of the broth in a separate bowl. Cooked pumpkin whip in a blender, then pour the broth back. Add the cream, salt to taste, slightly warm. Serve garnished with parsley.


Tomato soup with spicy chili pepper h3>






Spicy and unusual soup can be submitted and guests.

You will need:


tomato - 1500 g potatoes - 400 g carrot - 200 g onions - 100 g croutons of white bread - 60 g celery stalks - 50 g basil - 1 sprig olive oil - 1 tbsp. l. a sharp chili pepper - 1 pc. yellow pepper - 1 pc. salt and pepper How to prepare:


tomatoes scalded with boiling water and peel, cut in half, remove the seeds. Vegetables, except peppers, wash and clean. Diced vegetables to put in a pan with the tomatoes, add 2 cups of water. Lightly season with salt and bring to a boil, reduce heat and simmer, covered for about 30 minutes. Sweet pepper Wash, remove seeds and partitions, cut into cubes of 1 cm. Lightly season with salt and add to the pan with croutons of white bread, fry everything together. The soup using a blender to turn into a homogeneous mass. Add finely chopped hot chili pepper. In soup add the olive oil, salt and pepper to taste. Pour into bowls, sprinkle with basil. Serve with croutons and slices of sweet pepper.


Cheese Soup French with garlic croutons h3>






Cheese soup is very easy to prepare, but the result is amazing, soft cheese gives the soup a rich creamy taste. Cheese soups are nutritious, and hence good will warm on a cold day.

You will need:


chicken - 400 g soft cheese - 200 g potato - 3 pieces. carrot - 1 pc. salt, pepper, allspice - to taste vegetable oil - 2 tbsp. l. bay leaf - 3 pieces. fresh herbs - to taste to toast - baguette (or any bread), garlic, olive oil < / How to prepare:


Boil in a pot 1, 5 liters of water, cut the chicken into small pieces and put it in boiling water. Once the broth begins to boil, add salt, a couple Goroshkov allspice and black pepper, bay leaves. Cook from the moment of boiling 20 minutes. Clean the potatoes and cut into cubes. We take out the meat, put the potatoes, and cook it for 5-7 minutes. Clean and rub carrots. Make a weak zazharku in sunflower oil. Lightly salt and pepper. Ready zazharku add to the soup and cook for another 5-7 minutes. Add the cream cheese, mix well and turn off the fire. Cut the baguette into long slices. Clear the one clove of garlic. On both sides of bread dipped in olive oil. Rubbed with garlic on both sides (cut along the half) and put in the oven for a few minutes at a temperature of 190-200 degrees. Bread soup to serve.


Pea soup with smoked h3>





Pea soup with smoked meat - one of the tastiest soups in Russian cuisine.

You will need:


pork, smoked ribs - 300 g carrot - 1 pc. onion - 1 pc. potato - 2 pcs. dry peas - 1 cup parsley - to decorate oil - 1 tbsp. l. (for frying) salt - to taste green How to prepare:


Peas soaked in cold water for 10-12 hours before cooking to wash out. Smoked ribs washed, put in boiling water (about 2, 5 liters) and cook for 35-40 minutes, removing scum. After 35-40 minutes, add the peas and cook for another 10-15 minutes. In the meantime, you need to cut the onions and carrots and fry them on a preheated pan with oil until golden brown. Once 50 minutes have passed since the beginning of cooking ribs, can be added to the pan the onion, carrot, potato and salt. Cook pea soup even 10-12 minutes, until tender. Serve and garnish with greens.


soup with mushrooms h3>





Cream soup with mushrooms - a delicious meal, despite the simplicity of its preparation.

You will need:


mushrooms - 170-200 g Dried mushrooms - 15 g Garlic - 2 cloves onion - half a head vegetable broth or water - 2 liters milk - 0, 5 cups nutmeg - 2 pinches flour - 1, 5, Art. l. vegetable oil - 2 tbsp. l. olive oil - 3 tbsp. l. Toast bread - 2 slices butter - 3 tablespoons. l. salt - to taste pepper - to taste How to prepare:


Please make a toast as they prepared approximately as much soup. Melt butter cut into cubes and toast bread. Dip each slice in butter and season with salt. Preheat oven to 150 degrees and place the pieces to dry for 25-30 minutes. All Heat the olive oil in a pan with a thick bottom. Chop the onion finely, put the butter and cook until onion is translucent. Then squeeze into the pan 2 cloves of garlic and cook, continuing to interfere with another 2-3 minutes, but no more. It is essential that garlic is not burnt. Reduce heat to medium. Cut thick slices of mushrooms mix with dried mushrooms and add to the pan with onion and garlic. Cook for about 6-8 minutes so until the mushrooms are tender. Next, pour in vegetable broth, bring to a boil, then turn down after to medium and cook for another 5 minutes so. Mix milk, vegetable oil and flour in a separate bowl, and then enter this mixture into the soup, stirring it quickly whisk to avoid lumps left. Cook, stirring until then, until the mixture begins to thicken. It takes approximately 5 minutes. Using a blender, pyuriruyte soup on low speed for 15 seconds. It is advisable not to keep long: it is necessary to remain in the soup whole slices of mushrooms. Salt and pepper to taste the soup, add the nutmeg and serve with fresh croutons.


Laghman h3>





Ways to prepare wholesome Laghman lot. We will tell you about one of the most simple. By the way, not necessarily prepare the noodles by hand, you can look in the stores.

You will need:

To vadzhi (hotpot)


tomato paste - 3 tbsp. l. minced ginger root - 1 tbsp. l. meat (the best lamb, but you can take beef) - 0, 5 kg tomatoes - 2 pieces. onions - 1 onion broth - 0, 5 l celery stalk - 1 pc. garlic - 1 head red and yellow bell pepper - to 1 pc. dill and parsley, salt, red and black pepper - to taste vegetable oil - 150 ml For the noodles:

Special noodles to Laghman to buy. But if you really want to cook yourself, here:


flour - 300 g egg white water, salt How to prepare:


The ingredients for noodles and 150 ml of water, knead the dough, roll into a ball, let stand in the cold for 30 minutes. Roll on flagella thickness of a pencil, put them in a spiral pattern on a plate , cover with foil and let stand again for 30 minutes. Then stretch the arms - should get thin long pasta 2 mm thick. Boil noodles in salted water, put in a colander. Rinse under running water and sprinkle oil to not stick together. onion cut into half rings, pepper - diced tomatoes - slices, celery - slices, garlic, coarsely chopped. The meat cut into small cubes. In a saucepan, melt 3 tablespoons. l. oil; meat, stir fry for 7 minutes. Add alternately onion, bell pepper, tomatoes, garlic, tomato paste and spices. Cook, stirring occasionally, until tender meat, occasionally adding oil if necessary. The broth is poured into the prepared vegetables with the meat, bring to a boil. Remove from heat and let stand for 20-30 minutes. Before serving, ready to warm up the noodles in a colander, dropping into boiling water for 1-2 minutes. Arrange the noodles in a Website articles (large bowls) or deep dish, pour the broth with meat and vegetables, sprinkle with herbs.


Onion soup with croutons and cheese h3>





The French prefer to bask cold evenings onion soup. Onion soup - always urgent classical cuisine of this country. The products it requires at least, and it turns spectacular and delicious.

You will need:


semi-hard or hard cheese - 100 g onion - 500 g butter - 50 g sugar - 1 tbsp. l. Flour - 1 tbsp. l. broth (beef or chicken) - 1, 5 l slices of baguette salt, freshly ground black pepper - to taste How to prepare:


onion thinly sliced ​​into half rings. Melt the butter in a saucepan with a thick bottom and fry the onion over medium heat, stirring frequently, so that it is not burnt, but only zazolotilsya and became soft. Salt and pepper. Sprinkle onions with sugar, flour, and stir for 10 minutes. Pour the hot broth, bring to a boil, cook on low heat for 30-40 minutes. Pour soup refractory trays or pots, put on top of slices of bread, a little of their sinking, so they just got wet on both sides, sprinkle with grated cheese and bake in the oven until the cheese forms a golden brown. < /


Chowder h3>





Chowder - a thick and hearty soup, a popular American cuisine. In different parts of the country it is cooked in different ways: with bacon, fish, shrimp, broccoli, corn. But always in its composition has a cream and cheese - it is they give the soup a nice velvety texture.

You will need:


bacon - 200-300 g frozen or canned corn - 400 g or bank Potatoes - 3-4 pcs. Chicken broth - 1 liter 10% cream - 500 ml flour - 2 tbsp. l. celery - 1 stalk pepper - 1 pc. onions - 1 pc. salt and black pepper pepper - to taste cheese - 200 g How to prepare:


The bacon cut into small cubes and lightly fry in a spoonful of vegetable oil in a pan where you cook the soup. Then take out. Place the oil in the finely chopped onion and simmer until tender. Cut the potatoes, put it in a pan and pour in the chicken broth. Cook for 15-20 minutes, to the potatoes when grinding a wooden spatula to mash warming up. In the meantime, finely chop the bell pepper, celery and fry them separately in a pan, add them frozen corn (if canned, it must be put into the finished soup). When the turn potato puree, add the cream to the broth, stir the flour and stir well to avoid lumps. Then put in the soup fried bacon, vegetables and corn (if using canned). Once again it is necessary to bring the soup to a boil and put in it a part of grated cheese, left to languish minute 10. Before serving, garnish the soup with grated cheese and herbs. < /


Kharcho h3>





Spicy, nourishing and fragrant Georgian kharcho - the best way to warm up on a chilly evening.

You will need:


beef - 400 g onion - 3 pieces. rice - 4 tablespoons. l. tomatoes - 500 g dill and parsley - to taste spices - to taste Garlic - 1 clove cilantro (coriander) - to taste How to prepare:


In a saucepan pour 2-2, 5 liters of cold water, lay the sliced ​​meat and bones and set on fire. When the water boils, remove the foam and reduce fire. Subject to cook for an hour and a half. Half an hour before end of cooking in the soup you can add celery or parsley and salt to taste. In the meantime, finely cut onions and lightly fry it in vegetable oil over low heat. Once the onions begin to acquire a golden color, add to it the meat from the broth (fire under him off) and fry for about 5 minutes. Then add a couple of tablespoons of broth and simmer under the lid closed for 15 minutes. While the meat and onion stew, prepare the tomatoes. My, do cross-shaped incisions and fill with boiling water for a few minutes. Then easily remove the skin and cut middle-sized cubes. We spread the tomato cubes in a pan with meat and onions and simmer 10 minutes. The contents of the pan to send the broth, which is back on the stove and boil going. In a boiling soup fell asleep Fig. Give the soup simmer for 5 minutes, reduce heat to medium and add the spices. Add the crushed garlic and finely chopped herbs (dill, parsley and cilantro) and immediately turns off. Before submitting the soup on the table, let it brew for an hour.




via kitchenmag.ru/