Very tasty and healthy pumpkin soup that will appeal to children and adults.
There are many variations of this soup, you can add a variety of products, but the basis is always the same –
pumpkin
. Eating it regularly, you will be able to saturate your body with useful elements, which is especially useful in the winter.  
PUMPKIN SOUP: ONE OF THE CLASSIC RECIPES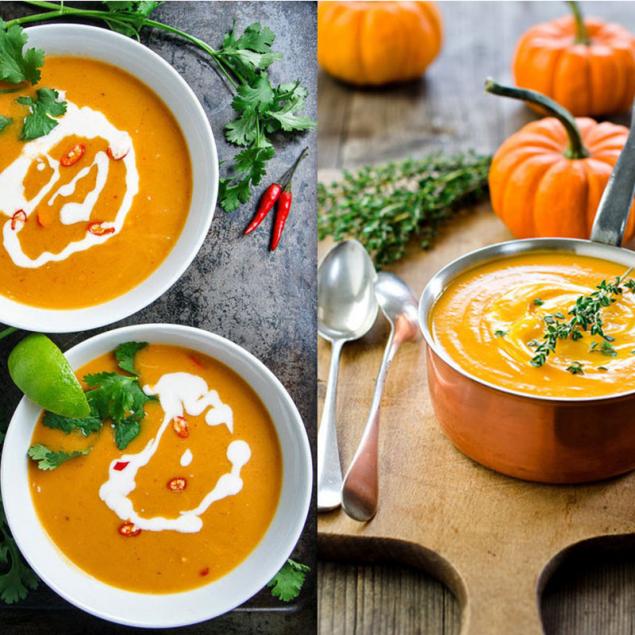 This is really the most that neither is a classic recipe. It is perfect for lunch or dinner with the whole family.
Ingredients:
1 kg of pumpkin pulp;
one bulb;
one or two cloves of garlic;
30-50 grams of butter;
100 ml cream;
2 tablespoons vegetable oil;
1/3 tsp sugar;
salt, black ground pepper – to taste.
Prepare the pumpkin. To do this, it should be well washed, then cleaned of seeds and peel, then cut into cubes.
You should also clean and finely chop onion. Garlic do the same — clean and finely crumble (you can squeeze through the masher).
Now we need to fry some foods. Take the appropriate treatment utensils (frying pan, saucepan the saucepan), pour on the butter, vegetable oil, put chopped onion, salt it, add pepper and fry until then, until the onions are transparent.
Then add garlic and again fry everything. Now place in a bowl to the onions and garlic, the pumpkin, add a pinch of sugar and fry for about six minutes.
Then add a little more than a liter of water and wait until it boils. Cook on low heat for twenty minutes. The pumpkin should be soft.
Once everything is cooked, you need to use a blender to grind to puree soup. Then you add the cream to the soup, add salt and pepper to taste. Mix well.
Soup puree of pumpkin is ready. Before serving the soup you can garnish with croutons, pumpkin seeds. You can also add a sprig of greenery.  
PUMPKIN PUREE SOUP WITH VEGETABLES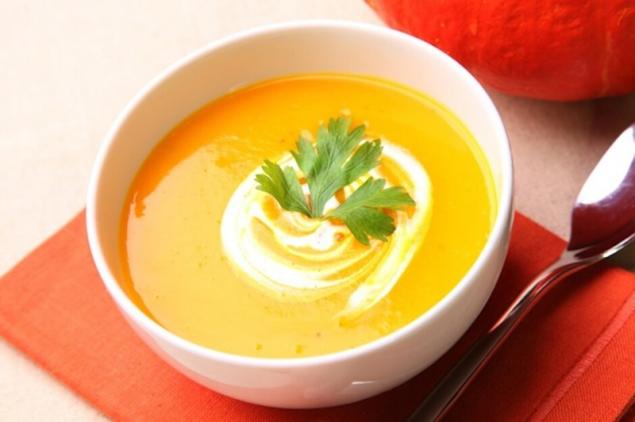 This recipe of pumpkin soup suitable for even the children's menu (there are no grilled and with a strong taste of products), as it is rich in vitamins and very gentle.
The composition of the soup:
300 grams of pumpkin pulp;
one root of celery;
one potato;
one bell pepper;
one bulb;
salt to taste.
Put on fire a pot of water for a half liter. While the water boils, be polished and cut into cubes the potatoes. It must be added when the water boils. All you need to add salt.
Now clean and cut the celery. Add it when the water to boil with potatoes.
Now prepare the pumpkin. It should also be cleaned from the skin, if there are seeds, then they need to remove. I have cut into pieces and add to the pot.
Clean and finely chop onion. It should be added to the soup when fully cooked potatoes.
Now for the pepper. It should remove the seeds, rinse and slice. Add to the pot.
All together should simmer for about three or five minutes. Remove from the heat.
Then, use a blender and grind to puree soup. Also at this stage of cooking you can add cream or cheese.
Before serving you can decorate it with greenery.  
PUMPKIN SOUP