Very tasty and healthy pumpkin soup that will appeal to children and adults.
There are many variations of this soup, you can add a variety of products, but the basis is always the same –
pumpkin
. Eating it regularly, you will be able to saturate your body with useful elements, which is especially useful in the winter.  
PUMPKIN SOUP: ONE OF THE CLASSIC RECIPES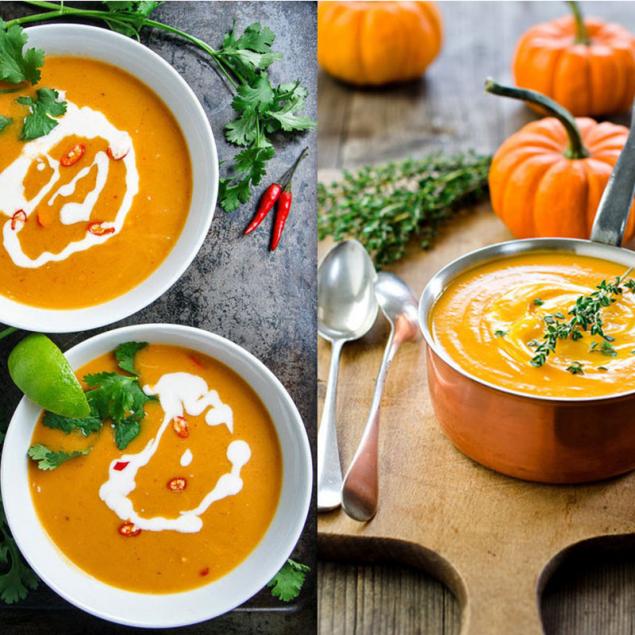 This is really the most that neither is a classic recipe. It is perfect for lunch or dinner with the whole family.
Ingredients:
1 kg of pumpkin pulp;
one bulb;
one or two cloves of garlic;
30-50 grams of butter;
100 ml cream;
2 tablespoons vegetable oil;
1/3 tsp sugar;
salt, black ground pepper – to taste.
Prepare the pumpkin. To do this, it should be well washed, then cleaned of seeds and peel, then cut into cubes.
You should also clean and finely chop onion. Garlic do the same — clean and finely crumble (you can squeeze through the masher).
Now we need to fry some foods. Take the appropriate treatment utensils (frying pan, saucepan the saucepan), pour on the butter, vegetable oil, put chopped onion, salt it, add pepper and fry until then, until the onions are transparent.
Then add garlic and again fry everything. Now place in a bowl to the onions and garlic, the pumpkin, add a pinch of sugar and fry for about six minutes.
Then add a little more than a liter of water and wait until it boils. Cook on low heat for twenty minutes. The pumpkin should be soft.
Once everything is cooked, you need to use a blender to grind to puree soup. Then you add the cream to the soup, add salt and pepper to taste. Mix well.
Soup puree of pumpkin is ready. Before serving the soup you can garnish with croutons, pumpkin seeds. You can also add a sprig of greenery.  
PUMPKIN PUREE SOUP WITH VEGETABLES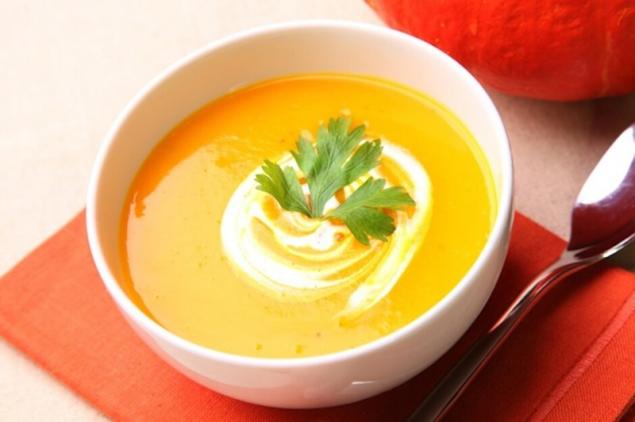 This recipe of pumpkin soup suitable for even the children's menu (there are no grilled and with a strong taste of products), as it is rich in vitamins and very gentle.
The composition of the soup:
300 grams of pumpkin pulp;
one root of celery;
one potato;
one bell pepper;
one bulb;
salt to taste.
Put on fire a pot of water for a half liter. While the water boils, be polished and cut into cubes the potatoes. It must be added when the water boils. All you need to add salt.
Now clean and cut the celery. Add it when the water to boil with potatoes.
Now prepare the pumpkin. It should also be cleaned from the skin, if there are seeds, then they need to remove. I have cut into pieces and add to the pot.
Clean and finely chop onion. It should be added to the soup when fully cooked potatoes.
Now for the pepper. It should remove the seeds, rinse and slice. Add to the pot.
All together should simmer for about three or five minutes. Remove from the heat.
Then, use a blender and grind to puree soup. Also at this stage of cooking you can add cream or cheese.
Before serving you can decorate it with greenery.  
PUMPKIN SOUP
Pumpkin soup can be cooked with any ingredients.
The ingredients for this dish:
half a medium pumpkin;
one glass of milk;
one bulb;
two table spoon of flour;
a half Cup of grated cheese;
nutmeg, salt to taste.
Prepare the pumpkin. For this it is necessary pour a little oil and bake in the oven for about half an hour.
Onion you need to peel and cut.
Now take a dry pan and fry in it the flour until then, until it becomes Golden. Set aside, let it cool down. Now it can be diluted with milk.
Cut the pumpkin in slices, put into water and cook about seven minutes. Add onion and sauté for seven minutes. Now you can add in the soup flour with milk and add cheese. All need a good stir, season with salt to taste.
Now take a blender and bring the soup to a smooth consistency, after which it you need to bring to a boil. Add the nutmeg. The soup is ready.
Before serving, it can be decorated brie or Camembert. This cheese goes well with soup.  
PUMPKIN SOUP WITH SHRIMPS AND CHICKPEAS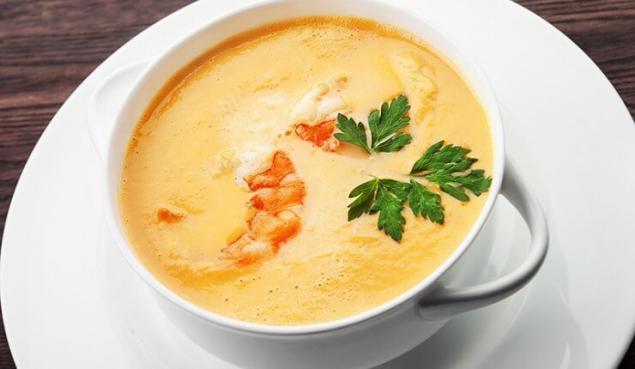 Original cooking pumpkin soup with the addition of shrimp and chickpeas.
The ingredients for this dish:
pumpkin pulp – 400 grams;
canned or boiled chick peas – 400 grams;
raw shrimp (large) – 400 grams;
two cloves of garlic;
rosemary two sprigs;
olive oil – 3 tablespoons;
nutmeg, ground;
salt, ground white pepper, to taste.
Preparing the dish is very simple. Clean the pumpkin and cut it cubes. Take a pan, pour oil and spread on the bottom squeezed out the garlic, sprigs of rosemary, pumpkin (choose a pan that it could fry).
All fried for about six minutes. Then add the chickpeas.
If you use canned, add it immediately, but if raw, it is first necessary to prepare. To do this it needs to soak for a day, and then cook for about an hour.
Once you've added the chickpeas to the pot, pour down a litre of hot or boiling water, cook for ten minutes under a lid. The soup is ready.
It remains to turn it into a puree. To do this, remove the rosemary and grind all the blender. After add salt, pepper, nutmeg to taste.
Prepare shrimp. To do this, remove them from the shell and intestinal vein, and then boil them (about three or four minutes).
You can now apply. In each plate to put the shrimp and garnish with greens.  
PUMPKIN SOUP FRENCH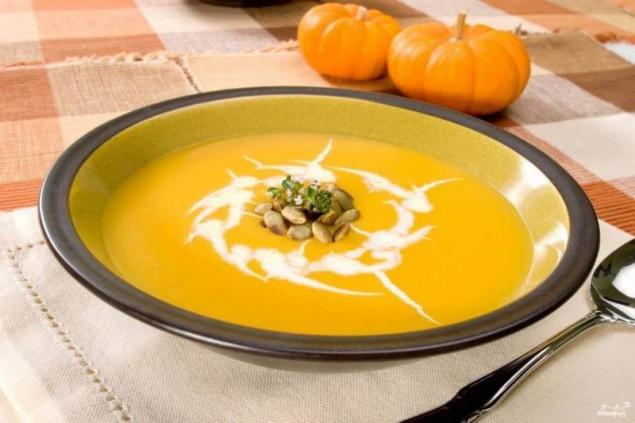 This delicate elegant soup that is sure to delight the entire family.
Composition:
750 grams pumpkin;
one leek;
150 grams of potatoes;
2 tbsp olive oil;
1 liter of vegetable broth;
1 tbsp lemon juice;
100 grams of sour cream.
The recipe is quite simple. Peeled and seeds of the pumpkin, then cut it the potato cubes, onion should be cut into rings.
Take the pan (for frying), add to the olive oil, spread all vegetables and fry for ten minutes. In the result roasting the onions should become translucent and the vegetables are slightly Golden.
Now in the pan you should pour the prepared vegetable broth, cover with lid, wait until boil. Need to cook then for about fifteen minutes on medium heat. After a time the fire off.
Then to add to the soup pepper (more suited Cayenne pepper), pour the required amount of lemon juice. Mix well.
Now grind the finished soup, puree in blender, add salt to taste and pour in desired amount of sour cream. The soup is ready.
To serve with the greens, croutons or baguette.  
Cook with love!
Also delicious: Pumpkin risotto — simple and delicious Pumpkin, baked with vegetables
P. S. And remember, only by changing their consumption — together we change the world! ©
Source: www.chto-prigotoviti.com/tykvennyj-sup-pjure-5-luchshih-receptov/