The soup is a thick soup made of pureed vegetables, cereals, meat, poultry or fish. This dish is a dietary and very tasty: even if you don't like the first, from the soup are unlikely to refuse.
By mastering technology, you can make soup from practically anything: broccoli, cauliflower and spinach, pumpkin and zucchini and also more original soups made from squid.  
Cream soup of squid
This soup is unusual everything: texture, taste and color.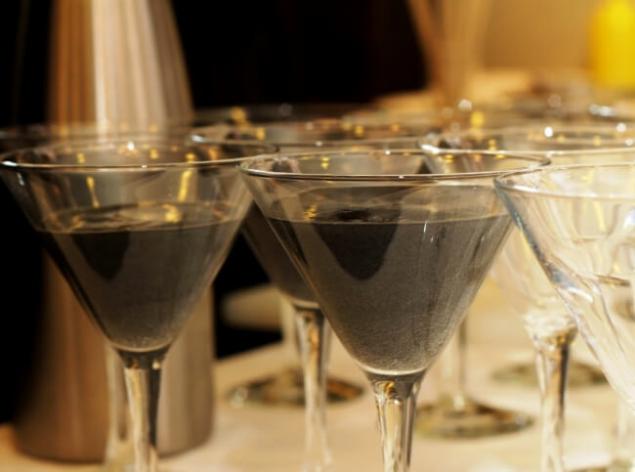 NEED:
(for one serving)
100 g of potatoes
100 g onions
100 g squid
20 g butter
15 g of cuttlefish ink
600-700 g of water
Salt and pepper to taste-vid1--
HOW TO COOK:
1. All of the ingredients to randomly slice and fry in butter.
2. Add the cuttlefish ink and water. Simmer until tender (20-30 min).
3. To break ground in the blender.
4. Serve hot or warm in a Martini glass.
5. At the end you can add a spoonful of red caviar.  
Pumpkin cream soup
Pumpkin is almost the universal product of her flesh to cook soup, pudding, smoothies, flavoured porridge, candied fruits, original salad variety, delicious and healthy meals. About the benefits pumpkin has been said and written already so many, "orange" diet is useful for vision, digestion and the cardiovascular system.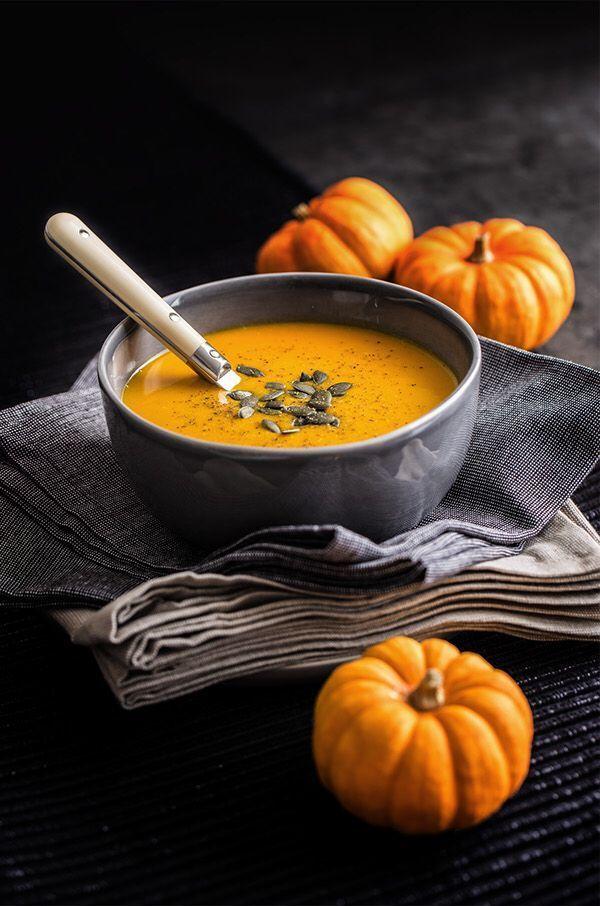 NEED:
500 g of pumpkin pulp
1 large onion
2 cloves of garlic
750 g of milk
250 g cream
1 tbsp peeled pumpkin seeds
200 g wheat bread
HOW TO COOK:
1. Finely chop the onion and lightly fry in vegetable oil.
2. Pumpkin peel and seeds, cut into dice. Garlic slice.
3. Bake the pumpkin with the garlic in the oven at 180°C for 15-20 minutes.
4. Vegetables to connect and blend, season with salt to taste.
5. On low heat warm the milk and cream, not allowing to boil.
6. In milk mixture add the warm mashed vegetables, mix well, slightly warm and remove from heat.
7. While baked pumpkin, pan fry pumpkin seeds.
8. White bread cut into cubes and fry in a small amount of vegetable oil.
9. Serve warm pumpkin soup with pumpkin seeds and croutons in a pot of pumpkin.  
Cream soup of zucchini
Asian and European culture at the same time. Spicy shrimp give the soup a necessary sharpness and light caramel spicy-sweet flavor. Who would have thought that from a simple zucchini can quickly and easily make an original dish!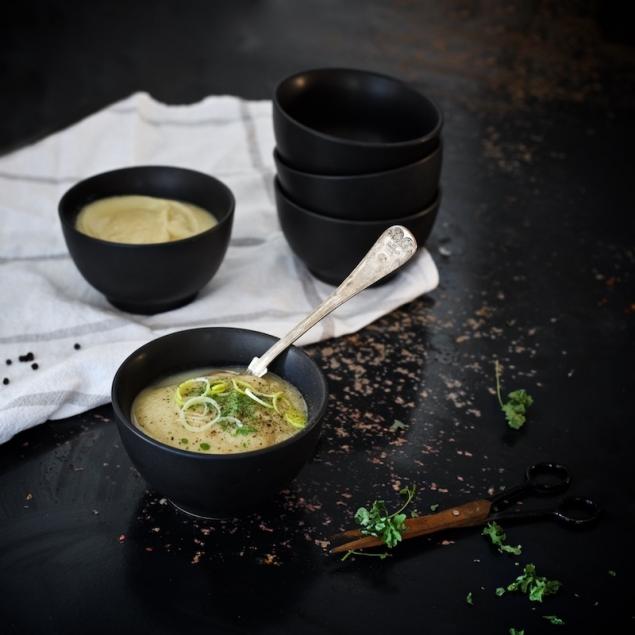 NEED:
1 liter of water
1 zucchini
5 shrimp
70 ml cream 33%
1/2 onion
3 cloves of garlic
3 sprigs of thyme
10 g parsley
2 tbsp sweet Chinese sauce "Chile"
20 ml sunflower oil
20 ml olive oil
Salt and pepper to taste
HOW TO COOK:
1. Onions, zucchini and crush the garlic and sauté in sunflower oil. Add the thyme, add the water and bring to a boil. Salt.
2. Add the parsley. Cook for a few minutes, then pour into a blender and punching until smooth.
3. Pour the cream and again for punch.
4. Shrimp, cleaned, divided into three parts and fry in olive oil. Add a sweet Chinese sauce and mix well.
5. Soup pour into bowls, drizzle with a little olive oil, add the fried prawns.  
Soup-puree of pumpkin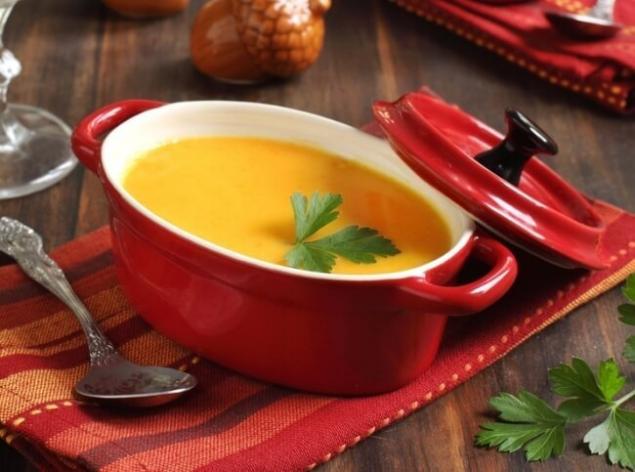 NEED:
Pumpkin – 300 g
Onion – 100 g
Vegetable broth – 200 ml
Cream – 150 ml
Cheese "Dor blue" – 50 g
Butter – 60 g
Olive oil
Nutmeg
Parsley
Fennel seeds
Salt
Pepper
HOW TO COOK:
1. Onion cut into half rings, fry in olive oil.
2. Pumpkin cut into cubes, pour vegetable broth, add browned onion and simmer for 10 min.
3. Add the nutmeg and fennel seeds.
4. Vegetables grind until smooth in a blender, add the cream and pepper.
5. When serving, add cheese "Dor blue", garnish with sprig of parsley.  
By the WAY:
if the cheese is pre-frozen in the freezer, it will be easier to grate.  
Soup with white mushrooms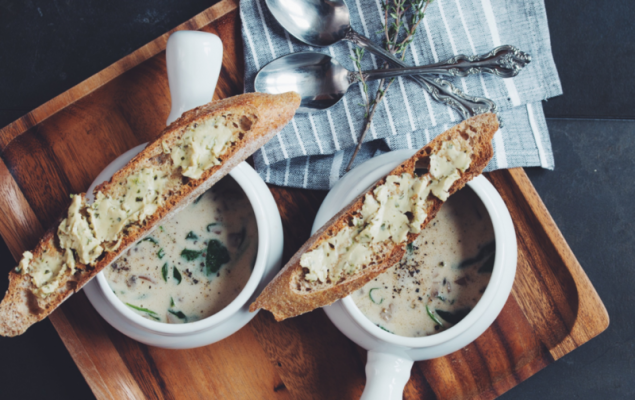 NEED:
Carrot – 1 PC.
Mushrooms – 300 g
Onion – 1 PC.
Potatoes – 2 PCs.
Cream – 500 mg
Garlic – 1 clove
Herbs, spices, salt – to taste
HOW TO COOK:
1. Slice the mushrooms and boil.
2. Carrots, onions and potatoes cut into cubes, add the mushrooms and cook with spices until tender.
3. The soup blend in a blender and mix with cream.
4. Sauté onion and add to the soup, boil for about 10 minutes.  
By the WAY:
you can't grind all the ingredients of the soup in a blender, and then you'll have a lovely simple mushroom soup.published  
Cook with love ! Bon appetit!  
Also delicious: Perfect recipes for summer: soups, do not require cooking How to cook meatless Georgian soup KHARCHO
P. S. And remember, only by changing their consumption — together we change the world! ©
Join us in Facebook , Vkontakte, Odnoklassniki
Source: www.domashniy.ru/article/eda/bystrye-recepty/sup-pyure_7_bystryh_receptov.html