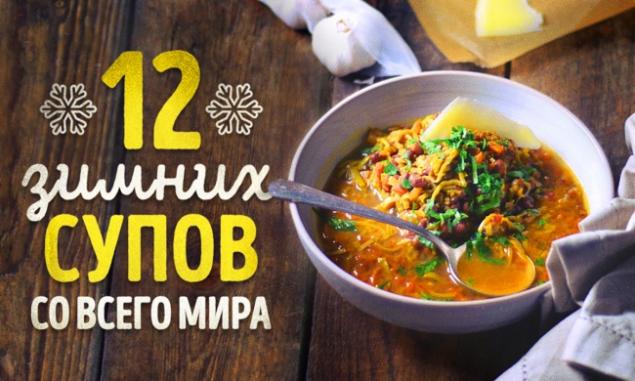 winter without soup do not succeed. He did eat, and warm, and the soul happy. The inhabitants of different countries have their favorite soups that you can diversify your table and they are ideal for lunch on a cold day.
Website gathered for you the best recipes of delicious winter soup from around the world - thick, nourishing and fragrant.




The famous Bulgarian goulash (bograchguyyash) h3>






In the traditional and very popular in Hungary Competition for the best goulash soup cooked on a open fire. Not only because it is so real and concocted Magyar shepherds, but also for the sake of special dishes, which only can be cooked right goulash. Exact its name - bograchguyyash (bogracsgulyas), meaning "stew pot».

You will need:


1 kg boneless beef 4-5 strips of bacon or pork fat (you can take and vegetable oil) 300 g onion 3 tbsp. l. paprika salt, cumin, garlic 1 kg potatoes 140 g peppers (sweet green or red) 1 tomato 2-3 liters of water or broth 6 servings for chipetke (dumplings): 80 g flour, 1 egg, salt Method: < /


juicy meat with a lot of tendons (Shoulder, desperately, shank) cut into cubes with side 1, 5-2 cm. in melted fat (or oil), fry until golden brown with chopped onions. Reduce the heat, put in too hot fat paprika, stir quickly, immediately add the meat, add the pounded garlic, mixed with cumin, pour a little water and, stirring occasionally, continue to simmer on low heat. If necessary, add more water, but there is always a little to the meat is cooked and tushilos in a small amount of liquid. While stewed meat, peel and cut into cubes with a side of 1 cm potatoes, green peppers, tomatoes, and cook chipetke. When the meat is almost ready, give the juice to evaporate, so that the pan was left alone fat. Add to the meat of the potatoes, stir well and cook until until the potatoes are "glaze", then pour the broth or water and put green peppers and tomatoes. When the potatoes are almost cooked, just before serving, chipetke put in the soup and let them boil. The final amount of soup is regulated by adding broth or water, and then again, you need to add salt. How to cook chipetke. Test chipetke name comes from the Hungarian word "chipkedni", which means "pinching". Combine flour, eggs and salt (without water) knead dough. Roll it out on a floured board into a sheet thickness of about 1 mm, and then floured hands pinch off from it formless pieces about the size of a fingernail. These pieces cook in boiling soup. When the dough is ready (3-4 minutes), it will float to the surface.




German pihelshtayner thick h3>






Thick and hearty pihelshtayner part of the golden collection of the 100 most famous recipes from around the world. In his honor, in the German town of Regen has held 130 years celebration with night boating, parades, fairs and fireworks.

You will need:


600 g of three kinds of meat (pork, beef, chicken or veal) 2 onions 750 g potato 1 root celery ( 200 g) 3 carrots 1 stalk leek salt powder, sweet paprika 1 bunch parsley li > broth or water cooking


Cut the meat into slices. Peel and finely chop the onion. Clean the rest of the vegetables. Potatoes and celery cut into cubes, carrots - thick slices. Leek cut into thin rings. One by one fold in the casserole meat, potatoes, and the remaining vegetables. Pour the hot broth or just water so that only cover the top layer. Season with salt and season with paprika powder. Simmer, covered on low heat for about 1, 5 hours. Chop the parsley, a minute before the end of cooking, add it to the soup.




English UST with beans h3>






In the UK, the winter is not very warm. Therefore chowder since Roman times was the favorite, and often only treat poor winter. Aristocrats also do not deny yourself the pleasure to eat a thick nourishing soup.

You will need:


500 g beef 150-200 g minced meat (pork or beef) 2 carrots 1 onion < 1-2 cloves garlic 0, 5 glasses of red beans 0, 5 cups eamorozhennogo (or canned) green peas 1 cup green beans, fresh or frozen 2-3 potatoes 4 tbsp. l. soy sauce tomato paste, salt, black pepper, sugar, sweet paprika, bay leaf Preparation:


red beans soak overnight, then wash it, boil in a separate pan until tender, drain. The meat put to boil; after the broth boils, remove the foam and add the bay leaf and cook until tender. The finished meat is removed from the broth, the broth add potatoes, cut into small cubes, boil it until tender. Then add the finished beans, carrot sticks, green beans, peas. Just pour in the broth of soy sauce. Finely chopped onion fried with tomato paste (approximately 1-1, 5, Art. L.) And add the broth. Add more tomato paste (for approximately 2 tbsp. L.) To taste and finely chopped garlic. In a separate pan, put the stuffing, sprinkle with salt, black pepper and fry until cooked and add the STU. Cut the boiled meat into pieces and put in the soup, too. Add a little sugar (that was not sour), sweet paprika and a little more then.




The Palestinian red lentil soup and pumpkin h3>






Fragrant soup rich in vitamins and vegetable protein and has a very tasty cake.

You will need:


3 tbsp. l. olive oil 4 cloves garlic 3 medium carrots 2 stalks celery 1 medium onion 1 h. l. ground cumin 1/2 ch. l. Dried chili peppers 400 g pumpkin salt and freshly ground black pepper to taste 1, 5 liters of chicken broth or water 1 cup red lentils parsley and paprika for decoration Preparation:


Good heat the oil in a pan with a thick bottom, or in a frying pan, place finely chopped garlic, carrots, celery and onion and fry, stirring all the time, 12-14 minutes. Then add the cumin, chili, chopped into cubes of pumpkin, salt, pepper and simmer until the pumpkin is tender. Add the broth and lentils and bring to a boil. If stewed vegetables in a frying pan, put the vegetables with lentils in a saucepan, pour in broth and continue to cook there. Reduce the heat and simmer, covered lid, for 20 minutes, until the lentils are not seethe. Allow the soup to cool slightly and pyuriruyte his blender. Arrange on plates, garnish with parsley and paprika and serve with slices of lemon cake, and (if desired).




Spicy Mexican Tortilla h3>





Hot, spicy and fairly easy soup is very popular in Latin America.

You will need:


1 large chili 400 g diced tomatoes 2 tbsp. l. vegetable oil 3 peeled garlic cloves 1 medium onion 1, 5 liters of chicken broth coriander dried < 600-700 grams of boiled chicken breast, sliced ​​ salt and freshly ground black pepper 150 g grated cheese 1-2 diced avocado < / sour cream, lime slices for serving tortilla chips (about 4 cups) Preparation:


Fry chili pepper in a frying pan with a thick bottom over high heat, turning it periodically. Remove the seeds and grind in a blender with the tomatoes. Fry the garlic and onion in oil until golden brown. Put them in a blender with tomatoes and chilies and grind until smooth. Pour tomato mixture into the pan and cook over medium-high heat to a boil for 8-10 minutes. Add the broth and cilantro, bring to a boil again. Reduce heat and simmer for 15 minutes. Place the chicken, salt, pepper and warm up again. Arrange on plates chips (leave some for serving) and pour the soup on top, garnish with cheese, avocado slices, chips and sour cream. Serve with lime wedges.




The classic soup h3>





Hot soup, but with garlic - better warming soup for the cold Russian winter had not yet invented.

You will need:


3 liters of water 700-800 grams of beef on the bone 300 g fresh cabbage 2-3 medium potatoes 2 small or 1 medium beet 1 carrot 1 onion 1 tbsp. l. tomato paste and 1 small tomato Vegetable oil for frying 2 cloves garlic salt, ground black pepper, bay leaf, herbs (dill, parsley, basil ) cream for serving Preparation:


The first thing you need to cook soup. For this beef on the bone rinse under running water, put it in a saucepan and cover with cold water. Bring to a boil and reduce heat to a minimum. While preparing broth, you need to clean and chop the vegetables: potatoes, carrots, beets, onions. When the meat is cooked, it should be removed from the broth and a little cool. Then separate the meat from the bone and to cut into small pieces. To cut cooked meat back into the lower broth. Remember to remove the foam from the surface of the broth. When the broth boils, send in a pan shredded fresh cabbage. Potatoes, diced, send in a pot behind cabbage, after the water comes to a boil again and season with salt. In a pan fry the beets, cut into strips. Add diced onions and carrots. Further, tomato paste and tomatoes, grated. After a little zagusteyut tomatoes need to pour a glass of broth. Simmer for about 10 minutes and then sends fried in soup. For 5 minutes until cooked add the spices to the soup and chopped (or pressure) chopped garlic with fresh herbs - just before the shutdown. < Give borscht brew for half an hour, and you can serve it on the table, putting each plate a spoonful of sour cream.




Spicy Georgian kharcho h3>





You will need:


400 g beef 3 bulbs 4 tbsp. l. rice 500 g tomatoes dill, parsley, cilantro to taste 1 clove garlic Method:


In a saucepan pour 2-2, 5 liters of cold water, lay the sliced ​​meat and bones and set on fire. When the water boils, remove the foam and reduce fire. Subject to cook for an hour and a half. Half an hour before end of cooking in the soup you can add celery or parsley and salt to taste. In the meantime, finely cut onions and lightly fry it in vegetable oil over low heat. Once the onions begin to acquire a golden color, add to it the meat from the broth (fire under him off) and fry for about 5 minutes. Then add a couple of tablespoons of broth and simmer under the lid closed for 15 minutes. While the meat and onion stew, prepare the tomatoes. My, do cross-shaped incisions and fill with boiling water for a few minutes. Then easily remove the skin and cut middle-sized cubes. We spread the tomato cubes in a pan with meat and onions and simmer 10 minutes. The contents of the pan to send the broth, which is back on the stove and boil going. In a boiling soup fell asleep Fig. Give the soup simmer for 5 minutes, reduce heat to medium and add the spices. Further, crushed garlic and finely chopped herbs (dill, parsley, cilantro) and immediately turns off. Before submitting the soup on the table, let it brew for an hour.




American Chowder h3>





Chowder - a thick soup, the well-known American cuisine. In different parts of the country it is cooked in different ways: with bacon, fish, shrimp, broccoli, corn. But there is always a part of cream and cheese. This hearty soup is great for colds, so when you need to warm up.

You will need:


200-300 g bacon 400 g frozen or canned corn 3-4 potatoes 1 liter chicken stock 500 ml cream (10%) 2 tbsp. l. flour 1 stalk celery 1 bell pepper 1 onions 200 g of solid cheese salt, black pepper Preparation:


The bacon cut into small cubes and lightly fry in a spoonful of vegetable oil in a pan where you cook the soup. Then remove. Put in oil chopped onion and simmer until tender. Cut the potatoes, put it in a pan and pour in the chicken broth. Cook for 15-20 minutes, to the potatoes when grinding a wooden spatula to mash warming up. In the meantime, finely chop the bell pepper, celery and fry them separately in a pan, add them frozen corn (if canned, it should be be ready to put in the broth). When the turn potatoes into a puree, add the cream to the broth, stir the flour and stir well to avoid lumps. Then put in the soup fried bacon, vegetables and corn (if using canned). Again, it is necessary to bring the soup to a boil and put in it a part of grated cheese, left to languish for 10 minutes. Before serving, garnish the soup with grated cheese and herbs.




Hungarian soup with cauliflower, paprika and dumplings h3>





A great option for vegetarians winter soup.

You will need:


1/3 cup flour 0, 5 h. liter. salt 6 tablespoons. l. chilled butter 1 egg 1, 5, hot pepper (for those who do not like spicy, you can replace Bulgarian) 1 large onion 1, 5-2 liters of vegetable broth or water 1 small head cauliflower 1 medium carrot, peeled and finely chopped salt, freshly ground black pepper 1 small bunch parsley Preparation:


Make the dumplings: In a bowl stir together the flour and salt, add 4 tbsp. l. butter and grind the flour and butter until they are rolled into lumps the size of a pea. Add the egg, make the dough. Put in the refrigerator. The remaining oil is put in a pan, heat up and fry until soft, finely chopped peppers and onions. Pour broth or water, put parsed into florets of cauliflower and carrots. Season with salt and pepper and bring to a boil. Reduce heat to medium and cook, stirring occasionally, until vegetables are tender, about 15 minutes. teaspoon need to pinch off pieces of dough and throw them into the boiling soup (about half a spoon) and cook for 3 minutes. Ladle into bowls and garnish with parsley.




German barley soup with smoked h3>





German classic soup is very easy to prepare.

You will need:


4 tbsp. l. butter (or vegetable) 1 medium onion 1 cup barley 1, 5 liters of meat, vegetable broth or water 1-2 potatoes 1 carrot quartered celery root ½ cup chopped leeks 2 German sausages (you can take 200 g either smoked or smoked sausages or smoked sausage) 1 slice bacon Dried nutmeg 1 h. liter. dried marjoram parsley salt and freshly ground black pepper cooking


Heat the oil in the bottom of the pan and fry chopped onions for 5 minutes. Put barley and too lightly fry for 5 minutes. Add the broth, diced potatoes, carrots, celery and leeks, marjoram and German sausages and cook over medium heat until the vegetables are cooked, and sausages are tender. If you use ready-made smoked sausage or hot dogs, place them for 10 minutes until done. Remove the sausage from the soup, cut them into slices and remove the bacon. Before turning off put nutmeg, salt and pepper and let it brew. Expanding the soup into bowls, garnish it with parsley and slices of sausage.




Delicious Italian tomato soup with tortellini and spinach h3>





This soup cook quickly and easily. The main thing - to find the store tortellini, pasta that is stuffed, like our dumplings.

You will need:


1 onion 6 cloves garlic 600-700 g canned or fresh tomatoes 1 liter chicken stock 1 hour. L. dried basil 1 h. liter. dried oregano 1 bay leaf 1 h. liter. paprika 1/2 ch. l. salt and black pepper (if you do not like spicy, so much you can not put pepper) 200-300 grams tortellini with cheese or other fillings 200-300 g of fresh or frozen spinach < / a bit of grated hard cheese and fresh herbs Preparation: