Potatoes are not for nothing called the second bread. But it is not as simple as it seems. After all of it is possible to prepare a great number of dishes that can please and household and guests.
Therefore,
Website 10 picked for you the best recipes.



Potato croquettes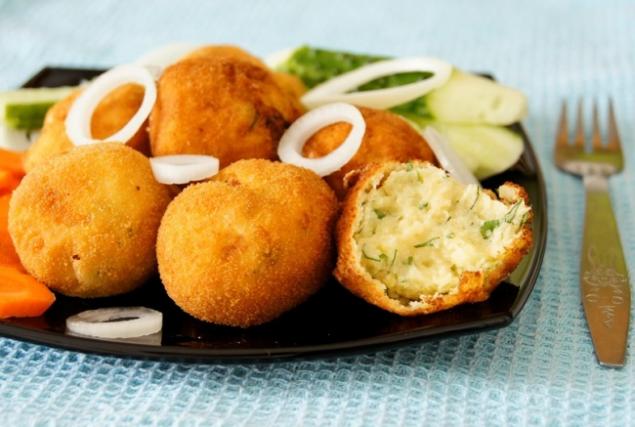 Ingredients:


2-3 pcs. potato 2 tbsp. l. flour 1 tbsp. l. butter 1 egg 2 tbsp. l. breadcrumbs salt, seasoning herbs Preparation:

Boil potatoes in salted water and mash. Add egg yolk, butter and seasoning herbs, stir until smooth. From mashed potatoes to roll balls. Protein shake up in foam. Roll balls in flour, then dip them in white and roll in breadcrumbs. . These balls fry in a large amount of vegetable oil until cooked



Dauphine Potatoes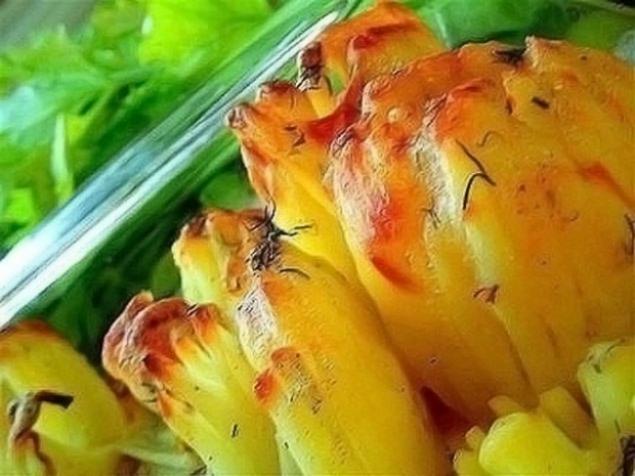 Ingredients: < /


9 pc. potato 9 hours. l. butter 9 thin slices of cheese salt Preparation:

Potatoes Wash and clean, cut a small circle at one end so that the potatoes can be put vertically. The entire length of the potato to make cuts like the fries, but not dorezaya to the edge of about 1 cm. Season with salt and pepper, put the potatoes into one teaspoon of oil, if desired, you can add garlic. Put the potatoes in a high baking dish and put on top of pieces of cheese. Bake until golden brown



julienne potatoes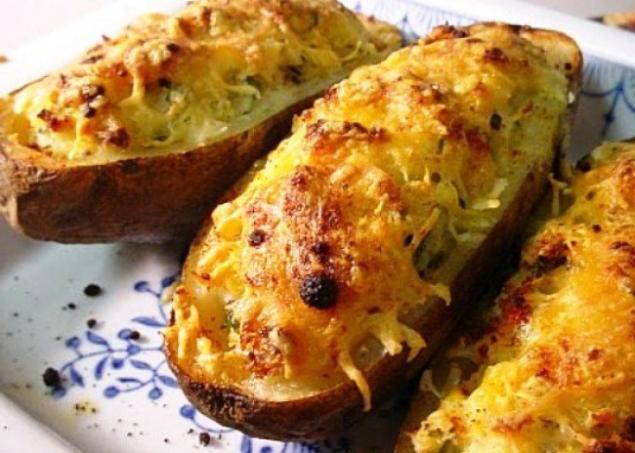 Ingredients:.


4 pcs. large potato 400 g mushroom 1 onion 100 g butter 1/2 Art. l. flour 250 ml cream 100 g grated cheese salt and pepper Preparation: < br>
Potatoes are washed, but not clean. Each potato cut into 2 equal parts and using the dessert spoon to remove the middle so that the edges were 5-7 mm. The resulting boat put in the water to the potatoes are black. Then melt the butter and fry the mushrooms in it about 5-7 minutes. Then add the onion. Then quickly mix the flour to the mass thickens. Add to the cream, sour cream, salt, pepper and simmer for another 3-4 minutes. In an ovenproof dish put potato boats, each add a small piece of butter and fill the mushroom filling. Bake for 15 minutes, sprinkle with grated cheese and put back in the oven for 15 minutes.



Potato pancakes with cheese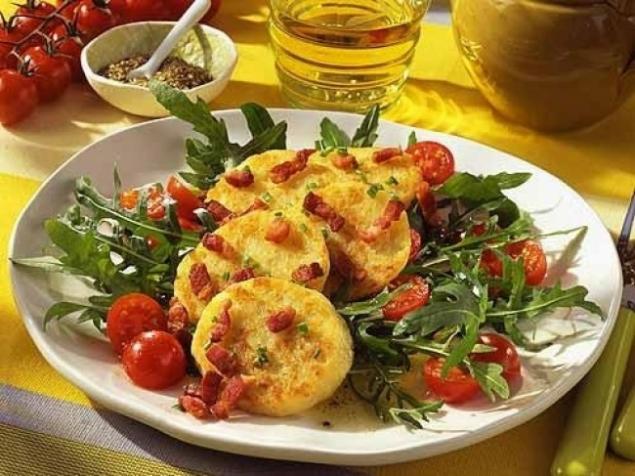 Igredienty:


500 g boiled potatoes 1 clove garlic 1/2 cup of flour 2/3 hours. l. baking powder 1/2 hours. l. salt 120 g feta cheese 2 green onion stem parsley and coriander 1 egg 1 / 4 cup milk pepper Preparation:

Boiled potatoes grate. Green onions finely chopped, garlic grate. Combine flour, baking powder and salt. Add egg and milk - mix. Then add to the dough a pinch of pepper, green onions, feta cheese and garlic and mix thoroughly. Add the grated potatoes, parsley and cilantro. Heat the oil in a pan and put 1 tbsp. l. dough, fry on both sides until golden brown



Potatoes "Romanoff"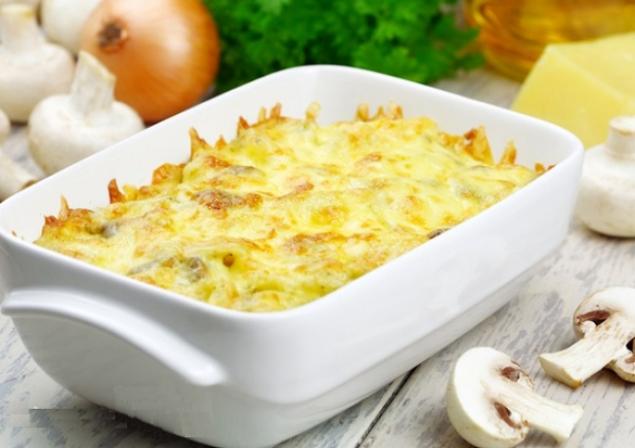 Ingredients.:


1 kg peeled and grated potatoes 1 pcs. finely chopped onion 300 g grated cheddar cheese 1, 5 cups of sour cream salt and pepper Method:

In a large bowl, combine potatoes, onion, cheese (1/4 part postpone), salt, pepper and sour cream. You can take a small baking dish (4-6 pcs.), Grease, put the potato mixture. Sprinkle with remaining cheese and bake in the oven at 180 degrees for 25-30 minutes.



Potato sticks with cheese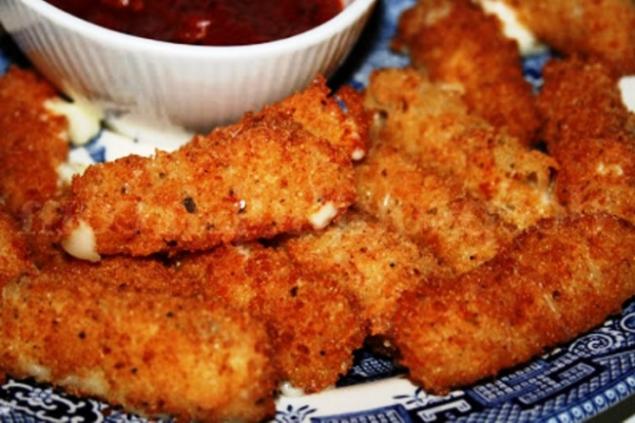 Ingredients:


5 medium boiled potatoes 2 eggs 100g breadcrumbs < 100 g of solid cheese 2-3 Art. l. flour oil coriander (optional) salt and pepper spices (optional) Preparation:

Boil the potatoes in their skins, peel, grate. Add the eggs, spices, salt, sifted flour and mix well. Cheese cut into cubes and wet hands to form around them potato dough. Roll in breadcrumbs and fry on all four sides until golden brown. Serve with any sauce.



Mashed potatoes (the most delicious options) 83,888,018








Potatoes 10 minutes to boil in water, then drain the water, pour the boiling milk and bring to the readiness and mash into a puree with the addition of crushed nuts. Potato mash with puree, adding the boiling chicken broth. Good beat with a mixer. Cheese durum grate, mash slightly dilute the hot milk, add the cheese and mix thoroughly. to knead the potatoes, add butter. Mix with chopped herbs and garlic





Ingredients:. < br>

8 pcs. potato 500 g mushroom 1 pcs. onions 1 tbsp. l. flour olive oil 250 g sour cream salt and pepper Preparation:

Peel the potatoes and cut into thin slices. Onions finely chopped, mixed with a tablespoon of flour and fry in olive oil. Mushrooms cut into small pieces and fry separate from the bow. Put the potatoes in the shape. Add mushrooms, onion, spices and sour cream. . All mix and bake for 40 minutes



Potato zrazy 69,017,070





Ingredients: < br>

7 pc. potato 500 g minced meat 1 pcs. onions 3 cloves garlic 1 egg 300 g of flour salt and pepper vegetable oil breadcrumbs Preparation:

Boil the potatoes and whisk until puree state. Add the egg, salt and pepper. Gradually add the flour. The dough should not stick to hands. Leave to cool. In vegetable oil fry the finely chopped onion and garlic. Add the minced meat, salt, pepper and fry until cooked. From potato dough, create a cake, put in the middle of the stuffing of minced meat and connect the edges of the cake. Roll the cutlet on all sides with breadcrumbs. Fry in oil until golden brown. Serve with sour cream



Potatoes baked in their jackets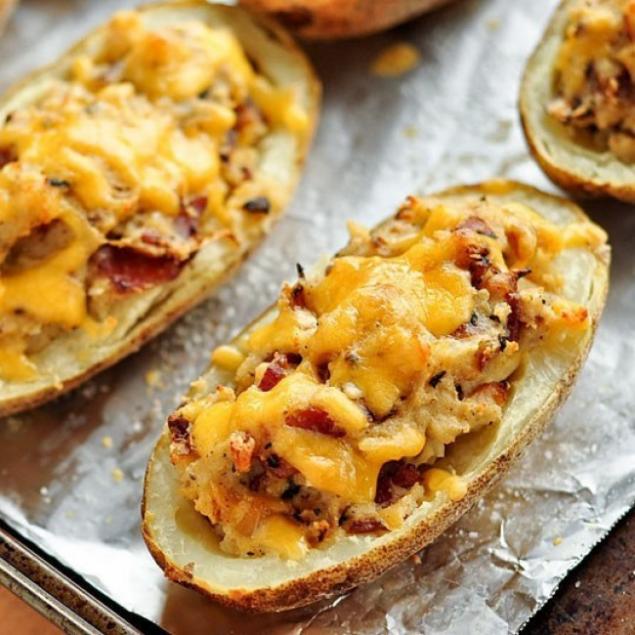 Igredienty:.


4 pcs. potato 4 cloves garlic 100 g butter 2 tbsp. l. sour cream 4 pcs. bacon 200 g of solid cheese dill green onions salt, pepper Preparation:

Preheat oven to 200 degrees. Wash and obsuschit unpeeled potatoes. Rub each potato with plenty of olive oil and salt and place in oven for 1-1, 5 hours. For half an hour until the potatoes are ready to put garlic cloves, salt and pepper, add the butter and olive oil. While the potatoes and baked garlic, bacon cut into slices and fry. Take the potatoes out of the oven, cool, cut in half, remove the middle and spoon to shift into a large bowl. Add to the baked garlic, sour cream, olive oil, chopped fresh herbs, bacon, grated cheese. Mix everything. Using a tablespoon of minced meat to dump each potato half, put on top of a piece of butter and put on a baking sheet. Bake until golden brown.

Photos on the preview: Jenny





12 tasty dishes that can be made from vegetable
12 incredibly tasty winter soups from around the world

via heregirl.ru/post360160090/