We offer you to diversify your diet and try to eat 5 delicious dishes from cereals. Cereals are different, but all of them share one important property: they are all very beneficial for human health. It is these carbohydrates, which should not be avoided if you follow the figure and strive to be in great shape. Complex carbohydrates, which are grains, permanently retain a feeling of satiety and provide the body with energy. In addition, they are low in calories and no empty calories, unlike simple carbohydrates.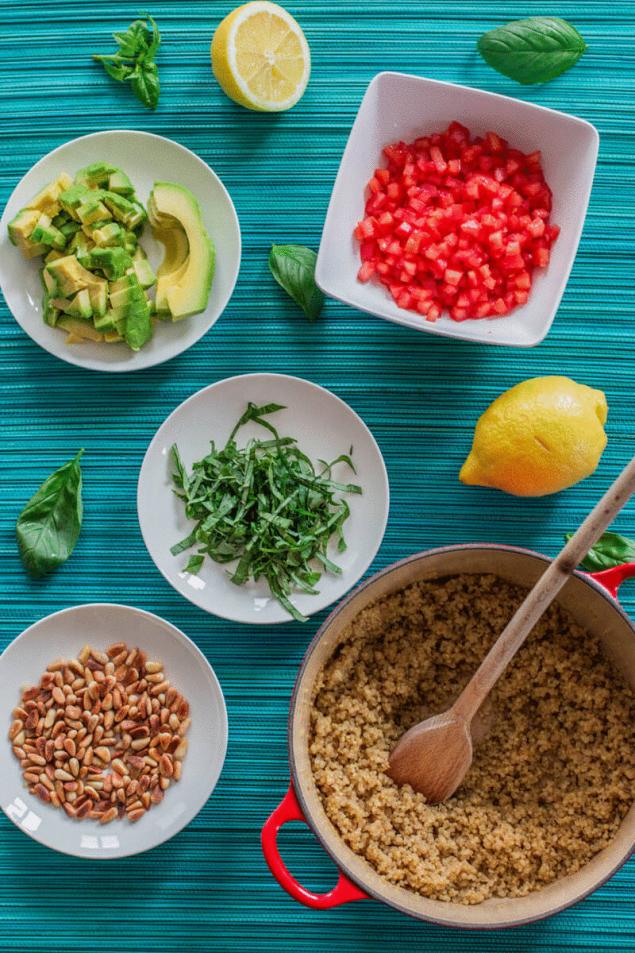 Experiment and find your favorite cereals. Any harm to the body they will not, grains are recommended to drink even in serious diseases. And the number of dishes that can be prepared from whole grains is amazing.
Quinoa with vegetables and spices
Quinoa deservedly won the title of ""super" XXI century". This cereal has a powerful tonic effect on the human body. It is a valuable source of vegetable protein, fiber, vitamins A, E, C, PP, group B. Quinoa goes well with vegetables and spices, the food from it can be a great option nutritious and satisfying lunch. Try to cook quinoa with vegetables and spices. It doesn't take a lot of time, but you'll definitely be satisfied.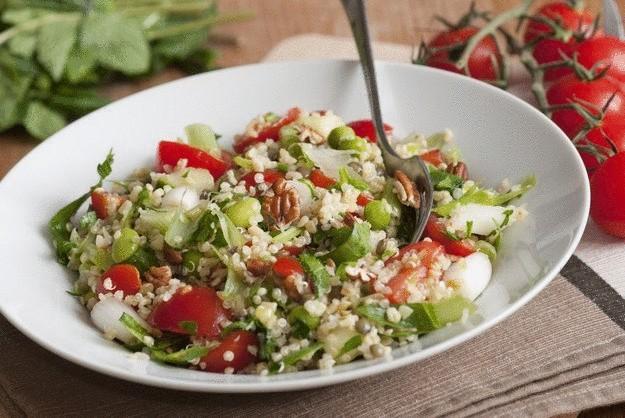 Quinoa can be cooked a large amount of tasty and filling, and most importantly useful foods. This cereal goes great with vegetables. Get fresh, light and very nutritious dish.
Ingredients:
Вода4 Cup
Киноа2 Cup
Olive масло1/4 cups
Соль0,5 tsp.
Цукини2 PCs.
Морковь1 PCs.
Large помидор1 PCs.
Sweet паприка1 tbsp
Ground корица1 tsp.
Кинза1 chopped/2 Cup
Method of preparation:
In a saucepan add quinoa and add water. Salt. Bring to boil, reduce heat, cover and cook for 12-15 minutes, until quinoa is tender and all the liquid has evaporated.
Olive oil to heat in a large skillet over medium heat.
Add chopped small dice carrot and sauté for 5 minutes until soft. and then add the diced zucchini and cook for another 3 minutes until soft. Sprinkle with paprika and cinnamon.
To the pan add the quinoa and mix well. Add the diced tomato. Salt and pepper to taste.
Before serving, sprinkle with cilantro.
Salad Fricke, radish and lemon
is Not as popular product as quinoa, but it's equally useful is the freak. Grain is roasted green wheat germ. Grain for her to collect when it is young and tender. The Frick has a low glycemic index and high nutritional value, and it means that the sense of fullness will remain for a long time. From the Frick it is possible to prepare many different delicious dishes. Particularly well this grain reveals itself in salads. We offer tasty, original and fresh recipe salad Fricke, radish and lemon. This is what you need on a hot summer day.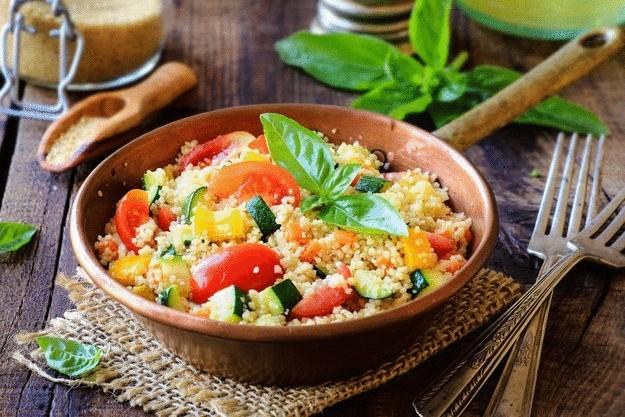 Fricke is a useful cereal, which is made by roasting green wheat germ. On the wave of popularity a proper diet. more often glimpsed in the list of ingredients healthy and nutritious meals. We offer interesting recipes.
Ingredients:
Crushed cereal фрике2 Cup
The beam редиса1 PCs.
Olive oil Extra Virgin1/4 cups
Lemon сок1 tbsp
Лимона1 zest,5 tbsp.
Руккола100 g
Цукини100 g
Tomatoes черри100 g
Matapo taste
Method of preparation:
Fricke to place in a small saucepan and pour 550 ml of water. Cover the pan with baking paper and evaporate the water on a slow fire for 20-25 minutes or until until the grains are softer, while retaining the form. With a sharp knife cut into thin circles of radish. When the Frick is ready, drain the water, put the grits on a large platter with a thin layer and allow to cool. Mix olive oil, juice and zest of lemon. Pour the sauce into the cooled grits. Mix well. Add slices of radish. Put the rocket leaves in the dish, which will serve the salad. Spread the mixture on the basis of Fricke on top of greens. The top add mint leaves. If desired, add halved cherry tomatoes and roast until cooked zucchini.
Quinoa with Kale and avocado
Quinoa goes well with other products. Another delicious recipe is a nutritious lunch, this cereal is quinoa with Kale and avocado. Among other benefits, quinoa can be identified: strengthening of the cardiovascular system, lowering bad cholesterol, the excretion of toxins. And this is not an exhaustive list. In this dish, quinoa is not only a useful ingredient. Kale and avocado are also very useful for the body. Avocado, for example, is the most nutritious fruit. Its calorie content is quite high, but it contains only healthy fats.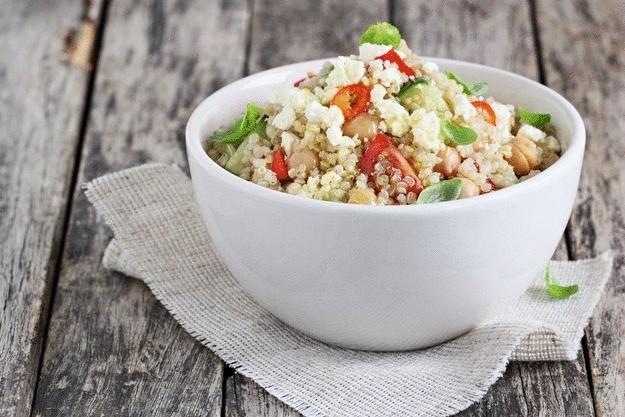 Quinoa is a grain, which gained popularity among adherents of proper nutrition. It is rich in vitamins and minerals and is perfect for cooking a nutritious and hearty lunch. To add maximum usefulness, add the list of ingredients avocado and Kale.
This dish can be stored in the fridge for a few days. Avocado is best added just before serving. It goes well with meat or fish. Ingredients:
Киноа200 g
A small head of leaf капусты1 PCs.
Cedar орешки1/4 cups
Авокадо1 PCs.
Matapo, to taste
For the filling:
Чеснок1 clove
Olive масло3 tbsp
Cherry vinegar or white wine vinegar on a selection of 2 tbsp.
, Listo taste
Perespa taste
Method of preparation:
Prepare the dressing. Garlic clear from the husk and cut in half. Crush the pulp with the back of a spoon. Smear the pulp on the walls and bottom of the small bowls, the remains also put in a bowl. Add the olive oil and let stand. Boil 2 cups water in a small saucepan. Add the quinoa and again bring to a boil, and then reduce the heat to low and cook under cover for about 15 minutes or until the grits will absorb all the water. Remove the saucepan from the heat, cover the saucepan with a clean kitchen towel and leave for 10 minutes. Then put quinoa in a bowl in which the dish will be served to the table. Stir the garlic in olive oil with a fork. Remove the remnants of the garlic out of the bowls. Add oil sea salt and ground pepper. To drive a cherry vinegar. Pour half of the filling on quinoa and shake to cereal has absorbed the liquid. Remove the stalk from a small cabbage head. Boil 200 ml of water in a small saucepan, put the cabbage and stew on medium heat for 5 minutes. Drain the water and gently squeeze the cabbage disassemble into individual leaves. Add them to the quinoa and leave for a while to cool off. Preheat the pan on medium heat. To add pine nuts and sauté for 2 minutes with regular shaking. Allow to cool, mix with the peeled and sliced avocado and mint. To put on top of quinoa. Remaining sauce to submit separately.
Barley salad with prawns and yogurt dressing
Lovers of sophisticated and delicious dishes you should definitely try to cook barley salad with prawns and yogurt dressing. This is a very delicate dish with an original taste, which will appeal to even the most fastidious gourmet. Such a meal is perfectly balanced, it combines nutrients and vitamins. Shrimp is a valuable source of protein, and barley — complex carbohydrates that improve the digestive system and permanently retain a feeling of satiety.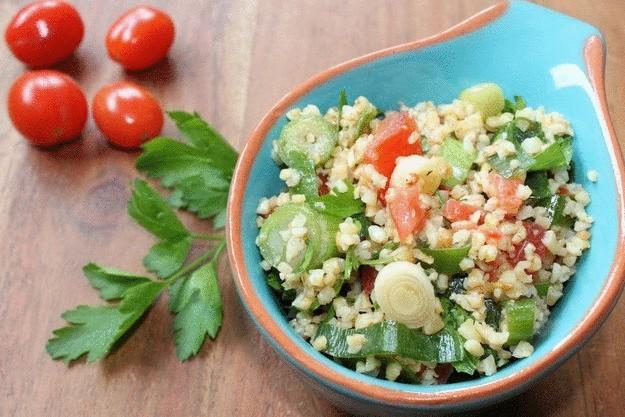 Shrimp is a valuable source of protein. And together with cereals, they may be the most useful and nutritious lunch that you can imagine. We know one recipe.
Ingredients:
Ячмень1 Cup
Natural йогурт1 tbsp
Vegetable broth or вода2,5 cups
Корица1 wand
Frayed корица1/2 tsp.
Кардамон5 pods
Forest орехи40 g
Royal креветки20 pieces
Coarsely chopped петрушка1 beam
For the filling:
Natural йогурт1/2 cups
Тахини2 tbsp
Finely chopped tbsp укроп2
Crushed clove чеснока1 PCs.
Сахар1/2 tsp.
Lemon сок1 tbsp
Вода1 tbsp
Method of preparation:
Put cereal in a large bowl, cover with cold water and add natural yogurt. Leave overnight or at least 6 hours at room temperature. Then drain all the liquid and thoroughly rinse the groats. Again to drain the fluid. Put grits in a pot with vegetable broth, senorita and cardamom. Bring to a boil. Reduce heat and simmer, 50-70 minutes or until the liquid is completely absorbed. Remove from heat and let stand for 5 minutes. Spread cereal on a dish, remove the cinnamon stick and cardamom and allow to cool. Preheat the pan on medium heat for 2 minutes to brown the hazelnuts, shaking the pan regularly. Cool and crumble in the hospitality bowl. Stew of shrimp in a skillet with a small amount of water for 2-3 minutes, or until they become pink. Drain the water and put the shrimp in a bowl. Mix the ingredients for the filling. Add 2 tablespoons of the filling in the shrimp and stir. When cereal has cooled, fill it, and mix all the dish. Drizzle with the dressing on the plate around the edges, and then place them on her rump, prawns and nuts. The salad is ready. published
P. S. And remember, only by changing their consumption — together we change the world! ©
Source: kitchenmag.ru/posts/2758-idealnyy-obed-5-interesnyh-retseptov-iz-zlakov