Do you remember how in the movie "Girls" main character Tosya Kislitsyna famously enumerated the many potato dishes? So, I will support her: potato dishes – it's really boring. Try to prove this with two pounds of your favorite vegetable.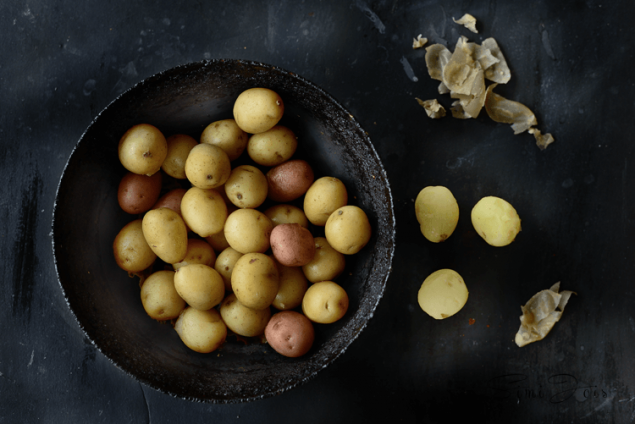 Pancakes from mashed potatoes
If after last night you still have a lot of mashed potatoes, try to prepare for Breakfast with his pancakes. Flour will take less, and the pancakes will turn out tender.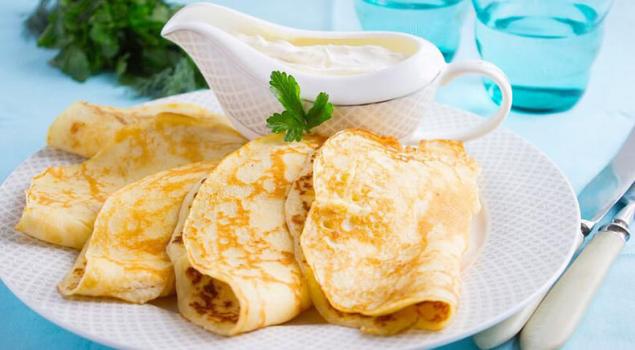 Ingredients
:
4 tbsp mashed potatoes
4 tbsp flour
200 ml of milk
3 eggs
1 small onion
salt to taste
vegetable oil
How to prepare:
Clean the onion. Finely chop and fry until light Golden brown.
Mix mashed potatoes with milk. In the mass add eggs, flour, salt. Beat with a mixer and add the fried onions. The mass stir with a spoon.
Bake pancakes on a well heated pan with a little sunflower oil.  
Wickets stuffed with mashed potatoes
Pancakes cooked and mashed potatoes left? Offer to bake the gate – Karelian open pasties from a mixture of rye and wheat flour. For the dough you will need sour cream, but it can be replaced with kefir or yogurt. What is in your fridge.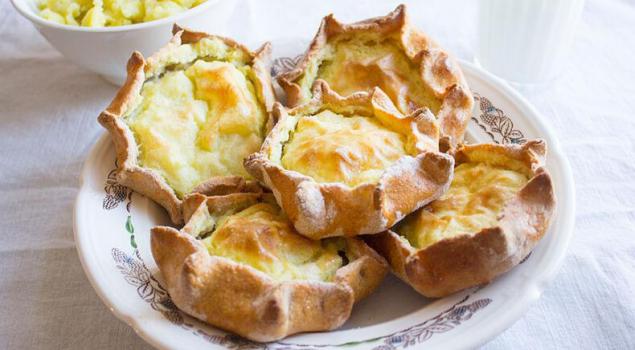 Ingredients:
1 Cup rye flour
1 Cup wheat flour
1 Cup sour cream 20%
salt on the tip of a knife
mashed potatoes for the filling
2 eggs
100 g butter
How to prepare:
preheat the Oven to 180 C. In a bowl mix two kinds of flour and salt.
Gradually add the flour into the sour cream. Knead the dough.
Divide the dough into several parts. Make sausages. Each sausage cut into small pieces. The pieces roll out the dough into thin tortillas. Place the scones on the baking tray lined with baking paper.
To mashed potatoes add 1 egg. Mix well. In the middle of each tortilla put the stuffing (about 2 tablespoons). Zasypnica the edge of the pellet so that the filling remains open.
In a bowl whisk the egg and brush over the wicket. Bake in the oven for about 35 minutes until Golden brown. Ready gates pour melted butter.  
Potato chowder with sweet corn
Lunch is almost never complete without some hot soup. Make potatoes the main hero of the dish, and in order to make the soup turned out quite unusual, add sweet corn.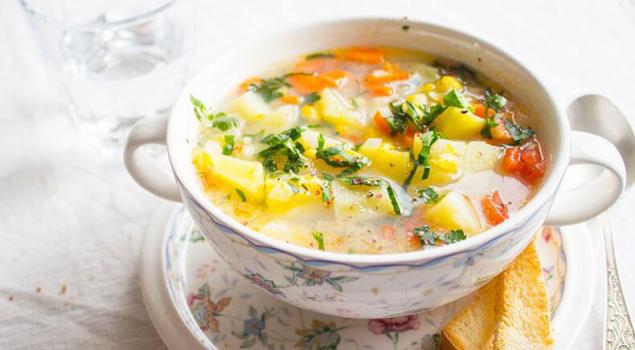 Ingredients:
5 large potatoes
1 small onion
1 carrot
1/2 tomato
200 g canned sweet corn
3 cloves of garlic
sunflower oil
salt and pepper to taste
How to prepare:
Boil corn for 1 minute. Boiled corn divide into two parts. The first part grind in a blender and leave as whole grains.
In a pan, saute the onions and garlic until Golden brown. After roasting, remove garlic.
Potato, carrot peel and chop. Vegetables put in a saucepan, cover with water and bring to a boil. Add corn, fried onions and chopped tomato. Season the soup to taste. Cook on medium heat for about 30 minutes until the potatoes are done.  
Spicy potato wedges with olive oil and sour cream
Is it possible from baked potatoes to prepare snacks for friends? Easy!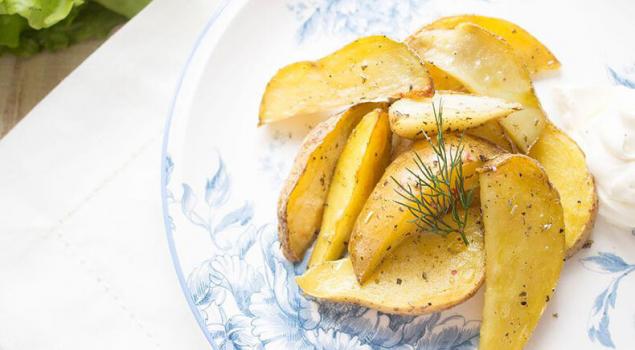 Ingredients:
5 — 6 large potatoes
salt, pepper, a mixture of dried herbs
2 tbsp sour cream 20 %
2 tbsp olive oil
How to prepare:
Wash potatoes well and cut into large slices.
Potato wedges, lay in a baking dish. Salt, well pepper, sprinkle with a mixture of dried herbs and drizzle with olive oil.
Stirring occasionally, bake the potato wedges in the oven at 170 C until Golden brown. Ready to serve slices with sour cream mixed with salt.  
Gratin of potatoes
For dinner, bring potatoes to a state of delicious Golden brown. Prepare the gratin. By the way, if you have in the fridge stale cheese, which is not to make sandwiches, feel free to RUB it on a grater and add to the sauce for this dish.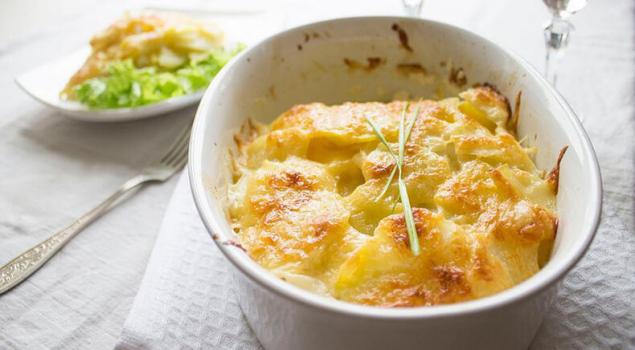 Ingredients:
6 large potatoes
60 g of any hard cheese
60 g butter
150 ml cream
1 tbsp olive oil
salt to taste
How to prepare:
preheat the Oven to 180 C. peel the potatoes and slice it into thin circles. Put the potatoes in a saucepan, cover with hot water and bring to a boil. After boiling, cook for 2 minutes.
In a separate pan melt the butter. Add a tablespoon of olive oil.
Grate cheese on a coarse grater. Add in the melted butter and cream cheese. Add salt and stir.
Form for baking grease with butter. Spread evenly on the bottom half of the potatoes, he put half of the cheese with cream, then another layer of potatoes and layer of cheese with cream. Bake in preheated oven for 35 min.  
 Spicy truffle chocolate brownie with red pepperTzatziki: famous Greek appetizer of cucumbers and yogurt
The cost of food purchased for the preparation of these five dishes, amounted to 750 rubles.
Cook with love ! Bon appetit!
Author: Ksenia Ermakova
P. S. And remember, just changing your mind — together we change the world! ©
Source: www.gastronom.ru/text/jekonomnaja-hozjajka-pjat-bljud-iz-kartofelja-1007083