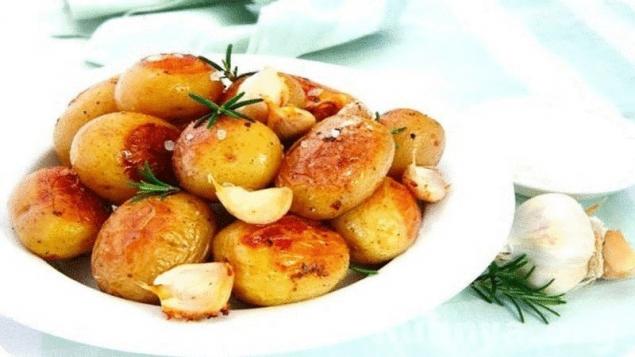 Nearing the time when new potatoes will stand on each table, reminding us of a familiar childhood taste. For those occasions when you want to not only cook potatoes but also to come up with something more original, we have prepared for you four tempting recipe.Baked new potatoesWhat we need:
1 kg new potatoes
5 cloves of garlic
small rosemary sprig
a bunch of dill
100 g butter
black pepper
How to cook new potatoes:
1. Wash potatoes with a brush. Cut the tubers in half, place in a pot of boiling salted water and cook until soft about 10 minutes. Drain and dry the potatoes.
2. Preheat the oven to 180 degrees. Put the potatoes in a baking dish. Garlic crush with a knife and add to potatoes. Season with salt and pepper. Butter cut into small pieces and place on top of potatoes, add the rosemary.
3. Place the mold in the oven and bake for 40 minutes to Golden brown. During baking, gently stir the potatoes 2-3 times. Ready potatoes put on a plate and sprinkle with dill before serving.
New potatoes with SuluguniWhat we need:
1 kg small young potatoes
3-5 cloves of garlic
2 tbsp. butter
200 g Suluguni
fresh greens for filing
How to cook new potatoes:
1. Wash thoroughly brush the potatoes, put in boiling water and cook for 15 minutes. Drain the water, potatoes dry.
2. Crush, peel and finely chop the garlic. Melt the butter, stir in the garlic, after 20 seconds remove from heat.
3. Put the potatoes in a baking dish, pour oil with garlic. Cover the pork and cut into slices thickness of 1,5 cm. Put the form in a preheated 200 degree oven under the grill included. Bake until the cheese is melted and not browned. Serve immediately, with fresh herbs.
Warm salad with potatoes and cherry tomatoesWhat we need:
750 g small, preferably new potatoes
250 g of cherry tomatoes
a handful of black olives
1-2 anchovy
2 cloves of garlic
3 tbsp olive oil
2 tbsp balsamic vinegar
salt, freshly ground black pepper
How to cook new potatoes:
1. Put the potatoes in boiling salted water and boil until tender, 15-20 minutes. Remove from heat, drain and lightly dry. Cut each potato into two or three parts. The cherry tomatoes cut in half. Clean the garlic and finely chop.
2. Heat the olive oil in a large frying pan. Add the potatoes, anchovies and olives and cook, stirring frequently, 5 minutes. When potatoes are browned, add to the pan garlic and tomatoes, pour in the balsamic vinegar, pepper and salt. Cook 2 minutes and remove pan from heat. Put the salad on a dish and serve it warm.
Salad of young vegetables and eggsWhat we need:
300 g of radish
2 medium young potatoes
2 medium cucumber (and tomato)
1 medium young carrots
2 eggs
1 bunch green salad
5 stalks of green onions
5 sprigs of dill
4 tbsp homemade mayonnaise
1 tbsp lemon juice
1 tsp sugar
salt
black pepper
How to cook new potatoes:
1. Wash the potatoes with brush and boil in their jackets until tender. Cool and if desired clean. Cut into slices. Put the eggs in a saucepan, cover with cold water and bring to a boil. Turn off the heat, cover the saucepan with a lid and leave for 10 minutes. Peel the shell from the eggs and cool. Cut into slices.
2. Peel the carrots. Cut into very thin slices radishes, carrots and cucumbers. Thinly slice green onions and dill. Tear lettuce into pieces and put in a bowl, add the chives and dill and mix. Spread out around the vegetables. Mix in a bowl the lemon juice with sugar, salt and pepper. Add mayonnaise and mix. Pour the salad dressing, circles decorate eggs.
Home friedge with young potatoes on skewers.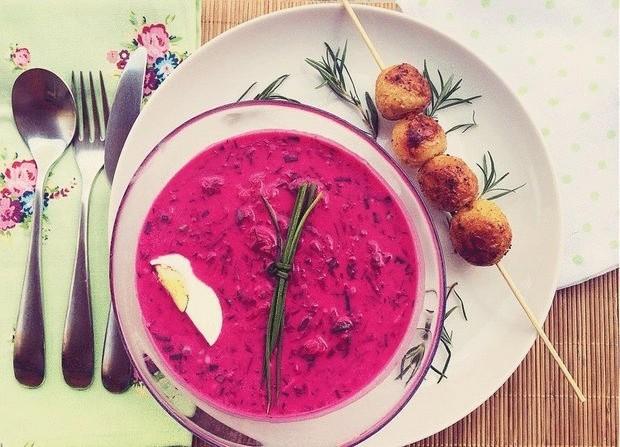 Ingredients:
4-5 tubers are of medium size boiled and purified beets (I usually boil and cool it in advance or buy ready-made);
5 small size peeled cucumber;
4 hard-boiled eggs;
2 dense beam of onions and the same of fennel;
2 liters of kefir average fat content (depending on the manufacturer, so do not indicate an accurate percentage. Importantly, the yogurt was not very sour);
chilled bottled water;
new potatoes are small in size (5-6 pieces for the mouth);
olive oil;
paprika;
turmeric;
sprig fresh rosemary;
Sol and sugar.
Heat the oven to 200 degrees. In heat-resisting capacity of the cast well scrubbed (unpeeled!) potatoes. Sprinkle with paprika, turmeric, salt and sbryzgivaem olive oil. Mix thoroughly with your hands. Before you put the potatoes in the oven, don't forget to put on the top a sprig of rosemary. Aromatherapy all households are provided. Cover – mandatory.
Well, we have half an hour for the main course.
In a fairly large saucepan put the grated and quickly grate beets and cucumbers. Cut in large strips of egg and the most finely green onion with dill. In fact, that was all. It remains to add kefir and stir – should be a thick soup. Focusing on our personal understanding of the soups, pour cold water out of the bottle: in my case it is a glass, not more. Definitely add salt and put a teaspoon (sometimes two) of sugar. Feel the aroma? And who could have imagined that beets are able to smell?
As for the vinegar or lemon juice, which is supposedly necessary to add in the friedge, I strongly recommend not to do it. Acid in the stomach, but also good to anyone not brought. Especially since the taste is not affected.
Leave the soup for a few minutes in the fridge.
Take out of oven potatoes, which by this time was surprisingly soft, and strung it on a long wooden skewers. I guarantee the children of such filing will be delighted. However, like all the rest.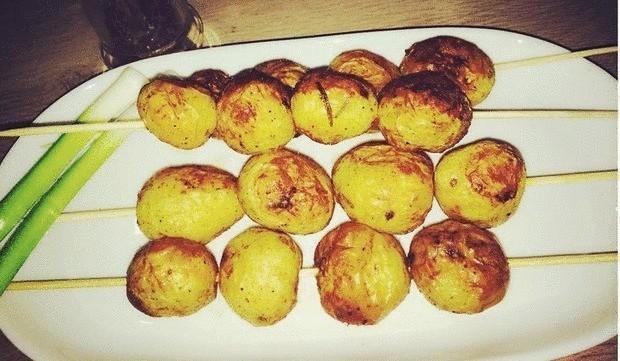 Low in calories, an obvious benefit to the organism and only half an hour time spent. published  
P. S. And remember, just changing your intake, we, together change the world! ©
Source: /users/4