Potato is perhaps one of the most popular vegetables in the world. To list all recipes with these tasty and healthy roots, will have to spend more than one hour of time. If you love potatoes as well as we do - take a mental note of our recipes. Make sure that even simple dishes can be delicious!
1. Perfect french fries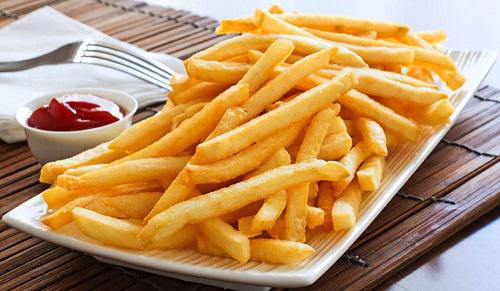 Ingredients:

1, 3 kg of potatoes; ice; juice of 1 lemon; 3 tablespoons sunflower, peanut or rapeseed oil; salt.
Take the 6-liter brazier, iron kettle or saucepan. Unpeeled potatoes shall cut into strips measuring about 9-12 cm and a thickness of 1, 5 cm. Cut the potatoes throw in a bowl of cold water to avoid oxidation. Rinse potatoes, zaley it with fresh water, add a couple of handfuls of ice cubes and lemon juice. Refrigerate for 2 hours.
Then start roasting. Pour oil is about 12 cm and repent, potatoes well with paper towel and blot the fire away in small batches until light golden brown, about 4-6 minutes. To get potatoes or colander with metal tongs. Ready potatoes sprinkle with salt and serve immediately on the table. On request, you can use ketchup or sauce.

2. Potatoes are selyanski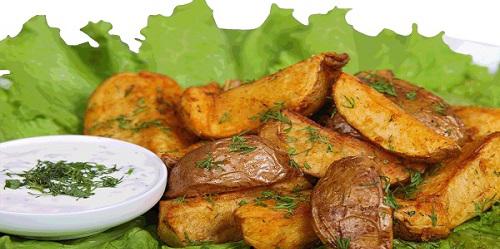 Ingredients:


10 large potatoes; 2 tablespoons butter; 3-4 tablespoons chopped fresh dill; 1-2 tablespoons salt; 1 teaspoon black pepper; Greek yogurt to taste.
Shall a large pot of water to a boil, add salt. Large potatoes Cut into 4 pieces, small - in two. Throw them into the boiling water and boil for 10-15 minutes until tender.
Add butter, herbs, salt and pepper. Serve with Greek yogurt or sour cream and grated cheese.

3. Potato with cheese fan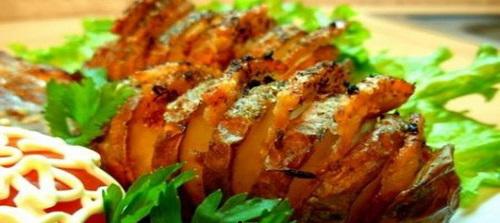 Ingredients:


0, 5 kg of small small potatoes (for one serving); olive oil; slices of cheese; cream ready-sliced ​​bacon; green onions; salt.
Preheat oven to 200 ° C and cut a baking sheet with aluminum foil. With a sharp knife make an incision in each potato, before reaching the bottom. Lay the potatoes on a baking sheet. Gently sodium potatoes with olive oil and sprinkle with salt.
Bake for 30 minutes until the potatoes are tender. The incisions Put the slices of cheese. Cook for 5-10 minutes, until the cheese melts. Cool slightly and season with sour cream, bacon and chives. Served warm.

4. Classic Baked Potatoes







Ingredients:


1, 3 kg of potatoes of medium size; 4 tablespoons of butter and a little - for baking; 2, 5 cups cream; salt and pepper to taste.
Preheat oven Peel the potatoes, put in a bowl with cold water. Brush the pan with oil or laid out with baking paper. Sliced ​​potatoes are laid out on the bottom of the pan or shallow pan, add salt and pepper to taste. Then put a few more layers and season to taste. Pour cream potatoes so that they barely covered it. Add a little oil, the dish tightly with foil lap and put in the oven. Bake for 30 minutes. Remove the foil and let it brew in the heat for another half hour.

5. Potato gratin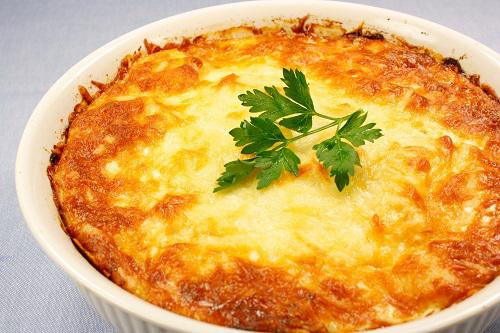 Ingredients:


1, 8 kg of potatoes; 1/4 cup butter (finely chopped); 2 cups cream of chicken soup (made of flour, milk and chicken broth); 2 cup sour cream; 1/3 cup finely chopped onion; 1/2 cup grated cheddar cheese; 2 teaspoons salt; 1 cup crushed cornflakes; 2 tablespoons of melted butter.
Wash, boil, cool and cleanse the potatoes. In a medium saucepan Heat the mixture of oil, cream soup, sour cream, onion and salt. Prepare up until the butter has melted, remove from heat and mix with cheese. Warning: the cheese should not be completely melted! Mix 2/3 of the mixture with crushed potatoes. Pour into a greased baking dish. Distributed with the remaining sauce. Sprinkling corn flakes. Bake for 40 minutes.

6. Colorful fries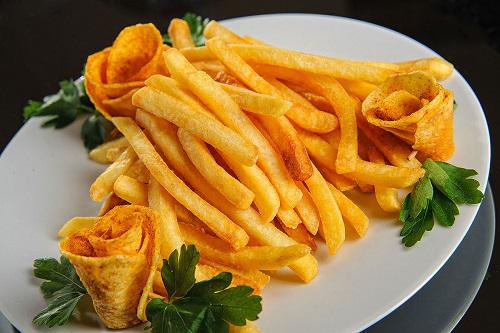 Ingredients:


4-6 potatoes; 1/4 cup olive oil; sea salt, fresh ground pepper, favorite spices, salt.

1 cup sour cream; 1/2 cup sour cream sauce with onions, garlic, herbs and spices; 1/4 cup milk. < /Filling:


1 cup (or more) shredded cheese (cheddar or other); 1/2 cup grated mozzarella; 1/2 cup bacon bits; 1/4 cup green onions.
We will cut the potatoes thin slices (if desired average thickness). Place on a baking sheet lined with foil, fields, olive oil and lightly mix. Add salt and pepper to taste. Bake at 200 ° C for 40 minutes, checking the readiness of a fork. Prepare the sauce. Brush the sauce (3/4 get the number) a large platter, lay out on a hot potato fields remaining sauce and sprinkle stuffing. Wait until the cheese is melted, and get to the meal.

7. Pie «Samos»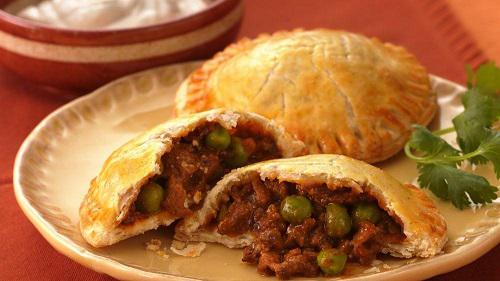 Ingredients:


3 tablespoons ghee or butter; 1 medium onion, finely chopped; 1 jalapeno peppers, finely chopped; 3 cloves minced garlic; 0, 5 kg of chicken (or turkey); 2 tablespoons curry powder; 1/2 teaspoon turmeric < / 600 g of potatoes, diced; 1 cup water; 1 cup green peas, fresh or frozen; 1/2 cup chopped fresh cilantro; 1 sheet of puff pastry; salt to taste.
Heat the oil in a large saucepan over medium heat. Lay the onions and fry until golden brown. Add jalapeno, garlic, chicken curry and 1, 5 teaspoons of salt. Shall the chicken until half, throw the diced potatoes and the share of water. Mixed and ready before until potatoes are tender, about 25 minutes. Throw cilantro, spices, salt. Lay the filling on the dough, cut the dough on top, make holes for the steam. Bake at 200 ° C until golden brown about 25 minutes.

8. Potato Pizza "Pepperoni»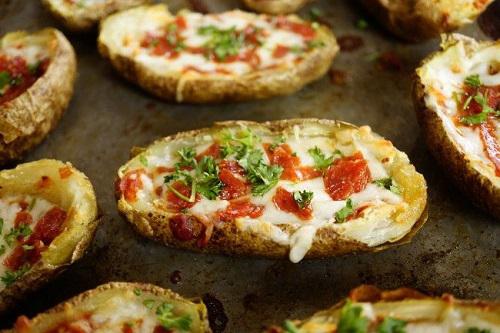 Ingredients:


4-5 potatoes; cheddar or mozzarella; stick spicy salami; salt and pepper; < crumbs (optional); olive oil; Parmesan; spaghetti sauce or ketchup.
Wash potatoes, sodium salt and olive oil and wrap in aluminum foil. Make the holes and place in preheated oven. When the potatoes are half-ready, cut it in half and partially Extract core. Brush the olive oil, sprinkle breadcrumbs and bake until golden brown. Put each half a spoonful of hot sauce, some cheese and salami on top of "pepperoni", salt and pepper to taste. Bake another 15 minutes until golden brown. Sprinkle parmesan cheese and green onions, if desired. Done!

9. Roasted potatoes with herbs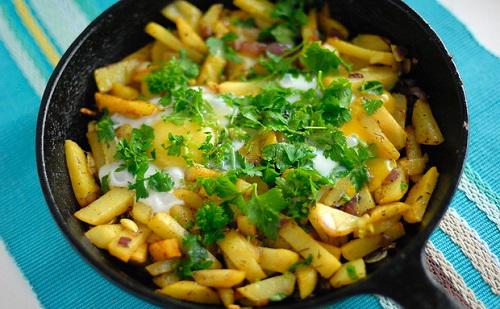 Ingredients:


potatoes; olive oil; thyme or rosemary; sea salt; black pepper < / parsley; green onion.
Peel the potatoes and place it in a saucepan of salted water. Bring to a boil and boil until done on a moderate heat. Preheat oven to 180 ° C and place the empty pan in the oven. Cut the potatoes, put in a bowl with olive oil, thyme or rosemary, salt and pepper. When the oven heats up, place the potatoes in a pan and place on a baking sheet. Bake for 30 minutes. Serve with fresh parsley and green onions.

10. Fried potato balls with cheese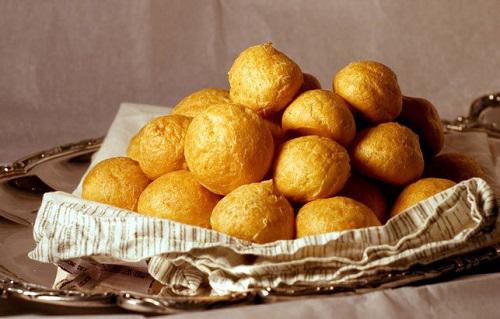 Ingredients:


620 g potatoes, peeled and cut into quarters; 2 teaspoons seasoning Taco; 100 g mozzarella cheese, diced; 3/4 cup breading; 2 eggs; Vegetable oil for frying; sea salt to taste.
Boil the potatoes until tender. Make mashed potatoes and leave to cool. Divide mashed into 16 balls, finger click on the center of each ball and fill the hole cubes of cheese. Then the "Wrap" around the cheese fries. Potato balls roll in breadcrumbs, perch in beaten egg and then in breadcrumbs. Fry the balls parties over moderate heat until golden brown. This simple dish is cooked for about 1 minute. Serve with your favorite sauce.

Indeed, the above recipes potato is not only easy, but incredibly appetizing and quick to prepare. Share this article with your friends. Let them know that ordinary potatoes can also be incredibly delicious! Bon appetit!

via takprosto cc