10. Masa (Masa) (New York)
Masa Restaurant, located in New York's Complex Time Warner Center (Time Warner Center), invites you to enjoy equally the food and atmosphere. Chef Masa Takayama (Masa Takayama) advises customers to dress comfortably to comfortably spend three hours (!) For a culinary event with a variety of dishes. The restaurant is no set menu, customers sit down and bring them to a range of fresh dishes straight from the kitchen. The restaurant atmosphere is very soothing likely to suppress the shock that you can experience, seeing the score at $ 350 per person - not including tax or gratuity. And if we talk about the drinks, there really can be ruined as the decanter of sake «Kikuhime» will cost you $ 400, well, a bottle of Chateau Margaux Bordeaux (Chateau Margaux Bordeaux) 1995 drags on $ 1,500.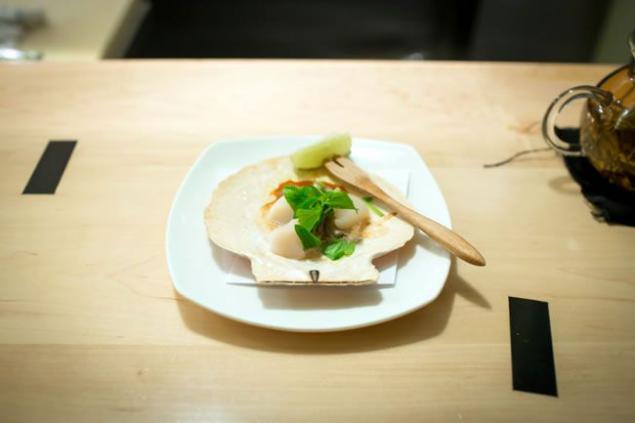 9. "Misogigava» (Misoguigawa) (Osaka (Osaka), Kobe (Kobe) and Kyoto (Kyoto))
This restaurant serves French food with a Japanese slant, as the site explains, the kitchen "seeking harmony French spirit and Japanese culture." The restaurant is located in a former tea in downtown Kyoto and offers French cuisine in the style kaiseki (kaiseki) since 1981. Seasonal menu of eight dishes will cost you, at least about 162 dollars. More bombastic version of this multi-course dinner costs $ 270 with tax, and must be booked at least five days before you come! Among the delicious and expensive dishes are: beef fillet with potato souffle, green beans with butter and roast pumpkin. For dessert, the house offers plenty of delicious options including chocolate marquis with berries in a creamy pistachio sauce. In the institution also has a number of private rooms for events or simply a specialized lunch.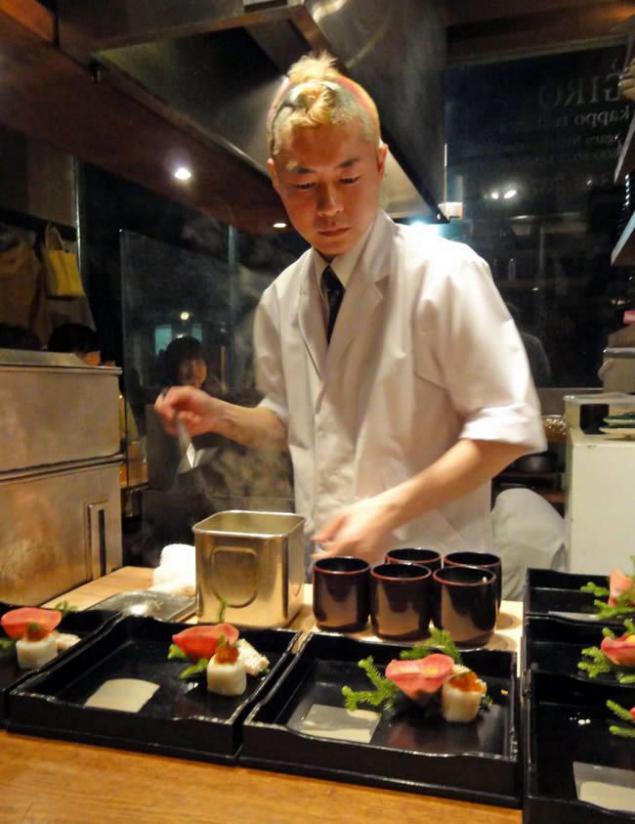 8. Le Pré Katelan (Le Pre Catelan) (Paris)
This trendy restaurant is located in the center of the park Bois de Boulogne (Bois de Boulogne) in Paris, France. Prices for meals start at around $ 85, and desserts from 43 dollars, but customers will be difficult to find a special dish to order for less than 130 dollars. For $ 255 including taxes and service, you can enjoy a family meal. As the summer action, the restaurant offers a five-course dinner (only!) For $ 199 per person. Among these expensive dishes are ravioli with shrimp in a broth with olive oil, and veal with mashed potatoes with the smell of cinnamon. Visitors also talked about the excellent bread and wine, an important element of any French restaurant.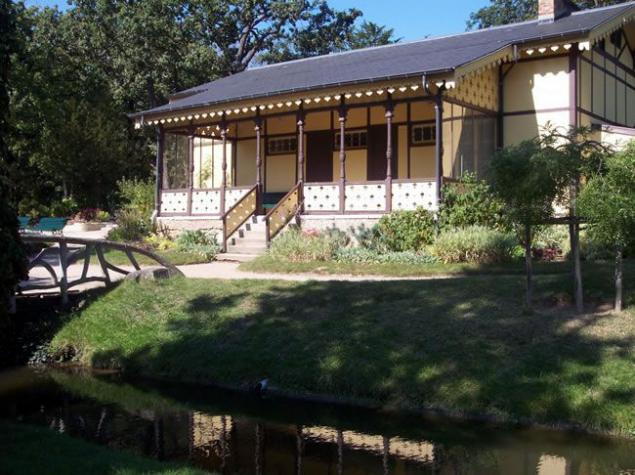 7. "Beige» (Beige) (Tokyo)
Restaurant "Beige" is at the very top of the building Chanel (Chanel) in the Ginza district of Tokyo (Ginza). This restaurant is another institution renowned chef Alain Ducasse (Alain Ducasse), who in 2013 received a lifetime achievement award from the Web site's rating in the top 50 restaurants in the world (World's 50 Best Restaurants). Restaurants, culinary schools, cookbooks and consulting activities Ducasse brought him about $ 15 million in 2002, and its revenues will undoubtedly increase over the next few years! The restaurant "Beige" offers French cuisine with seasonal Japanese ingredients. Special menu include mushroom menu with porcini and matsutake for 259 dollars, or dinner of three or four courses for 147 or $ 190, respectively. When you're cracking down dinner, you get chocolate in the form of buttons Chanel. Of course, for about $ 25.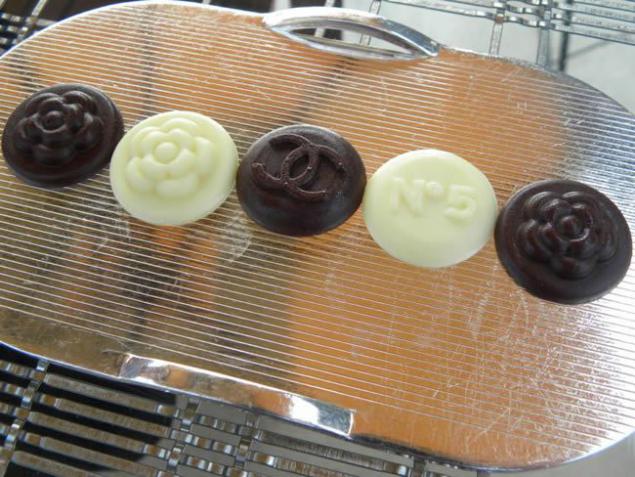 6. "Gordon Ramsay» (Gordon Ramsay) (London)
Gordon Ramsay is a well-known chef, restaurateur and television presenter. You can learn Scottish chef of the popular show «Ramsay's Kitchen Nightmares» or «Hell's Kitchen» (Hell's Kitchen). Restaurants Ramsay extremely prestigious. Moreover, his signature restaurant "Gordon Ramsay", located in the Chelsea (Chelsea) in London since 2001 has won 3-yoh Michelin stars (a great honor in the restaurant business). Their seasonal menu of special dishes includes a number of courses for 185 pounds, which is about 320 dollars. Besides these, of course, will need to pay an additional 12, 5 percent tip that rounds the score to 355 dollars! The restaurant also serves a bottle of red wine for 11 000 pounds, well, over 18,850, in case you're interested, you bring a bottle of Chateau Margaux 1st Cru Classé 1900 (1900 Chateau Margaux 1er cru classé). The food in the restaurant supposedly tasty, but you may have to eat noodles for the rest of the month.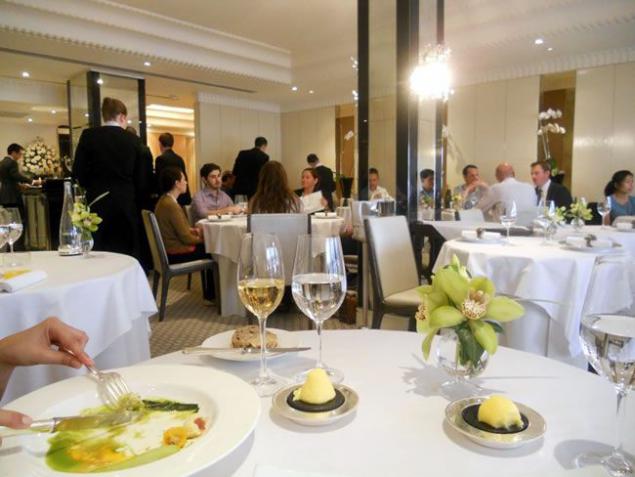 5. "Restaurant Crissier» (Restaurant Crissier) (Switzerland)
This restaurant has recently received three Michelin stars, and is part of the nearly 40-year chreda legendary chefs. The restaurant offers a full "sensory experience" and received tremendous praise as a professional ratings and, in the opinion of customers. In 2013, Chef Benoit Viollet (Benoit Violier) was recognized as Chef of the Year in Switzerland, earning him 19/20 points in the prestigious French restaurant guide Gault Millau (Gault Millau). Among the dishes served at the restaurant are white catfish Saint-Gilles-Croix-de-Vie (saint-gilles-croix-de-vie), cooked with Lemongrass, summer grilled mushrooms and red fruit souffle. In the set menu includes a few dishes, but worth it $ 415.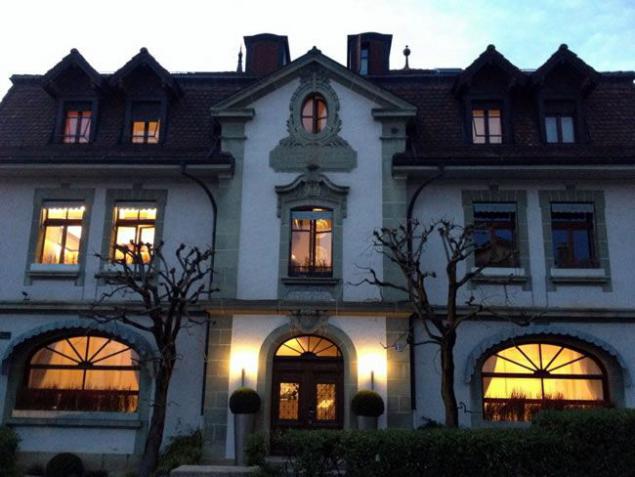 4. "Aragava» (Aragawa) (Tokyo)
The magazine «Forbes» awarded restaurant "Aragava" title of the most expensive restaurants in the world in 2006, and while he was already wrong, so is not, he is still in the top five most expensive restaurants in the world. This restaurant is located at the end of a long hall in the basement of an office building in the business district of Tokyo called Shinbasi (Shinbashi) can only accommodate 22 people. Very good location of the restaurant and the limited number of places are a part of its exclusivity. The restaurant is also known for the fact that it serves the best of Kobe beef in the world. Among other delicacies can be enjoyed here Chargrilled steak Kobe beef or a whole syrokopchёnogo salmon, which is smoked in the restaurant every week. Beefsteak Kobe is a unique dish, since the animal must meet very specific criteria, these steaks are talking only "selective cattle." Toasting process includes ten separate stages! Not including drinks, prix fixe menu will cost you about 341 dollars per person, but this special dinner is worth it if you can find that kind of money.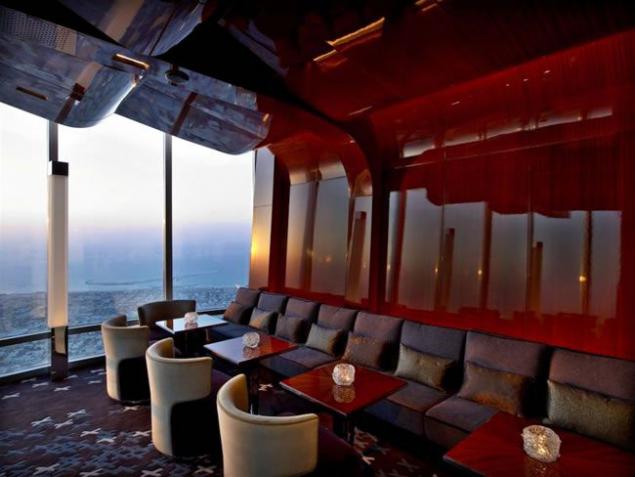 3. Maurice Le Restaurant (Restaurant Le Meurice) (Paris)
Given that it is the property of the award-winning chef and restaurateur Alain Ducasse, not surprisingly, this chic restaurant, decorated in the style of Versailles (Versailles), made the list. The room is decorated with crystal chandeliers, bronze and marble, and offers views of the Tuileries Garden (Jardin des Tuileries). For a considerable amount of 524 dollars, you can try three dishes plus a selection of cheeses and desserts. Price, of course, does not include drinks, which can add to your account a couple of hundred dollars. Among the special dishes are pie of guinea fowl (only for about 156 dollars), lobster with potatoes, veal sweetbreads (thymus and pancreas), and a decadent selection of fruit and chocolate.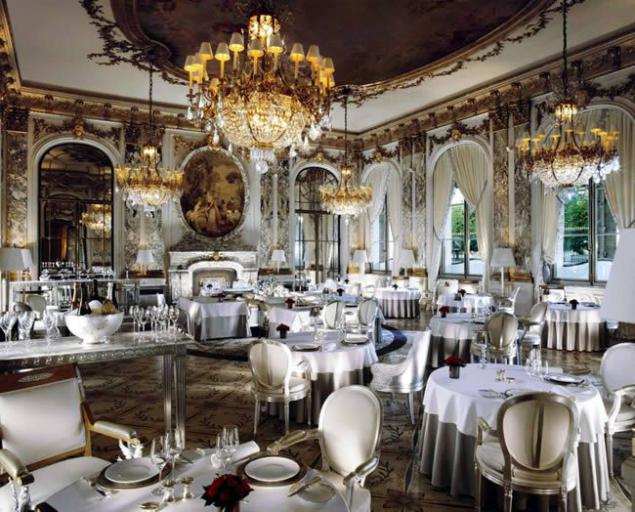 2. "Underwater restaurant Itaa» (Ithaa Undersea Restaurant) (Maldives)
This exotic restaurant has been estimated as "the most beautiful restaurant in the world" by the newspaper «New York Daily News» 2014. Itaa located five meters below the surface of the Indian Ocean, and offers a panoramic view of 180 degrees on the coral gardens that surrounded it. («Ithaa» means "pearl" in Dhivehi language dihevi (Dihevi)). The restaurant serves European dishes in the set menu of six dishes, the price of which does not start with less than $ 320 per person without drinks or tip. The menu includes such delicacies as caviar reef fish and fillet of beef from cows breed Aberdeen Angus. Children permitted for lunch but not for dinner, the restaurant, of course, requires a formal dress code. This exotic restaurant is another institution that is able to provide a truly unique experience - but that will cost you quite a pleasure not cheap, because even the most modest of the menu you will have to pay $ 500 per person.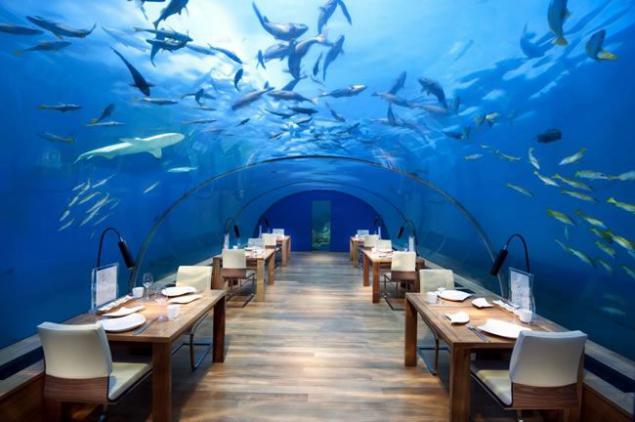 1. Restaurant "Sublimation» (Sublimotion) (Ibiza)
The most expensive restaurant in the world under the name "Sublimoushn" describes chef Paco Ransero (Paco Rancero) as "radically different." The restaurant is located on the island, which is usually known for partying more than chefs, Michelin-starred culinary experience and experts. Nevertheless, this restaurant adds a touch of island partying unquestionable class.
"Sublimoushn" is at the Hard Rock (Hard Rock Hotel) in Playa de Bossa (Playa de Bossa), and can simultaneously accommodate only 12 visitors (which makes it a truly unique). "Gastro-touch" lunch on 20 dishes should "cause emotional distress." These experiences may also include tears after receiving a check for $ 2,000. However, this is truly one of a kind dining experience, technology, psychology, design and, of course, world class food - all come together to make this a unique dining adventure (with a price that you can ensure a good rest over the weekend full of adventure ). Everything up to the humidity "micro" changes, while you eat and enjoy lunch.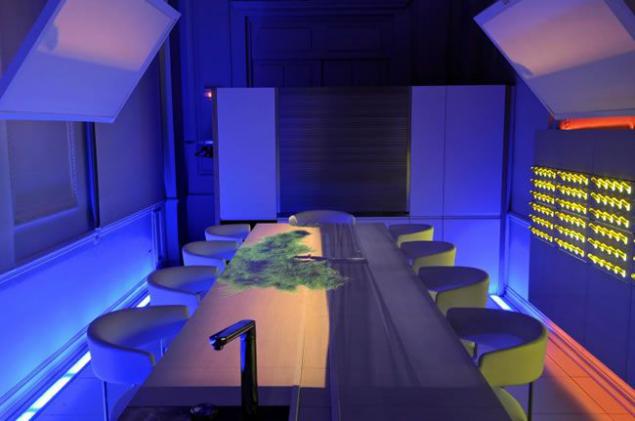 Source: p-i-f.livejournal.com