New York is so vast and varied that it is impossible to describe it hundreds of facts. Therefore, 200 facts about New York City.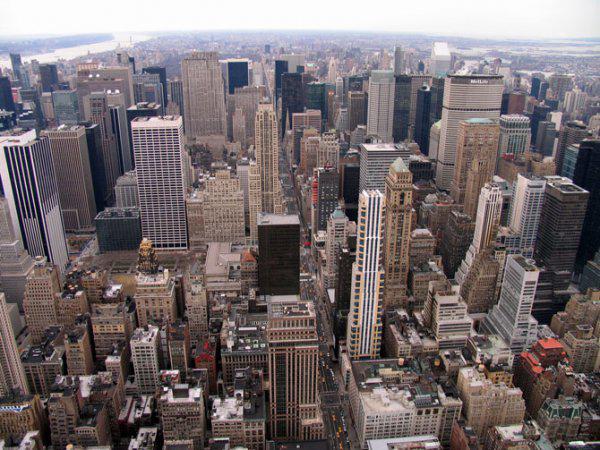 1. New York consists of only five districts called boroughs, and is in the same state. Boro called Brooklyn, the Bronx, Queens, Manhattan and Staten Island.
2. Only the Bronx is on the mainland, Manhattan, and Staten Island - a separate island, and Brooklyn and Queens are in the western part of the vast Long Island.
3. All these islands are interconnected and neighboring New Jersey Shatat twelve giant suspension bridges and plenty of tunnels, four of them - automobile. Many more than the length of 3 km and a width equal to some 12 road lanes. Across the river Harlem have 5 usual support bridges.
4. In the city lives of 7-8 million people. Half of them - in Brooklyn.
5. But the so-called Greater New York City, located on the territory of three states - New Jersey, New York and Connecticut - home to more than 20 million people. Along with Sao Paulo, Mexico City and Tokyo, Greater New York, part of the group of the large cities of the world.
6. Each state has its own rules of traffic. In New York is mentioned only 8 road signs and it's almost a record for the United States.
7. In the city of New York machines can not be rotated at a red light. In all other states, including New York, - possible.
8. Sometimes in New York City at the crossroads you can see the sign "After stopping permitted to change a red light».
9. Outside of New York something where you can see a sign "Right turn on red is forbidden».
10. The New Yorker called the New Yorker.
11. Once upon a time, until 1901, Brooklyn was an independent city, so its inhabitants has a name - Brooklyn, now forgotten.
12. The New Yorker easily cross the road at a red light and no one cares.
13. The New Yorker did not climb into other people's business. If you are awake and lying in the street, then you no one will come up. As long as you do not ask about it.
14. If you were asked to help, then all at once will do it and, of course, the famous call by phone 911.
15. At the urgent call to come immediately the police, ambulance and fire. First came immediately begin to provide the necessary assistance.
16. The first, usually after a few minutes, come fire. They can do CPR, deliver babies, well, put out fires, of course.
17. Today in New York, about 1,200 firefighters. The New Yorker treat them with great respect.
18. September 11, 2001, more than half of all urban firefighters died overnight.
19. All The New Yorker in one way or another suffer post-traumatic syndrome. At the mention of September 11, even in men welling big tears.
20. In New York, the largest metro in the world. It consists of 468 stations and carries about 8 million people a day. Subway in New York as an underground and overhead. He has his tunnels under the East River.
21. East River - the river is not as you might think because of the name, and oceanic strait that separates Long Island with Brooklyn located on it and Queens from Manhattan and the Bronx.
22. But the Hudson and Harlem - it is just the river separating Manhattan from the mainland.
23. Manhattan Hudson width about 3 killometrov.
24. Almost all the bridges and tunnels in New York - are paid. Today, one-way fare costs $ 6.50.
25. Manhattan and located in the middle of the East River Roosevelt Island, connected to the air suspension expensive. How to get in the van of this road is absolutely free.
26. Huge ferries connecting Manhattan and Staten Island, also free.
27. In New York, the largest system of public hospitals in the world. Furthermore, there is still a huge number of individual hospitals. And a huge number of small medical offices.
28. Emergency departments as state-owned and private hospitals can not provide medical care on the basis of lack of health insurance. If you honestly say their name, address and social security number, the account you get then. If not - then no.
29. But small medical offices will never treat you without payment.
30. The doctor and nurse - two professions that are part of the twenty most respected professions in the United States.
31. The average salary aspiring nurses in New York City - about $ 70.000-75.000 per year. Dr. income - much higher.
32. To become a nurse in New York, you have to graduate with a bachelor's degree and pass a state exam complicated. Some can not pass it by 5-10 times.
33. Any Russian nurse who graduated from medical uchilishe can pass such an exam in Berlin US consulate to obtain American work visa to come to the States and get a job for the above money.
34. Nurse - it is almost the only profession in demand in America.
35. Greater New York is served by three giant airports: Kennedy, La Guardia and Newark. The first and third are located in Queens, Newark - is the largest city in the neighboring state of New Jersey. From Manhattan to Newark 20 minutes.
36. Kennedy Airport, named in honor of the president, the largest in the world ... yes around.
37. Fiorello LaGuardia was mayor of New York during the second world war.
38. Newark Airport - the third passenger and freight traffic in the world.
39. According to the well-known because of checking passengers before landing in New York - one of the most rigorous in the world. Yes, for a long time, but it's safe.
40. In New York, the largest number of skyscrapers in the world.
41. The highest of them - this is again the Empire State Building. Why again? Yes, because he was the highest until 1973, and then again became established in 2001 to the under very sad circumstances.
42. The New Yorker did not understand the words and skyscraper called the giant tower house.
43. The budget of the City of New York - the fourth in the world. He is second only to the budgets of the United States, California and New York State and exceeds the budgets of all countries in the world. Although this information age 5 and now maybe something has changed, but the scale has remained roughly the same.
44. All budgets are made up of taxes. The average New Yorker pays federal tax, state tax, city tax, social security tax, health insurance and old-age tax on any purchase. Together passes for 55%.
45. Like all Americans, at the end of the year New Yorker file a tax return. Recent years it has submitted electronically.
46. ​​Any public profiles can be downloaded from the Internet, fill them on your computer or print it out and send back by email or regular mail.
47. Through the Internet, you can, for example, apply for the car, to pay any bills, renew a driver's license to buy everything that comes into your head, and around the world.
48. Internet - is a proper name and should be written with a capital letter. That's right, the internet. Anyone can build your network and give it a name. Here in my house is my personal network includes 4 computers, 4 mobile phones, printers, cameras, 2 TVs and a coffee maker. I also gave it a name and write it with a capital letter, Ibog35wifi. The truth is a beautiful name?
49. In New York, there are restaurants of all peoples of the world. There, at home, some people even do not have a dining room, and in New York he has a dozen restaurants.
50. Service in New York restaurants wonderful, because for it is customary to leave a 15% tip. No service - no tipping. A small salary waiters.
51. In New York restaurants are not cheated. The portions are huge and you can take home a half-eaten. Just ask the waiter to make doggibeg, a bag for dogs. And in the morning, not sharing with the dog, do eat left over from dinner, lobster, Spanish snails or ostrich meat.
52. In New York, you can taste the flesh of any creature, is not listed in the Red Book.
53. In New York, you can buy wine, beer, vodka or any other alcoholic beverage of any state of the world.
54. In New York, drinking alcohol can not be sold, and over the bridge in New Jersey can.
55. Notwithstanding the existence of literally thousands of beers, The New Yorker prefer to drink Budweiser - almost disgusting beer in the world. Why - it is a mystery.
56. Half of all beer sold drinks to 6 days - 5 national holidays and the Super Bowl - the final game of American football.
57. The usual football in the United States - a women's game. Champions of the World Cup for women for many years an American.
58. Across The town is a huge number of stadiums, sports fields and tennis courts. Half of the city in the summer playing baseball and other sports strange. All these sports facilities are free of charge and the city keeps their cleanliness and safety.
59. Perhaps the only no free golf courses and horse arenas.
60. Of the four major financial exchanges in the world 3 are in New York. The very large - New York Stock Exchange, the third in terms of turnover - American Stock Exchange and the fourth - NASDAQ, virtual exchange of high-tech stocks.
61. Have these Exchanges city very profitable. For every dollar received as a tax on stock exchange, the city receives an additional $ 7 tax related businesses. And billions. Many, many billions.
62. Place a broker on the New York Stock Exchange to buy. But very expensive. Very.
63. In New York, there are homeless. Not as much as the likes of Russian TV show, but there is. Main number lives in Manhattan. There are more pedestrians and easier to beg.
64. According to statistics, 97% of homeless people want to be so, and only 3% for some reasons can not get out of this situation.
65. Department of the City Hall there is homeless, created for the 3%. But the rest of the 97-mi also some extra. In New York, a lot of shelters, called Shelter.
66. In winter, when the Manhattan shelters are overcrowded, it is transported by another homeless shelter on buses. When completely cool, are engaged and police cars.
67. Every day at certain places distribute hot meals to the homeless, and winter days - blankets, sleeping bags sometimes.
68. In New York, everything is always settling for the disabled. At all intersections are special conventions from the sidewalk into the street. All buses are equipped with lifts for wheelchairs. Even some metro station equipped with lifts for the disabled. If you live in the house with disabilities, the landlord is obliged to equip the entrance ramp. Even small medical offices are required to have lifts.
69. Motorized wheelchairs disabilities are at public expense. So you can control the chair wheel, joystick or even language, if a person completely paralyzed.
70. A huge number of elderly or disabled people in New York has domestic servants paid by the state. Depending on the client's servants can help from a few hours per week to daily clock care. In the latter case, the maid spends the night in the apartment of the client.
71. When it is necessary, for example, to prevent bedsores in bedridden clients, servants can be night and day. In these cases, the patient gets help to change the position 24 hours a day.
72. All those wishing to elderly and disabled people in the New York office of Food-on-Wheels can deliver prepared meals to your home. Jewish organizations deliver kosher food. Muslim - halal. Diabetics receive diabetic meals. Well, and so on.
73. Usually the food is brought 2 times a week for a few days and placed it in the refrigerator. Before use, enough to put it in the microwave and heat.
74. Any holder of public health insurance once a month can get a free set of solid products. Food in the set is not the most delicious in the world, but balanced in protein, fats carbohydrates, vitamins.
75. All New York elderly and disabled people have government medical insurance for them for free the best health care. Impossible to imagine that someone refused to heal for any reason. To the last breath and treat the homeless, and centenarians, and congenital feeble-minded, and cancer patients. Humanism in action, you know!
76. Payment for the apartment - is the most significant waste in the budget. In this poor spend 90% of revenues.
77. Most New Yorker living in rented apartments. But many have their own apartment and condominium is called (just as it is written, not condominiums, as they like to say). Many live in co-ops are very similar to the HBC Soviet era.
78. The most expensive apartments in Manhattan, Brooklyn and then goes with a slight lag, Queens.
79. Landlords, landlords, tenants like Russian and even make us a small discount. Russian keep the apartment clean and pay the rent on time. And what else does the landlord?
80. All the bathrooms are in New York and the US - combined. No one takes a bath, all washed in the shower. Therefore, all the baths with low sides.
81. The normal position of the toilet - with a lowered seat. Himself bowl filled with water and therefore can be clearly seen that shit in America sinks. This is explained by the lack of good food in the esophagus and putrefying bacteria that produce gases that support is the most buoyant.
82. One day, on their arrival in America, you are surprised to notice that your shit drowned. All of them! You - an American!
83. In America, a dozen public holidays, but not all employers pay your idleness these days. The smaller the business, the less paid holidays. Usually all do not work 5-6 events per year. Big business can afford to have a 9-10 holidays.
84. Jewish businesses do not work on Yom Kippur (Day of Judgment), Roche Hashanah (New Year), and a couple more. In the Eid al-Adha, Muslims do not open their restaurants during the day.
85. St. Patrick's Day, Catholic saint, the descendants of Irish organize parade on 5th Avenue, and then get drunk up to a horizontal position. On this day, it turns out that many Jews, blacks and Russian - also descendants of the Irish.
86. Christmas Day - a national holiday and is celebrated by all Christian denominations, of which the United States an incredible amount.
87. Since, as said the Patriarch of All Russia, the celebration of Christmas in January - it's not a matter of saving souls, but only a tradition, the Orthodox in the United States celebrate Christmas twice. First time with all Christians on the night of December 24 and the second - samostiynost in January. Americans are taking it calmly, without judgment. How to another Russian quirk.
88. In New York, there are temples all 15 autocephalous Orthodox churches. And the Russian Orthodox Church Abroad, which is not fully entered the Moscow Patriarchate in 2007. And 5 other independent Orthodox churches. And many other less well-known.
89. In the US, many religious leaders live. The most famous - it is certainly the Dalai Lama. Some of them live in New York, for example, the Patriarch of the Russian Orthodox Church Abroad. The last two Lubavitcher rabbi lived in Brooklyn.
90. Manhattan is St. Nicholas Cathedral. In Brooklyn and Queens have a good old orthodox church. Father here very decorous.
91. Recently, near Brighton in a normal house opened another Orthodox Church autocephalous status unknown. Ass about their rumored that he rabid anti-Semite, adjusts his flock against the Jews, forbade her to read the book I was the father. When the September 11, 2001 World Trade Center was a fire and people jumped from the windows of a skyscraper, he earnestly began discussing the sinfulness of suicide, however, eventually found them sinlessness.
92. Protestant churches relegioznyh areas even more. The biggest - Baptists. World Center of Jehovah's Witnesses located near the Brooklyn Bridge. There are very strange, such as Jews for Christ.
93. The Jews do not have a single religious center and each synagogue completely independent. Therefore, by the number of places of worship, they surpassed all other religions together.
94. In New York City and around the world, except Russia, a Jew - is not an ethnic and religious term. Jew - a man professing Judaism or born of a Jewish mother. Jew can become or cease to be.
95. You can be a French Jew, a German Jew and as it does not hurt the Russian ear, Russian Jew. The largest group of Jews in the world and in New York - a Russian Jews.
96. It is believed that just do nationality and the nationality of "Jew" in particular came up with Comrade Stalin personally for ease of realization of the principle of "divide and rule". Unfortunately, this idea is well taken root in Russia and, fortunately, it is not shared Most of The New Yorker.
97. Greater New York live about 2 million Jews. All Jews are different, there are Ashkenazi, Sephardi, Falasha, Bukhara, Asian and so on. Jews are different skin color, eye shape, temperament, language and culture. They have in common only one - religion.
Finally.