I want to show you one ad from the United States for the sale of a new home.
It will be a short story on the subject, I advise you to read.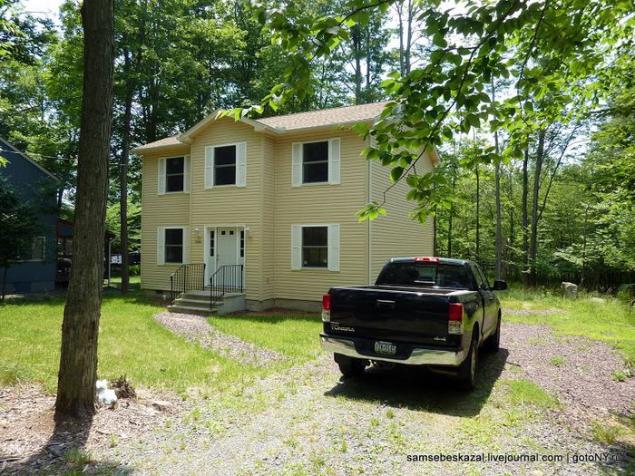 Author: This summer we went to Pocono, as I wrote a few posts, and at the same time we stopped to look at a house that sell our good friends. We dream sometime in the future to move out of New York, close to nature and all that, and with the opportunity to study the various options. Of the more or less immediate praise all Pocono. This resort town in Pennsylvania, where he lives and rests a lot of Russian, and which is considered to be quite a popular place for recreation and residence of many New Yorkers. From the pros: relative proximity to New York (only two hours by car), beautiful nature (mountains), the availability of infrastructure (shops, restaurants, etc.), low prices (compared to New York). Of the minuses: the relative proximity to New York (two hours by car), the absence of rail links (can be reached only by car or bus), the province (this is not New York). Pocono is not close enough to drive to work every day (although some go), but not so far as to if necessary not to drive to New York for a couple of times a week. In general, what we need if you work at home, there is a desire to live in a beautiful place in nature, and wants to be able to get to New York for the sane time.
As for the questions asked of the place. Pocono - really great place to stay where everyone will find something that he is interested. It has everything you need for life and leisure: and a great water park, and a lot of different shops and small clubs, and decent restaurants, and hunting and fishing, and wildlife, and skiing, and so dale, and the like. It's certainly not New York, but the wilderness and this place is difficult to call. A sort of village with a minute transport accessibility to the urban civilization. Back in Pennsylvania, more loyal to the laws and can, for example, the use of arms without problems. Even the black bread and boiled sausage can be purchased - the Poles are selling (I have some reason to these products special affection). There is significantly lower than on the car insurance in New York, many Russian buy a house or land there, and then go on to New York to Pennsylvania room (it's illegal, but if you care, you can). And Pocono very favorably with New York in terms of real estate prices. When in New York, with 100 000 dollars in the pocket to catch something, it is already possible at Pocono something to look for. With two hundred thousand dollars, you can choose meticulously. With three you can begin to implement children's dreams.
Our friends are selling house in a gated community. Quite popular format of residence in the country, which can be compared with gardening partnerships. Restricted territory in which they live according to the rules and additional agreements. This is both good and bad. Well, you live in an area which is protected, cleaned and lives according to certain laws. Too bad that for this it is necessary to pay extra and have to obey these laws. But then everyone chooses what he likes.
Central road community.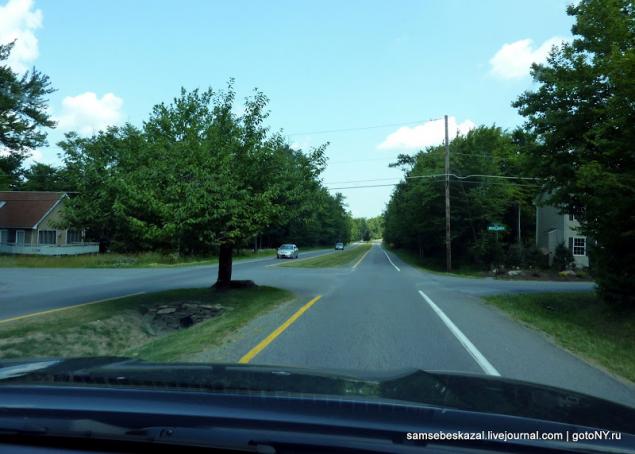 In this community, for example, has its own beach, a swimming pool with a restaurant and a chic playground. Entrances are guarded round the clock and the area patrolled by the local security services, Kotra Feature replaces the police. Of the disadvantages of such a life, for example, a speed limit of 15 miles in the territory.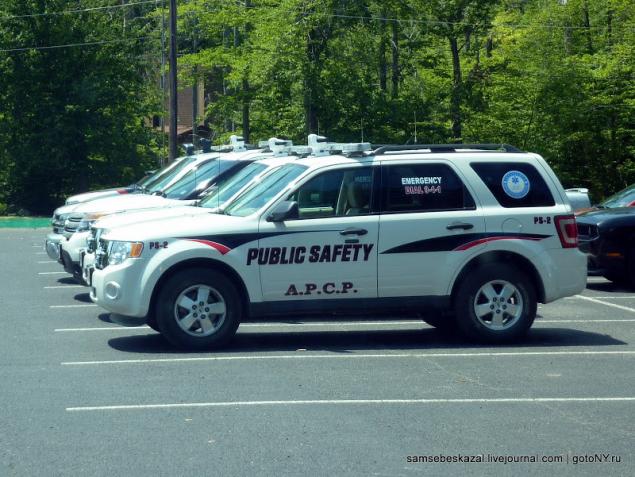 I like to live in a house outside the city, and I have a decent experience - two years before leaving for the US, I lived in his house in gardening next to Peter. However, to adequately compare will fail, too Russian reality at odds with the US.
On such roads in our gardening could only dream of. Limit - chip in with their neighbors in the Kamaz crushed stone for dumping. Here are all the roads, and none of them is not worn. At the local conservation favorite pastime - catching for speed.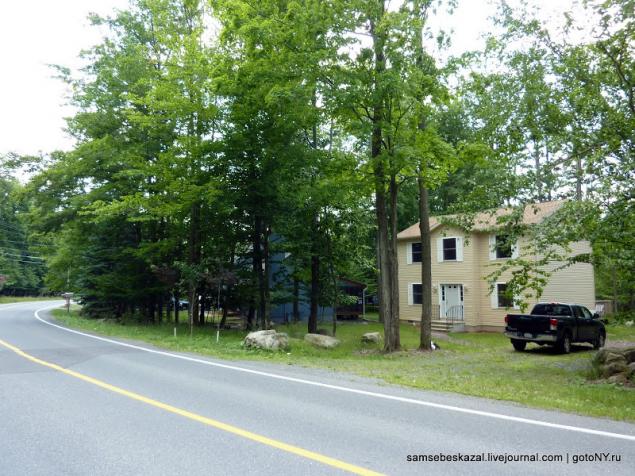 House classic karkasnik, stands on the foundation tape and sheathed with siding. It's all in Russia, except for decorative exterior shutters. I would have made a canopy over the porch. But then the climate is better, and the canopy is not so relevant.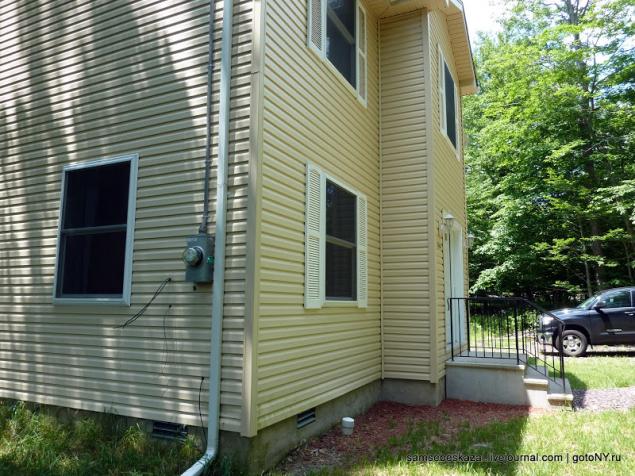 In America it is very fond of doing terraces. It called spoilage. This house is no exception.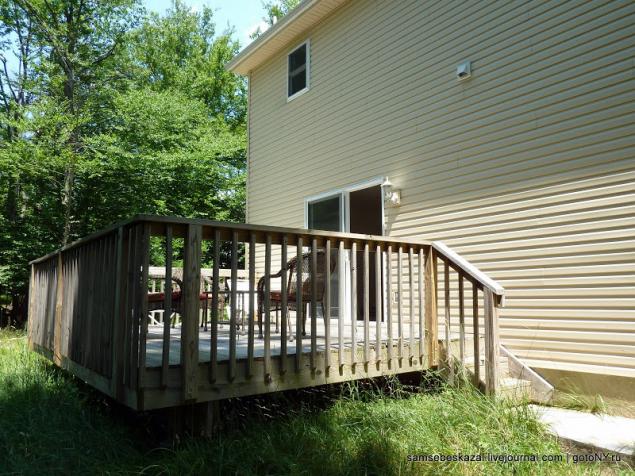 Spoilage is clearly better gazebo or bare earth, but in Russia such use would be considered wasteful of space and made a covered veranda.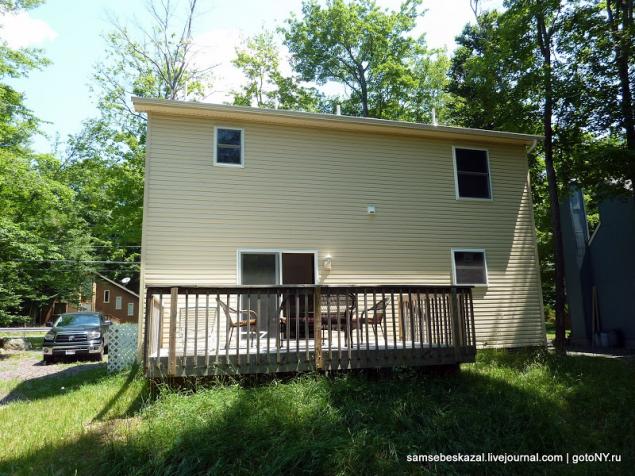 In America the slightly different rules of life and, in addition to the desire to increase the area of ​​the house, there is a reasonable relationship to taxes on real estate and complexity of permissions to any construction work. You, for example, can be super-builder, but never will be able to build a house if you do not have a license. So terrace, this is what you can do yourself, and covered on all sides by a veranda anymore.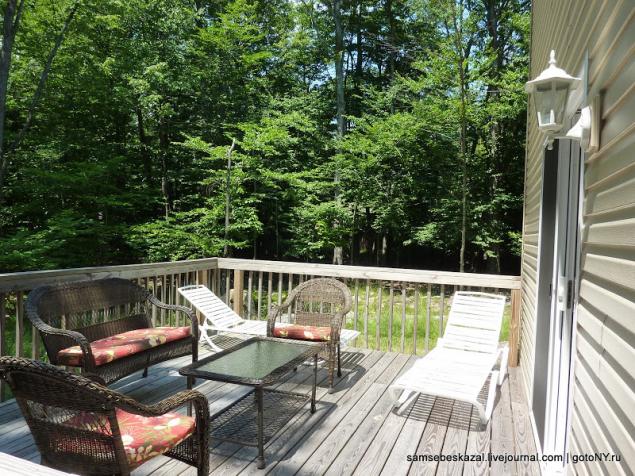 This neighboring houses. Everything is like in gardening. All for all to see. Is that no one puts fences.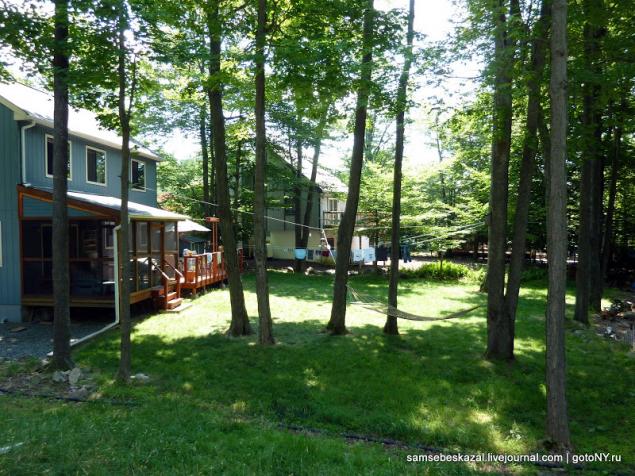 But only if you look back, it will be a forest, and no neighbors. This form is not at all, of course.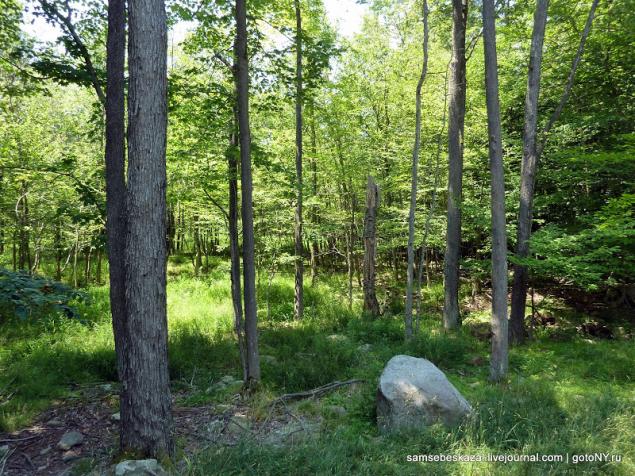 In the bushes on the site can meet animals. She grazed along the roads and sometimes jumps right under the wheels.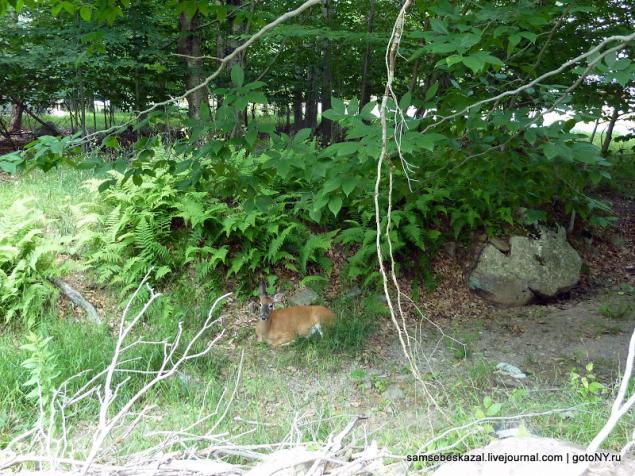 Larger animals. The presence of a meter away from her man does not embarrass animals.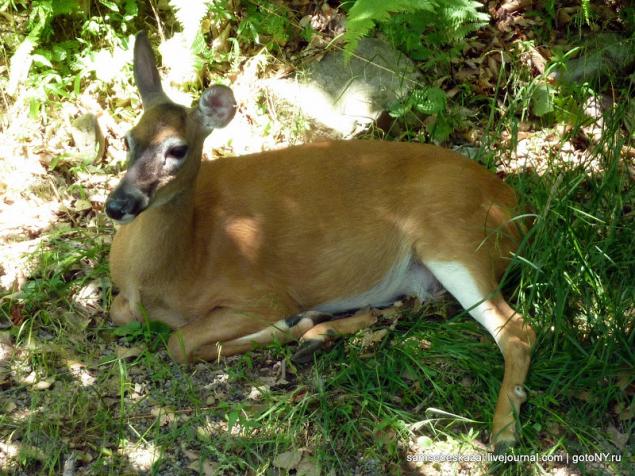 Inside the house. Front door with glass. Not a very popular solution for the Russian life. The door must be in Russian iron and unapproachable. In America, the issue of security is not worth. The lock on the door to the house is no different from the castle office in the Russian office.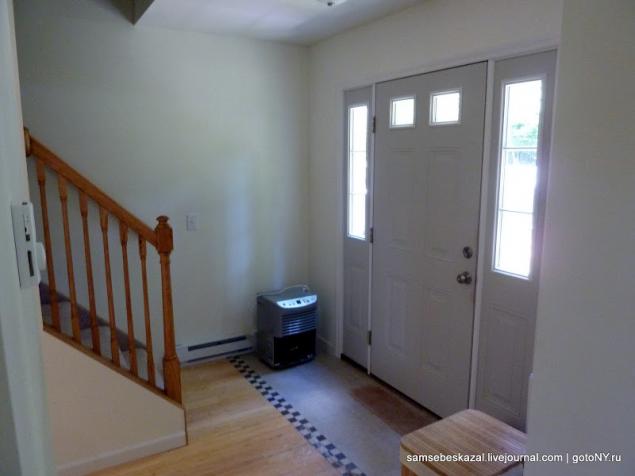 In the US, all new homes are sold finished, fitted kitchen and bathrooms. This is a standard kitchen with stove, refrigerator and dishwasher. Parquet by local standards is considered to be not that great, but it seems like an advantage. Here it is made of bamboo. I always had a weakness for the windows opposite the sink.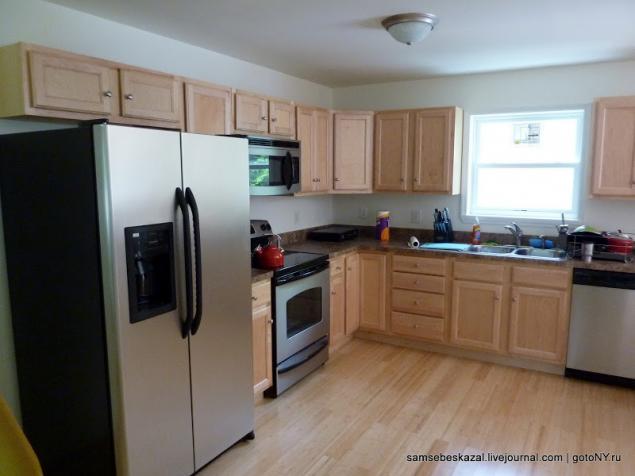 The house is small by American standards. But I'm all for such dimensions. Clean and warm a house easier and cheaper than a three-story mansion. About taxes, I am silent.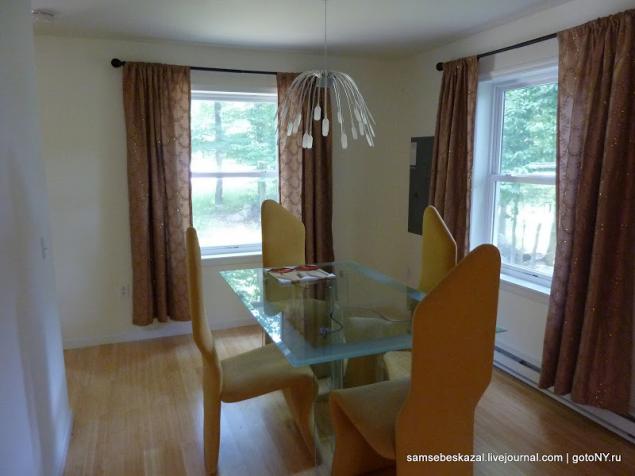 Living room with gas fireplace. I have a question about the reasonableness of the use of a gas fireplace, but the owners say it is well warms and oxygen does not burn. Believe them at their word. Even in America, so popular ceiling fans. Lulu really. They say that in the Pocono no such heat, as in the New York, and here it is possible to live without air conditioning. I told them of course I do not believe, but air conditioning really is not much in houses as we do.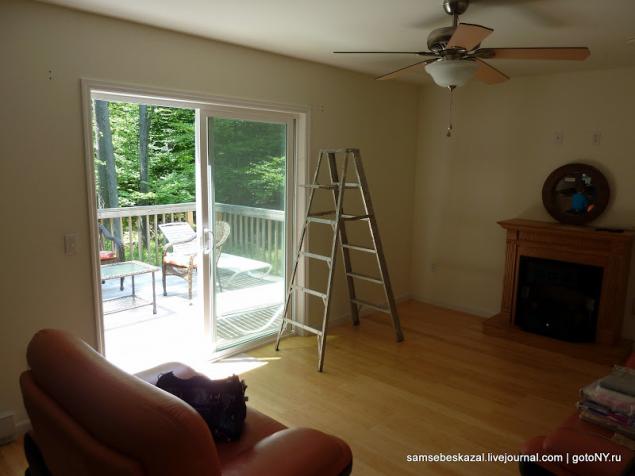 The bathroom is really with fittings and furnishings. All you need at the entrance to a house is only buy furniture for the room.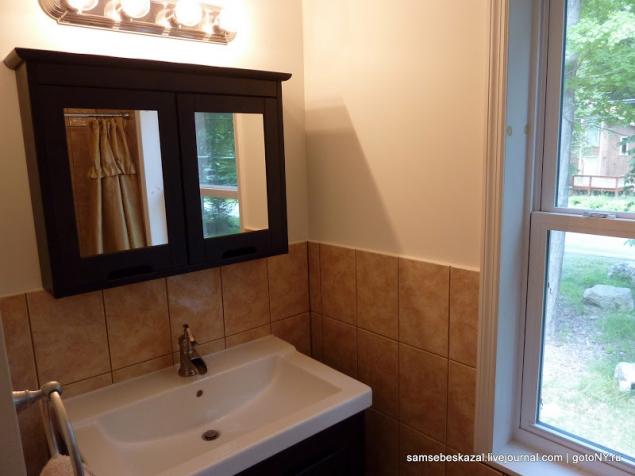 One of the rooms. A total of 4 bedrooms and 3 bathrooms. On the floor in the popular US carpet. Heating is done by electric convectors.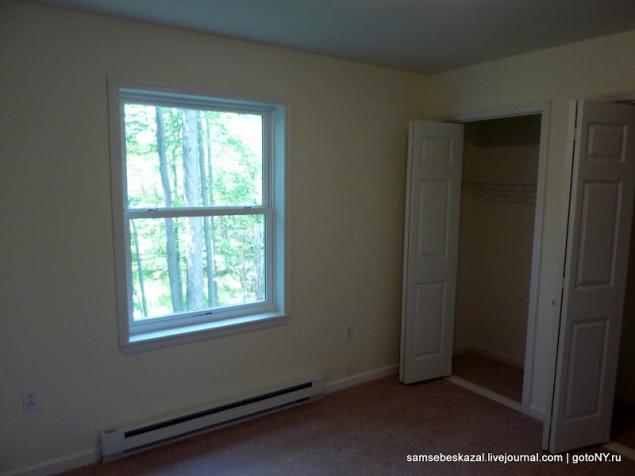 Classic American box, about which I wrote.
On the window obligatory mosquito net.
In America, do not take off your shoes when entering a house, so at the time of sale carpet covered with a film.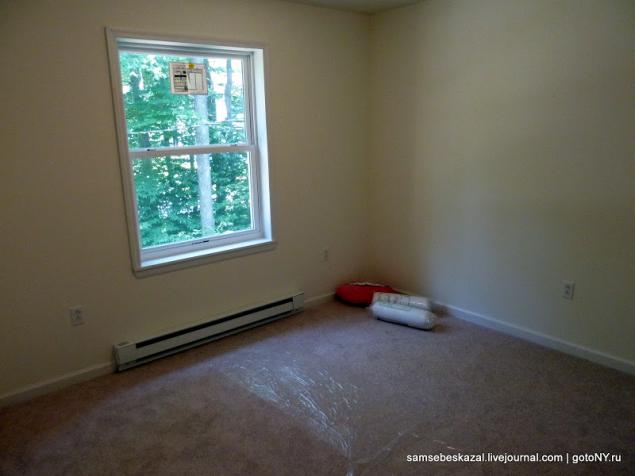 Stairs. Carpet is one way to reduce the noise level in the building. Under it put special soft layer which reduces the sound of footsteps on the no. In many co-operative houses New York carpet on the floor of a mandatory thing.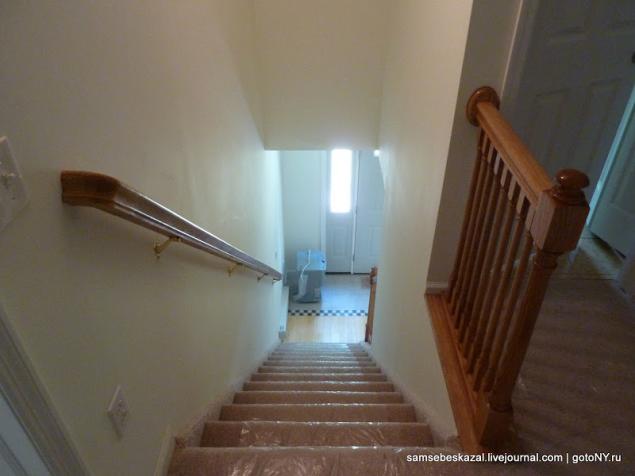 This is the room is not typical for Russian homes. This laundry. The place where the set washing and drying machines, as well as store lingerie and much more.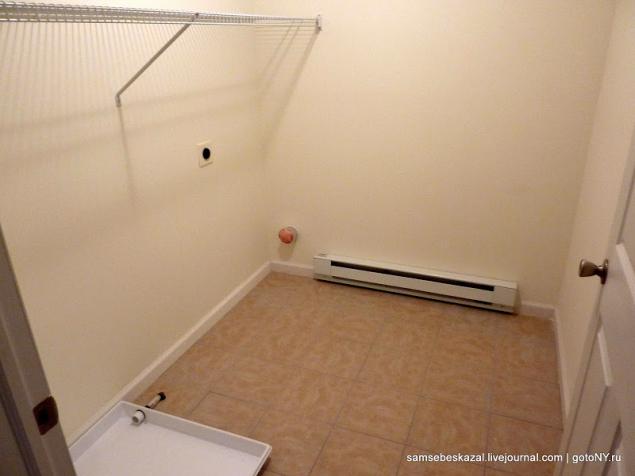 I liked the tray washing machine. It is reasonable and practical, Cho.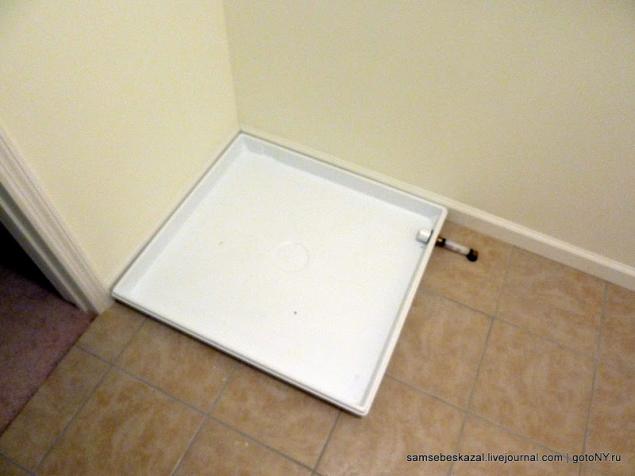 And this is another American classic - built-in wardrobe. In New York, it is an essential attribute of any decent apartments. In addition to the announcement of rooms necessarily indicate the presence and the number of built-in cabinets. From my own experience, it's really good and better than freestanding furniture. I'm all for minimalist furniture. Sideboard with crystal is not for me.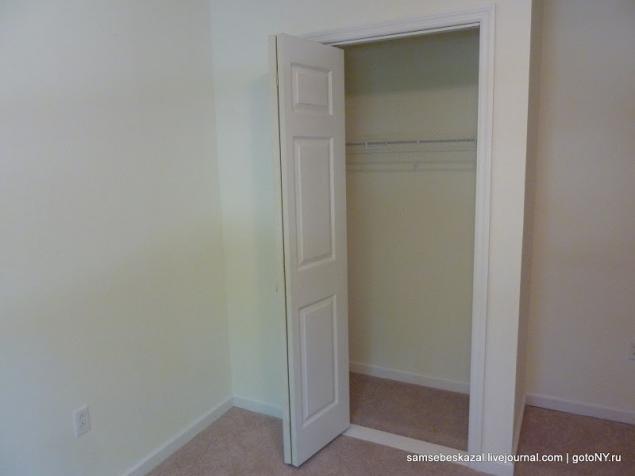 The total floor area of ​​148 m2. Plot area of ​​12 hectares. Ask for house 165 000 dollars. But now the hard times and the price is very individual. You can always bargain.
The order of the cost of living produces the following:
Heating + electricity: 300-400 dollars per month (depending on the house).
Water and sewer: 1 200 dollars a year.
Membership in the community (garbage collection, security, cleaning): 1 270 dollars a year.
Property tax: 3870 dollars a year.
Total: $ 9 970 to $ 11 170 per year just for the fact that live there. And it's inexpensive. I have a neighbor in New York pays only US $ 8000 fee per year per house (4000 tax + 4000 community).
Source: samsebeskazal.livejournal.com