American photographer Peter Menzel and a half years has traveled 46 countries and asked local families to provide weekly diet and its cost.
Menzel chose the average family - income, number of children and lifestyle.
We look at his project Hungry Planet:
German family from the town of Bertihayd Melander. The cost of food for a week for 4 people was 375, 39 euros (500 dollars and 7 cents). My favorite meal of the family: fried potatoes with onions, bacon and herring, fried noodles with eggs and cheese, pizza, vanilla pudding. In the picture you can see that in a diet dominated by meat, bread, vegetables, a lot of alcoholic and soft drinks store.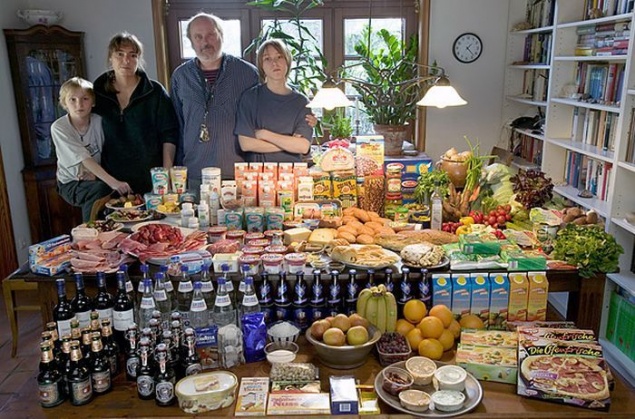 Family-Kutta Cassese Erpeldang out of town, Luxembourg. The cost of food for a week for 4 people was 347, 64 euros (465 dollars and 84 cents). My favorite food is family pizza with shrimp, chicken in wine sauce and Turkish kebabs. The picture shows that the predominant bread, pizza, alcohol, fruits: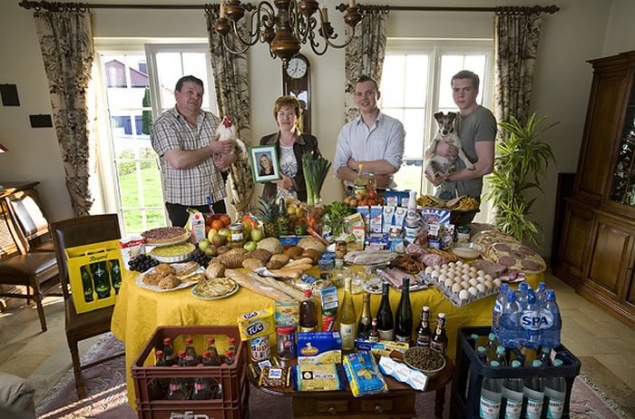 Lemon family from the town of Montreux, France. The cost of food for a week for 4 people was 315, 17 euros (419 dollars and 95 cents). My favorite meal of the family: pasta carbonara, apricot tarts, Thai cuisine. The picture shows that the predominant factory products and some fruit: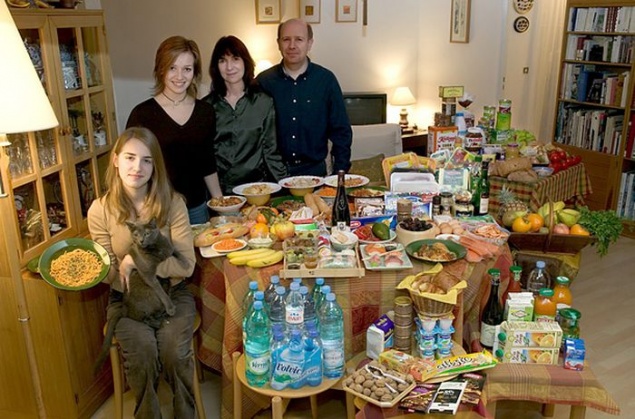 Brown family from the town of Riviere-View, Australia. The cost of food for a week for 7 people was 481, 14 Australian dollars (376 dollars and 45 cents). My favorite meal of the family: Australian peaches, tart yogurt. The picture is dominated by a huge amount of meat, store drinks and refined foods, fruits: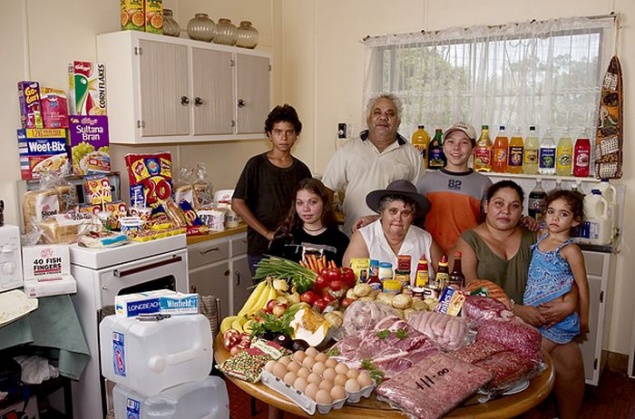 Melanson family from the town of Iqaluit, Canada (Arctic territory). The cost of food for a week for 5 people was $ 345. Favorite food families: meat narwhal and polar bear, pizza with cheese, watermelon. The picture shows that the predominant meat, fish, vegetables, factory products:
Revis family of North Carolina, USA. The cost of food for a week for 4 people made 341 dollar and 98 cents. Favorite Food Family: spaghetti, potatoes, sesame chicken. The picture is dominated by chips, pizza and a lot of refined foods, meat and meat preparations store beverages: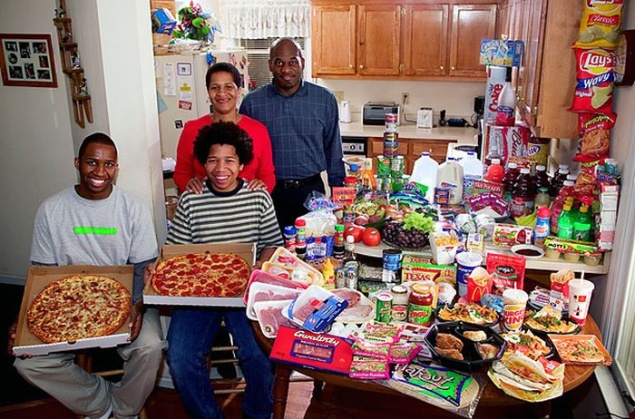 Ukita family out of town Kodaira, Japan. The cost of food for a week for 4 persons was 37,699 yen (317 dollars and 25 cents). My favorite meal of the family: a dish of fish sashimi, fruit, cookies and chips. The picture is dominated by fish products, sauces and specific Japanese food: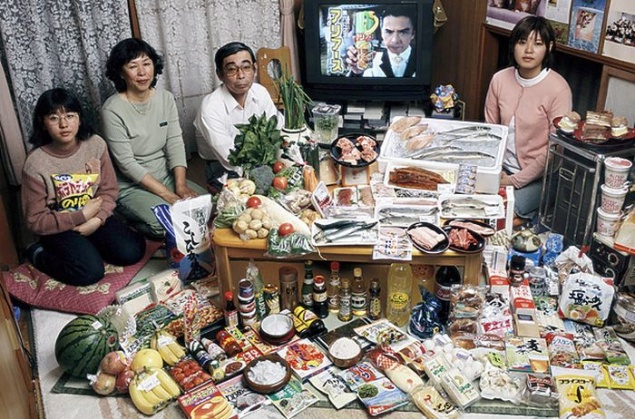 Madsen family from the settlement of San Nora, Greenland (an autonomous territory of Denmark). The cost of food for a week for 5 people was 1928.80 DKK (277 dollars and 12 cents). Favorite food families: meat polar bear and narwhal, stewed Tyulenin. The picture is dominated by meat and factory products: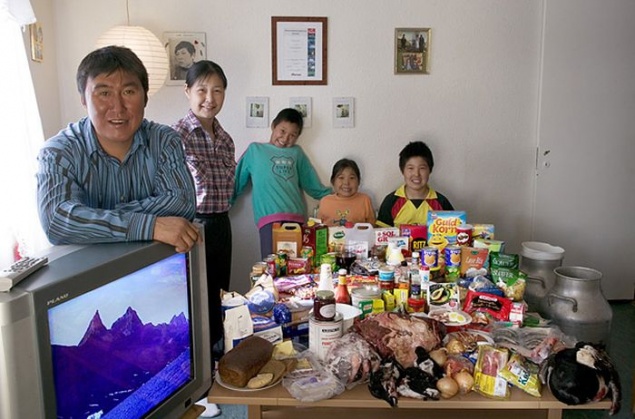 The family from the town of Baton Klinburn, England. The cost of food for a week for 4 people was 155, 54 British pounds (253 dollars and 15 cents). Favorite Food Family: avocado sandwiches with mayonnaise, shrimp soup, chocolate cake with cream. The picture is dominated by chocolate bars, refined products and some vegetables: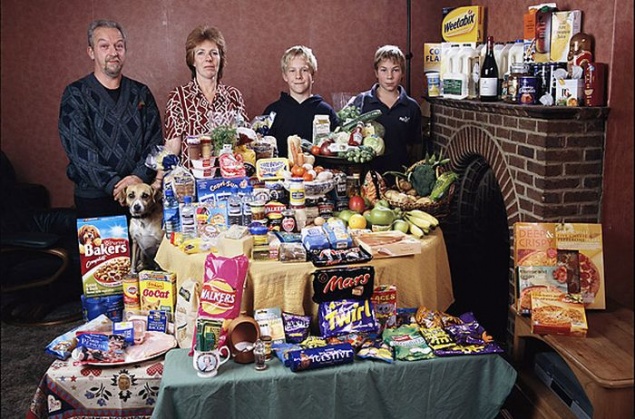 Family Al Hagan from Kuwait. The cost of food for a week for 8 persons was 63, 63 dinars (221 US dollar and 45 cents). Favorite food family chicken with basmati rice. The picture is dominated by fruits, vegetables, pita bread, eggs, and some strange boxes: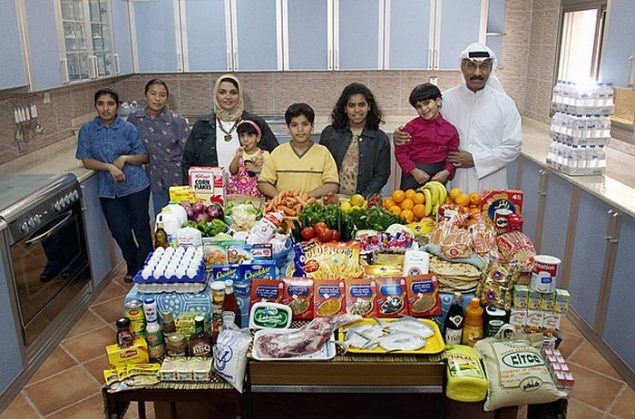 Family Kasales Guernovatsa out of town, Mexico. The cost of food for a week for the man was in 1862, 78 Mexican pesos (189 dollars and nine cents). Favorite Food Family: pizza, crab, pasta (pasta) and chicken. The picture shows that the predominant fruit, bread, a lot of Coke and beer: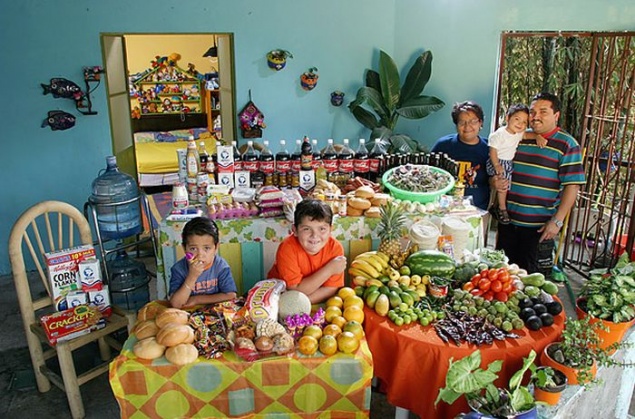 Family Dong from Beijing, China. The price of food in China for a week for 4 people was 1233, 76 yuan, or $ 155, and 6 cents on the day of purchase. What to eat Chinese? My favorite food is Chinese family: roast pork with sweet and sour sauce. The picture is dominated by fruits, vegetables, meat, refined products: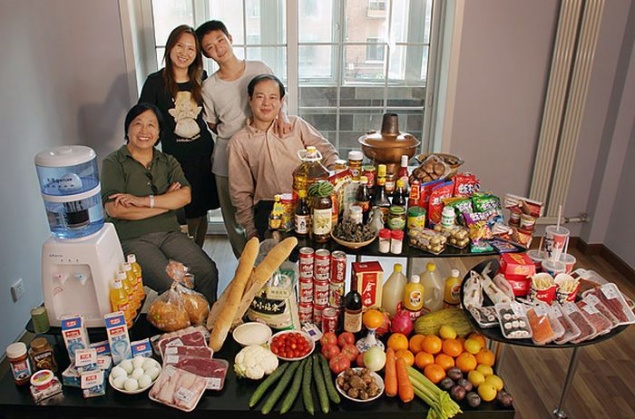 Family Sobzhinsh of town Konstntsin-Zhezorna, Poland. The cost of food for a week for 5 people was 582, 48 PLN (! 51 dollar and 27 cents). Favorite Food Family: pork leg with carrots, celery and parsnip. The picture can be seen in the set of the Tue dominated by fruits, vegetables, chocolate bars and pet food: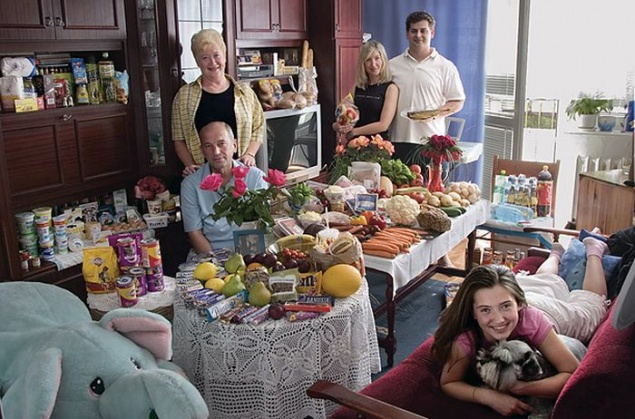 Family Celik from Istanbul, Turkey. The cost of food for a week for 6 people was 198, 48 Turkish lira (145 dollars and 18 cents). Favorite Food Family: air biscuits Melahat. The picture is dominated by bread, vegetables, fruits: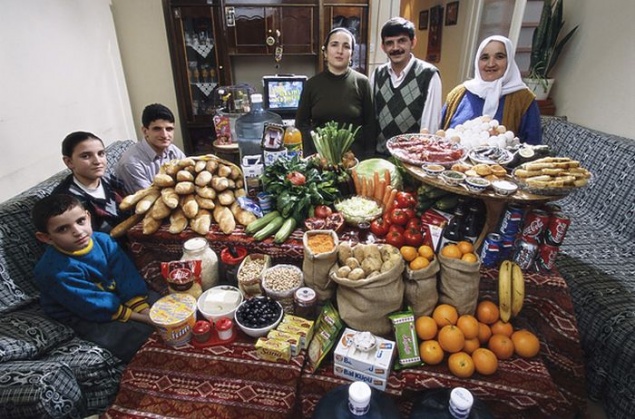 Family Ahmed from Cairo, Egypt. The cost of food for the week amounted to 12 387, 85 Egyptian pounds (68 dollars and 53 cents). Favorite Food Family: okra with lamb. The picture is dominated by fruits, vegetables, herbs and meats: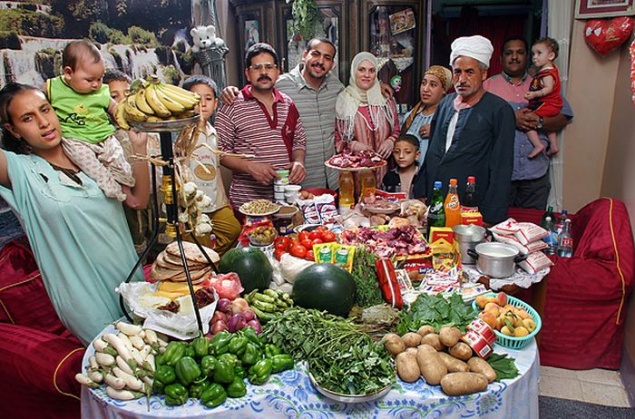 Family Batsuuri from Ulan Bator, Mongolia. The cost of food for a week for 4 persons was 41 985 85 MNT ($ 40 and 2 cents). Favorite Food Family: ravioli of lamb. The picture is dominated by meat, eggs, bread, vegetables:
Family Uzhzhan Patkar of India. The cost of food for a week for 4 people was 1636, 25 rupees (39 dollars and 27 cents). Favorite food family: rice flakes. The picture is dominated by fruits and vegetables: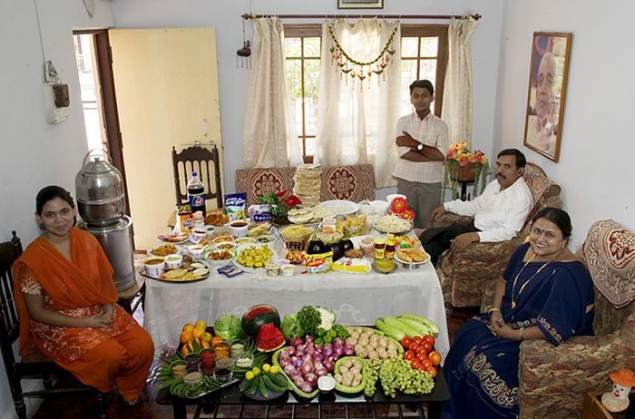 Aime Family of Tingo, Ecuador. The cost of food for a week for 9 people was $ 31 and 55 cents. Favorite Food Family: Potato soup with cabbage. The picture is dominated by fruits, vegetables, cereals, potatoes, bananas:
The family of Nate Kuakuru, Mali. The cost of food for a week for 15 people was 17 670 francs (26 dollars and 39 cents). Favorite food family: rice dishes. The picture is dominated by cereals and vegetables: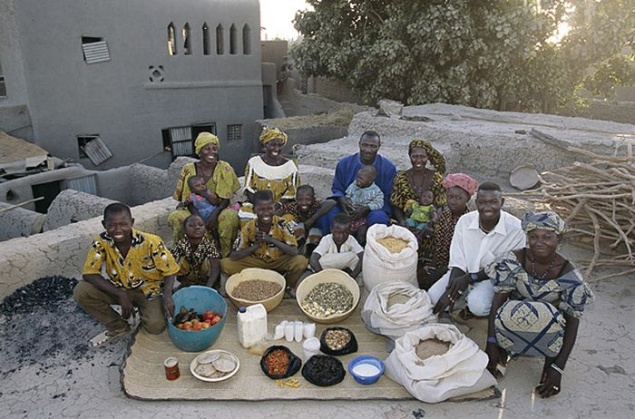 Namgay family of Shimhey Village, Bhutan. The cost of food for the week amounted to 13 224, 93 ngultrum ($ 5 and 3 per cent). Favorite Food Family: mushrooms, cheese and pork. The picture is dominated by vegetables, herbs and a little fruit: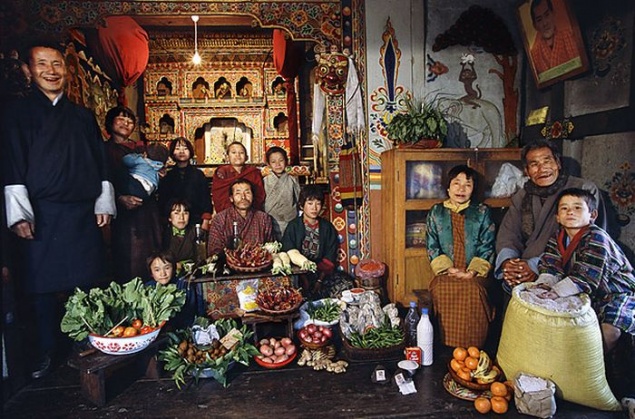 Family Abubakar Breidjing from a refugee camp, Chad. The cost of food for a week for 6 people was 685 CFA francs (1 dollar and 23 cents). Favorite food family: mutton soup. The picture is dominated by sacks of grains: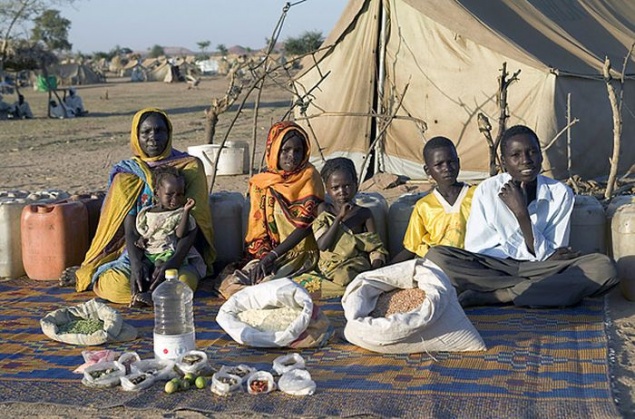 Source: ttolk.ru