280 sites for everyone who loves to travel Bashny.Net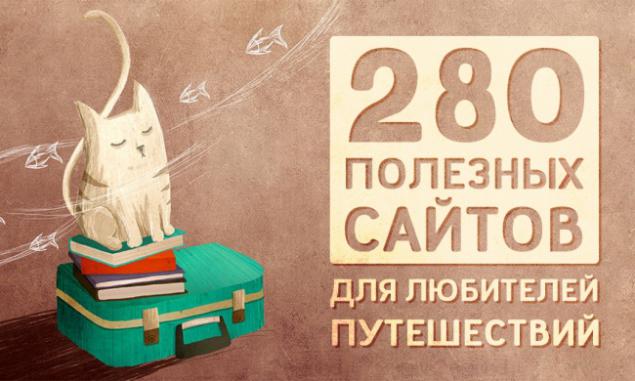 Website publishes a list of resources that are worth a visit every lover of adventure. Here you'll find blogs and instagram Known travelers, magazines, TV youtube, forums and much more.

Pack your bags, boys!



Pages travelers Sergey Dolya - one of the most interesting people, has long been a favorite with fans of virtual travel. The home page has a list of the countries visited with reports. Ilya Varlamov - has the original hairstyle and the same approach to the writing of reports on the countries visited. Blog consists of different columns, including criticism of the Russian cities, visiting other countries and some interesting notes about the urbanization. Alexander Cheban - account for more than 55 countries visited. Sergei Vitko - traveler who never plans which country will fly next time, and that will write about it. Eduard Gavayler - our compatriot, who now lives in Germany. Often visited by small European town. Alexander Belenky - relatively young blogger (since 2011). Publish a report on travel, countries and cities. Arthur Shigapov - writes posts about people from different countries. Interesting note, easy to read, no analytical articles and policy. Kitya Karlson - lives in Japan, but travels around the world. His blog - it notes on the ordinary things that happen among us. Peter Lovygin - an artist who originally prepares its reports on travel. Fedor Konyukhov - priest-traveler, the most famous Bearded Russian land. Olga Kostyuk - a girl who visited many Asian countries, including India. Helen Bass - writes about Italy and European cities. Moonlights as a guide. Paul - lived in Germany. He writes mostly about European cities. Julia Burulёva - traveler, photographer, organizer of the party. kuzulka - instagramnye stunning pictures. Blog is designed for the female audience. Vlad caravans - interesting reports from Russia and neighboring countries. Alexander Savchenko - traveled all over our vast country, visited China and the Philippines. Alex Nasedkin - illustrated magazine of virtual travel. Ivan Dementievsky - a journalist who travels mostly by Russian latitudes. Dmitry Malov - traveled many countries, described a variety of rare and exotic locations . bravebeaver - travel notes. Denis the French - travels to Russia on the four-wheel drive SUV. Prefers abandoned places. Vadim Nardin - like a lot of traveling and taking pictures of girls in these journeys. AL-31F - has written on various topics, travels frequently, sometimes only in interesting places. Dmitry Islentev - the couple who shared his impressions with our readers. Ashblacklad - a professional photographer, a lover of nature and cozy towns. Alexander Chernykh - professional blogger which publishes notes from different countries. Igor Vinogradov - travel to exotic places and tells about the life of their inhabitants. Sergey Nagorny - leading video blog takes surveys from different countries. li > Alex Pevnev - Kaliningrad blogger who published a fascinating report on travel. Enia Kulish - a lot about different countries, there is a good posts about diving. Alexei Trofimov - around the world journey. Anton Petrov - organizes photo tours to various parts of the world. Alexander Volkov - trip to Africa. Sergei Balovin - went on tour around the world, visited the set countries, writes interesting and informative articles. Irina Savina - travel-journalist who travels around the world, writes the reports. Koshak Grey - diary of a traveler. Oleg Slesarev - combine work and travel, is a note about their experiences. Alexander Gnatush - photographer, travels a lot, making great photos of cities. Alexei Terentiev - shooting in the nude and travel . Ilya Kondrashov - Russian expedition to the car. Andrew Antonovskii - traveler, blogger, photographer.

Useful Resources iknow.travel - ideas for travel. Strana.ru - Details Illustrated Guide to Russia. My Planet - stories and travel stories. < / Airpano - a stunning panorama of different cities in the world. TripAdvisor - best reviews of hotels in the world by travelers for travelers. Redigo - ideas for trips, events and festivals, tours . 100 road - the oldest travel community in RuNet. Travel.ru - one of the oldest and most highly respect the resources to inform travelers. The subtleties of tourism - Internet information guide for tourists. Yaturistka - travel magazine for women. Turbina.ru - online community to enjoy. Turister - social network for travelers: blogs, reviews, photos, opinions. ROUTES - Community travelers to plan trips. RBK.Travel - portal for experienced travelers. Wikitravel - Free guide based on Wikipedia. autotravel in Russia - by car in Russia and abroad. TURIZM.RU - information portal about the tourist life in Russia and the CIS countries. < / Localway - find the best places and attractions.

VKontakte Travelerr - our beautiful planet from which breathtaking. Welcome to Earth! - An endless journey across the planet. Travel ✈ - discover the world. Notes Traveler - a colorful mosaic of different countries. 40000km - around the planet. < / Travelling | Travel - a lot of travel on a single resource. Bon Voyage - the idea of ​​travel. Allworld - Community travelers. Independent Travel - a useful guide to the different corners of the world, reachable from Russia. Greetings from ... - photos from various corners of the earth. A typical tourist - Community tourism managers. li > Vandrouki - prices and almost free way to fly.

Blogs Traveliving - life is a journey. The main portal for independent travelers. Winter in Thailand - family blog about travel for Asia. WHY CHINA - all about travel in China. Anna Maria and Dmitry Saparova - another blog couples traveling together. Blog Atlanta Travel - blog of Alexei, who has 6 years of living in Atlanta and talks about his travels in the United States. Over seven mountains - independent and budget travel around the world. Blog Olga Saly - free travel. Harmonious traveling with a toddler - Angelina, Eugene and a little Timothy talk about their travels. Blog Oleg Darya and Egor - travel the world with your family. Sansёrfery - free travelers to help other travelers. the roads of the Middle Way - a blog about travel and how to organize them. Blog about life in Bali - blog the girls about life in Bali. Blog Mila Demenkova - a trip to Europe, Asia and Latin America. With a stroller around the world - how to travel with the children of the world. Duliebstravel - good travelers from Ukraine. Life in travel - photos, advice and assistance to independent travel. li > GingerTea - a variety of trips around the world. Andreev - a trip to Europe and America. Blog Victoria Camilleri - the author's blog about travel. MiaSardegna - blog Oksana about life in Sardinia. Blog of the Czech Republic - all of a country, and life in it. Mandalay - guide to the world. It's ok no problem - independent travel without problems. Notes climate emigrant - warm countries. Living in Thailand - how to move to live and where to start. EASYTHAI - All about tourism in Thailand. MotoThai - traveling on a motorcycle. Beer and bikes - travel riding a bike and tasting of beer and wine in different parts of Europe. Live to live - a trip to Europe with a dog. Budget travel - how to travel with a small amount of money. The life as an adventure - a journey of two programmers in Thailand. < LIVE Glimpses - the journey of a Russian family of Asia. indibrod - hitchhiking couple who can not stand to sit in the office, but still sits. Itineraries Ptah - blog people that his car has traveled more than 20 countries. Nika Safronova - a guide to the most interesting and fascinating places of our planet. Cook The World - a couple who travels and talks about food in different countries. walkers and Popinguy - a couple of young guys who recently graduated from university, and where many have visited.

Magazines Around the World - the oldest magazine about the journey and not only. GEO - a magazine about nature and science. National Geographic - nature, animals, and people's lives different countries. Poster-World - a universal guide to the world. Abroad - all about traveling abroad. Discovery - discover the world with the "Discovery ». Conde Nast Traveller - all for tourists, shopping, hotels, beaches, restaurants. Continent Expedition - expedition and tourism. TravelJay - magazine about travel. TOTAL ESCAPE - travel and tourism in a magazine. Atlas - domestic travel magazine with maps. The Tourist - tourism news. li > Prime Traveller - magazine about tourism for the wealthy.

TV My Planet - the best programs about travel, science and history. Unique content, their own documentaries. Travel Channel - Travel to every corner of the world. Funny expedition, extreme tourism - all in HD format. Channel TV trip - extreme tourism, panoramic shooting nature and traditions of different peoples, the study of the ocean depths. Russian Travel Guide - documentaries the geographical heritage of Russia and rare places. Viasat Explorer - documentaries about travel, pets and science. OCEAN-TV - all about the ocean, the sea world and the relationship between man and nature. Brodilo TV - a journey through the world with HD cameras, unique content from the authors of the project. There is an opportunity to offer their own material for broadcast.

Search hotels Hotellook - easy search of hotels. Booking.com - the international system to find the hotel, which is time-tested. Expedia - the most famous to find hotels (in English). TopHotels - rated hotels and inns. KAYAK - to compare the prices for hotels. AirBnb - discover unique accommodations in more than 190 countries. Feel at home wherever you go. Souchsurfing - live free from local. Hostelworld - a great hostel search engine.

Cards Yandex - handy map of Russia. Maps Google - world map from Google. 2GIS - detailed maps of Russia. It helps when you can not find a home with the help of the first two. Wikimapia - free to edit the map with the possibility of commenting on the objects. OpenStreetMap - the creation and free distribution of detailed maps of the world. < / Multi Maps - mapping services all on one site.

TV Shows Man of the World - Andrew Ponkratov traveling to different countries, studying the life and traditions of the locals. Around the world - the author's transfer of the well-known Michael Kozhukhov. The world inside out - Ukrainian telecast travel, which is well-known beyond its borders. Eagle Tails - a pair of traveling the world, solving with a coin, who will get a plastic card with an unlimited supply of money and who just $ 100 day. Neputevye notes - many favorite program. With it you can explore the different parts of our planet. Their manners - geographic project NTV "Their manners" dedicated to the life, recreation, work habits and national peculiarities of the peoples of the world. < Dancing planet - Alexander Pukhov exploring new dance and sent to his home. Behind the scenes - Mark Podrabinek set a difficult task. During visits to various countries he had 5-7 days to make 10 still images that are perfectly characterize this place. The planet without prejudice - the cheerful leader "My Planet" Irina Bazhanov traveling to meet with unusual traditions the world. One on the planet - a popular host Anastasia Chernobrovina left Moscow in search of places where you can take a break from the mad race and find harmony with oneself and with the world. The Planet flavors - recipes cuisine from around the world. A good show for everyone who loves to cook something new. restless night - travel around the world in the dark. You will see how full of life the night in other cities.

F / tickets Railways - the best-known system, in which you can buy tickets on the train, or the train. Tutu.ru - an excellent analogue. In case the first to be something wrong.

Forums Forum Vinsky - independent travel. Megapolezny forum that should be read to everyone who goes to another country. Russian Backpacker - the most famous Russian forum of independent travelers. Here you can discuss the itinerary. Skitalets - camping, hiking, traveling routes. The turbine - the largest Russian-speaking tourist community, where you can talk about any country and on any topic. < / Vakavaka - a trip to Europe, Asia and the Caribbean. TripAdvisor - exchange of experiences on trips abroad. Browse attractions, cafes and razvecheny. Forum of river travelers - communication for lovers of yachts and boats. On-Line traveler - stories and reports about the journeys. excellent platform for the exchange of experience.

Exotic tourism Travel Club Special - Forwarding Company. Travel Club Mikhail Kozhukhov - member of the association "Association of tour operators in the field of outbound tourism». Poseidon Expeditions - an expedition to Arctic and Antarctic. Ultra-Travel Suite - tours to exotic countries. 50 author tours - an unforgettable journey for all who are tired of the usual trips abroad.

Adventure Tourism Gfhome - the organization of the most unusual and memorable trips. Extreme portal - all about the extreme tourism. Extremal - Mountain and water extreme, as well as various jumping parachuting and paragliding. Lovozero - extreme tourism in the north of Russia. Adrenalinetour - alloys, biking, safari and other activities in Russia.

Visas The countries visa-free entry - the list of countries on the world map. A list of embassies in Moscow - a useful page for everyone who is going to go to another country. Emigrant - All about visas, tips.

Guides Lonely Planet - a huge selection of travel guides to different countries of the world. Around the World - paper and electronic guides on the edition of "Around the World». Polyglot - guides countries of the world. Dorling Kindersley - known guides on "Dorling Kindersley». poster - one of the highest quality publishers of travel guides. Orange Guide - publishing company, guides.

Cruises CRUISESTRAVEL - river and sea cruises. A wide range of areas. CruClub - cruises anywhere in the world. Cruise Home "MK" - a wide range of cruises for people of different financial opportunities. PAC GROUP - leader among European operators. Inflot - cruises on the scenic planet on cruise ships "Lux».

Diving RuDive - diving tours and training, and tourism for all lovers of diving. The Admiral Benbow - diving school, which has a large variety of equipment. NLD - a unique system of training diving. DIVERS TRAVEL - diving anywhere in the world. "Submarine tourism». Crocodile Diving Club - Diving Center.

Car rental Rentalcars - is the budget way to rent a car from the "Forum Vinsky». Economy Car Rentals - convenient way to book the car. Hertz - a reliable way to take a car for rent. Europcar Russia - to book cars in Europe.

Flights Aviasales - plane tickets in 220 countries. There is a handy calendar of low prices. OneTwoTrip - a good choice among the cheap airline tickets. One of the most popular search engines. Skyscanner - Cheap tickets, hotels, rental cars. The system, which is time-tested. Anywayanyday - a convenient search engine tickets for all flights. Momondo - another well-known website that is able to compare prices and selects the most inexpensive option.








Tags
See also
New and interesting
New and interesting