Tehnoliga search and purchase cheap airline tickets.
Author: I flew from Kiev to Dubai and back for 99 dollars, Bankgkok 399, and such examples have many. I know perfectly well that frequent travel are not synonymous with expensive. When traveling a long distance flight it is the lion's share of the budget travel.
In this article I will talk about how to find the most cost airline deals how to track stocks'll technology purchase tickets online, talk about airline travel, secrets choice of seats in the cabin and more.
And as a bonus, the best advice is ABSOLUTELY FREE to make a stop in the Maldives to swim in the turquoise Indian Ocean!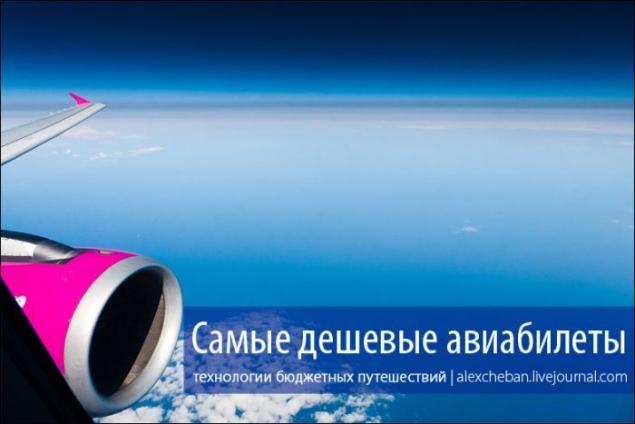 How to find out which airlines fly to / from the city you require?
Typically, planning a trip, I always come to the site of the airport, look there schedule, availability of additional services (for example find a spa and swimming pool at the airport in Dubai in the long dock, a terrific tour to Frankfurt airport), maps of terminals, how to get there in / airport, etc. On the site you can see a list of airlines that fly there, especially true for smaller airports, which mainly fly low cost airlines.
Here is an example Memmingen airport site, a former military air base in the south of Bavaria, now there are several flights flying WizzAir and Ryanair. The site airport marked the city which has a message.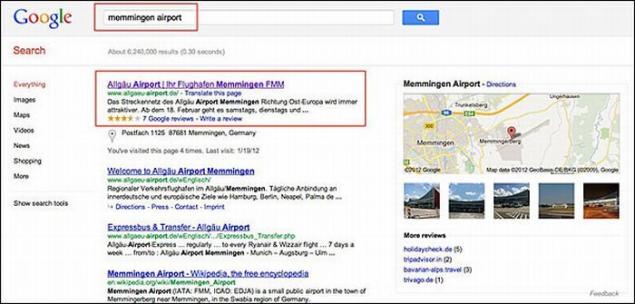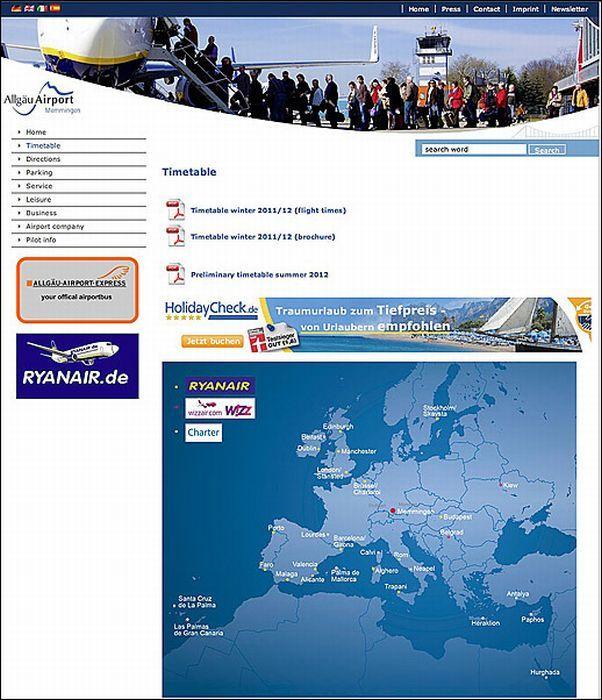 Page about the airport in Wikipedia, this way, in many cases even faster, for example, I want to know which airlines operate flights from Hong Kong to Singapore.
The advantage of this way of simplicity and clarity, I see all the airlines, I know where every flying from Hong Kong. Not all airlines are represented on aggregator sites to find flights.
en.wikipedia.org/wiki/Hong_Kong_International_Airport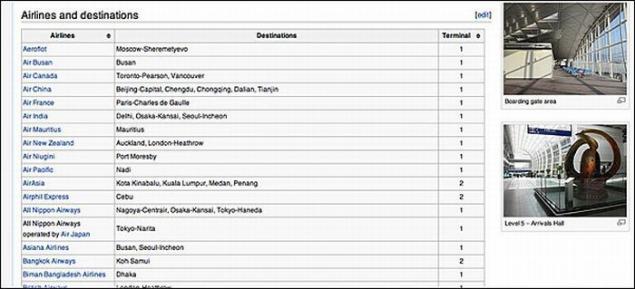 Airline's website, where there is a flight map.
Here, for example, the direction of WizzAir from Kiev: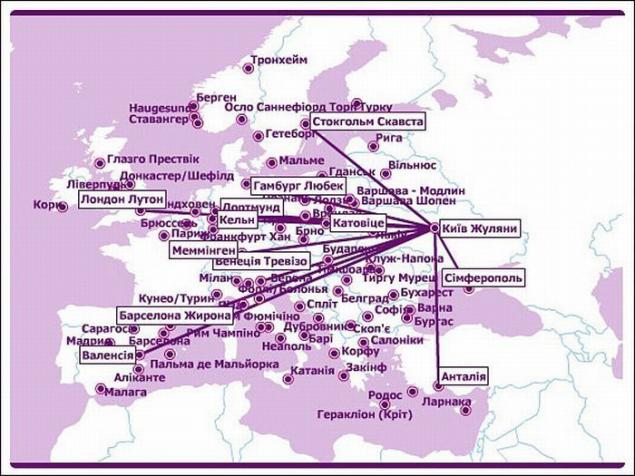 I really like the route map (including loukost) Online SkyScanner -
www.skyscanner.com.ua/cheap-flights-map
Simply choose the airport and see all the flights from him.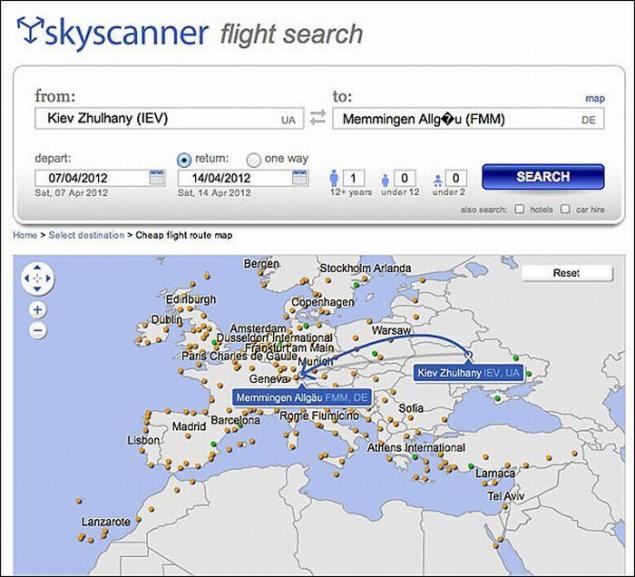 Another card based on google maps, looks nicer
lowcostmap.com:
Search on the site such as "that flies from A to B". Example:
www.whichbudget.com
Do not use this method, found a nice site.
How to track stocks airlines?
1. Subscribe to the newsletter of all major airlines / loukost that fly from your city. Living in Kiev, I subscribed to the electronic mailing list: UIA, Aerosvit, WizzAir, Lufthansa, AirFrance / KLM, Czech Airlines, LOT. These are the ones that interest me. Global airlines usually offer promotions that are applicable in a particular region, so not enough to simply "layknut" total page airlines in social networks. And here, for example, British Airways, AlItalia from Kiev had nothing interesting offers in their mailings. This is the way to let you know about the campaign airlines first place. If you do not have to fly anywhere - simply delete the letter, but almost all of my journey begins with an interesting promotional fare of sending, because the world is huge and almost all created to travel :)
Of course there are different stocks. Lufthansa periodically offers a very pleasant rates in Mexico, South America, Asia, Africa sometimes.
For example: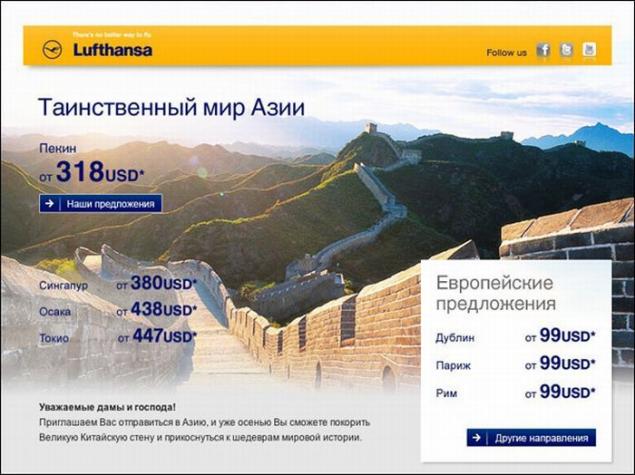 From Europe to the United States (especially New York) is usually always possible to fly for 500-700 dollars, except summer peak load period and work-and-travel from 15 April to 15 September.
In West Africa, the former French colonies of shares is not seen, as their links with Europe usually 1-2 airlines.
Such examples can be many.
2. Monitors thematic section of the forum, read the news on the websites of travel agencies, follow the dispatch of a site aggregators to find tickets, etc.
Here you will find some unexpected news and promotions airlines that you missed from the original source, interesting finds other users, etc.
3. Once something long or look for something to fly somewhere and then another couple of months to see Google advertising with banners that airline.
Features tariff:
1. The cost of airfare budget airline consists of separate tariffs + BACK THERE, are summed.
When flying in one direction does not change the rate.
2. Flight traditional traditional airlines to one side stands a little cheaper / same / more expensive than the round-trip flight.
3. Direct traditional airlines flight from A to B bude almost always more expensive options for flight with a connection that offered by competitors.
4. Be sure to read the terms and conditions of the tariff!
What to look for:
 - Return fare or not, if so, with what conditions, with what fine.
 - The penalty for failing to take off
 - The use of a sequence of segments: in the cheapest rates you can not use individual segments or use the route not completely.
Example: Kiev-Frankfurt-Singapore and Singapore-Frankfurt-Kiev. In this case, roundtrip "hooked" in Frankfurt and will not be revoked whole ticket.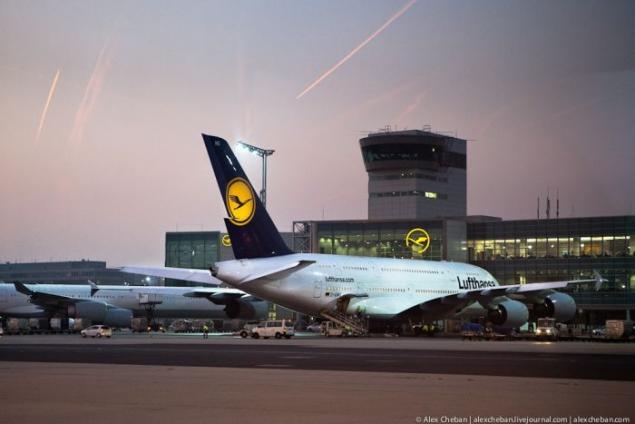 - Leyvoer (layover) - stay in a transit point to 24 hours. Usually, it's free.
Example: you are planning to fly from Kiev to Istanbul via Bangkok, the airline Turkish Airlines performs two daily flights to Istanbul. Ie when choosing a flight, you can plan your route so that fly to Istanbul morning flight, take a walk through the city day and evening to fly instead of selecting a short dock.
Keep in mind this option when choosing a travel itinerary, is a free opportunity to at least have a cup of coffee overlooking the Bosphorus in the case of the example above :)
 - Stopover (stopover) - stay in a transit point for more than 24 hours. Often paid or free.
Example:
 - Emirates Airlines provides a free (!) To 96h stopovers in Dubai on the way there or back, if you fly via Dubai.
 - Some tariffs envisage the possibility of pay stopovers (usually 50-100 dollars), ie, the opportunity to stay for a while on the way to the transfer point. This can be a great idea to combine the route.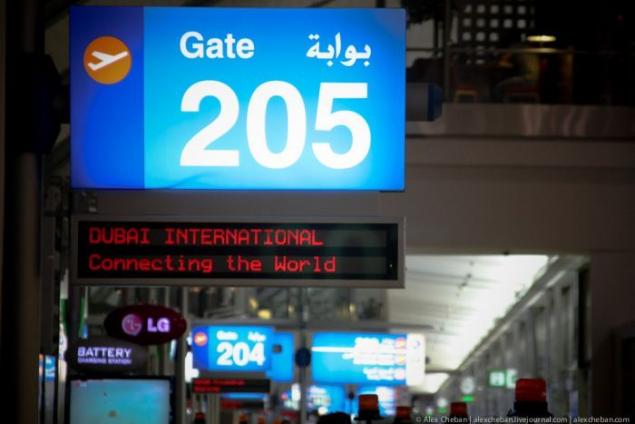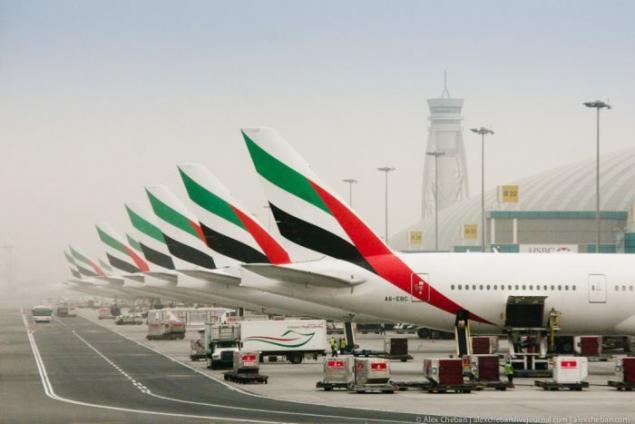 Case from experience about my free stop in the Maldives:
While searching online SkyScanner.net found a very interesting option traveling to three countries at a very good price!
Emirates to Kiev did not fly, but has an agreement with Aerosvit, Ukraine International Airlines and FlyDubai in the segment Kiev-Dubai for further connections with flights of Emirates.
Kiev entering Colombo, I got this route at a cost of $ 650 per person in both directions: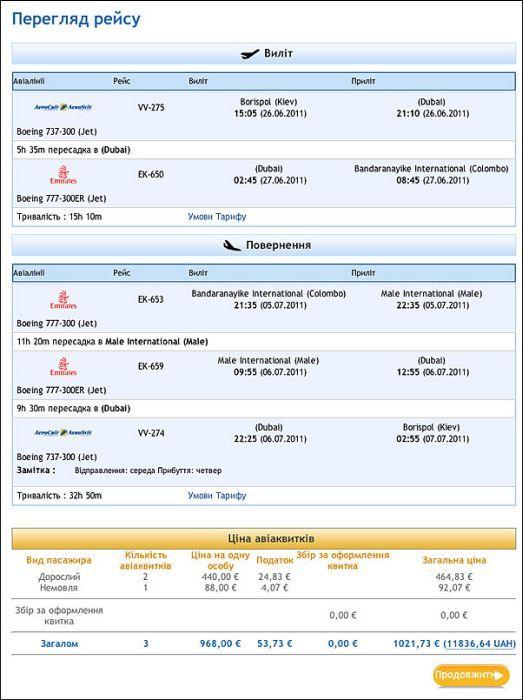 Visit website
www.emirates.ua,
turned out that from Dubai to Colombo 2 flights a day.
There are direct flights, but there are flights via Maldives (Malé International Airport), ie, with an intermediate stop the aircraft. (There are also flights to Dubai, Bangkok, Hong Kong, Dubai, Colombo, Singapore, etc.).
Ie if the passenger is flying to the final destination in the interim it just sits in the plane 1:00 during vysydki-landing.
Looked fare rules and saw two interesting things - a free stopover in Dubai and paid in the Maldives :)
 - SO.STOPOVERS
FOR DEFAULT CONDITIONS
04 STOPOVERS PERMITTED USD100 - 04 STOPOVERS FREE OF CHARGE DXB.
PE.PENALTIES
FOR DEFAULT CONDITIONS
REFUND BEFORE DEPARTURE: LESS USD75.
 - I called the representative of the Emirates and learned:
 - Leyover, ie stay at an intermediate point to 24h - free, ie in this situation, you can fly to the Maldives in the morning and depart in the evening or overnight.
 - Stopover - more than 24 hours + $ 100, ie, You can stay in the Maldives for a few days.
Ie $ 650 for one ticket you can visit Colombo, Dubai, Maldives.
About a transit stop in Dubai:
www.emirates.com/ru/russian/plan_book/dubai_stopovers_on_arrival/dubai_stopovers_on_arrival.aspx
Request for a visa-online at Emirates:
www.emirates.com/ru/russian/plan_book/essential_information/visa_passport_information/uae_visas.aspx
Buy the ticket online and then change the booking I took a chance and bought a ticket in the agency, in which qualified staff able to 1), first select the route Kyiv-Colombo, and then 2) to adjust the route so that we flew to the Maldives in the evening and continued to travel in the morning ie not stop day absolutely free !!!
As a result, the route looked like: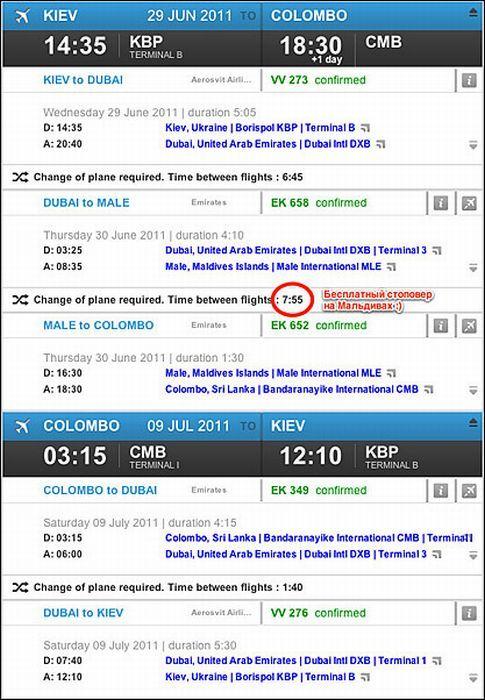 And Maldives absolutely free!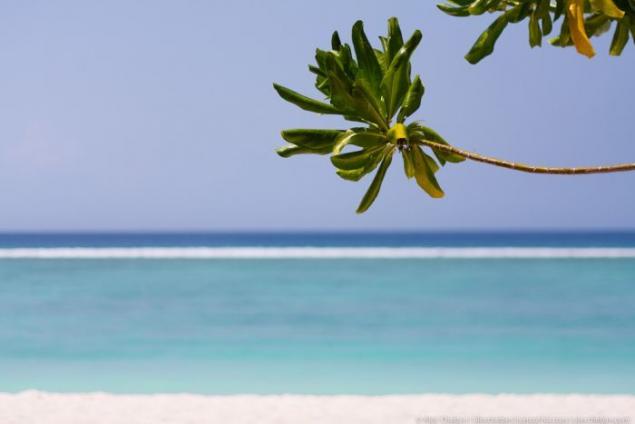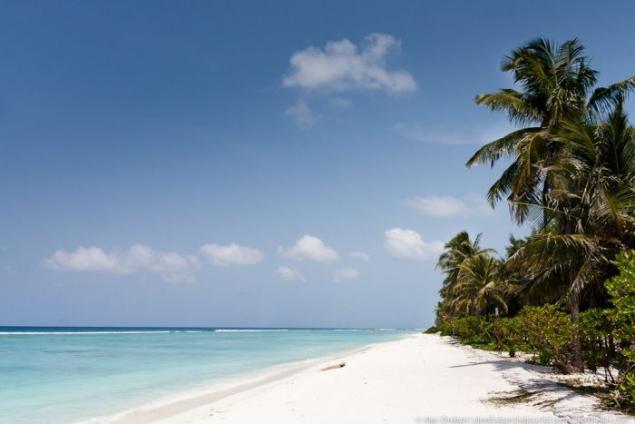 Where can I buy tickets?
1. In the checkout airlines
Usually on hand airlines charge a 30-100 euros commission for their services. Modern people do not go to the cashier in a word.
2. In the box office travel agency
In travel agencies have the opportunity to find a very flexible tickets in global reservation systems "Amadeus" and "Galileo».
Global reservation systems invented a long time, especially for agencies and ticket offices at a time when sales on the internet was not.
Low cost airlines are not represented in these reservation systems, this is another option to reduce the cost for them. Sites aggregators to search - a kind of online agencies, which are also connected to the reservation system.
Sometimes the airline can not buy certain direction, and through the agency can. (For example, most flights UIA and Etihad)
Sometimes agencies have certain agreements with airlines and buy through them cheaper than directly through the airline's website. So keep in mind this option.
In travel agencies can buy tickets for scheduled flights as well as "burning" empty seats on charter flights. Keep in mind this option.
3. On the Internet:
 - On the airline
I usually buy a ticket on the airline directly. In this case, in the case of some nuances I know that I will deal directly with the airline and not with the mediator.
Low cost airlines sell their tickets only on the Internet, their flights are not present in the global reservation systems, and therefore do not appear on most sites aggregators.
 - Online-aggregator to find tickets
These portals I use usually only to find tickets while I have not had a situation where the cost of tickets they are significantly lower than directly to the airline, but such cases are not uncommon, according to reports in the forums.
My search algorithm tickets:
1. Search for flights online aggregator
2. Search and buy flights found on airline
3. Buying in turgagentstve in the absence of other options.
Sites aggregators:
www.anywayanyday.com
www.kayak.com
www.expedia.com
www.onetwotrip.com
www.skyscanner.net
www.pososhok.ru
www.aviasales.ru
and also:
matrix.itasoftware.com/
www.airtickets24.com/
Sites aggregators very much, everyone has some advantages, disadvantages and their chips, I'll talk about those enjoyed.
I love the cool design so anywayanyday I like best :) Huge numbers and letters flying airplane, the application for the iPhone, which recognizes the voice search query.
Try to look for flights from Kiev to Colombo on April 4-11: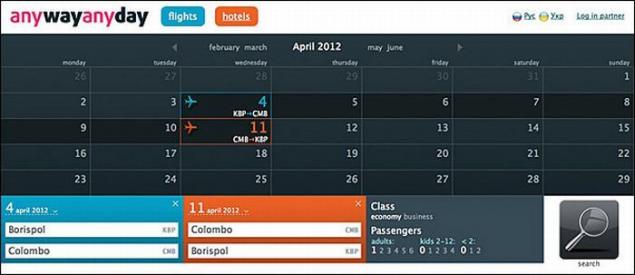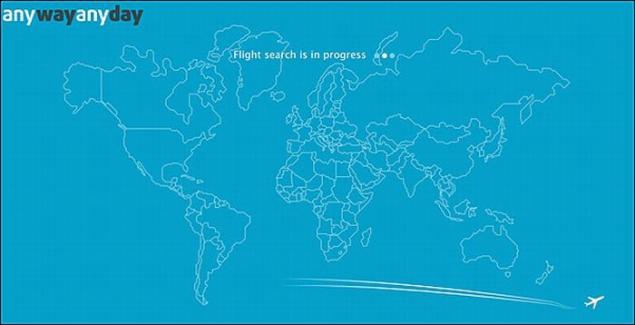 Found an option for 1087 dollars: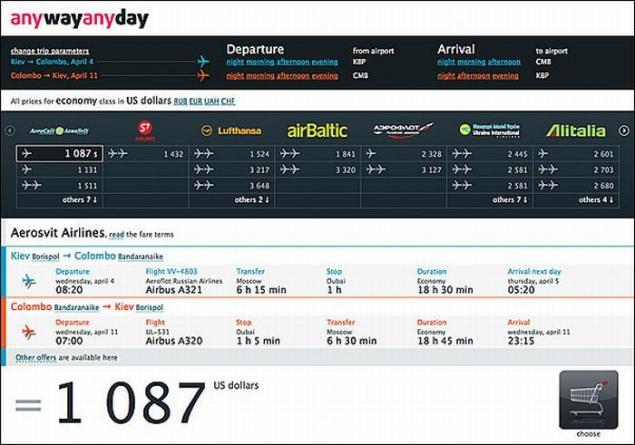 The second search engine, which I love for its design -
onetwotrip.com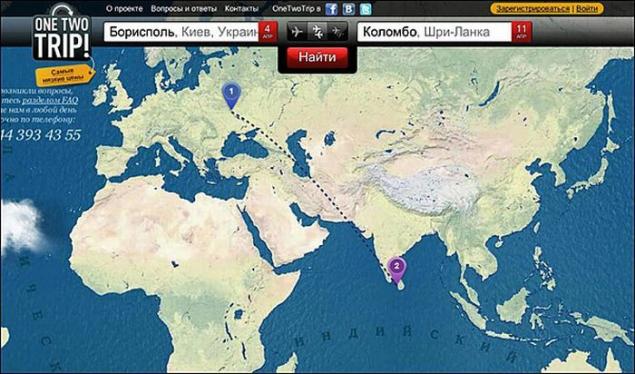 Also $ 1,100 more in general in this test the beauty and elegance of design showed its complete failure, but sorry :(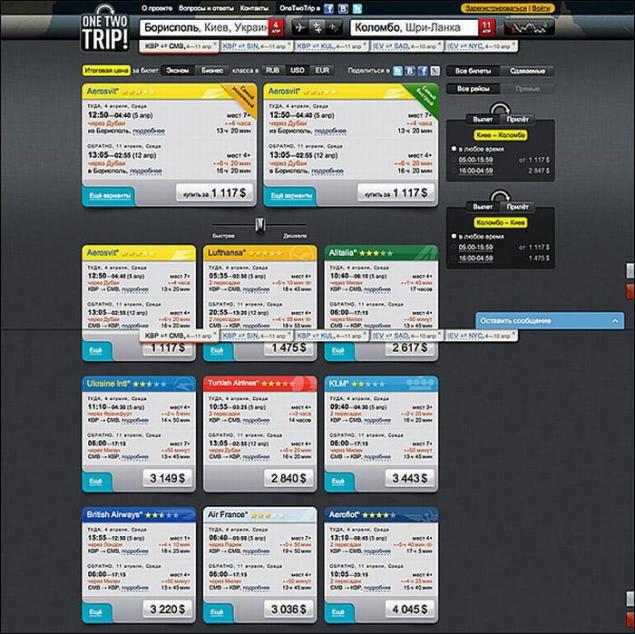 Highly recommend an excellent site
pososhok.ru!
He certainly outdated design, but there is a great feature - "matrix tariffs", ie distribution of a lower rate on adjacent days on the calendar.
Usually, this option is available only for the airline that sells tickets for their flights, but here it is possible to search results across all available airlines: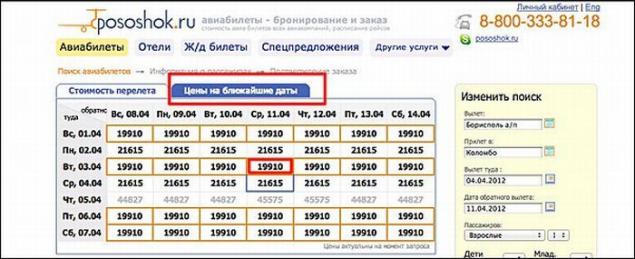 Also, there is a matrix of tariffs on
www.buruki.ru
and still here:
avia.travel.ru/
In general version was found cheaper!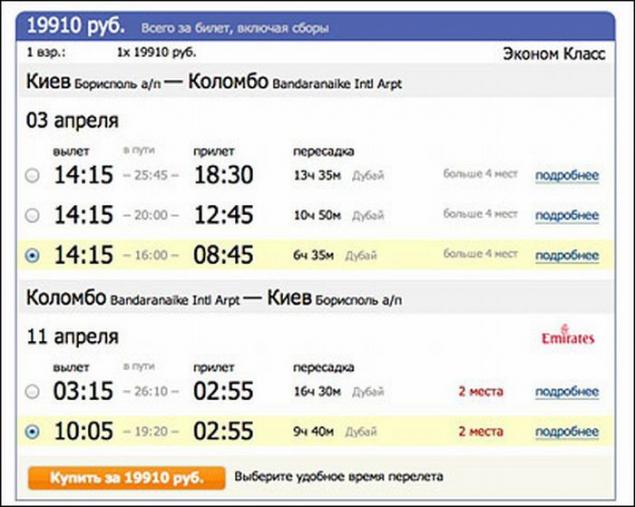 Another popular Russian website
aviasales.ru
I do not use it, nothing special in it does not see, but he found a good rate!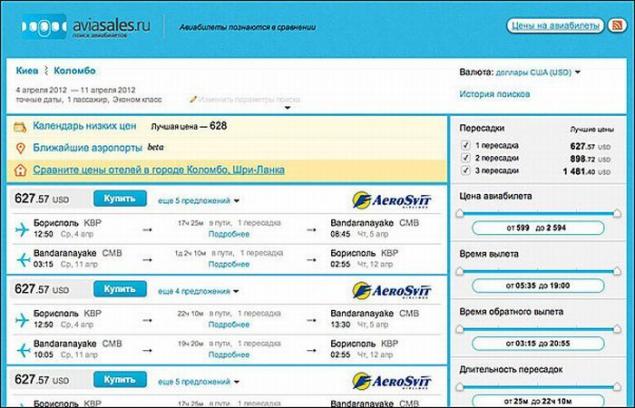 But SkyScanner offers search for low cost airlines and thus after a click on the sentence "And you are flexible in the choice of" I've got an option to fly even cheaper - for 551 dollar!
Option airline FlyDubai :)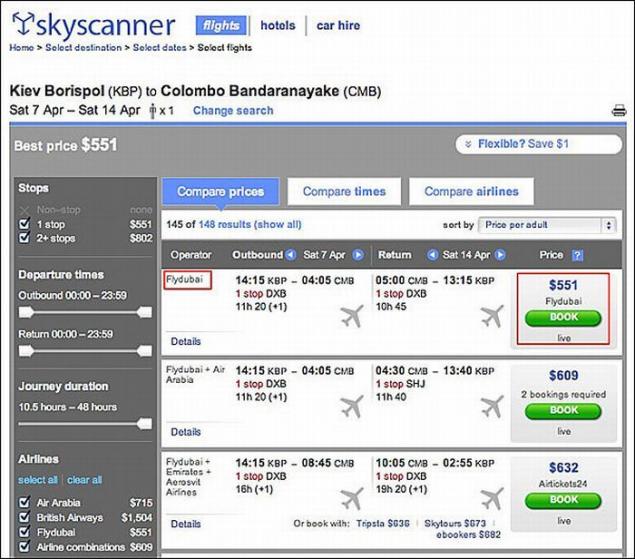 But the popular Western resource
kayak.com
find the same flight for 559 dollars.
An interesting hint to kayak: before the end of Lufthansa shares remained 1:00 (Monday to 24.00), when I decided to buy a ticket. After filling in all the fields at some point in the transaction fails, I called the bank, waited a long time response of the operator, etc ...
At 24.00 all rates have changed in a big way, then I went kayaking and found a rate of up to 50 dollars less than the planned purchase, kayak redirektiroval me to the US (!) Lufthansa website, where there was a good special price is available (because the US was still day Monday).
Then I met a couple of tips to pass on to buy the US version of the site of Lufthansa, as there may be cheaper rates.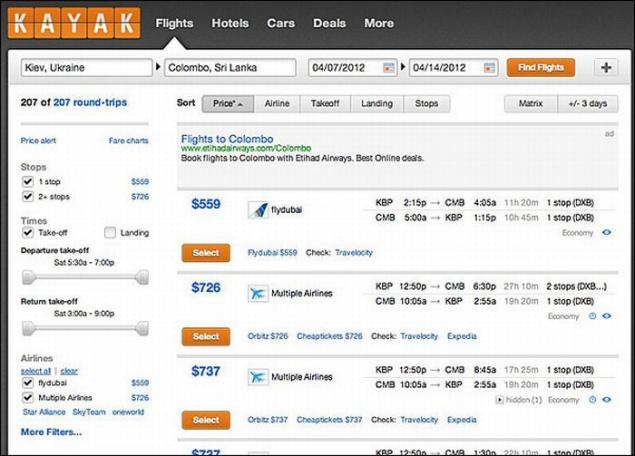 Described above shows that the ideal search engine does not exist, each traveler has their preferences in this regard.
Therefore, I recommend trying a few options. Even this simple example, the first search gave a value of $ 1,180, were found better options for $ 680, and playing with all the dates for 550 !!!
And found a ticket now I can buy airline
flydubai.com.
But if the price difference is significant - can be purchased online search engines, there is a choice at your discretion.
This loukost, but offers excellent connections in this direction!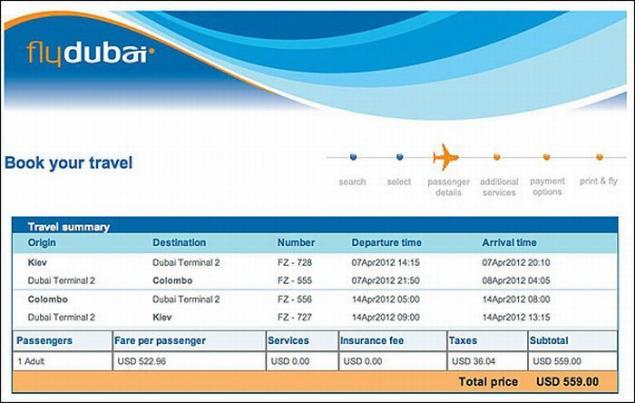 And a couple more tips:
 - Another important advantage of search engines, aggregators - a compilation of interesting routes based on partnership agreements between airlines, such SkyScanner proposed route Kiev-Beijing-Guangzhou and Aerosvit Airlines back on his shoulder Kiev-Beijing and two different airlines on the shoulder of the Beijing-Guangzhou. The total cost was about $ 650.
 - When searching for airfare to the US be sure to use the site
bing.com/travel
It offers a price forecast - to buy a ticket now or wait. When choosing a flight from New York to Chicago, I waited 3 weeks and bought a ticket for 2 weeks prior to departure at the lowest price.
Moreover, the airline offers three identical price, I looked all three sites of airlines and stopped at the Delta Shuttle, which at that time on the flight offered free beer and sandwiches, I love nice things!
What if the transaction fails?
 - Call the bank to include the possibility of payment card on the Internet
 - Call the bank and raise limits for tanzaktsii Internet
 - Call the bank and disable scanning CVV2 code, if it is possible, as is sometimes the operation fails, even if there is a field to check it, sometimes there are no CVV2 field.
What is the Frequent-flyer program?
This program within the same airline or association / alliance that allow you to earn miles for flights as well as for other services.
My advice:
 - Always examine the conditions of the bonus program before the flight, even if you use a carrier for the first time.
 - Register and submit your membership number when registering at the airport and / or during the online registration
 - See the list of partners (hotels, rental company, TrevelSiM, etc.) need not abandon nice bonuses only because of your ignorance. Your free flight may be much closer than you think.
 - Ask include whether your airline in one of the airline alliances, as their bonus programs are mutually compatible, BUT ask about this before making your membership number in the reservation, as is better to send a mile in the airline, where you have more / or where there better conditions for the Conservation of miles.
 - Somewhere miles have unlimited storage time, somewhere you need to use them every 2-3 years or fly this airline to save the account.
 - For internal preleta usually necessary 10-15tys miles for flights within Europe 20-30tys for a transatlantic flight 50-70tys.
Notorious, but often uncontested "those f *** and more» © each year make their bonus system is getting worse and worse. But my Ukrainian International Airlines has a very pleasant and transparent system of accumulation of miles without any unexpected write-off and a few partners, despite the fact that it is not part of airline alliances.
Earn and spend miles - is a topic for another reportage, it is a very interesting feature.
Major airline alliance:
Airline alliance - a partnership association of airlines, enabling a higher level of international cooperation in commercial air transport. Airlines within the alliance will remain in full independence, but unify elements such as booking system, bonus program for air travelers, introduced codeshare flights and coordinate flight schedule.
www.staralliance.com/en/fares/regional-fares/
www.oneworld.com/flights/round-the-world-fares/
www.skyteam.com/en/your-trip/Travel-Passes/
         href="http://www.airlinequality.com/Product/seat_intro.htm">www.airlinequality.com/Product/seat_intro.htm