"Solar" Solar Impulse 2 plane has paid a high price for a five-day flight across the Pacific Ocean: battery damage due to overheating. Round-the-world journey will continue until April 2016.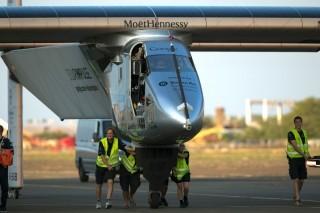 Solar Impulse 2 with 17 thousand solar panels in the wings flew around the world without a gram of fuel on March 9, 2015. This journey consisted of 25 days of flight over 4-5 months. During stops, the pilots carried out a variety of activities on the theme of ecology and "green energy".
Solar Impulse 2 set a world record: he spent 118 hours in the air. The plane took off on June 29 from the airport in Nagoya (Japan). Solar Impulse has crossed the Pacific Ocean and 3 July at 19:09 Moscow time he landed in Hawaii.
Bertrand Piccard said that the battery overheated and broke down. Now they need to replace that will take a long time, and given the fact that the daylight becomes less, to continue the flight will only be possible in April next year.
Andre Borschberg looks at the fate of Solar Impulse 2 to be optimistic: despite all the difficulties, the aircraft Solar Impulse was able to accomplish the most important and dangerous flights. published
P. S. And remember, only by changing their consumption - together we change the world! ©
Source: zeleneet.com/polomka-batarej-otkladyvaet-krugosvetnyj-perelet-solar-impulse-2-pochti-na-odin-god/33052/