American photographer Peter Menzel travels the world and learns that eating ordinary people around the world - from yoga to the model. Photos with residents of various countries he collected in the book "What I eat: Around the World in 80 dinners." Leafing through the book, just amazed how different people to each other and how different lives they lead. Mark on their diets impose a profession and habits, culture and customs, and, of course, the standard of living. That there is at least a difference in calorie meal: 800 kcal to 12, 3 thous. Kcal per day.
Website to your attention the most interesting photos by Peter Menzel. Each of them was captured man with the usual set of food he eats for a day.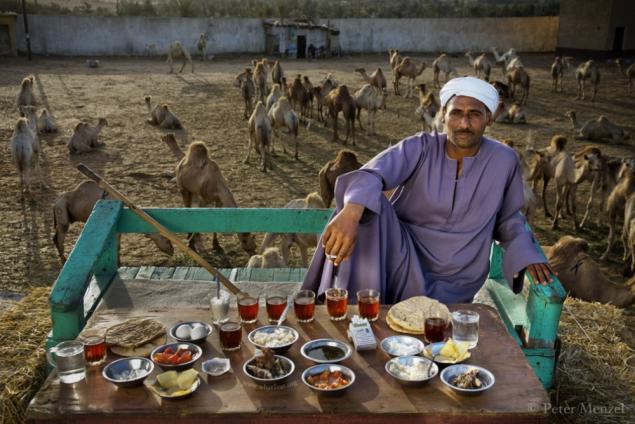 Saleh Abdul Fadlilli , the seller camels from Cairo, Egypt. He was 40 years old, height - 172 cm., Weight - 74 kg. His daily diet of 3200 kcal.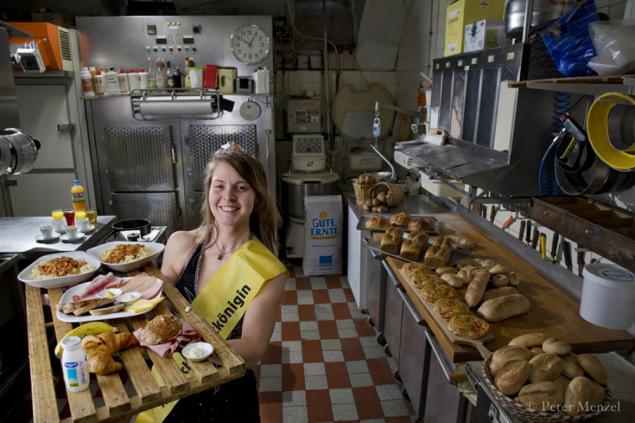 Robin Weiser-Linnartts , pastry chef. 28 years, height 1 m 6, weight 65 kg. Picture taken in the bakery of her family in Cologne, Germany. Daily diet of 3700 kcal.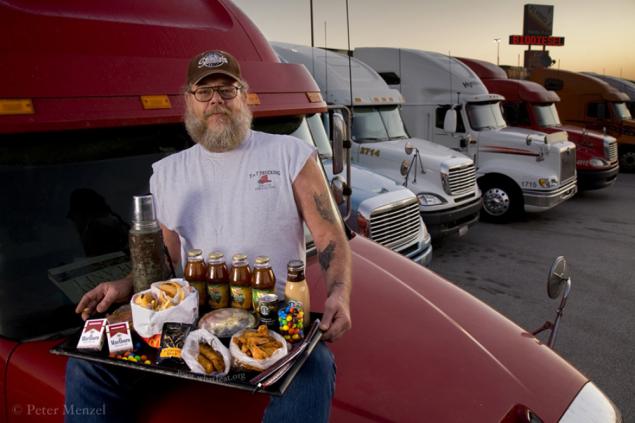 American trucker Illinois Conrad Tolba He was 54 years old, height 1, 87 m, weight 117 kg. His daily diet of 5400 kcal. Eats it is always the same - fast food at roadside cafes. Conrad did not stop to think about diet, he has survived two heart attacks behind the wheel.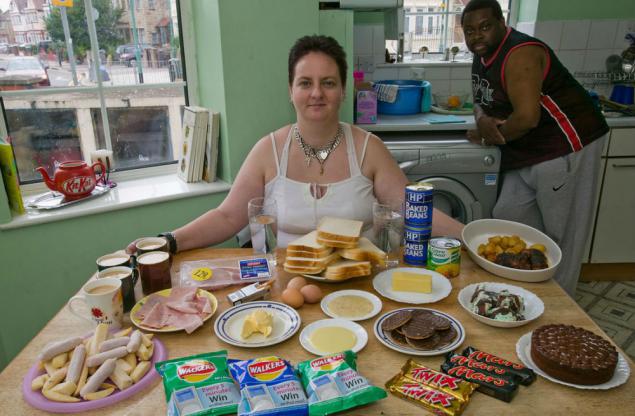 Jill Mactan , a school assistant, in his kitchen in London. She is 31 years, the growth of 1, 65 m, weight 104 kg. She admits that her reliance on food, and calls himself a "chocoholic." Calorie her daily diet largest - 12,300 kcal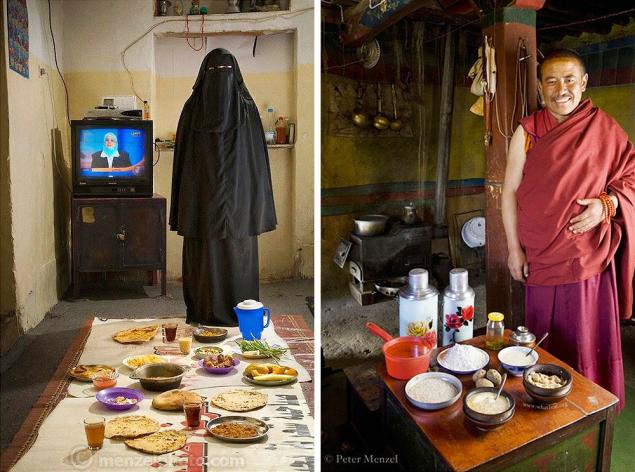 Saad Haidar , a housewife, at his home in Sana'a, Yemen (left). She was 27 years, height of 1, 5 m and weight 44 kg. Her daily diet of 2700 kcal. Home monk in a restored Tibetan monastery (right). He was 45 years old, his height 1, 65 m, weight - 71 kg. Daily diet of 4900 kcal.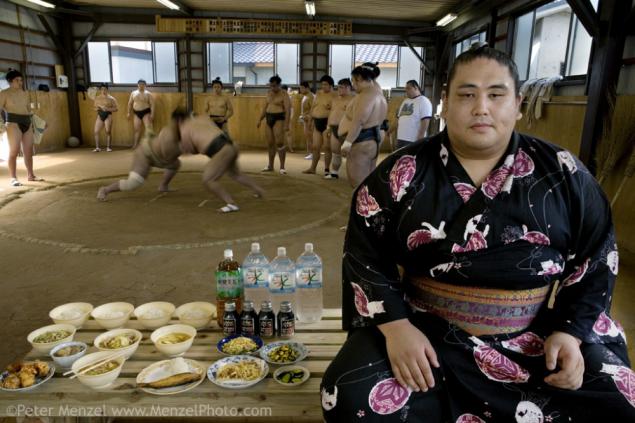 Takeshi Masato from Nagoya (Japan) - a professional sumo wrestler, who performs under the pseudonym Miyabiyama, which means "graceful mountain." He was 29 years old, height 1, 88 m, weight 181 kg. Togo seemingly small amount of food he eats every day, is enough to support its weight and morale. Daily diet - 3,500 calories.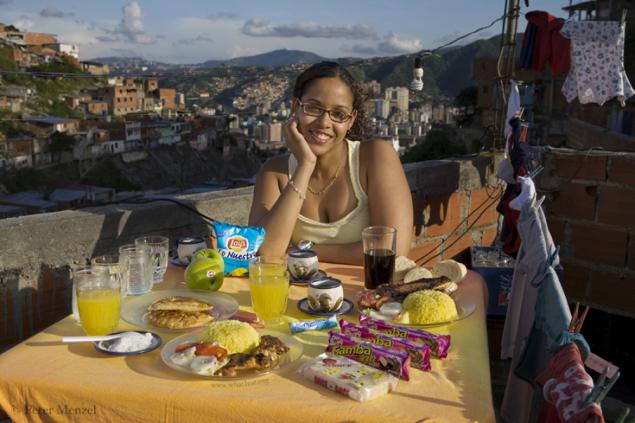 Catherine Navas - a high school student, she was 18 years old. Its growth 1, 7 m and weight 71 kg. The picture was taken on the roof of her home in Caracas, Venezuela. Daily diet of 4000 kcal.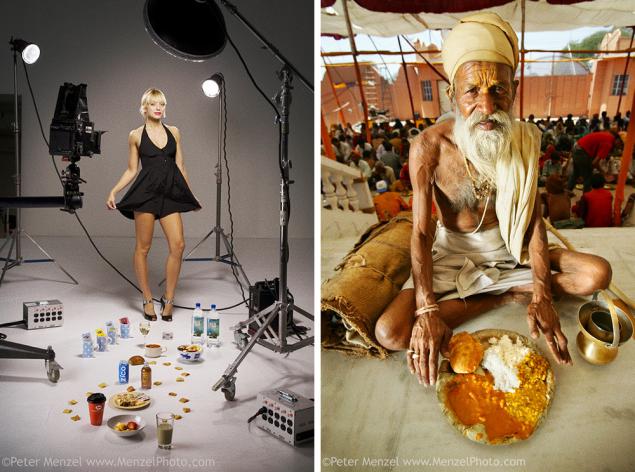 Mariel Booth - a model and a student at New York University in Brooklyn (left). She was 23 years old, height 1, 76 m, weight 61 kg. Daily ration is 2,400 kcal. She complains that do not earn much, but eats better than the other models.
Sitarani Tiaagi , an ascetic Hindu ashram in Ujjain, India (right). 70 years old, height 168 cm, weight 47 kg. Calorie daily food - 1000 kcal. Like thousands of other ascetics sadhus, he leads a nomadic life and alms feeds believers.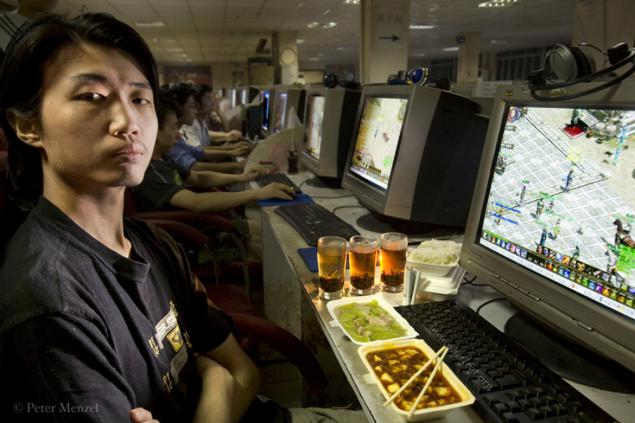 Xu Chzhipen - Computer freelance designer and gamer. He was 23 years old, height 1, 87 m, weight 71 kg. His daily diet of 1600 kcal. Picture taken at an Internet cafe in Shanghai. He practically lives at the clock of the computer is asleep right there and takes a shower once a week from a friend. His longest game lasted for three days and nights.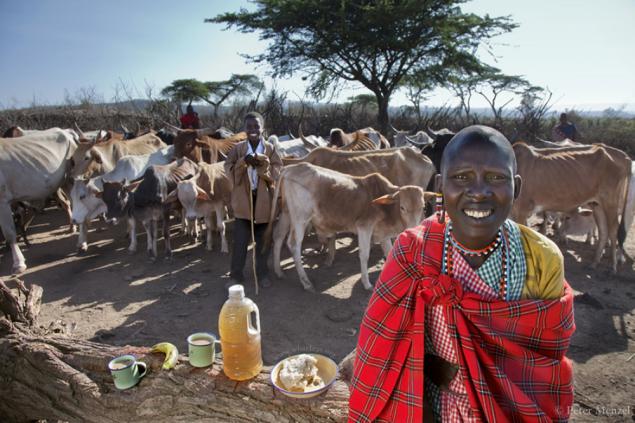 Nulkisaruni Tarakuay , the third of the four wives of the leaders of the Maasai people. The photo was taken near the village of Maasai near the town of Narok, Kenya. She was 38 years old, height 1, 65, weight 47 kg. All the wealth of the Maasai - the cattle, the earth and a lot of kids. Her daily leanest diet - 800 kcal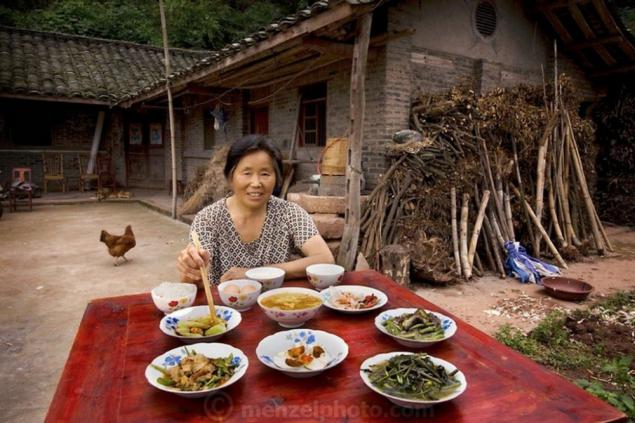 Lan Guihua - the widow of a farmer from the village of Gantszyagou, Sichuan, China. She was 68 years, the growth of 1, 6 meters, weight 54 kg. Daily diet of 1900 kcal.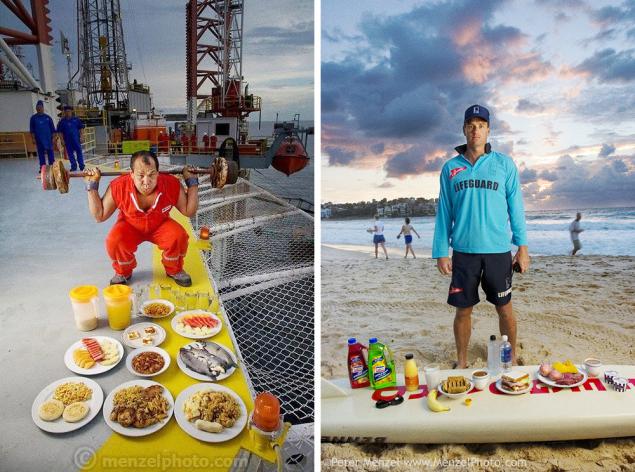 Osvaldo Gutierrez , a working oil rig in Venezuela (left). He was 52 years old, the growth of 1, 7 m, weight 99 kg. His daily diet is 6,000 calories. During his shift, when there is time, he runs for a jog on the helipad, practicing karate and raises the bar. Bruce Hopkins - a lifeguard on the beach of Bondi Beach, Sydney, Australia (right). He was 35 years, height 1, 83 m, weight 81 kg. Calorie Food day 3700 kcal. Hopkins eat modestly refrained from fast food and rarely drinks alcohol.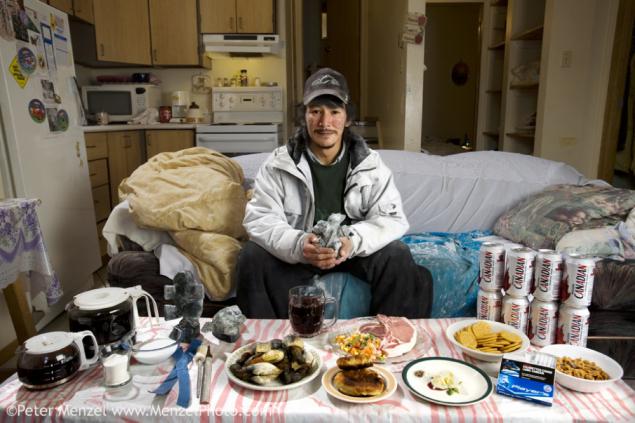 Wiley Ishulutak - Eskimo and professional stone carver from Iqaluit, Canada. He was 29 years old, height 1, 75 m, weight 64 kg. Daily diet of 4700 kcal. Willie says that cuts out two or three handicrafts in the day and then sells them at a restaurant Iqaluit for $ 100 each.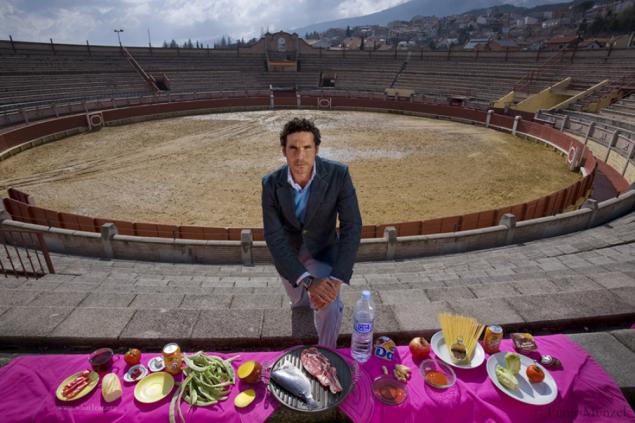 Oscar Higares - a professional bullfighter from Milaflores de la Sierra, Spain. He was 34 years old, height 1, 88 m, weight 79 kg. The picture was taken on the day of the bullfight, when Oscar tries to sleep longer and tend to skip breakfast. Daily diet - 4,200 calories. In our opinion, the selection of products is nearly perfect: fish, vegetables and fruits.








And that's what eats the author of these photos and his assistant. Faith D'Aluisio , journalist and co-author (left). She was 52 years old, height 1, 73 m, weight 61 kg. 1500 kcal daily diet. Photographer Peter Menzel (right). He was 61 years, the growth of 1, 85 m, weight 76 kg. Calorie daily diet - 2800 kcal. Well done, what to say! We would themselves have not given up this menu.



source Peter Menzel site





See also:
Photo project: the weekly ration of an ordinary family
Why do some people get angry when they are hungry?

via www.adme.ru/zhizn-nauka/pochemu-nekotorye-lyudi-serdyatsya-kogda-golodny-998760/