Odessa - a special city. On the unique humor and slang, famous of its inhabitants were legends, write books and make films. Casual conversations Odessites deserve special attention - these people just never climb into his pocket for labels and sneering words.
Website wit delights residents of Odessa and believes that they can learn exactly ironic attitude to life.

- Semotchka, sweetheart! You lost weight after marriage and haggard, she sho do not feed you ?!

- Mum, well sho are you talking about, the wedding was just yesterday ... - Sarochka! How are you today look - just great!

- Ha, I still do not feel well! - Oh, if you only knew how my Celia loves to talk! When she was at the resort, she tanned even the language. The parents presented a four-year son of the drum.

And only the wise neighbor Solomon Markovich a week thought to ask:

-And You know, my friend, that he still inside?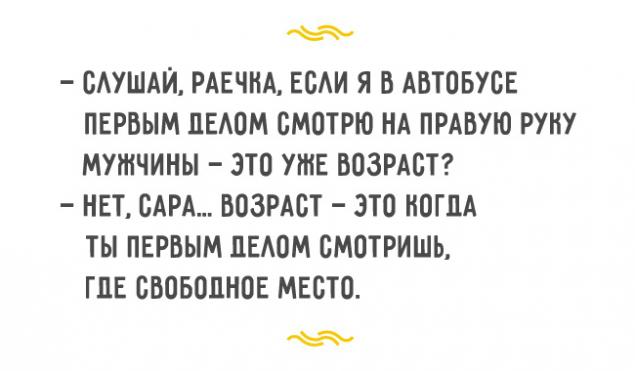 At the reception at the therapist.

- Well, sho I'll tell you, the patient, try to pour cold water on the snow barefoot running, little wheat germ eat. That will strengthen the immune system and ...

- Oh, you know Shaw, doctor - it is better to let me be the snot than schizophrenia! The music teacher said to the disciple:

- Monia, I warn you: if you do not behave as it should, I will tell your parents that you have talent. In Odessa:

- Excuse me. Can you tell me how to get to the hospital?

- Oh, you know, it is still hard to explain ... Simply give you on the head and call an ambulance! - Faechka, my daughter, you just need a little love!

- I beg you, my mother, who is now possible to fall in love ?!

- Oh, really difficult to find the same sacrifice?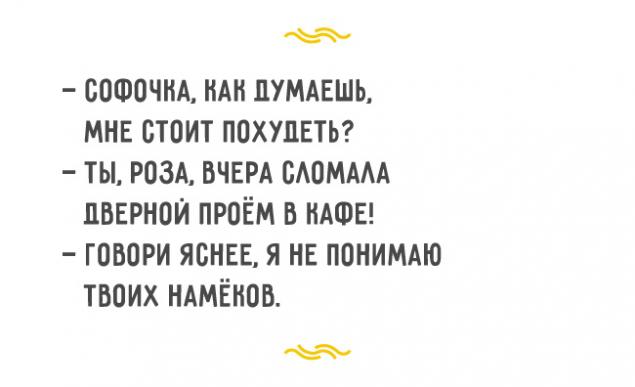 - Life Markovic, I take care of your daughter for three years!

- And sho, Izzy, do you want from me, retire? - Monia, I do not care about the money! It calms me down. The astonished exclamation Abrasha:

- Oh, wow!

His wife, worried:

- What happened?

- Nothing. Points rubbed! - Monya, how are you?

- How to bridge ...

- In the sense?

- Divorced, lonely and jaded ... Odessa wisdom: if the guests were served tea in brown circles, you can still save money on bad welding.




- Sam, let's talk with you about the beautiful. Do you have hemorrhoids?

- No.

- That's fine! - Sonia, still you are looking for a new man, not parting with the previous ?!

- Haechka, yet when you go shopping for new shoes, so you sho, go barefoot?! - Oh, Celia! 15 years have not seen! You're so put on weight, sho you never know!

- Rose! I would not recognize you, too, if not for your dress with polka dots. - Rabbi, tell me, what is the meaning of life?

- Oh, what a great question! Boy and you want to exchange it for an answer?

via # image888160