Everyone knows how useful soups. This is what we are constantly asserted parents in childhood. Probably each of us often heard the phrase:
«Eat first soup!» Em> This dish is very positive impact on the body of children and adults by maintaining the normal water-salt metabolism and fluid balance. In the hot season the hostess trying to cook soup instead of hot and cold light. We offer you the 5 best recipes of cold soups, cook and eat that is a pleasure!

1. Okroshka on kvass

Ingredients:

300 g of green onions; 4 chicken eggs; 0, 5 teaspoon mustard; 1, 5 liters of unsweetened kvass; 4-5 medium cucumbers; 300 g of cooked meat or sausage; 3 medium potatoes; 1 h. liter. horseradish; 100 g dill; a couple of drops of lemon juice; salt and parsley (to taste). How to prepare:
Welded hard boiled eggs and potatoes - in uniform. Chop green onions, potatoes and eggs until cool. The yolks of boiled eggs add to the onions, mustard fields on top. Rub all well. The resulting mixture zaley kvas. Less often and add the dill. Also add chopped parsley if desired. Cleanse boiled potatoes and cucumbers, we shall cut them into cubes, along with protein and meat. All the ingredients are put into a tureen. Add a few drops of lemon juice. Salt to taste and season with horseradish. Pour all kvas. Put in the refrigerator hodgepodge.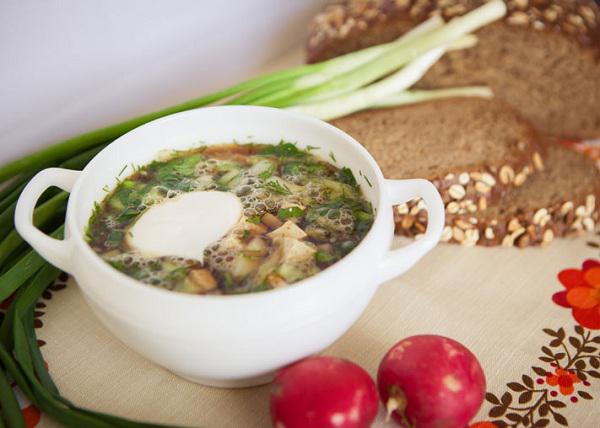 2. Hash on yogurt and soda Ingredients:


4 medium potatoes; 4 eggs; 5 cucumbers; 1 bunch dill; 130- 150 g salami; 1 radish; 2 bunches green onions; 1 liter of yogurt; 800 ml soda < / salt and apple cider vinegar (to taste); cream. How to prepare:
Boil potatoes, peel and cut myself cubes. Boil hard boiled eggs, and then rinse them under cold water, peel and chop. We shall cut finely 4 cucumber. One cucumber and radish rub on a grater. Can cut into small cubes of salami. Chop the onions, sprinkle with salt and a little crush it. Put all ingredients in a saucepan. Pour yogurt cold and carbonated water. Add salt and vinegar to taste. Stir and put in a cold place.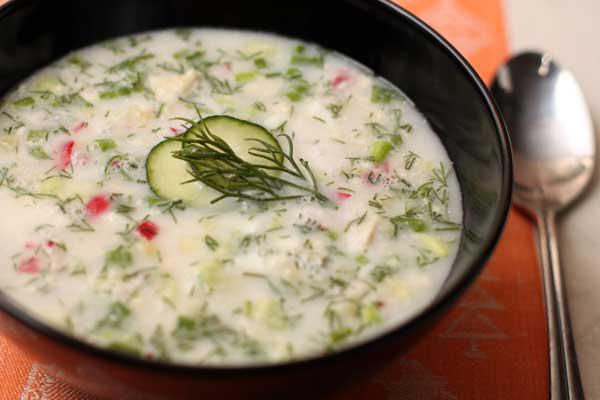 3. Beetroot soup on kefir

Ingredients:


350 g cucumbers; 1 liter of yogurt; 30 g green onions; 350 g beet; 30 g dill; 2 garlic cloves; The salt and pepper (to taste). How to prepare: < br /> Cucumber peeled grate. Then clean the crude young beet and its sodium on a fine grater. Put cucumber and beets in a saucepan, add yogurt, chopped fresh herbs and garlic. Salt, mix well, add a little of cool boiled water.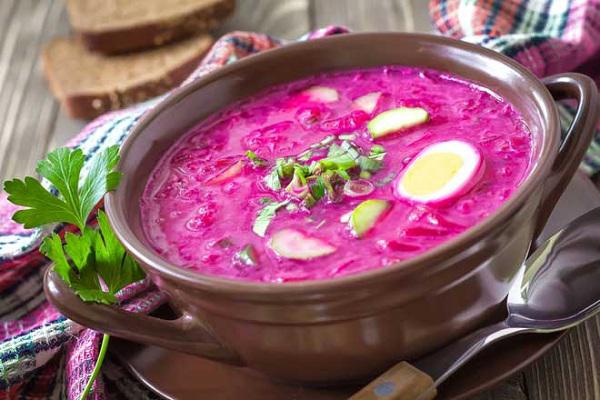 4. Gazpacho

Ingredients:


5 ripe tomatoes; 2 sweet peppers; 2 tbsp. tomato juice; 2 garlic cloves; 2 tbsp. l. red wine vinegar; 2 tbsp. l. olive oil; 2 pieces of stale white bread; 1/2 peeled cucumber; 1 onion; 3 sprigs parsley; salt and pepper (to taste); 2-3 drops Tabasco sauce; the ice. How to prepare:
Wash the tomatoes and pour over boiling water, remove the peel and seeds, then grate. All components except the tomatoes, chop in a blender. Add the tomatoes to the mixture and stir well. Bring soup with ice.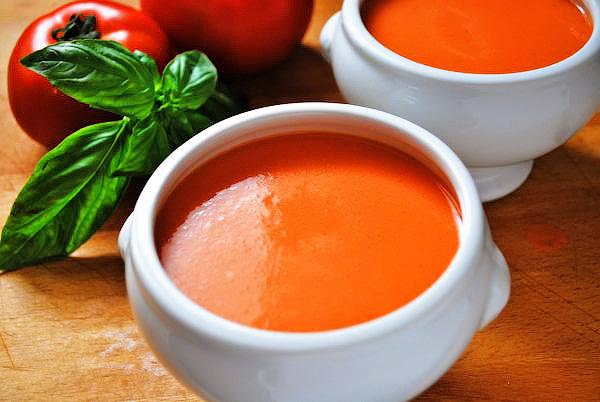 5. Soup made with fresh cucumber

Ingredients:


4 fresh cucumber; 1 tbsp. curdled; 0, 5, Art. water; 1 clove garlic; 1 bunch dill; vegetable oil (to taste); 50 g of walnuts. How to prepare:
Wash cucumbers and we shall cut them into small cubes. Mix yogurt with water, the mixture zaley cucumbers. Also, add the mashed garlic clove, fennel and oil. Before serving, if desired you can sprinkle the dish with chopped walnuts.






These cold soups will be a real escape hot summers. Save recipes of delicious dishes, not to lose.

Share with your friends the recipes of delicious cold soups!

via takprosto cc