You ask: "Is it possible to find such desserts?" Today, our food blogger Vladislav Nosik prepared a special chocolate cake, cheese and a cocktail from which you never recover.
Nutritionists all over the world actively encourage their patients to sit on a variety of chocolate diet. Thanks to the stearic acid, phenols and flavonoids contained in cocoa beans, the level of so-called "bad" cholesterol will never go overboard. This means that you do not just become slim and beautiful, but prevent all kinds of cardiovascular disease.
Chocolate cake without flour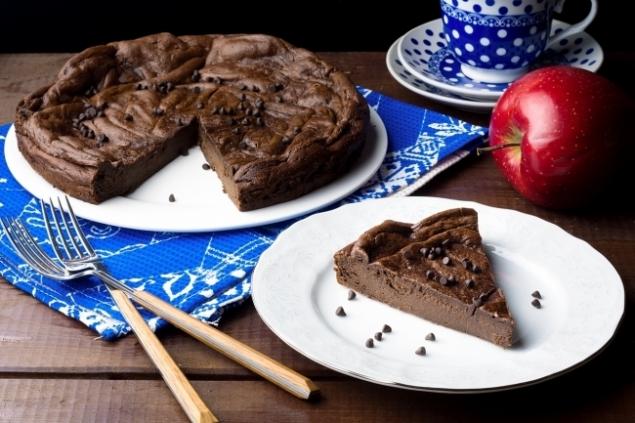 Sometimes it's so hard to resist a piece of delicious cake, but overcome experiences to harm her figure. A familiar situation? Then this recipe is for you! Very tender moist chocolate cake not only have taste, but will not give you extra inches in the waist.
It doesn't contain flour and oil, and its constituent ingredients are great for all dieters. Bananas, thanks to the pectin, block the feeling of hunger. Avocados are rich in monounsaturated fats and oleic acid which are a source of energy and do not increase the cholesterol level, the presence of L-carnitine has a positive effect on the metabolism of proteins and fats, while fiber speeds up digestion.
Despite the high caloric content of chocolate, it is mandatory to eat all losing weight – it contains substances that contribute to the accelerated metabolism and lower the levels of cortisol in the blood, relieving us from stress. Treat yourself to a chocolate cake with a magic compound that will help you not only reduce appetite and stable weight, but to be in a great mood!
RECIPE OF CHOCOLATE CAKE WITHOUT FLOUR
What you need:
200 g dark chocolate (70% or higher is a must!)
1 avocado
1 banana
0,5 tbsp. sugar
1-2 tbsp cocoa powder
1 tsp instant coffee granules
4 eggs
1 tsp vanilla
a pinch of salt
How to make chocolate cake without flour:
1. Round form covered with parchment paper and brush with oil. The oven is heated to 190°C.
2. Mix the banana, flesh of the avocado, sugar and melted in a water bath or in the microwave chocolate.
Quickly beat with a blender until smooth. If You have no blender, mash the pulp of banana and avocado with a fork until they are puréed and the whole mass beat with a mixer for 20-30 seconds.
2. Add the cocoa, coffee, salt and vanilla, blend again.
3. One by one enter the eggs, continuing to blend at a slow speed. Get watery homogeneous dough. If there is no blender, you can use a mixer or knead the dough with a whisk – the main thing, don't overwhip it!
4. Pour the batter into the pan and place in oven for 30-35 minutes.
The cake will rise in the oven, but after the fall.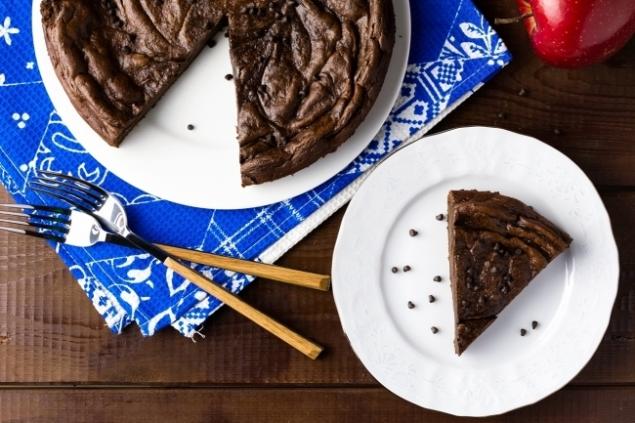 Chocolate cake without flour tastes even better if left for a day in the fridge.  
Hot chocolate cocktail
I love hot chocolate, but how to make this drink fit into the concept of healthy foods? After much thought I came up with the idea of adding the cocktail cinnamon, banana and oatmeal. Cinnamon accelerates metabolism, stimulates blood circulation and strengthens the immune system, banana is a great source of potassium (and not have to fear them like the plague), and bitter chocolate tones, beneficial to the skin and lowers the level of cholesterol in the blood. Drink perfectly warm and long lasting feeling of fullness.
RECIPE for HOT CHOCOLATE COCKTAIL
you need:
(for 2 servings)
2 tbsp. milk (1,5–2,5%)
50 g chocolate (70% or more)
1 banana
2 tbsp rolled oats
1 tsp cinnamon
a pinch of nutmeg
How to make hot chocolate cocktail:
1. In a saucepan, mix the chopped random pieces of banana, milk and spices.
On low heat bring to a boil. Remove from the heat.
2. Banana in hot milk add slices of chocolate. Stir to chocolate is melted. Pour cereal.
3. Beat with a blender until smooth.
Serve immediately!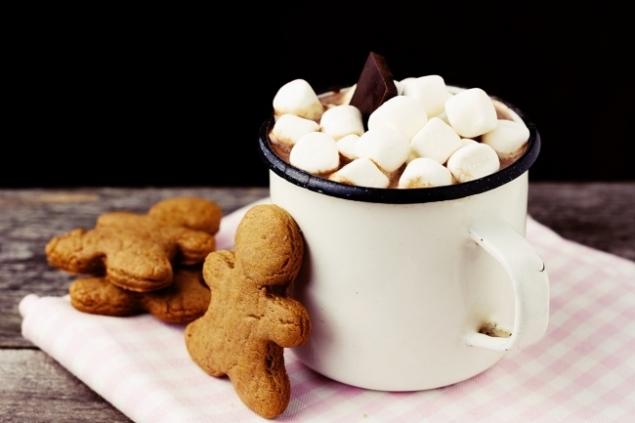 4. Hot chocolate drink is ready!  
Chocolates with filling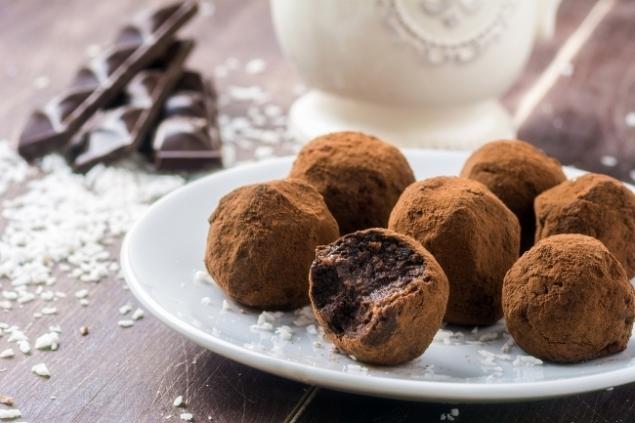 One of the worst enemies of excess weight – stress. This is what we usually ate, it leads to digestive disorders, depression, and deterioration of the skin and hair. A well-known way of dealing with stress is to chocolates, because they are the first to go into battle when we have something wrong. But, unfortunately, the composition of store-bought candy leaves much to be desired: a solid "E" preservatives and palm oil – all immediately deposited on the sides. Today I will share the recipe of chocolates, which possess not only excellent taste but also will not hurt your figure! One only has to look at their fillings: dates replace the treacherous white sugar as well as organic source of fiber, which speeds up the metabolism, and long-lasting feeling of fullness. Cocoa powder and dark chocolate contain trace elements, improves mood, coconut – thanks to the natural coconut oil – ocisavelobfile effect on the skin and hair, and oat flakes normalize digestion. Feel as good in each candy? Even seizing their stress, you will not pursue the disastrous feeling of guilt: all calories will be converted into energy, and you will never recover.
RECIPE CHOCOLATE STUFFED
What you need:
200 g dates
4 tbsp rolled oats
3 tbsp of cocoa powder (+ 2 tbsp for obvalivanie candy)
3 tbsp coconut
pinch of sea salt (do not use)
40 g dark chocolate (at least 70%)
How to make chocolate candy with fillings:
1. Dates pour over boiling water and soak in warm water for a couple of minutes to get rid of harmful substances, which are used to treat dried fruits during harvesting.
2. Coconut fry in a dry pan until Golden brown, stirring constantly. Be careful it burns very quickly! In the process of roasting intensified the flavor and aromatic properties of coconut, which is what we need.
3. Oat flakes grind in a blender to a flour. If You have no blender, use a coffee grinder or a meat grinder. The flakes need to scroll 2-3 times to very fine condition.
4. To the resulting oat flour add the stoned dates, cacao powder, coconut and sea salt.Grind until smooth. If the mass is too thick and the blender can not handle, add a tablespoon of water. At the end to introduce chopped into small pieces chocolate.
5. Roll into balls and roll in cocoa powder. As should be cool. Store in the refrigerator or freezer in an airtight container.
6. Chocolate candies with filling is ready! published
P. S. And remember, only by changing their consumption — together we change the world! © Join us at Facebook , Vkontakte, Odnoklassniki
Source: www.domashniy.ru/article/eda/zdorovoe-pitanie-i-diety/shokoladnye_deserty_ot_kotoryh_ne_polneyut.html