Writes blogger dedmaxopka:
A few days ago, "Yeliseyev sweet home" opened the curtain production of chocolate products, candies and other sweets. Production of turned small but interesting and delicious smelling
54 photos
1. Chocolate Eggs
Perhaps the dream of many - to get to the chocolate factory. It is easy to carry out, according to what the day holds Eliseevskiy several excursions.
Talk about shkolade.
The homeland of chocolate, as well as the cacao tree, is Central and South America. For centuries, chocolate was used as a drink - Indians mixed ground and roasted cocoa beans with water and then added to the mixture of red peppers (chili).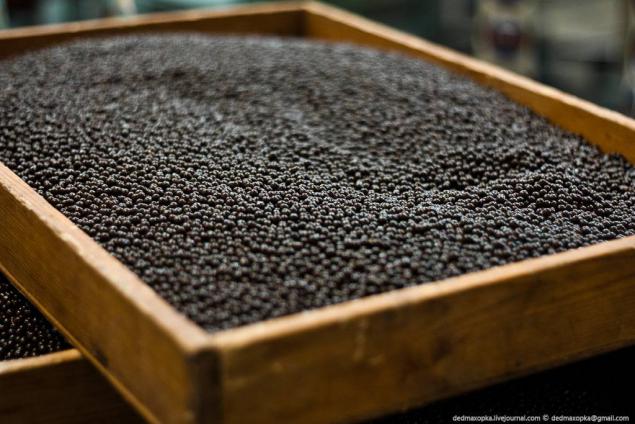 In the middle of the XVI century scholar-monk Benzoni King of Spain presented a report on the beneficial properties of liquid chocolate. Report immediately classified as secret, and chocolate declared a state secret. For its violation of dozens of people were executed. For a long time chocolate it was only available to the very rich: the production was difficult, and the ingredients - very expensive. And only in the late XIX century, confectioners have been able to manufacture almost modern chocolate. And what happened in the beginning of the XX century, a sharp reduction in price of sugar and cocoa to make chocolate affordable to all. Touted as a "dish of kings", he began his triumphal march.
Chocolate healing properties attributed to the following: the treatment of depression, improvement of health, rapid healing of wounds. In some countries, attributed to chocolate aphrodisiac.
2. Svetlana A. Great tour guide tells us, from which chocolate is made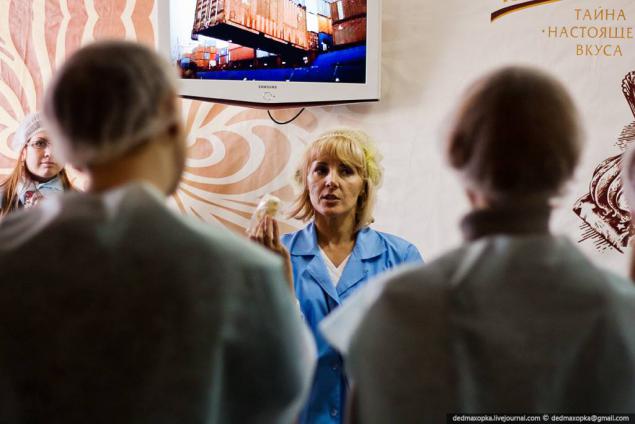 The main raw material for the production of chocolate and cocoa powder is cocoa beans - the seeds of the cocoa tree, which grows in tropical regions of the globe.
During the processing of cocoa beans receive basic semi-finished products: cocoa mass, cocoa butter and cocoa cake. Cocoa mass and cocoa butter with powdered sugar used for cooking chocolate; from cocoa cake obtained cacao powder.
Technology of preparation of chocolate kept secret since each chocolate factory own recipe.
3.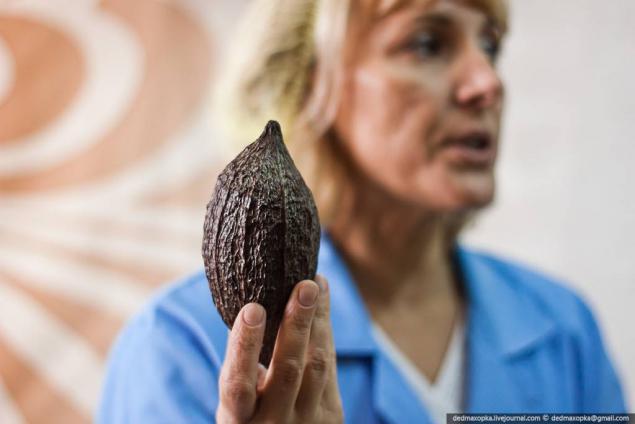 4. That is, from what makes the chocolate. Bring the Republic of Côte d'Ivoire, among other things.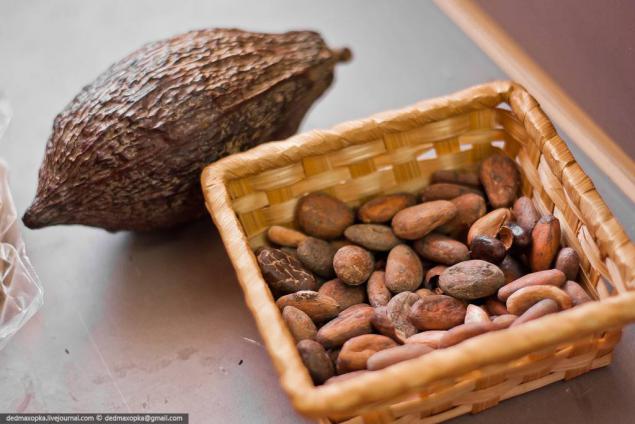 5. There is brewed chocolate.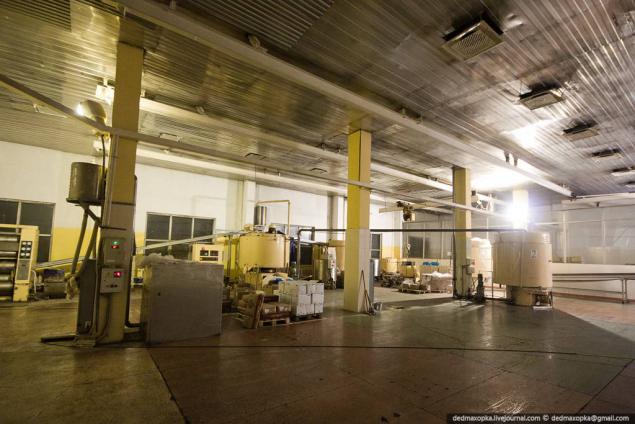 Depending on the composition of the chocolate is divided into classic bitter, milk and white. Average or classic chocolate - a chocolate with a cocoa content of 35 to 55-60%. But in dark chocolate cocoa content higher than 55% of products. Dark chocolate is the most useful, because in it contains the most cocoa products.
As for white chocolate, the chocolate is a full representative Empire and white he only because it lacks the cocoa powder and / or cocoa liquor, cocoa butter and it is not less than a conventional dark chocolate.
More options exist diabetic. Also chocolate products can have flavors (coffee, alcohol, brandy, vanilla, pepper); food additives (raisins, nuts, wafers, candied fruit), or stuffing.
6. Workshop production of hand-held candy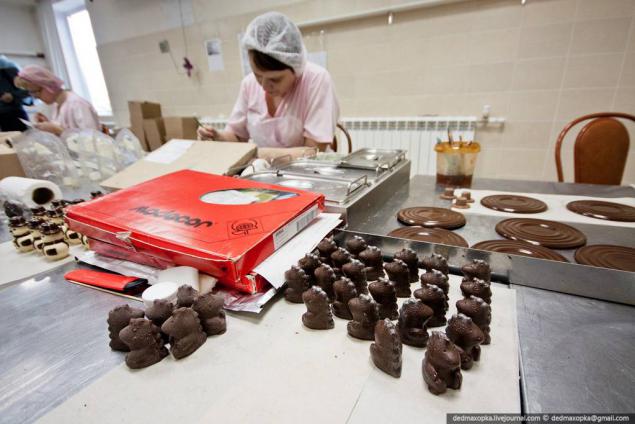 Interesting facts about chocolate:
Armenian Grand Candy confectionery factory on the occasion of the 10th anniversary of activity set a world record by producing the biggest chocolate bar weighing 4, 41 tons, which is listed in the Guinness Book of Records. Tile record of chocolate was produced for 4 days, its length is 5 to 6 m, width - 2, 75 m and a height of 25 cm. The previous record belonged to the same Italian confectioners, who produced 3 tiles weighing 58 tons.
In 1200-1000 years BC people in Central America were drinking «chocolate beer", which is made from fermented cacao.
In the US, you can not buy a chocolate egg. There is a law that prohibits put inedible objects in food.
Marco Fanti (Italy) and his team for 23 hours. Folded out of 330 bricks of chocolate chocolate needle weighing 3 tons. In Perugia (Italy) October 17, 2006
In the city of Intercession Vladimir region there is a unique monument in the world of chocolate. The monument is made of like a bar of chocolate and a fairy-tale image of fairies with chocolate in her hand. Monument opened on 1 July 2009 and is located a few steps from the Pokrovsky chocolate museum. Opening of the monument took place in the framework of the 15th anniversary of activity in the Russian company "Kraft Foods", which became the initiator of creation of the monument.
7. Manual called because on the forms for chocolates by hand a drawing of white chocolate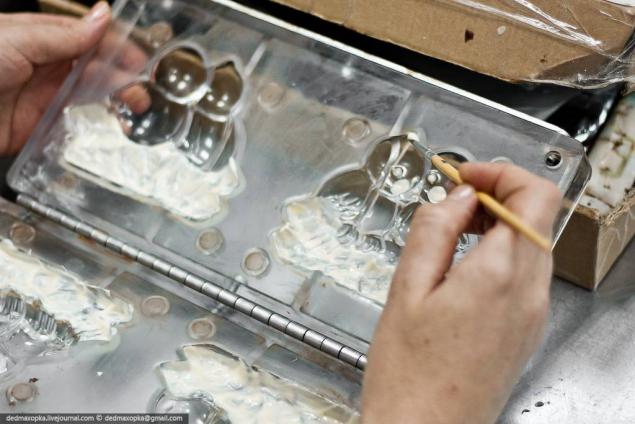 8. Then the form is filled with classic chocolate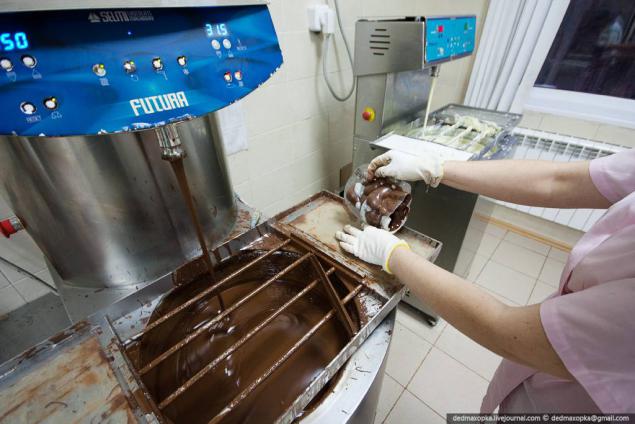 9. Obtained figures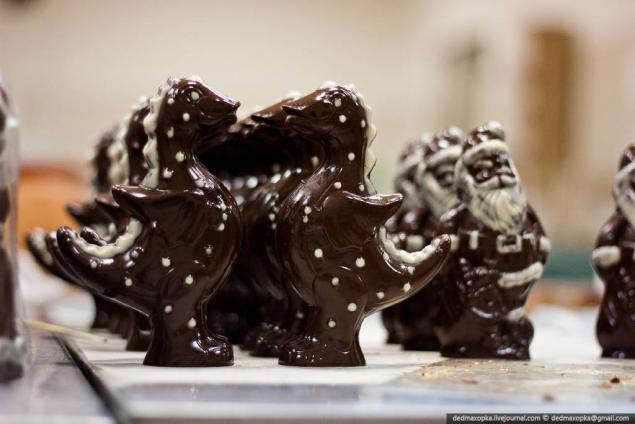 10. Santas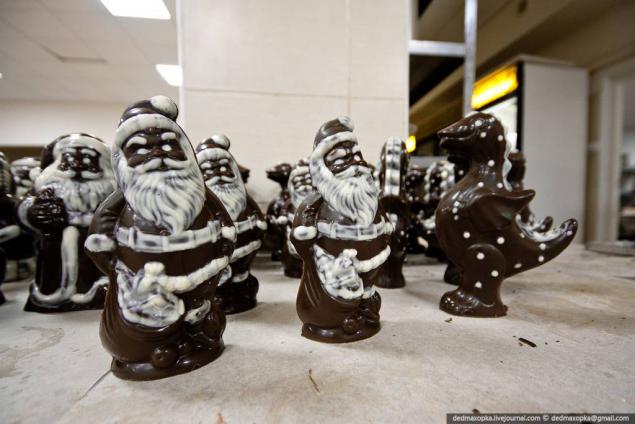 11. Then they packed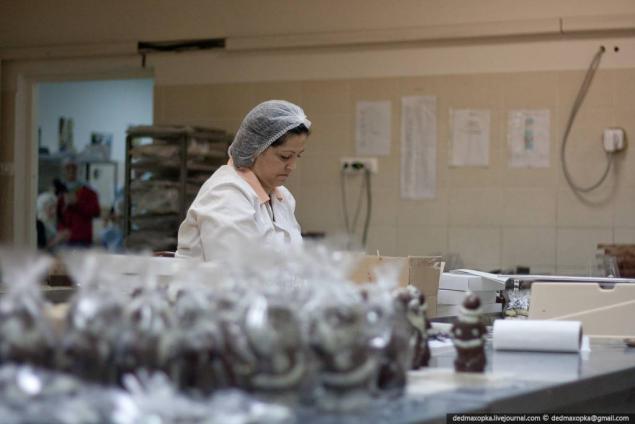 12.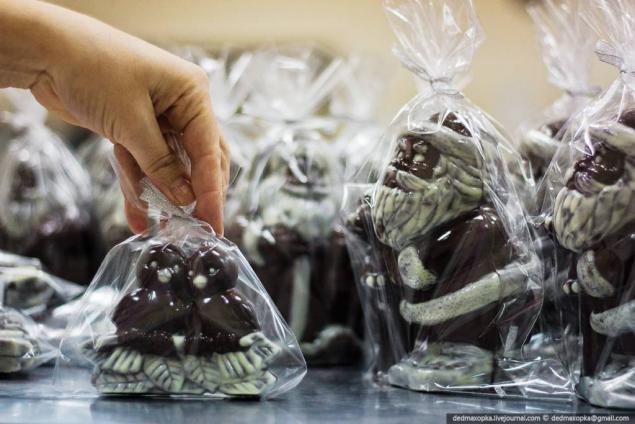 13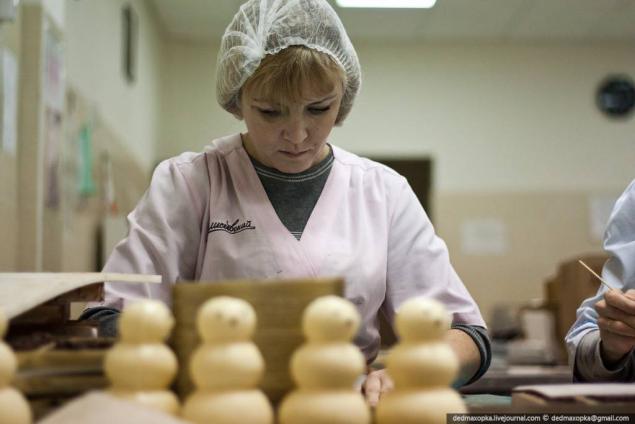 14. These chocolates are made by hand, too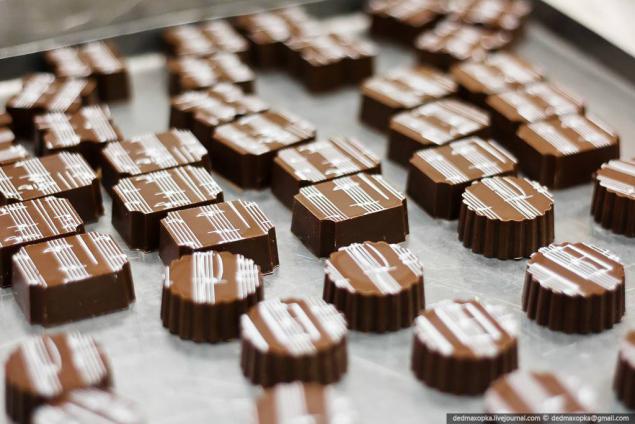 15. But so do the brand "mushrooms." Please fill in the form of chocolate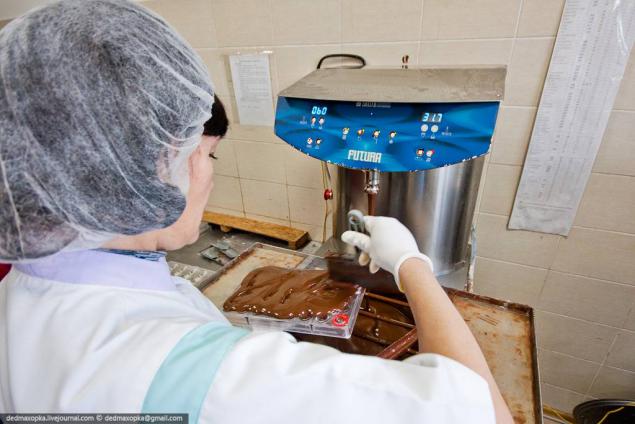 16. Then the molds are inserted in the cookie - legs for future mushrooms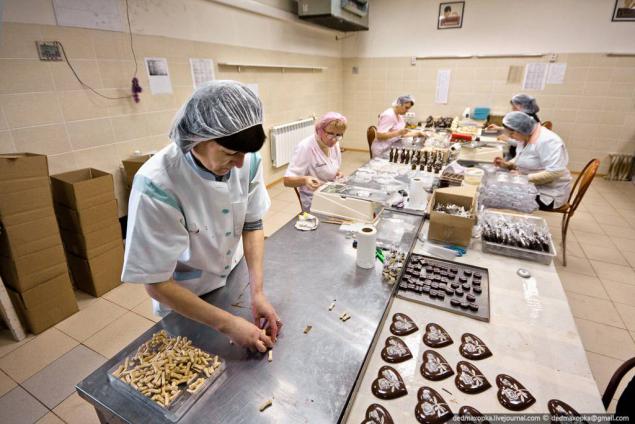 17. And those same mushrooms! They are very tasty. Under a production of mushrooms allocated a whole floor and there are already all automated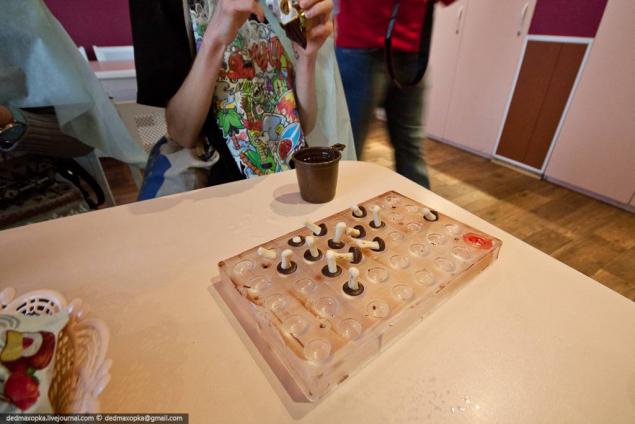 18. Chan with dark chocolate. It is your image to increase salivation)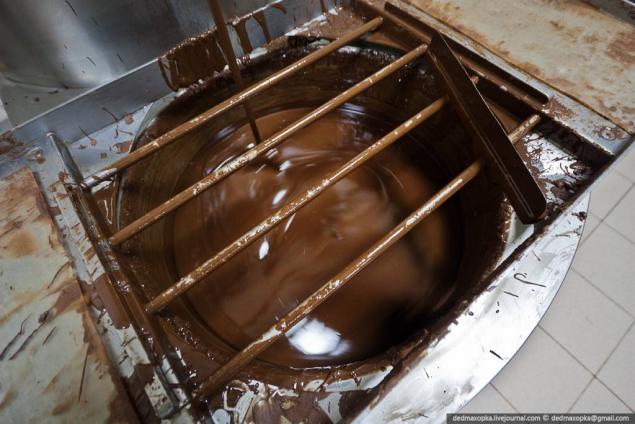 19. And here is the white chocolate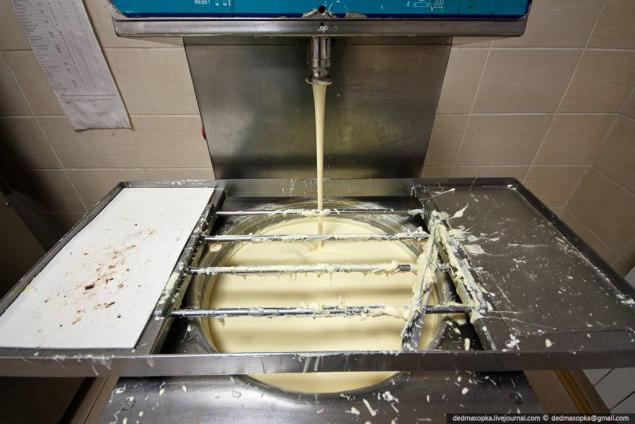 20. Then we were given the opportunity to beautify themselves chocolate figures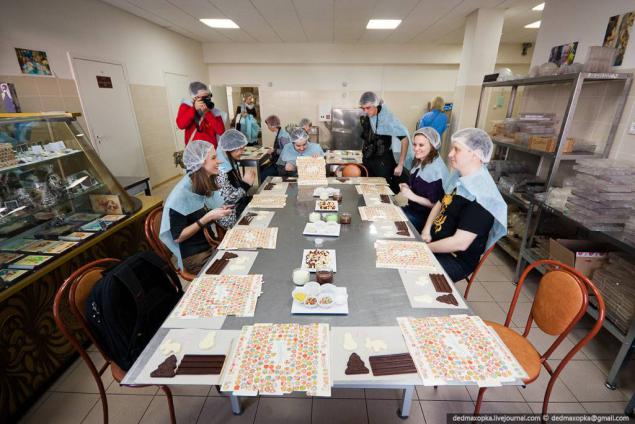 21.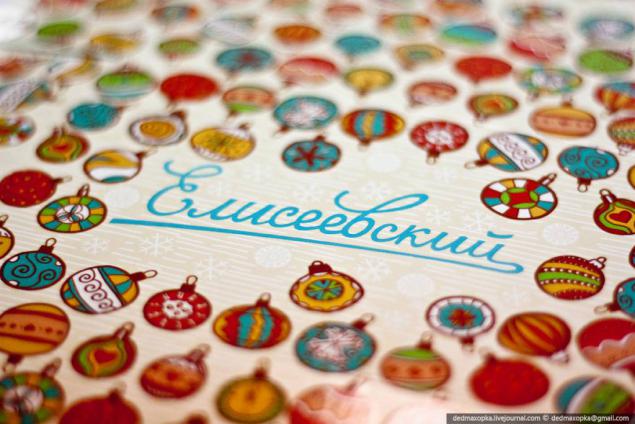 22.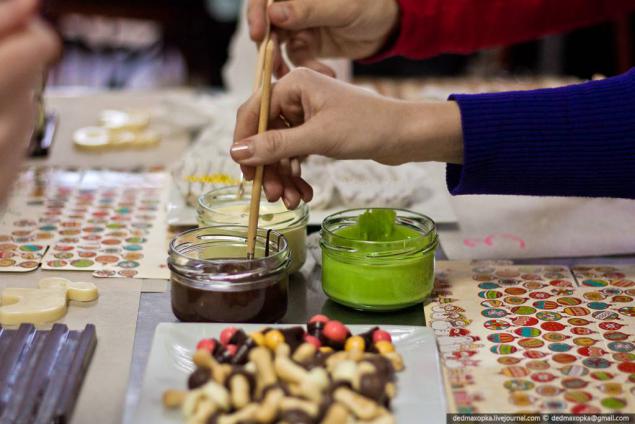 23. alex_redric makes masterpieces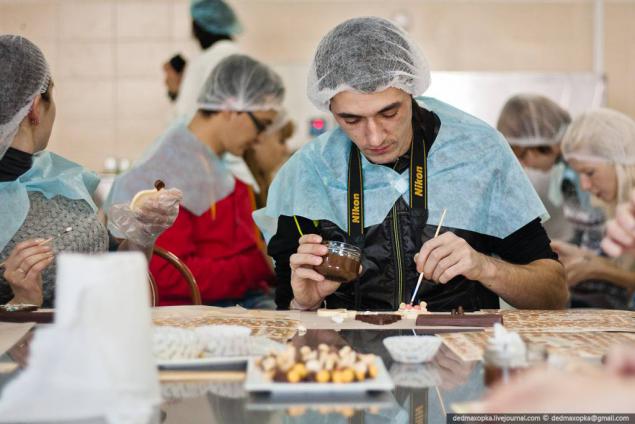 24. Everyone tried!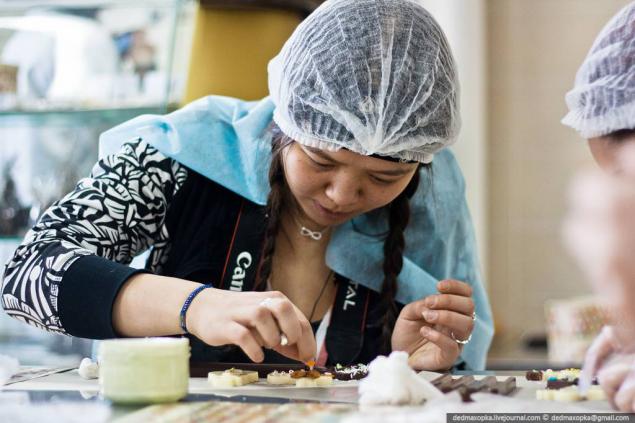 25. Ksenia Kamenskaya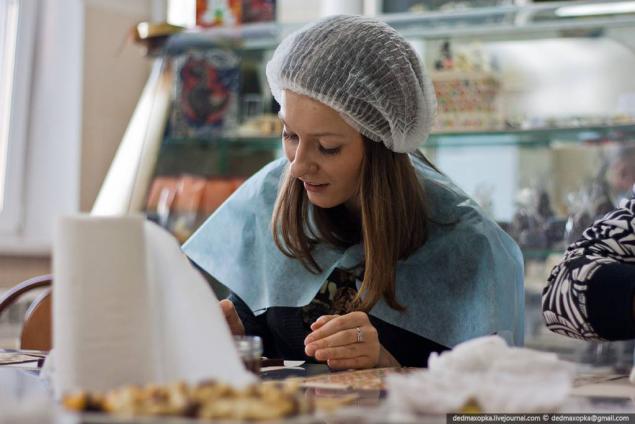 26.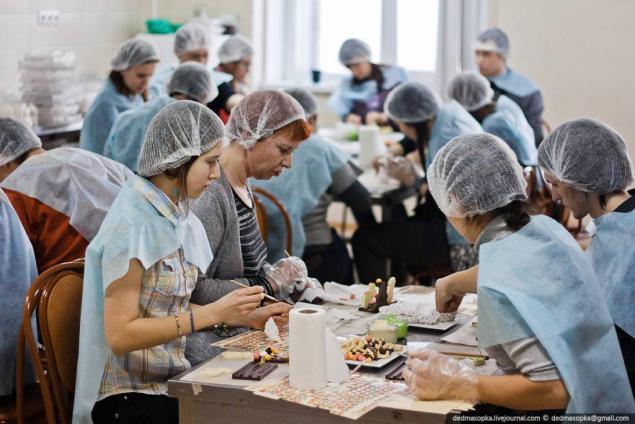 27. This is what happens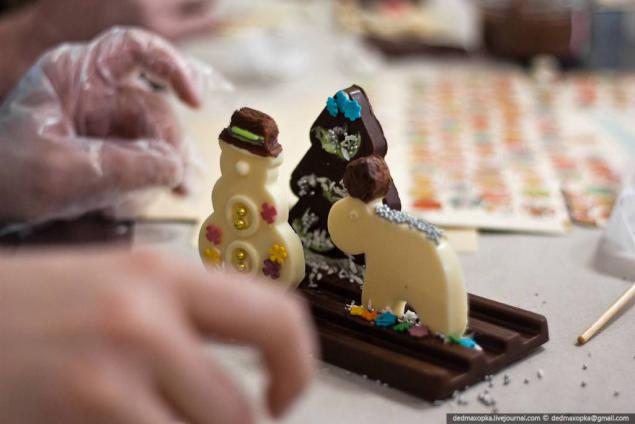 28.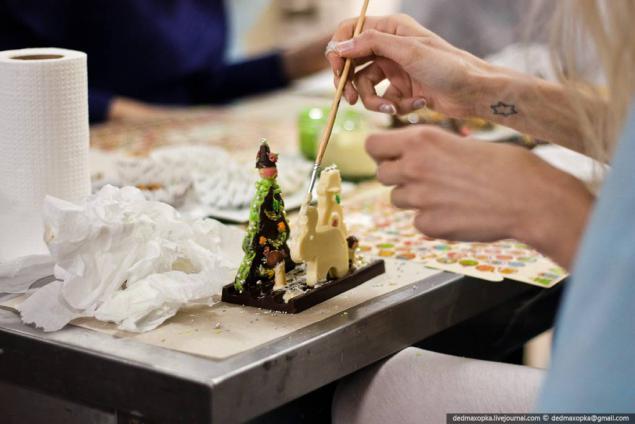 29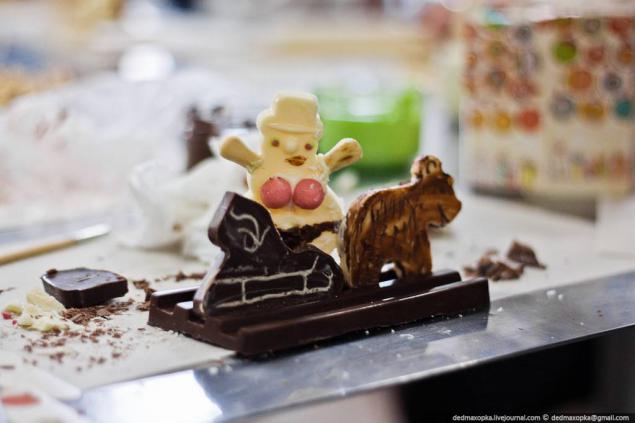 30. Yana Belova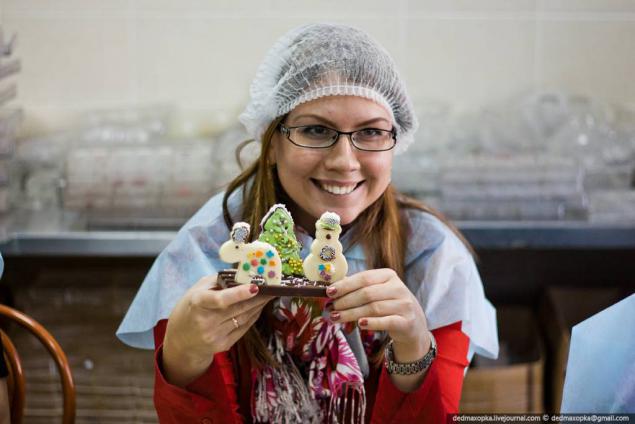 31. This form of chocolate figurines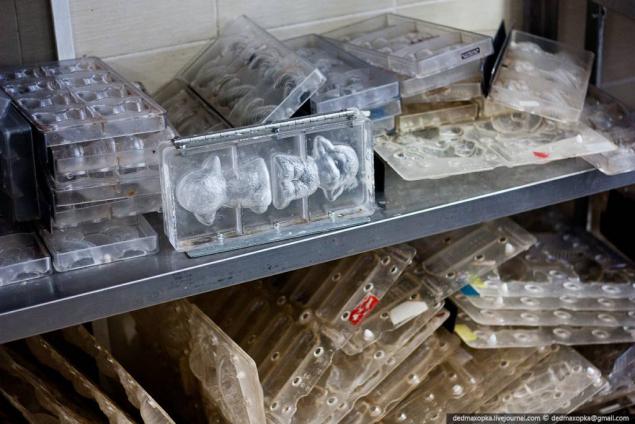 32. While the figures froze, we went to other shops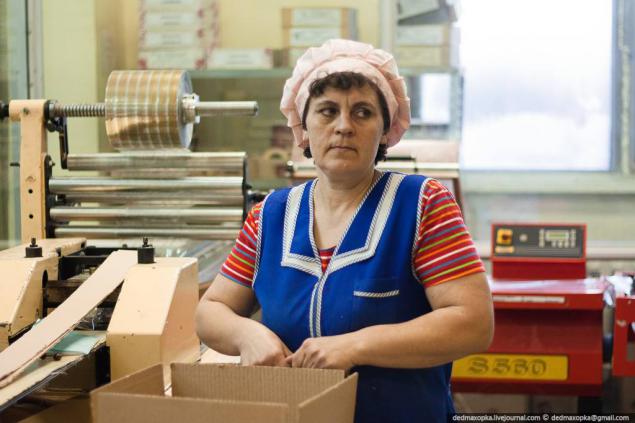 33. Chocolate Eggs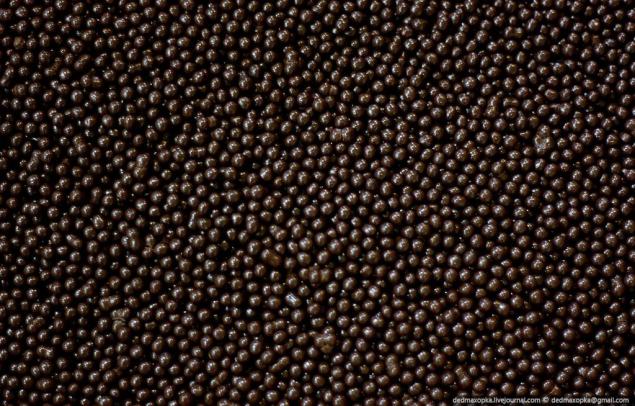 34. Eastern sweets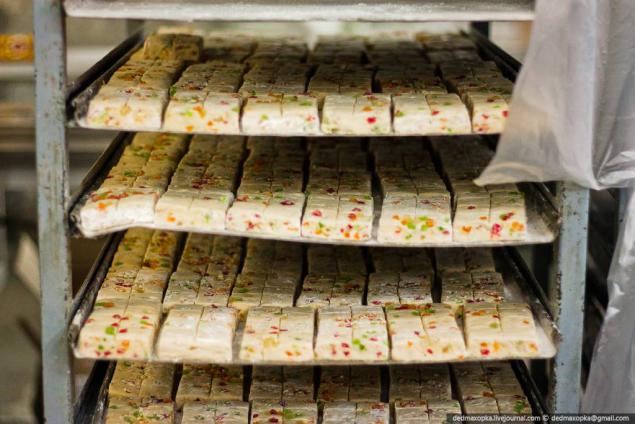 35. That's how they made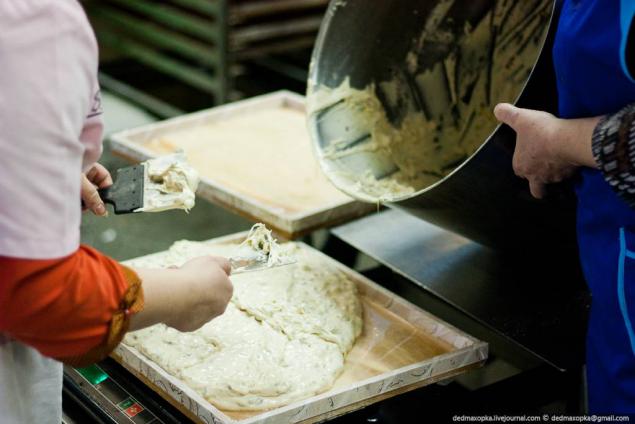 36.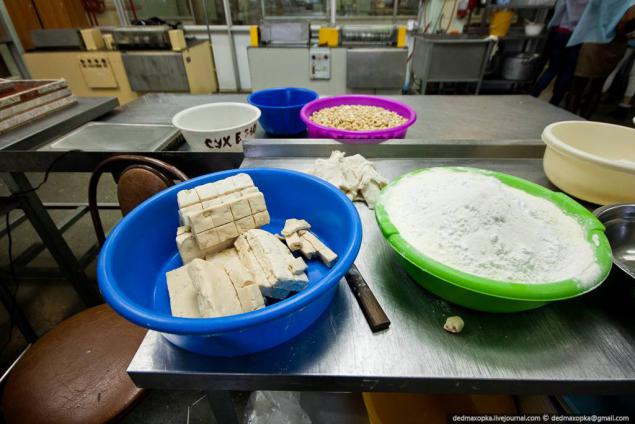 37. round copper vats making pills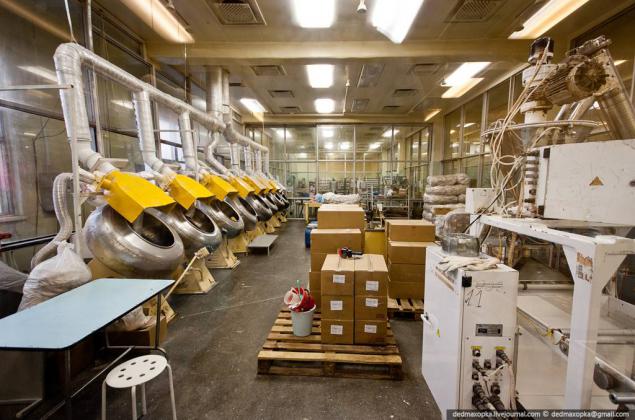 38. Chan turns to chocolate dragees added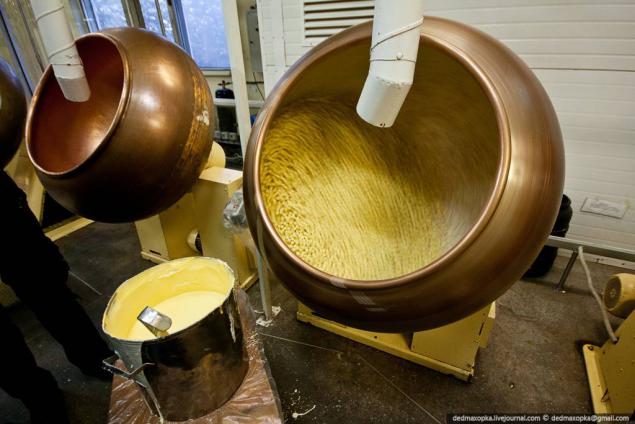 39.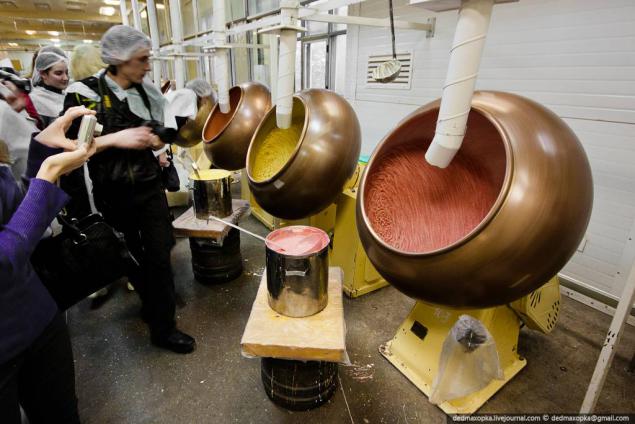 40. Raw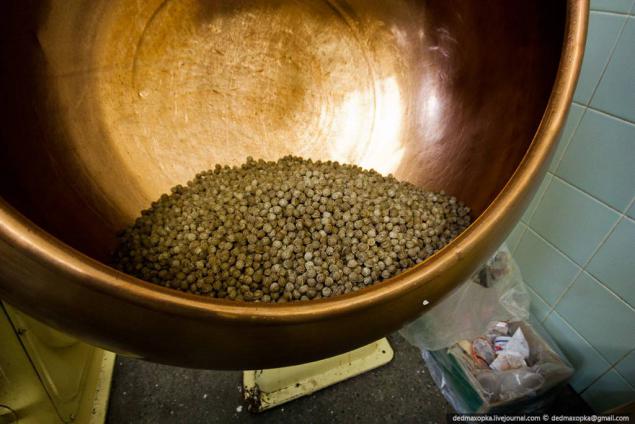 41. Sweets with nuts, prunes and dried apricots, which later cover chocolate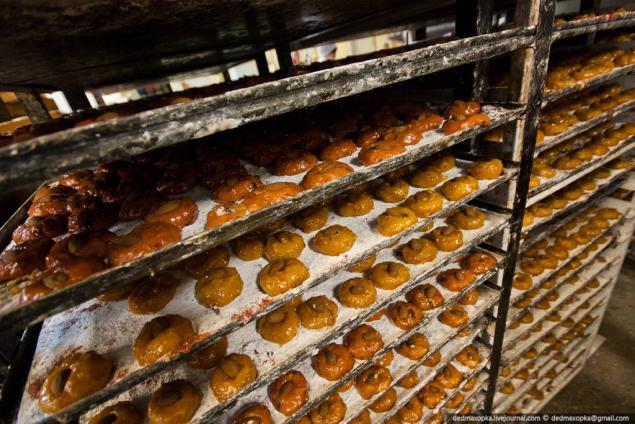 42.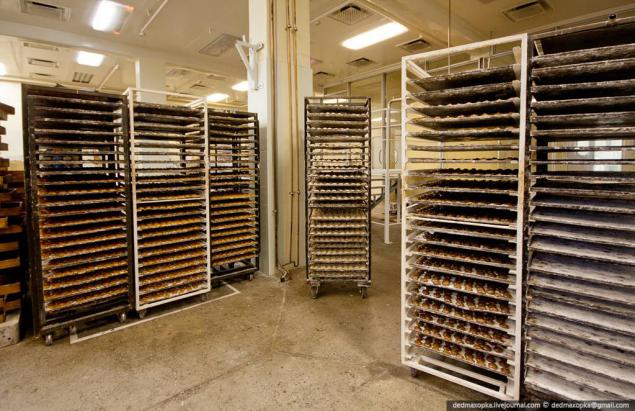 43. And they are covered with chocolate, turning to candy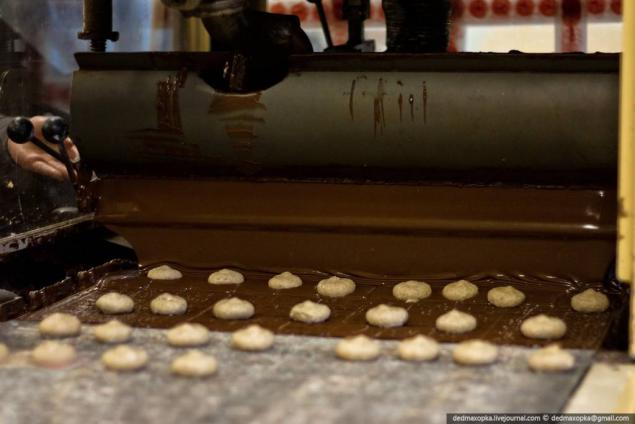 44. Then they dry while riding on the conveyor belts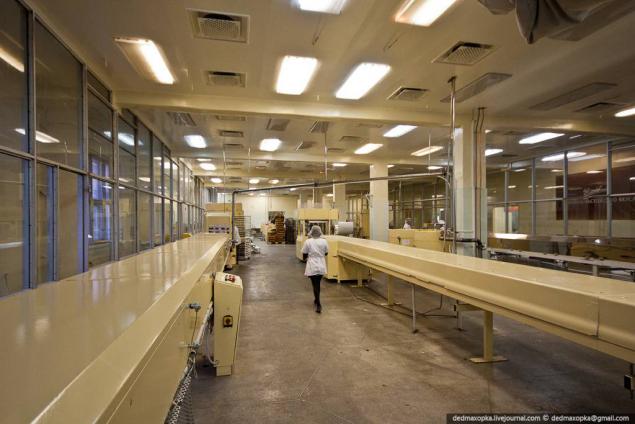 45. The end result of which will be packed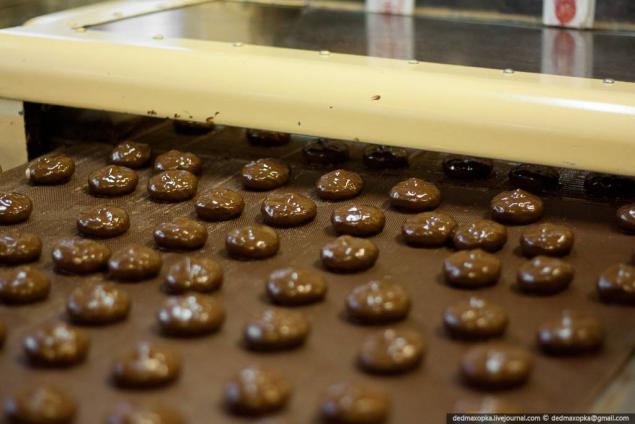 46. ​​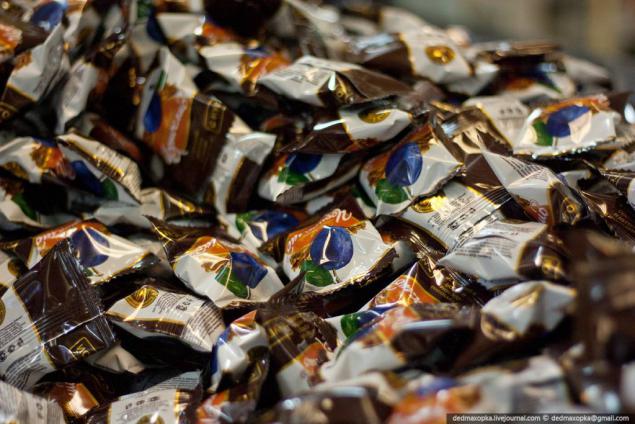 47. And so do the "local Raffaello". From this Raffaello these candies are different form and name
48.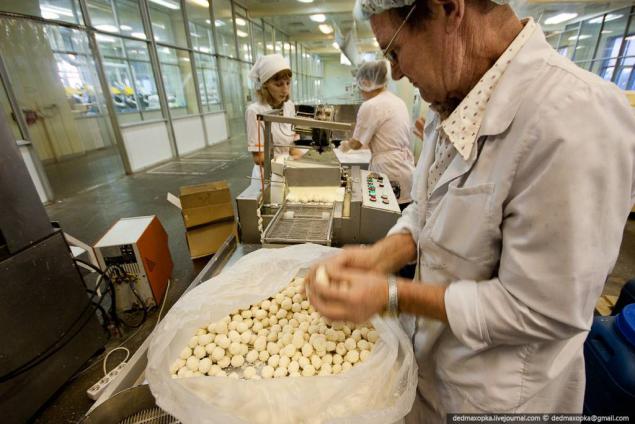 49.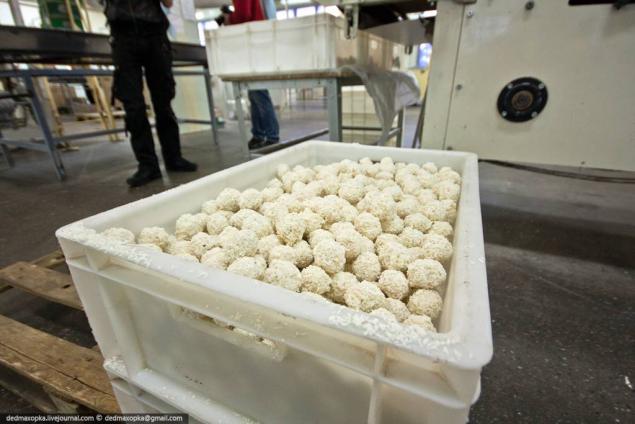 50. The apparatus for packaging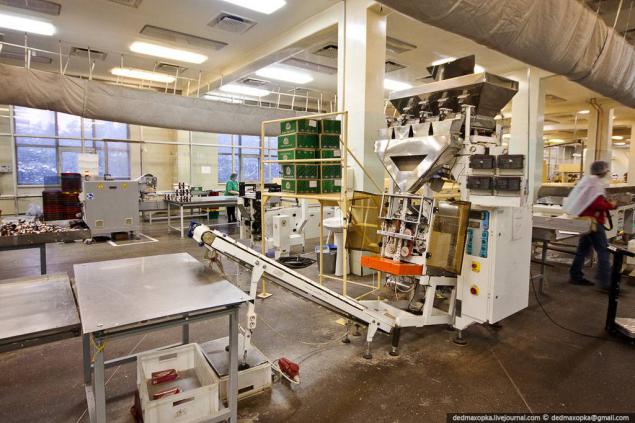 51. Then we returned to our figures, which have already dried up, and looked at what the company does to order. For example, this chocolate iPad2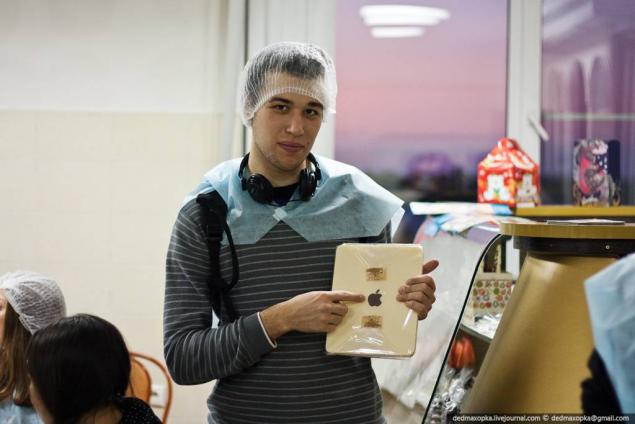 52. And this is in the form of candy drops of oil to the oil company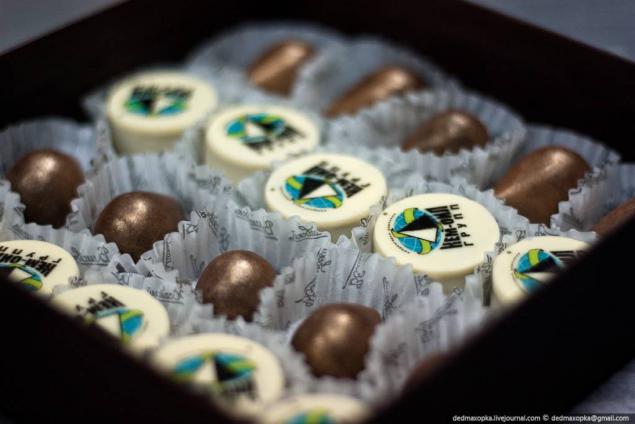 53. There were also sweets "Kama Sutra." Chocolate can do anything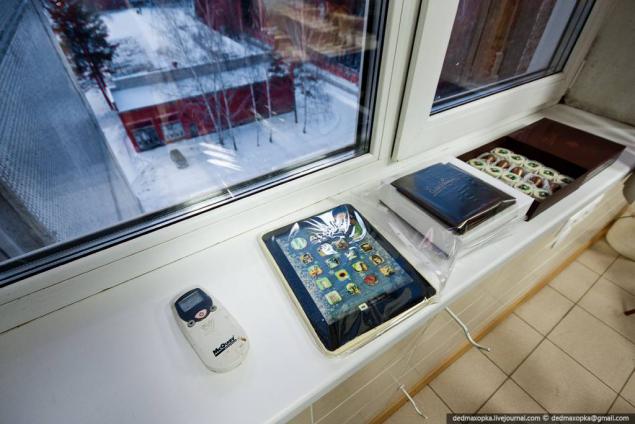 54. We would like to work there?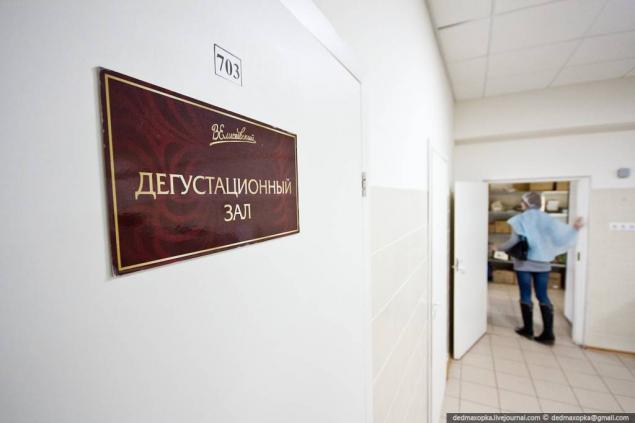 Source: