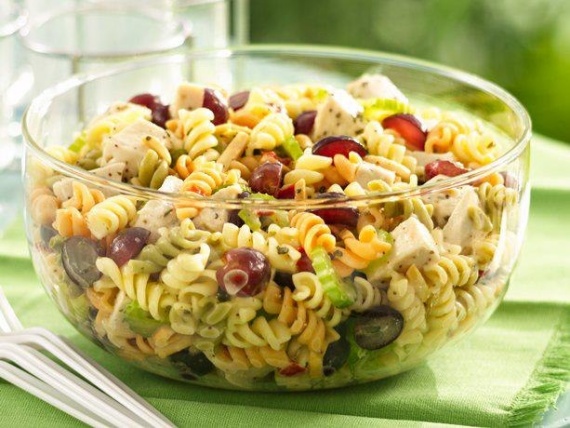 Ingredients:
250g fusilli, farfalle or other short pasta
3 cups chopped cooked chicken (about 375 g)
250 ml of red grapes, cut in half
250 ml chopped celery
1/4 cup (60 mL) finely chopped red onion
250 ml of gouda cheese
salt and pepper to taste
1/4 cup (60 ml) chopped walnuts or roasted almonds
Sauce:
250 ml of milk
1 clove garlic, minced
2 tablespoons liquid honey
1 tablespoon Dijon mustard
1/2 tsp salt
1/4 tsp dried thyme
1/4 tsp Rosemary
1/4 cup (60 ml) of fresh lemon juice
1/4 cup (60 ml) plain yogurt
Preparation:
1. Prepare the sauce. In a large bowl, beat milk, garlic, honey, mustard, salt, thyme and rosemary. Gradually, stirring whisk introduce lemon juice. Allow to stand for 10 minutes or until slightly thickened. Mix with yogurt.
2. Cook pasta according to package directions, drain. Rinse under cold running water until cool.
3. Mix in a bowl of pasta, chicken, grapes, celery, onion and cheese, add the sauce and mix gently. Season with salt and pepper. Sprinkle with nuts.