As you know,
a healthy diet
should include salads. And most importantly — they should not contain mayonnaise.
The editors of
"Site"
has prepared for you
8 recipes
of delicious salads without mayonnaise. They are available to prepare and very delicious!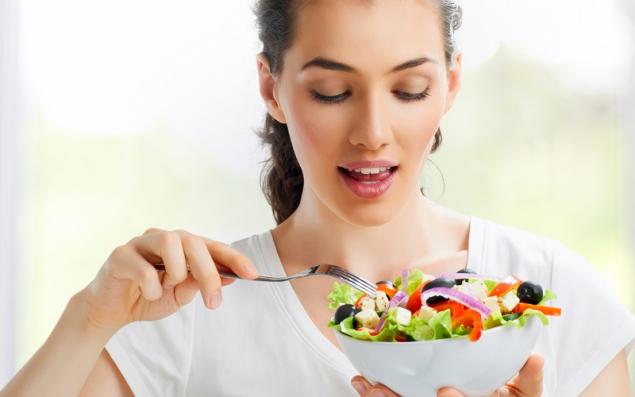 Delicious salads without majorizable salads without mayonnaise often use a dressing based on balsamic vinegar. But there are other options than to replace the mayonnaise. It can be olive oil, sour cream, Bechamel or other white sauce.
Asian cooks
suggest soy sauce. Delicious salads with seafood work, if you just fill them with lemon juice.
Salad with chicken печенью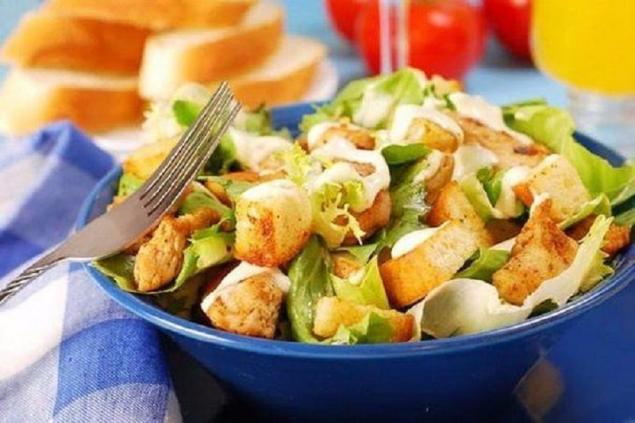 Ingredients
1 bunch of salad
150 g chicken liver
10 cherry tomatoes
1 onion
300 g of canned corn
20 g white bread
bacon to taste
2 tbsp. vinegar
4 tbsp olive oil
2 cloves of garlic
salt to taste
spices to taste
Cooking
Slice the onion in rings, put in a hot frying pan and obzharivaya until then, until the onions are transparent. Add 1 tbsp vinegar and obzharivaya one more minute. Don't forget to stir. Add salt to taste. Let the onions cool slightly.
Chicken liver cleanse from veins and films. Cut into small pieces, salt and pepper. Put on heated pan and obzharivaya over medium heat until tender.
Prepare the salad dressing: oil, vinegar, pressed garlic, salt and pepper mix in a small container. Bread cut into cubes and fry in a pan until Golden brown.
Put it on a salad bowl with the lettuce. Further spread layers: half of cherry tomatoes (or other tomatoes), onion, bacon. Pour half of the dressing. Add the croutons. Thoroughly mix the salad in the center and on the edges of the leave layers. On top put the chicken livers, fields of the remaining dressing and add spices. Salad with chicken liver serve warm.
Vegetable salad with olives and фетой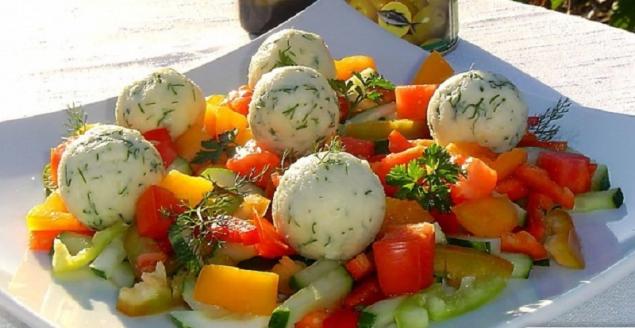 Ingredients
200 g tomatoes
200 g of cucumbers
200 g Bulgarian pepper
200 g feta
10 black olives, pitted
3 tbsp vegetable oil
2 tbsp lemon juice
spices to taste
greens-to taste
Cooking
Clean and slice peppers into strips and cucumbers. Tomatoes cut into cubes.
For the filling, mix the lemon juice and vegetable oil.
And now the most interesting. Greens finely crumble and mix with chopped feta cheese. Form balls from the resulting mass and put inside each olive.
To lay out salad on a dish and decorate it with cheese balls.
California chicken салат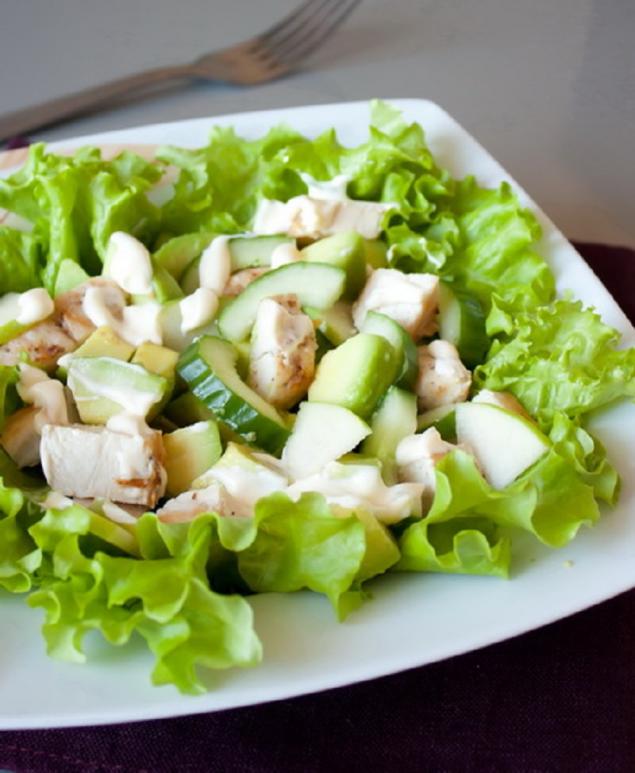 Ingredients
400 g chicken fillet
100 g of tomatoes
100 g avocado
40 ml lemon juice
150 g of lettuce
100 g of radish
100 ml low-fat yogurt
spices to taste
Cooking
Provari fillet and cut into small pieces.
Tomatoes cut into 8-10 slices.
Cut avocado in half and remove the bone. The pulp is cut into slices and fields of lemon juice, not darkened.
Cut into small julienne radishes.
Tear lettuce into small pieces.
Mix all ingredients in a bowl and put your yogurt.
"Caesar Romano"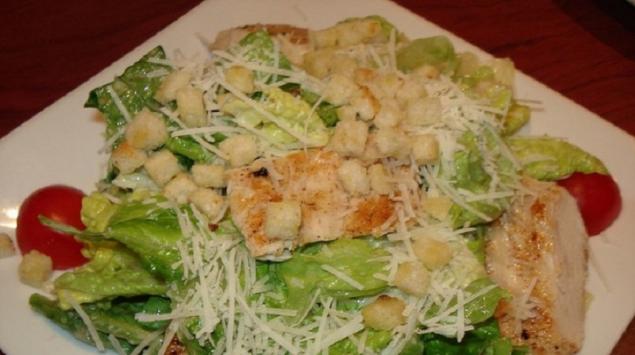 Ingredients
200 g Romaine-salad
20 g Parmesan
100 g chicken breast
1 egg
croutons to taste
1 tsp Dijon mustard
1 clove of garlic
the juice of half a lemon
150 ml olive oil
4 anchovy
Worcestershire sauce, to taste
spices to taste
Cooking
Sauté the chicken breast to a crisp.
Do the legendary "Caesar" sauce: mix in a blender egg, Dijon mustard, chopped garlic, a little wostershire sauce, lemon juice and anchovies. Continuing to whisk, slowly add olive oil and grated Parmesan.
Put on a dish Romaine lettuce.
Lay out the sliced chicken.
Fields sauce "Caesar".
On top put a few strips of Parmesan cheese and sprinkle with croutons.
Vegetable salad with креветками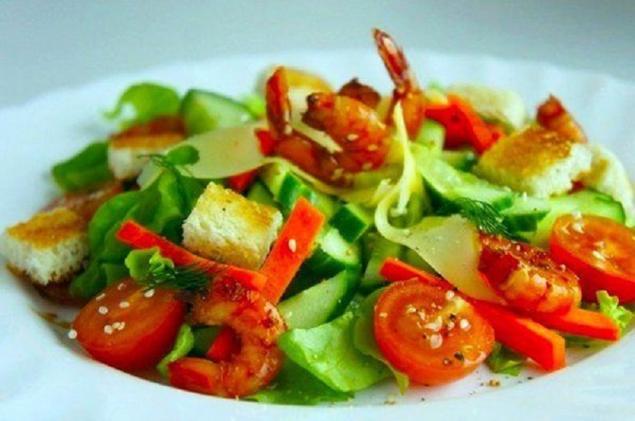 Ingredients
2 cucumbers
5 cherry tomatoes
200 g peeled shrimp
20 g butter
20 g of hard cheese
2-3 tbsp dry white wine
2 slices of white bread
2 tbsp vegetable oil
1 tbsp lemon juice
1 bunch of salad
½ bunch of dill
spices to taste
Cooking
Tear small pieces of lettuce and put on plate.
Slice the cucumbers and carrot slices, and cherry tomatoes in half.
Slice the cheese finely and mix it with vegetables.
Dry the bread in the toaster and cut into cubes.
Provari shrimp and fry a little in butter, add white wine and get 1 minute.
Add the salad shrimp and chopped parsley. Add the spices and season salad with vegetable oil and lemon juice.
Salad with pieces семги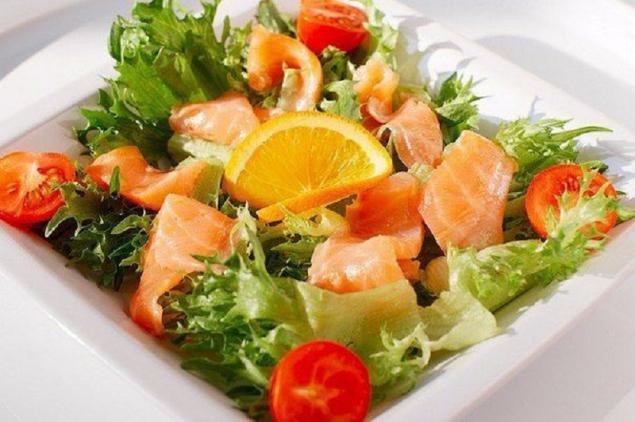 Ingredients
150 g of salad
1 tomato
1 cucumber
250 g salmon fillet
20 g Dijon grain mustard
20 g of honey
20 g of soy sauce
50 g olive oil
spices to taste
Cooking
Tear pieces of lettuce and put in a deep salad bowl.
Cucumber and tomato cut into a medium dice and mix in bowl with salad.
Prepare the sauce: mix the honey, soy sauce, olive oil and mustard. Add spices.
Salmon cleanse away the scales and bones, cut into cubes. Sauté until Golden brown.
Add fish to the salad and tuck in honey sauce until it is cold. Mix.
Italian salad "Romance for two"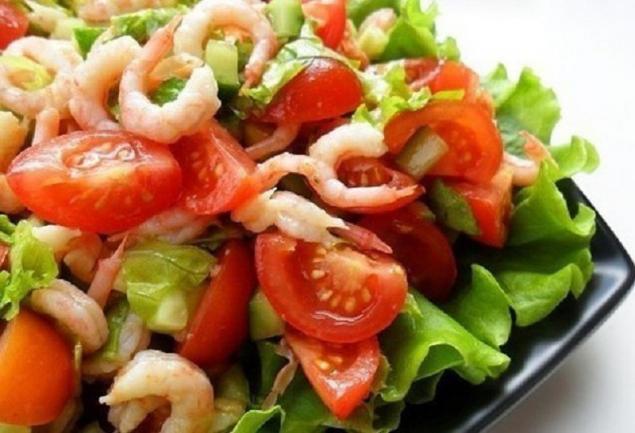 Ingredients
500 g prawn
2 bunches of lettuce
3 tomatoes
200 g ketchup or tomato paste
100 g of sour cream
2 cloves of garlic
Cooking
Boil shrimp in the shell (it tastes better than done), and cleanse them.
Tear lettuce and put on plate.
Slice the tomatoes slices.
Make sauce: in Cup, mix sour cream and ketchup (not spicy) and passed through press the garlic. Add ketchup until the sauce is will be a nice pink color.
Mix all ingredients and pour sauce. Add spices to taste. Serve the salad chilled.
Salad with chicken, vegetables and кунжутом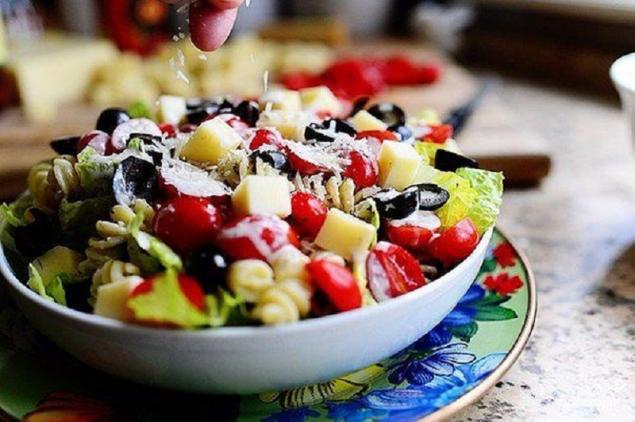 Ingredients
1 tomato
1 cucumber
100 g of black olives
100 g of hard cheese
2 smoked chicken thighs
1.5 tbsp of French mustard
1 tsp sesame seeds
Cooking
Separate chicken meat from bones and slice into small pieces.
Cut cheese cubes.
Olives cut into rings.
Cucumber and tomato cut into cubes of medium size.
Put in a deep bowl first, chicken, then olives, then cheese and top with vegetables. Season salad with French mustard and stir. Sprinkle with sesame seeds.
Here are so delicious and nutritious salads you can prepare at any time of the year. They are perfect for those who love
to eat
, and for those who are dieting. Bon appetit!
Share recipes with your friends!
The author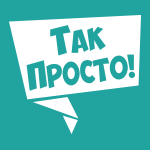 The editors of "Site" Is a real creative laboratory! The true team of associates, each a specialist in their field, United by a common purpose: to help people. We create content that's really worth sharing, and a source of inexhaustible inspiration are our favorite readers!