As you know,
a healthy diet
should include salads. And most importantly — they should not contain mayonnaise.
The editors of
"Site"
has prepared for you
8 recipes
of delicious salads without mayonnaise. They are available to prepare and very delicious!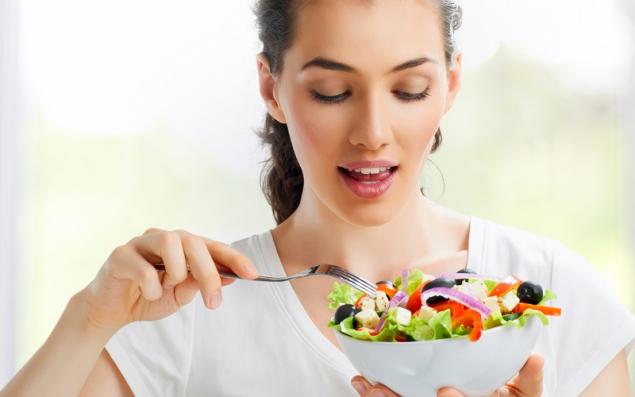 Delicious salads without majorizable salads without mayonnaise often use a dressing based on balsamic vinegar. But there are other options than to replace the mayonnaise. It can be olive oil, sour cream, Bechamel or other white sauce.
Asian cooks
suggest soy sauce. Delicious salads with seafood work, if you just fill them with lemon juice.
Salad with chicken печенью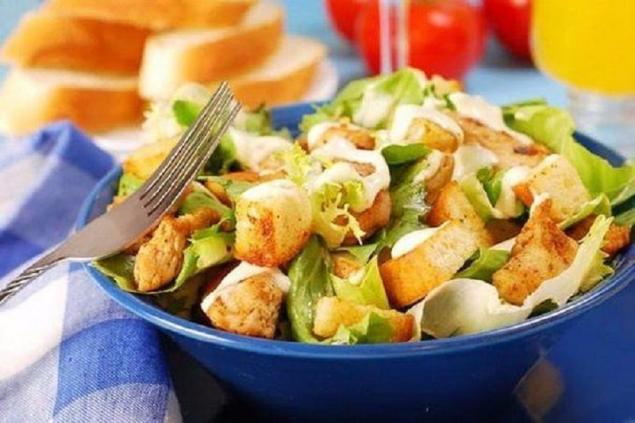 Ingredients
1 bunch of salad
150 g chicken liver
10 cherry tomatoes
1 onion
300 g of canned corn
20 g white bread
bacon to taste
2 tbsp. vinegar
4 tbsp olive oil
2 cloves of garlic
salt to taste
spices to taste
Cooking
Slice the onion in rings, put in a hot frying pan and obzharivaya until then, until the onions are transparent. Add 1 tbsp vinegar and obzharivaya one more minute. Don't forget to stir. Add salt to taste. Let the onions cool slightly.
Chicken liver cleanse from veins and films. Cut into small pieces, salt and pepper. Put on heated pan and obzharivaya over medium heat until tender.
Prepare the salad dressing: oil, vinegar, pressed garlic, salt and pepper mix in a small container. Bread cut into cubes and fry in a pan until Golden brown.
Put it on a salad bowl with the lettuce. Further spread layers: half of cherry tomatoes (or other tomatoes), onion, bacon. Pour half of the dressing. Add the croutons. Thoroughly mix the salad in the center and on the edges of the leave layers. On top put the chicken livers, fields of the remaining dressing and add spices. Salad with chicken liver serve warm.
Vegetable salad with olives and фетой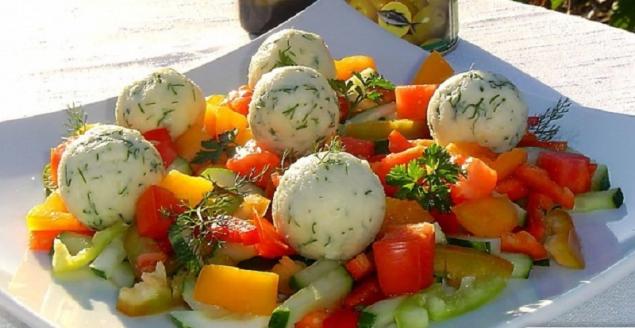 Ingredients
200 g tomatoes
200 g of cucumbers
200 g Bulgarian pepper
200 g feta
10 black olives, pitted
3 tbsp vegetable oil
2 tbsp lemon juice
spices to taste
greens-to taste
Cooking
Clean and slice peppers into strips and cucumbers. Tomatoes cut into cubes.
For the filling, mix the lemon juice and vegetable oil.
And now the most interesting. Greens finely crumble and mix with chopped feta cheese. Form balls from the resulting mass and put inside each olive.
To lay out salad on a dish and decorate it with cheese balls.
California chicken салат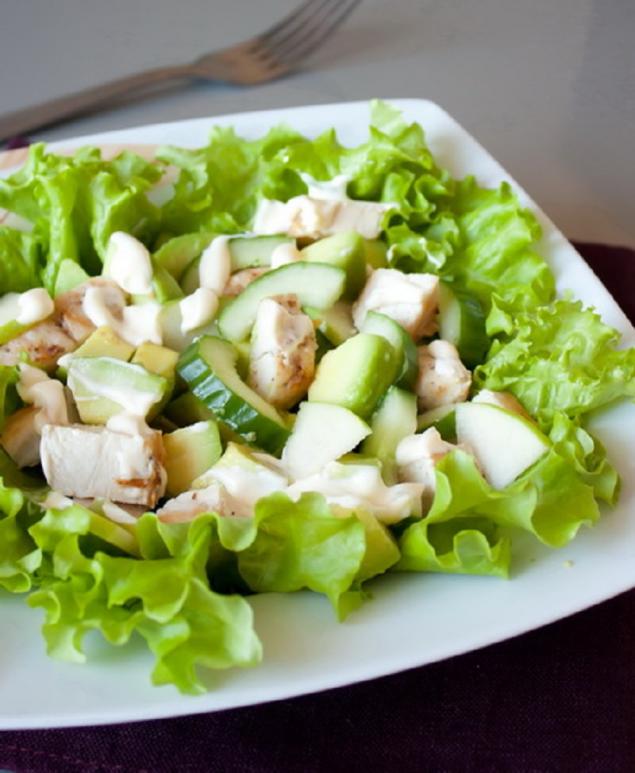 Ingredients
400 g chicken fillet
100 g of tomatoes
100 g avocado
40 ml lemon juice
150 g of lettuce
100 g of radish
100 ml low-fat yogurt
spices to taste
Cooking
Provari fillet and cut into small pieces.
Tomatoes cut into 8-10 slices.
Cut avocado in half and remove the bone. The pulp is cut into slices and fields of lemon juice, not darkened.
Cut into small julienne radishes.
Tear lettuce into small pieces.
Mix all ingredients in a bowl and put your yogurt.
"Caesar Romano"