"Neveshkin pie"
is cooked incredibly fast, actually. This fluffy Golden cakes for those who don't have the ability to mess with the test.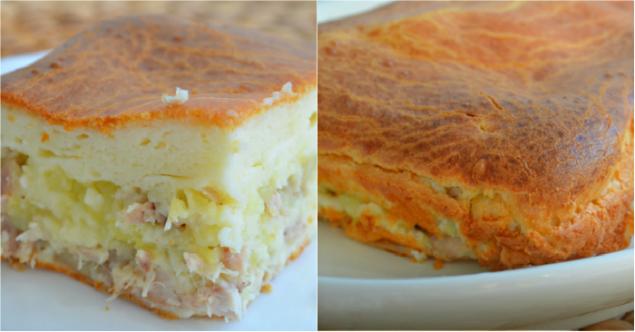 Armed with
the recipe maker pie with chicken
from
the"Site"
, you will be able to quickly and deliciously feed a family of several people.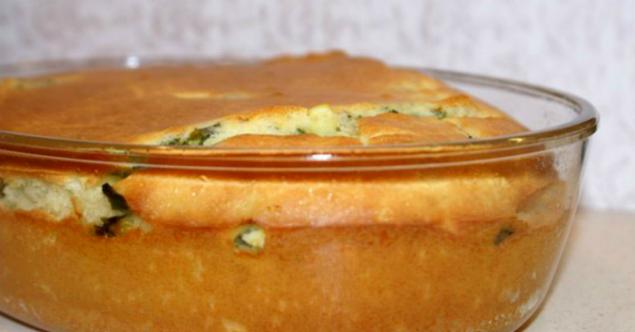 Chicken pot pie and kartofelina meat, eggs and potatoes — great combination for
the test on the yogurt and sour cream
. Cheese lovers can add to the stuffing and it: the flavor will be even more spectacular!
Ingredients
3 raw eggs (for the dough)
250 ml of sour cream 15% fat
200 ml of yogurt
300 g flour
1 tbsp baking powder
200 g mashed potatoes
200 g of boiled chicken meat
3 boiled eggs (for toppings)
salt, pepper
Cooking
Mix in a bowl, raw eggs, sour cream, kefir, add a pinch of salt. In a separate container requests the flour with baking powder, add the liquid mixture. The batter should be a consistency, like thick cream.
Boiled eggs and chicken meat cut into cubes. Mix with mashed potatoes. Bring the filling to your desired flavor, salted and pepper, if needed.
Pan or baking dish misteli foil, brush the surface with oil. Pour half of the dough, top evenly put the filling, the rest of the dough spread on top of filling.
Bake the tart at 180 degrees for 30-40 minutes. Readiness check, pierced with a toothpick: if the product is ready, the toothpick will be dry.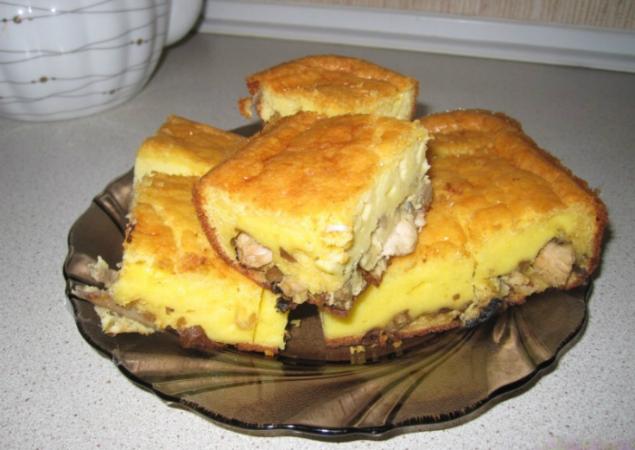 Nice Golden crust and beckons you to eat another slice. The cake is delicious in any form, will perfectly act as a full dinner. And if they stay, the next morning you can serve it for Breakfast, heating up — perfect with a Cup of milk or yogurt. A pleasant appetite!
Share recipes in social networks, friends will appreciate!
The author
Marina Artemova Loves to photograph the beauty of nature, enjoys handmade. Son Vanya had taught the mother to cope with any household tasks effortlessly: Marina knows how to get the most stubborn stains and to clean the house in minutes. Interested in the most acute, various life issues, never remain aloof from what actually matters! Favorite book Marina — "gone with the wind" by M. Mitchell.