Today is meatless pies. Quite time consuming, sometimes cooking requires expensive products, but I think similar dishes in the post just will not do!
Because lent lasts 7 weeks, and the total number of fast days in the Orthodox year — more than 200. And these days may fall birthdays, name days, anniversaries and just visits the dear guests who want to pamper delicious. And I love such pies to feed those apostasise friends who assure me that the post is terrible, unhealthy and unbearable. Not at all — it is necessary to apply a little ingenuity.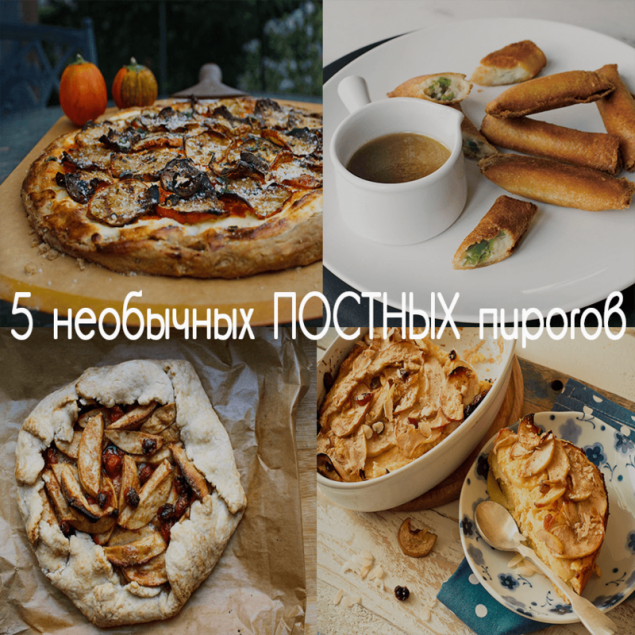 So 5 pies sweet and savory, for get-togethers with friends, family gatherings and just for delicious breakfasts, dinners or Lunches that you can take with you to work.
Rolls with potatoes and fried onions
, These rolls are a large number of fillings in
a thin shell of crispy dough
. You can make them in advance and freeze, and then fry. They are good both hot and cold. Great for Breakfast, snacks or evening tea. Note on the dough — it is also suitable for making vegetable dumplings.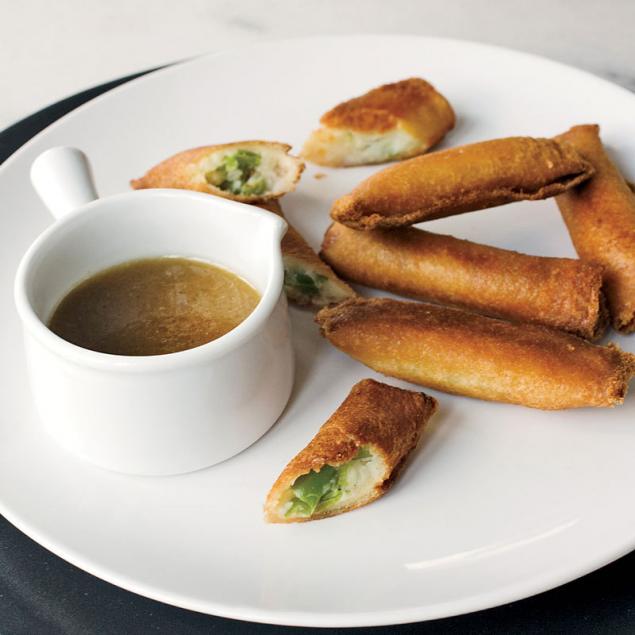 For the dough:
Flour — 2,5-3 cups (Cup — 250 ml)
Water — 1 Cup
Sesame oil or olive oil — 2 tbsp
Salt — 1 tsp
For the filling:
Potatoes — 8 medium tubers
Onions — 4 large bulbs
Vegetable oil for frying
Salt to taste
Freshly ground black pepper — pinch
Ground sweet paprika — a pinch
Pre-boil the potatoes in their skins until tender and leave to cool.
For the dough sift 2.5 cups of flour — in a comfortable deep bowl. Mix the water, salt and oil. Bring to a boil and pour the boiling mixture into the flour, carefully mixing. The dough will be ragged, lumpy, pomeshivaya will be difficult. That's okay — leave it on for half an hour under a towel and it will become more "obedient".
Meanwhile, peel the onion and cut into cubes. Fry the onion in vegetable oil, stirring constantly, until it becomes soft and crispy. Peel the cooked potato, remember tolkushkoy. Add the cooked onions with the butter in which it was browned, salt, add black pepper and paprika. Mix. The filling should be thick and dense.
Knead the dough. It will become soft and elastic. If the dough is sticky — add a few spoons of flour. The finished dough should roll out without podpylenny flour.
Roll out the dough into thin layers (1.5-2 mm thick), cut into squares 12×12 see Assemble rolls: on the edge of each square put a tablespoon of filling, wrap the side edges and roll (like spring rolls). Lay on a clean dish or towel seam side down.
At this stage, rolls can be frozen in stock or to fry. Pour vegetable oil without smell in the pan (it should cover the bottom) and good heat. Fry the rolls: first, seam side down, then the remaining three sides. After, place them on a dish with a paper towel and DAB excess oil. As I said, can be eaten cold, but hot, crispy, they are particularly good.  
Mediterranean tart with eggplant and sweet pepper
Unusual recipes meatless meals — a General principle of preparation: equal volume of fluid (juice, water, wine, beer) and vegetable oil are mixed with twice its volume of flour with addition of baking soda or baking powder.
The thus prepared dough was soft, buttery, brittle and very delicate. Taste like good dough. This dough I use in sweet and savory pies, are made of it cookies. And the first recipe is an open pie in a Mediterranean style, with eggplant and sweet pepper.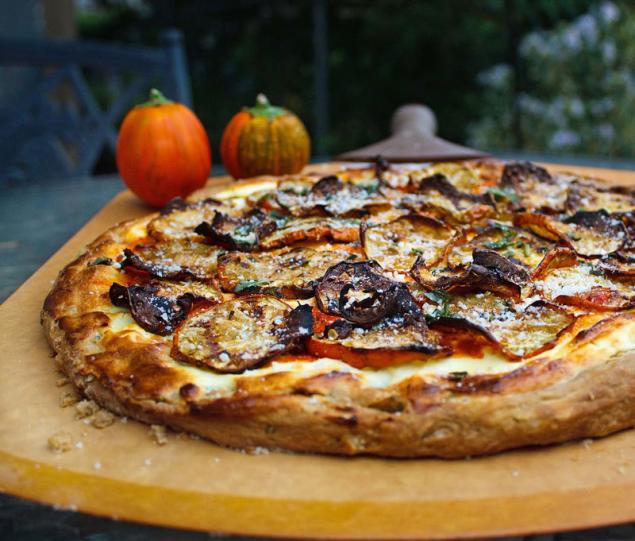 For the dough:
Flour — 2 cups
Dry white wine — ½ Cup
Olive oil (you can substitute vegetable odourless) — ½ Cup
The baking powder — 1 tbsp
Sugar — 2 tbsp
Salt — 1 tsp
Dried Basil (or oregano, or mixture of Italian herbs) — 1 tsp
For the filling:
Onions — 4 large onions
Salt — to taste
Sugar — 3 tbsp
Wine vinegar — 3 tbsp
Olive oil — 5 tbsp
Eggplant — 2 small eggplant
Red onion — 1 onion
Bell pepper — 1 large
Freshly ground black pepper — pinch
Mix in a saucepan 1 liter of water and 1 tablespoon salt. Aubergines cut into slices thickness of 0.5 cm and soak in brine, crushing plate, so they didn't come up.
Onion peel and cut into thin half-rings. Sauté in 2 tablespoons of the oil under the lid for 20 minutes, stirring occasionally.
Prepare the dough. Mix in a bowl the flour, baking powder, salt and dried herbs. In a separate container mix the olive oil, wine and sugar (2 tbsp). Stir with a fork to keep water and oil slightly connected. Pour into flour mixture and knead the dough with a spoon. You do not need to achieve the perfect consistency, just combine all ingredients. Cover the dough with a towel and leave for half an hour.
Check out the onion. It needs to allocate the liquid and become soft. Turn up the heat and remove the lid. Fry for 5-10 minutes, then add wine vinegar, sugar (3 tbsp) and salt to taste. Continue to simmer for 10-15 minutes. The mixture should be thick, dark and sweet.
Eggplant and press dry on paper towel. Fry the slices on a dry pan (you can use a grill pan) portions for a minute on each side. Eggplant will become more dense and soft.
Red onion and bell pepper peel and cut into large squares. Fry on high heat in 2 tablespoons olive oil for 3 minutes. Vegetables should remain crunchy.
Preheat the oven to 180 degrees. Protiven grease with vegetable oil. Knead the dough and spread with your hands on the tray, helping himself to a small rolling pin or round glass. You should get a thickness of 7-8 mm.
On top spread the onion mass, she put the pepper, onion and eggplant. Salt, black pepper and drizzle with olive oil.
Bake in preheated oven for 45 minutes. This cake is especially good warm with white wine.
Apple pie with semolina
Yes, it is really delicious, and very simple. For this recipe you will need a margarine — now in stores there are several kinds, composed entirely of vegetable fats. Well, outside of the post, this pie is better to do with natural butter.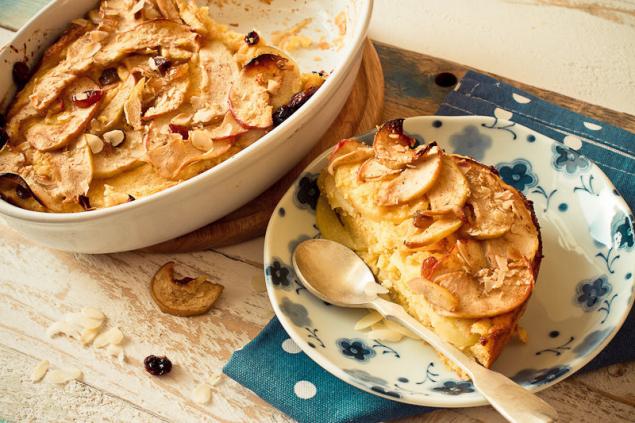 Take:
Flour — 1 Cup
Semolina — 1 Cup
Sugar — 1 Cup
Salt — pinch
The leaven — 1 tsp.
Cinnamon (optional) — 1 tsp
Apples "Granny Smith" to 6 large apples
Margarine is based on vegetable fat — 150 g
Apples peel and grate on a coarse grater. Mix the flour, semolina, salt, sugar and baking powder. If desired, add cinnamon. Preheat the oven to 180 degrees.
Liberally grease a round detachable shape with a bit of margarine. Put in the form of a small (not more than a half inch) layer of dry mix. On top of the mixture, spread a layer of grated apples, then another layer of dry mixture, is thinner than the first. Alternate layers of apples and dry mixture. The thinner the layers, the tastier the pie will turn out. The last layer should be of a dry mix and a little thicker than the others.
On top of the mixture, lay thin slices of margarine, trying to evenly cover the entire surface of the pie. Bake for about an hour in the oven until Golden brown. Slide a knife around the edges and remove the ring from the mold. Before serving the cake should be completely cool.  
Open pie with cranberries and apples
Another variation of the pie with lean cookie dough, this time — cranberry-Apple. This cake is sure to chill before serving: in the process of cooling the cranberry juice is absorbed into the stuffing, it seizes and becomes more homogeneous.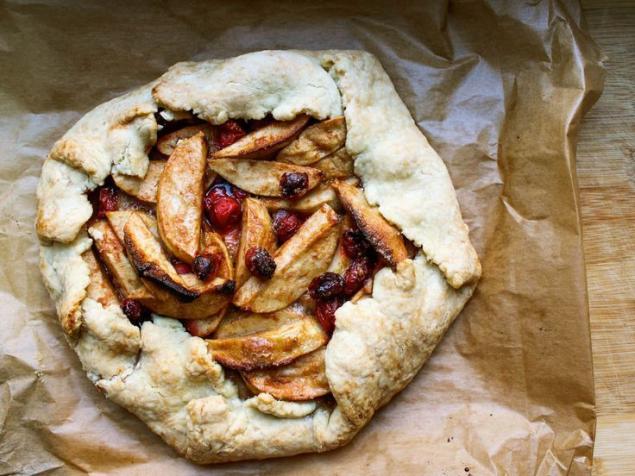 For the dough:
Flour — 3 cups
Water — ¾ Cup
Vegetable oil without smell — ½ Cup
Sugar — 3 tbsp
Salt — ½ tsp
The leaven — 1 tsp.
For the filling:
Cranberries frozen — 300 g
1 large sweet Apple varieties
Sugar — 120 g
Bread crumbs — 2 tbsp
Ground cinnamon — a pinch
Cloves — a pinch
For the dough mix flour with baking powder in a large bowl. ¾ Cup of water mix with salt and sugar, bring to a boil. Remove from heat, pour ½ Cup of vegetable oil, stir quickly and pour in the flour. Use a fork to mix all the components so that all the flour was moistened. Leave on for 10 minutes, then knead by hand and leave to rest for another half hour.
For the filling, mix spices, 2 tablespoons sugar and breadcrumbs.
Apple peel and cut into small cubes. Mix with frozen cranberries and the remaining sugar.
Preheat the oven to 200 degrees. Round shape with high sides smear with vegetable oil. Roll out the dough into a flat cake with a diameter of more than form. Put the tortilla in the baking dish, give the dough the form of a basket with sides. Sprinkle the bottom of the mixture with the breadcrumbs, then put the apples with cranberries. Bake at 200 degrees for 25 minutes, then reduce the heat to 150 and bake for another 25-30 minutes. Turn off the oven and leave the cake in it, still hot, for 10 minutes, then remove and cool.  
Chocolate-cherry cake
This sponge cake (Yes, from vegetable oil, flour and water can be prepared quite a tasty biscuit) suitable for the most special occasions. Light chocolate pastry, cherry, chocolate layer — in a word, this is a gorgeous birthday cake, which will appeal to both adults and children!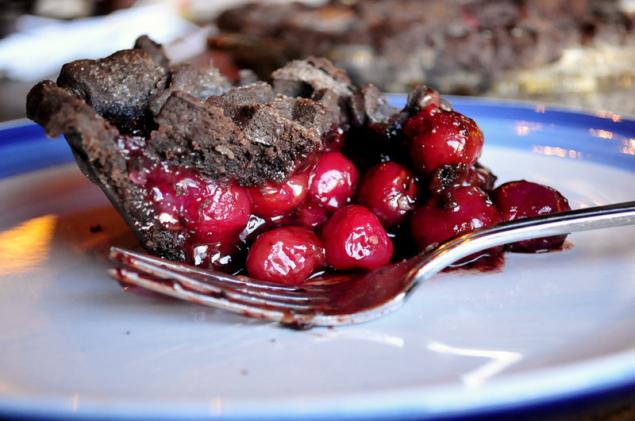 Take:
Flour — 2 cups
Sugar — 1 Cup
Vegetable oil without smell — ⅓ Cup
Water — about ½ Cup
Apple cider vinegar — 1 tbsp
Cocoa — 2 tbsp
Salt — pinch
Dark chocolate — 200 g
The leaven — 1 tsp.
Cherries fresh or frozen, pitted — 300 g
Cherries clean from the bones and pour a half Cup of sugar. Frozen cherries pour sugar, not defrosting. Leave it for an hour. Preheat the oven to 180 degrees split mold with high sides smear with vegetable oil and sprinkle a teaspoon of cocoa. Drain the juice into a glass and fill to the brim a glass of drinking water. Pour into a deep bowl. Add the oil, sugar, salt, vinegar and cocoa.
Melt 100 g chocolate in a water bath, pour into a bowl. Mix with a whisk. Add the flour and baking powder and beat with a mixer. Add cherries and stir with a spoon. Pour the batter into the pan and immediately bake for about an hour.
Readiness check cake with a toothpick — it should come out of the cake dry, without adhering crumbs. The form with the finished cake cool on a wire rack.
Cake
put on the dish. 100 g of chocolate melt in a water bath and gently pour evenly over the cooled cake. Wait 10 minutes so that the chocolate has seized, and serve.
Cook with love!
Author: Ksenia Bychkova
P. S. And remember, only by changing their consumption — together we change the world! ©
Join us in Facebook , Vkontakte, Odnoklassniki
Source: www.matrony.ru/6-neobyichnyih-retseptov-postnyih-pirogov/