How to fill a gloomy winter evening juicy summer color or spring tenderness? Offer to do it with baking. Try to cook crispy cakes-"Bombs", an exquisite quiche with Turkey and mushrooms or delicate Basque cake with prunes and custard! You can arrange a home party, romantic dinner or friendly party: in any case, your weekend will be bright, tasty and memorable! Bon appetit!
Pie of polenta and овощей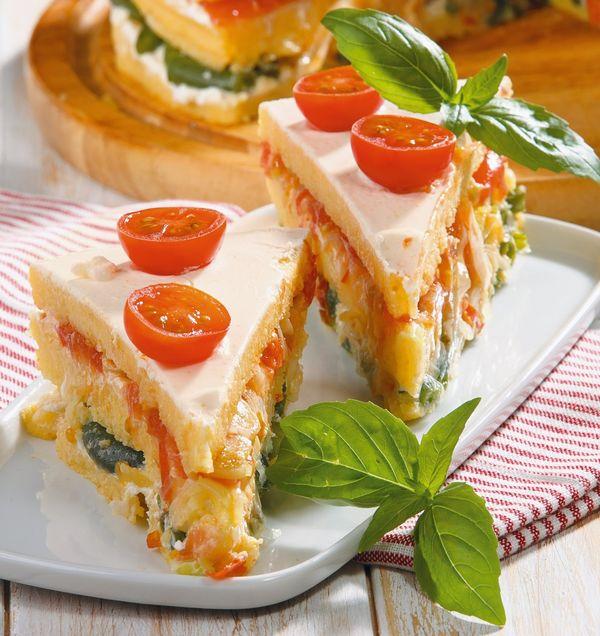 For 5 servings:
300 g of polenta (corn grits)
100 g butter or melted cheese
4 tbsp sugar
400 g cherry tomatoes
1 onion
400 g frozen green beans
1 h 10 min
230 kcal  
Preparation:Boil 1.5 liters of water. Stirring, gradually portions add corn grits. Cook, constantly stirring, for 30 min. drain the Water. The polenta pour into a tall form. When it has cooled, turn over and using fishing line to cut into 3 circles in the thickness of 1-1,5 see Onions and tomatoes cut into circles. Beans to defrost. In skillet, heat 2 tbsp. sugar, add 2 tbsp water and cook until sugar is dark. Add the beans and cook 7 min. In another pan caramelizing the remaining sugar with 2 tbsp water. Put the onions and fry, stirring constantly, 2 min. Add tomatoes and cook 10 min. Remove from heat. Circles of polenta to coat cheese. 4 In the circle to put the beans, cover the middle circle. Put it on tomatoes with onions and cover with the third circle. Place on a buttered sheet of parchment. Preheat the oven to 200 °C. Bake for 25 min. Serve hot.
Mini pies with gribulina masterpiece!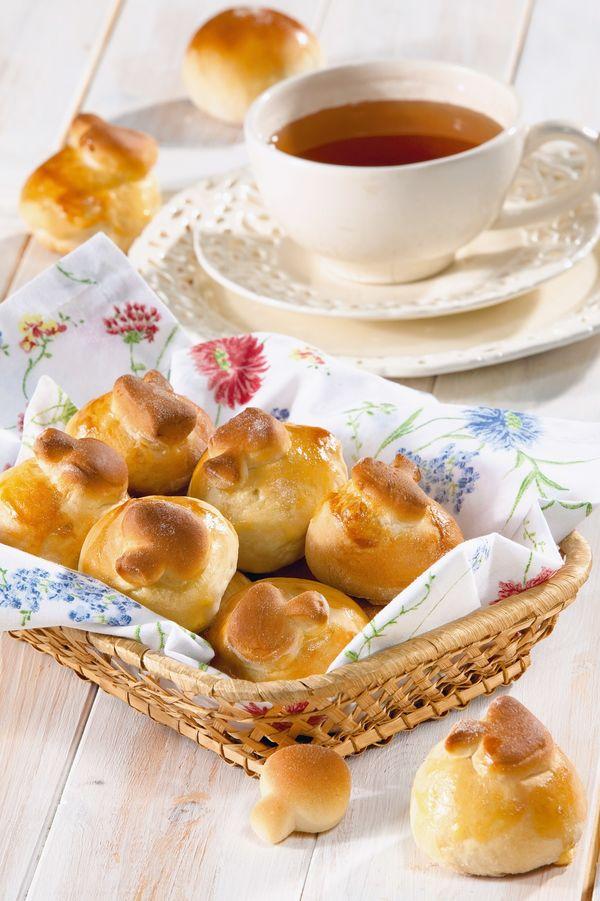 5 particle test:
1 sachet of dry yeast
50 g sugar
2 eggs
200 ml of milk
150 g butter
1 pinch of salt
For the filling:
1 onion
150 g of ham
60 g butter
1 tbsp flour
150 ml cream
salt and pepper to taste
2 egg yolks
1 tbsp chopped parsley
Preparation:Prepare the dough. Dissolve yeast in warm milk, add 1 tsp sugar and 2 tbsp flour. To put for 15 minutes in a warm place. Beat the eggs separately. Then carefully, portions, mix the yeast mixture with the remaining flour, sugar, warm butter, salt and beaten eggs. Knead the dough and put in a warm place.
To prepare the filling. Heat 2 tbsp oil and brown flour. Add the cream, salt and pepper, bring to a boil, remove from heat. Add 1 egg yolk and allow to cool. Slice the mushrooms and cook for 10 min. Onions and ham cut. In the remaining oil brown the onions and mushrooms, add the ham, parsley, sauce, warm, cool.
The to press down dough and leave for another 30 mins Then roll out and cut circles with a diameter of 10 cm.
On the circle put the stuffing and formed into balls. Of the remaining dough to cut out the mushrooms and stick on the cakes. Brush with remaining egg yolk, diluted with a small amount of milk.
Put the pies on a baking sheet and leave for 15 min. Bake 25 min at 200 °C.
1 h 40 min
345 kcal
Open pie with peppers, tomatoes and моцареллой
For 5 servings:
3 sweet yellow peppers
400 g prepared puff unleavened dough
4 tomatoes
100 g grated cheese
olive oil
salt and pepper to taste
Preparation:Tomatoes and mozzarella cut into circles. The oven is heated to 200 °C. the Peppers with olive oil and placed for 10 min in the oven. Then remove and put in a plastic bag, tightly seal and leave for 5 mins to take Out, remove seeds, stems and skin, flesh cut into 4 pieces, drizzle with olive oil and pepper, leave for 10 minutes. Blot with paper towels to remove excess oil.
The dough thawed at room temperature for 20 min, and then, without rolling, gently stretch your hands and stretch into the reservoir. Spread on lined baking paper baking sheet, forming small rim.
The dough prick with a fork and sprinkle with grated cheese. First, arrange the slices of pepper on top of it – diagonal rows of the circles of tomatoes and mozzarella.
Bake in the oven for 15 minutes the Finished cake to pepper and salt.
1 h 10 min
250 kcal
Layer cake-polskapresse to prepare and very tasty!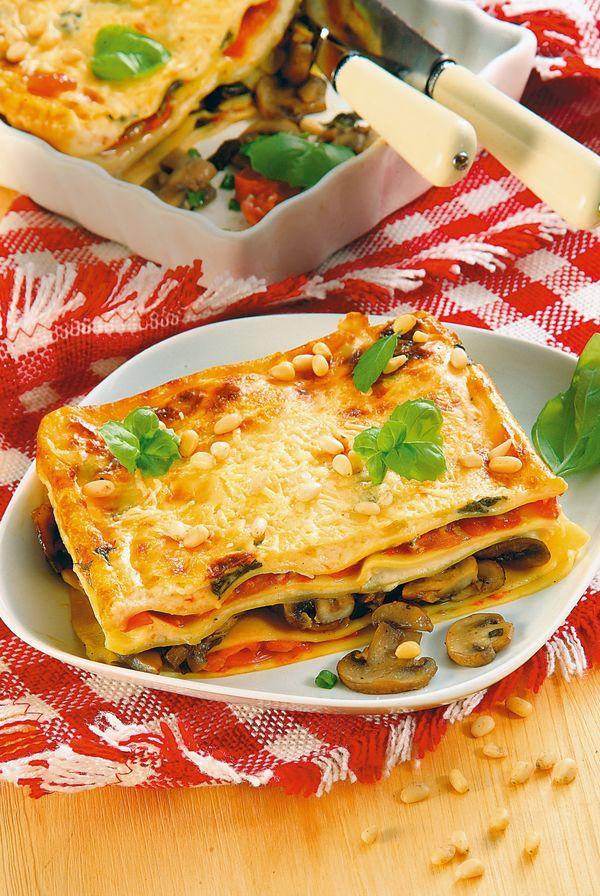 For 4 servings:
500 g of tomatoes
400 g mushrooms
2 tbsp chopped green
4 tsp melted butter
salt and pepper to taste
juice and zest of 1 lemon
40 g flour
750 ml of milk
40 g grated cheese
400 g prepared puff pastry
pine nuts to taste
vegetable oil for frying
ground nutmeg on the tip of a knife
Preparation:Mushrooms cut into plates and fry in melted butter. Season and sprinkle with lemon juice. Chop the onion and tomatoes.
Flour fry in butter. Gradually add milk, boil for 10 minutes to Mix the flour with the milk, half of cheese. Season with salt, pepper, nutmeg, zest and remaining lemon juice.
The dough gently to stretch the hand, sformovat rectangular layers. Refractory form of grease with vegetable oil.
Sliced mushrooms, vegetable, dough, greens, sliced green onions and sauce layers put into a form.
Sprinkle with remaining cheese and bake for 40 minutes at 200 °C.
Ready cake sprinkled with pine nuts.
1 h 10 min
320 kcal
Quiche with Turkey and rebamipide French cuisine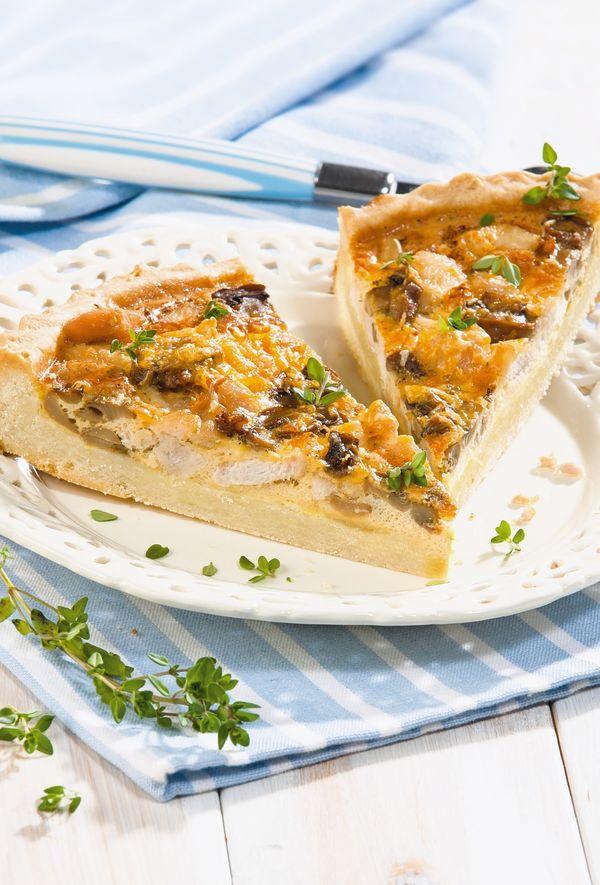 4 parties test:
170 g butter
80 ml cold water
0.5 tsp. salt
For the filling:
300 g mushrooms
100 g of hard cheese
10 eggs
salt, pepper, thyme to taste
Preparation:In a bowl pour the flour, salt and the diced cold butter. In a blender, chop the content into crumbs, then pour into ice water, and chop until smooth. Wrap the dough in cling film and refrigerate for 30 minutes.
Dough to shift in form, prick with a fork. Preheat the oven to 200 °C. Bake the base 10 min.
Grate the cheese. Turkey cut and fried in vegetable oil. Then in a frying pan with fried Turkey add chopped mushrooms, a little water, salt and simmer until tender.
Preheat the oven to 200 °C. lightly beat Eggs with a pinch of salt, pepper and thyme.
Remove the crust from the oven, spread on it the filling, pour the mixture of eggs and spices, sprinkle with cheese. Bake the quiche for 40 min.
1ch
280 kcal  
Cakes "Bombs"Crispy batter and mouth-watering toppings!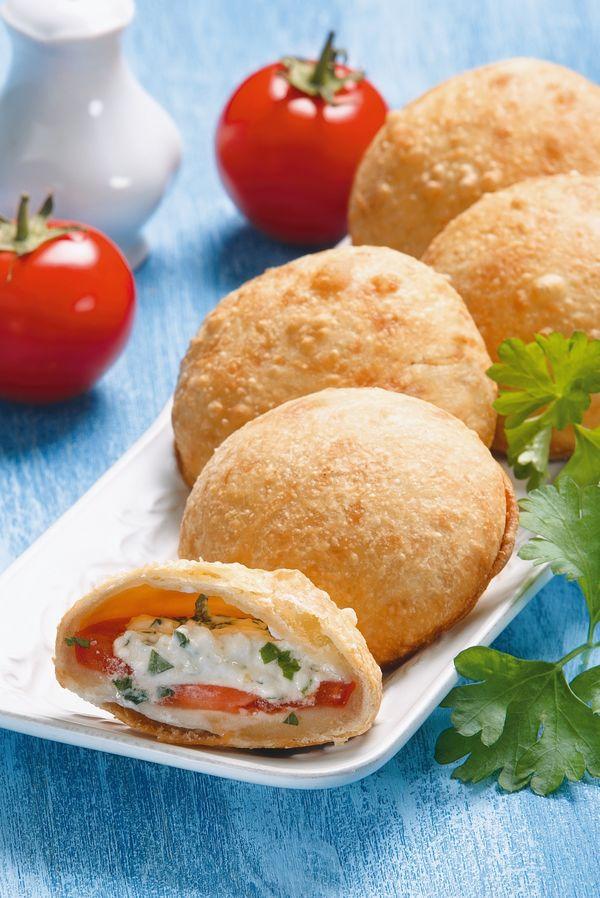 3-4 parties test:
1 tablespoon of sugar
1 Cup water
4 tbsp vegetable oil
1 tsp. salt
For the filling:
5 tomatoes
2 cloves of garlic
greens-to taste
1 h 20 min
220 calories  
Preparation:Prepare the dough. In the water, stir the sugar and salt, add the vegetable oil. Add the flour. Knead soft dough, leave for 30 min.
Tomatoes wash, cut into circles. Garlic clear, skip through the press. Cheese mash with a fork, add chopped fresh herbs, garlic and mix well.
Roll out half of the dough into a large thin layer. Arrange the tomatoes on them — filling. Roll out second layer of dough, cover them with stuffing.
A glass of suitable diameter to cut the cakes along the contours of each slice of tomato.
Fry the patties in a large number of hot vegetable oil on both sides.    
Scandinavian pie with smoked salmon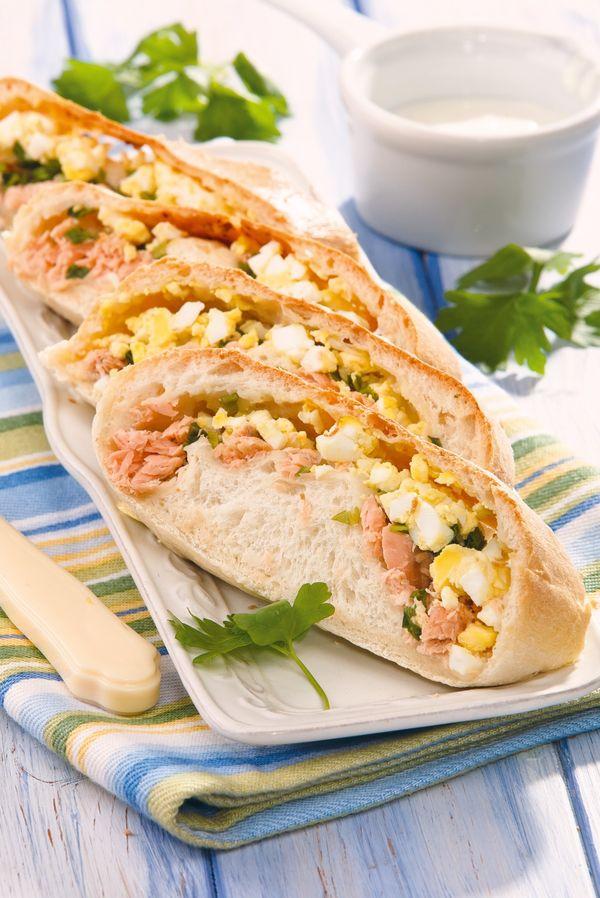 For 5 servings:
4.5 cups flour
2 tsp dry yeast
1 Cup milk
5 tbsp. butter
1/2 tsp salt
2 tsp sugar
1 egg for greasing
For the filling:
200 g fillet of smoked salmon
4 eggs
large bunch of dill
black pepper to taste
5 tbsp mayonnaise
green onions
Preparation:Knead the dough. Melt the butter, combine warm milk and yeast and leave for 15 min. Add sugar, salt, flour and knead the dough. Put in a warm place, let rise.
To make the filling. Cook hard-boiled eggs, cool, peel and finely chop. Dill and green onions wash, dry and chop. Fish finely chop.
Punch down the dough and roll out to size of baking pan a little less. Mid-stratum layers spread the stuffing on top: chopped eggs, green onions and fish, pepper, sprinkle with dill, spread with mayonnaise.
The edges of the dough to raise, connect and like to clip. The top of the pie brush with beaten egg. The oven to preheat to 180 °C. Bake for 40 min.
1 h 20 min
430 kcal    
Basque cake with prunes and custard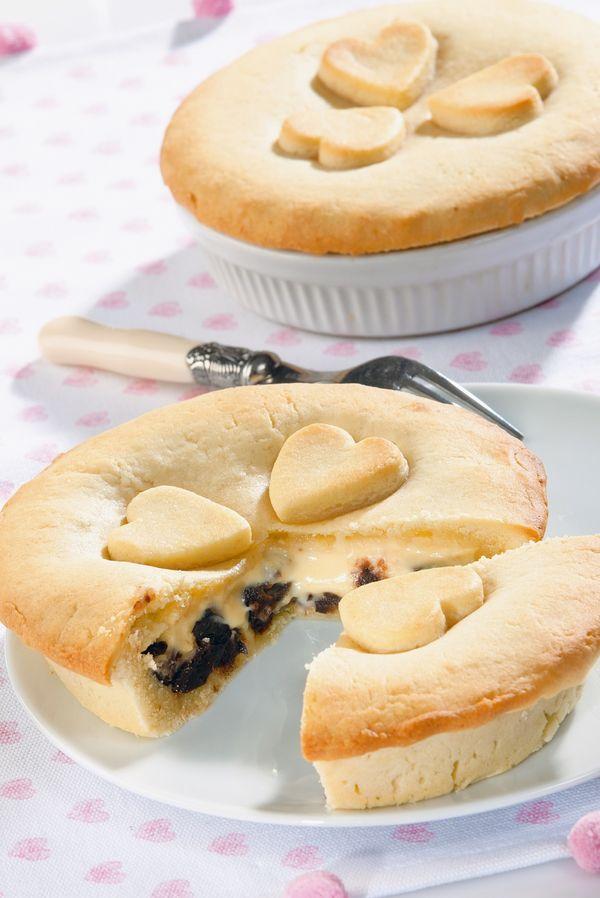 5 particle test:
125 g butter
150 g sugar
2 eggs
2 tbsp rum
300 g flour
For the custard:
300 ml of milk
4 eggs • 30 g sugar
30 g of powdered sugar and flour
vanillin on a knife tip
200 g of prunes
1 h 40 min
345 kcal  
Preparation:Prepare the dough. One of the eggs to separate the white from the yolk. Mix the butter with the sugar, add the egg, yolk, pour in the rum. Portions add the flour and knead the dough, wrap in cling film and put into the refrigerator.
To prepare the cream. Separate the whites from the yolks of 3 eggs. Mix the egg yolks with the icing sugar, vanilla and flour. Milk to boil with the sugar, mix well and then pour in a thin stream to the yolks. The mixture is poured into the pot in which you boiled the milk, and cook the cream on the stove until thick. Cool.
Form of grease with butter, sprinkle with flour. Divide the dough into two parts: one third and two thirds. A large part of the roll out with a rolling pin and put into a form, forming a wall.
On the dough to put prunes, to fill it with cream, roll out second layer of dough and gently cover the top. With the form edges to cut off excess dough, roll out, cut shapes decorations in the shape of small hearts and decorate a cake. The oven is heated to 180 °C.
In the remaining yolk add a spoonful of warm water and lubricate the top of the cake. Bake pie 1 hour  
Tender envelopes with dried apricots and mascarpone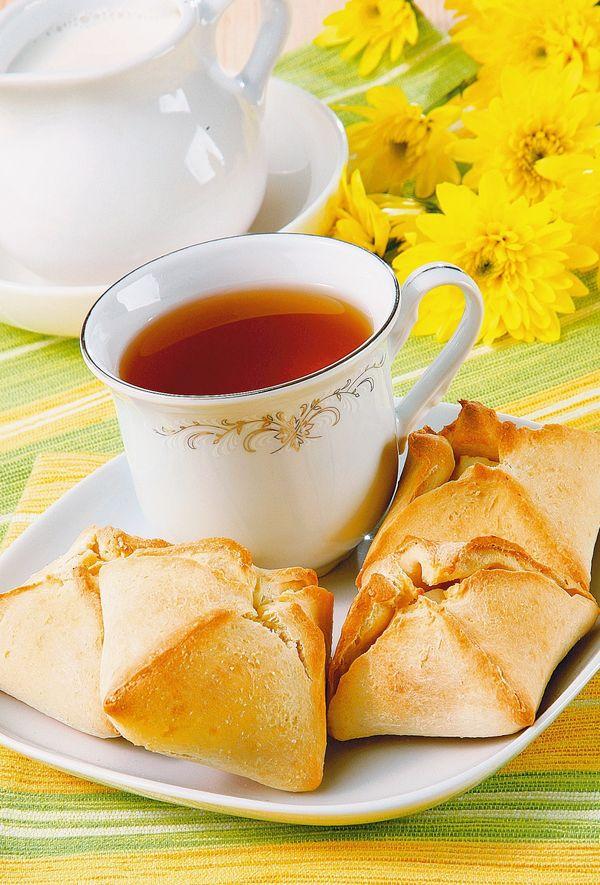 For 5 servings:
1 kg of flour
4 eggs
100 ml sour milk (or buttermilk)
200 g dried apricots
200 g mascarpone
1 tablespoon of sugar
1 pinch of salt
1 pinch soda
vegetable oil for frying
1 h 30 min
345 kcal  
Preparation:Make the dough. Eggs to wash, break in a large bowl and mix with sugar. Add salt, soda and milk. Mix in the flour. Dough knead well and roll out to a thickness of 5 mm. Then a layer is cut into 10 equal squares.
Wash the apricots, cover with water, give to swell, dry and finely chop. Mascarpone mash with a fork and mix with chopped dried apricots. The resulting filling is spread on the squares of dough and gently flatten. The corners of each square of dough folded to the middle, the edges to take, leaving in the centre a small hole to release steam when baking.
The resulting envelopes spread on a greased baking sheet, place in preheated 180 °C oven.
Bake until cooked pies. It is easy to check, stabbing the batter with a wooden toothpick: if it remains dry then the cakes are ready.  
Almond cake with plums and whipped сливками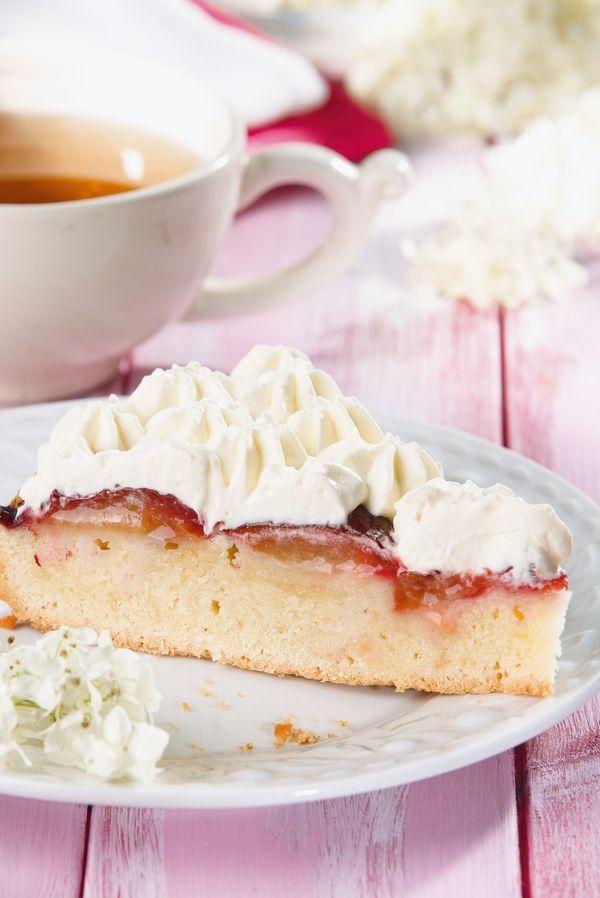 On 8 servings:
200 g peeled almonds
350 g flour
1 sachet of dry yeast
600 ml milk
150 g sugar
100 g butter
6 eggs
1 sachet of vanilla sugar
1.5 kg plums
grated zest of 1 lemon
whipped cream
1 h 40 min
280 kcal  
Preparation:grind the Almonds in a powerful blender or coffee grinder very finely. Heat 150 ml of milk, together with yeast, 80 g sugar and 1 tbsp flour, mix well and leave in a warm place for 10 minutes Then mix in the remaining flour, half ground almonds, melted butter, 1 egg. Knead the dough and put into heat for 30 minutes.
The remaining egg yolks to separate from proteins. The remaining milk with sugar and vanilla sugar and bring to a boil, add the remaining almonds and warm up. Cool, add yolks. The oven is heated to 180 °C. punch down Dough and roll out to size shape or pan. Plum cut in half, remove seeds.
Plum to spread on the dough. Beat the whites and add the milk-almond mixture, and lay it on the plums. Place the pie in the oven and bake for 1 h. the Finished cake cool slightly, cut into slices and garnish with whipped cream.  
Source: www.7dach.ru