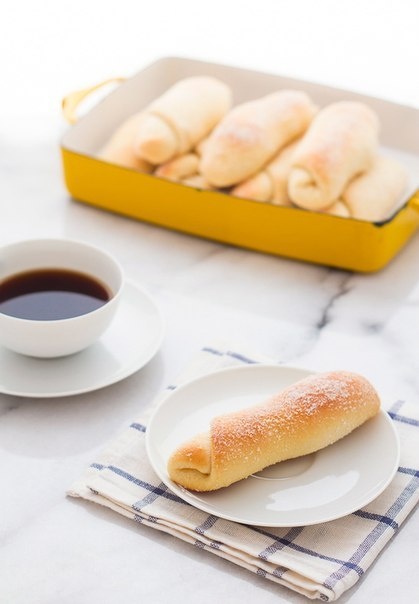 Yeast - 2 teaspoons
Warm water - 1/4 cup
Sugar - 1 teaspoon
Flour - 3, 5 cups
Sugar - 1/3 cup
Salt - 1 teaspoon
Milk - 1/2 cup
Butter (melted) - 110 g
Egg - 2 pcs
Extras:
Butter - 60 g
Breadcrumbs - 1/2 cup
Sugar - 1/2 cup
Preparation:
Dissolve yeast in warm vode.Chtoby bring the yeast until cooked, add 1 teaspoon of sugar and leave for 10 minutes. If the mixture is increased in volume by half, so the yeast can be used.
In a bowl, combine the flour, sugar and salt. Add the milk, melted butter, eggs and yeast. All mix thoroughly. On a floured board knead sufficiently elastic dough (if necessary, add more flour).
Put the dough in a bowl greased with butter. Close the cling film and leave the dough to rise for 3 hours (to be doubled).
Divide dough into 2 equal halves. Every twist in the "sausage" and cut into 8 pieces. Roll each piece into a rectangle, brush with melted butter, sprinkle with breadcrumbs and sugar, and then - tighten, starting with one kraya.Sverhu again sprinkle with breadcrumbs and sugar.
Buns place on a greased baking sheet prepared. Leave them for 30 minutes and still stand up, then bake at 140 degrees for about 15 minutes until golden brown.