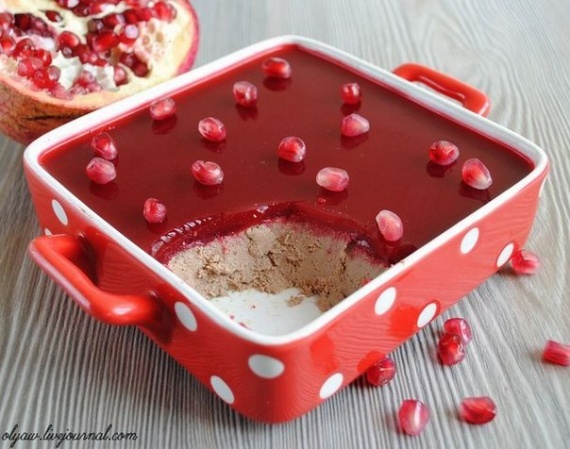 Ingredients:
400 gr. Chicken liver
100 gr. butter
150 gr. freshly squeezed pomegranate juice
1 full teaspoon of instant gelatin
salt, ground pepper to taste
1 tsp. Cognac
Preparation:
At pan heat a little butter and fry the liver until golden brown over high heat, then add the salt, pepper, pour a little water and add the brandy, lower the flame and extinguish the liver under the lid for about 20 minutes, until tender.
Then twist the liver twice through a meat grinder or blender to whip.
Ready paste mixed with softened butter, put in shape, smooth surface, put into the refrigerator for 30 minutes until the paste hardens.
Pomegranate juice to heat and dissolve the gelatin in it thoroughly (see the recommended temperature on the packaging), you can add a pinch of sugar juice. When the juice to cool pour it on the surface of the paste again put into the refrigerator, preferably overnight, until the jelly hardens completely.