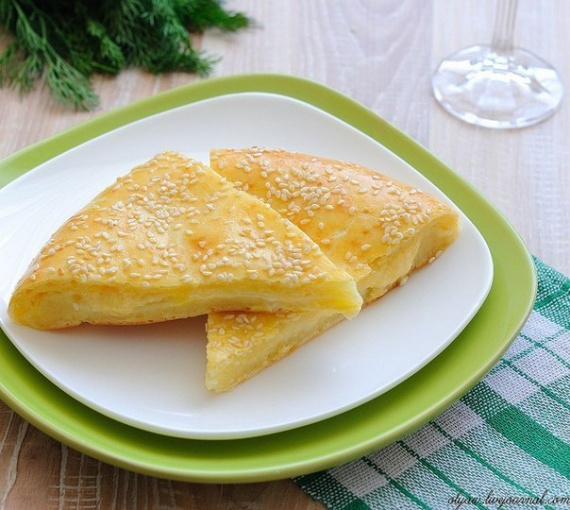 Ingredients:
Dough:
1 egg
250 grams of cottage cheese
150 g butter at room temperature
250 g flour
1 teaspoon baking powder
1/2 teaspoon sugar
1/2 teaspoon salt
Filling:
150g mozzarella (or any other cheese of your choice)
1-3 cloves of garlic
1 tablespoon sour cream
a small handful of fresh (or dried) thyme leaves
For lubrication:
1 egg
pinch of salt
For the topping:
a small handful of sesame seeds
Oven 190C
baking paper
Preparation:
1. Preheat the oven to 190C
2. Mix the cottage cheese and butter, add egg and mix.
3. Mix flour with baking powder, salt and sugar, add to the weight of the cheese, butter and eggs. Knead the dough. It should have a plastic and not very krutym.Ostavit dough rest for 10 minutes, until the filling to do.
4. Grate the cheese on a coarse grater, chop the garlic.
5. Mix the cheese, chopped garlic, sour cream and thyme.
6. Divide dough into two parts, one slightly larger than the other. Roll each piece into a ball.
On a floured table roll each ball into a circle (larger and smaller diameter), thickness of ~ 8.5 mm. (I was rolling so that the cake fit into the pan.)
Smaller circle lay on the laid paper baking pan, grease the edge of the water and spread the cheese filling over the entire area. Cover with a second round.
7. Fold the edge of the upper circle at the lower range. Grease the cake egg, sprinkle with sesame seeds and bake for 20-30 minutes until golden brown.
8. baked cake cover with a towel and cool slightly.