Try these cakes, I could not guess what is the main ingredient. Delicate taste vegetable test, echoing notes of fresh herbs - a perfect snack, a great addition to the soup, or lean meat
. Prepare useful
cake without yeast is easy. To my surprise, the recipe is not even a meal and no hint of oil!

I advise you to try this low-calorie pastries everybody who is attentive to the health and watching their figure. Ready-made cakes can be sprinkled with grated hard cheese and bake slightly. Here it is - a dish of my dreams
!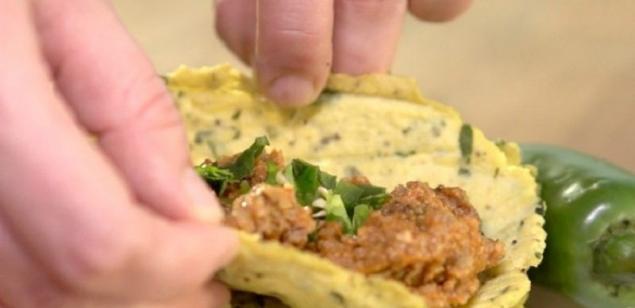 cakes in duhovkeIngredienty
a small head cauliflower 2 eggs bundle of cilantro, can be replaced with parsley or dill 2 tbsp. l. lemon juice 0, 5, ch. l. salt

Preparation
Preheat oven to 180 degrees, prepare baking parchment. chop the cauliflower in a blender. Get about 2 cups cabbage weight. Lay cabbage mixture into a bowl, suitable for use in the microwave. Cover the bowl with cling film. Put it for 2 minutes in the microwave, then take out, stir the basis for the test and place the bowl in the microwave for 2 minutes. Instead, you can use the microwave oven.

Let cool cabbage and squeeze out the excess liquid from the mass by means of gauze or kitchen towels. Mix cabbage weight, eggs, lemon juice , finely chopped greens. Ambassador, you can pepper to taste and add more seasoning for flavor: suitable dried basil, coriander, garlic powder Shape the dough small cakes - get 6-7 pieces.. Place them on parchment and send it in the oven for 10 minutes. After 10 minutes, gently invert the cake and bake them for another 5-7 minutes.

After watching this video a good appetite is inevitable! Here's how to prepare vegetable cakes.



Good such cakes with sour cream - tastes like pancakes, which made my grandmother. Neat roundels, resembling tortillas, you can fill and submit stuffed rolled. Stuffing choose at its discretion: fried mushrooms, sliced ​​squid, boiled eggs, meat pie - so variations of this dish and beg at the table

! Bon Appetit! We share the best recipes with friends, very much that they appreciated the cake in the oven appreciated.