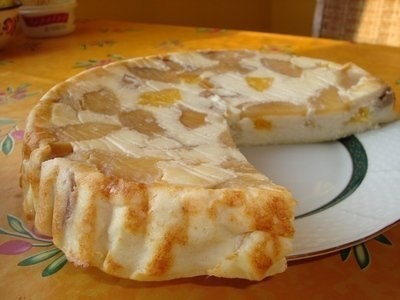 Bottom of the mold lined with parchment and put sliced ​​fruit (I have a banana, apple, orange).
In a bowl, mix 500 grams of cottage cheese, 500 grams of yogurt, 2 eggs, 5-6 tablespoons semolina, 2 tablespoons sugar (you can, if you like sweeter), you can still add vanilla. Mixed well until smooth and pour this mixture of fruits.
I bake in the microwave in a combined mode: 160 degrees in the oven for 20% microwave power. Bake for 70 minutes.
Casserole ready to overturn on a plate of fruit up, remove the parchment. Bon Appetite!