Vegetable casseroles can be done in many different ways. We offer you 5 simple recipes.
Vegetable casserole "Juicy"
Ingredients:
Small eggplant – 2 PCs.
Medium tomato – 2 PCs.
Garlic – 1 clove
Suluguni cheese – 50 grams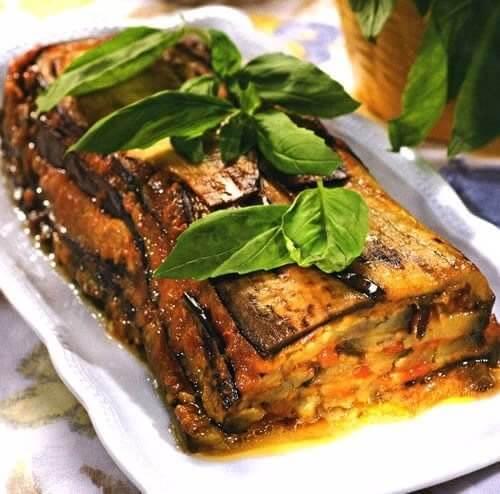 Ground black pepper
Pepper with lemon aroma
Dry herbs to taste
Olive oil – 2 tbsp
Preparation:
Pre-heat the oven to 230°C.
Eggplant and tomatoes cut into fairly thin slices. Garlic not chop finely, as usual, but cut very large. Suluguni cheese cut into thin slices.
Take an ovenproof bowl and put in it the vegetables overlapping, alternating eggplant, tomatoes and cheese. Randomly add the garlic, pour oil, sprinkle with pepper and dried herbs.
That's it, now put this beauty in the oven for 20 minutes.
Even if appetite you had, believe me, it will appear only one flavor! Before serving, just need to add a touch of green and decorate the dish with Basil or parsley. 
Casserole "South"
Ingredients:
1 medium zucchini
3 tomatoes
2-3 potatoes
3 tbsp. butter
2 tbsp flour
2 tbsp. milk
1 egg
salt
100gr. finely grated cheese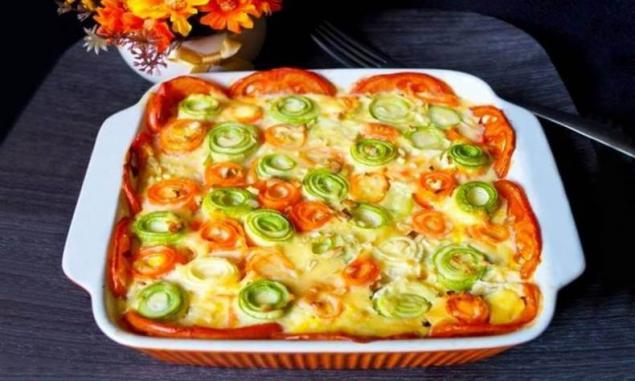 Preparation:
Vegetables cut into thin slices. The bottom of the form for baking grease with butter and put the vegetables overlap, salt.
Cook the sauce:
to do this, fry the flour with butter, add milk, stirring constantly, cook until thick. After removing from the fire add the egg, whisking well, add salt to the sauce. Fill the vegetables with the sauce.
Sprinkle with cheese.
Bake 30 minutes until Golden brown.  
Casserole "Bright summer"
Ingredients:
• young zucchini -1 kg.;
• bell peppers (red and yellow) — 2 PCs.;
• onion (big) -1 PC.;
• garlic-1 clove;
• tomato (large) — 3 PCs.;
• parsley;
• salt;
• seasoning "Italian herbs" — to taste;
• vegetable oil;
• cheese — 60 g.
Preparation:
Bulgarian pepper to wash, put them in the bag, tie. Warm up in the microwave at full power for 3 minutes. Allow to cool in the package.
Zucchini wash, cut into slices. Lightly fry in a small amount of vegetable oil. Put in a baking dish.
Onions cut into cubes and fry until light Goldberry in vegetable oil.
The cooled peppers, remove seeds and stems, remove the skin. Cut into small pieces, put in a baking dish.
Omit the tomatoes for 30 seconds in boiling water, remove the skins, cut into small pieces. Peel the garlic cloves. Put the tomatoes and garlic cloves in a baking dish.
Salt, sprinkle with Italian herbs. Cover the form with foil and place in a preheated 200 degree oven. Bake for 15 minutes, then remove the foil. Bake for 10 minutes, check the garlic cloves are easily pierced with a fork, remove from the oven.
Sprinkle the casserole with grated cheese return to the oven for 3-5 minutes to melt cheese.
The finished casserole and serve, sprinkled with herbs.  
Casserole cauliflower with cheese
Recipe Elena Batukhtina  
Ingredients:
1 kg of cauliflower
200 grams of cheese
1 onion
1-2 bell peppers
2-3 tomatoes
4 garlic cloves
3 eggs
salt, pepper, greens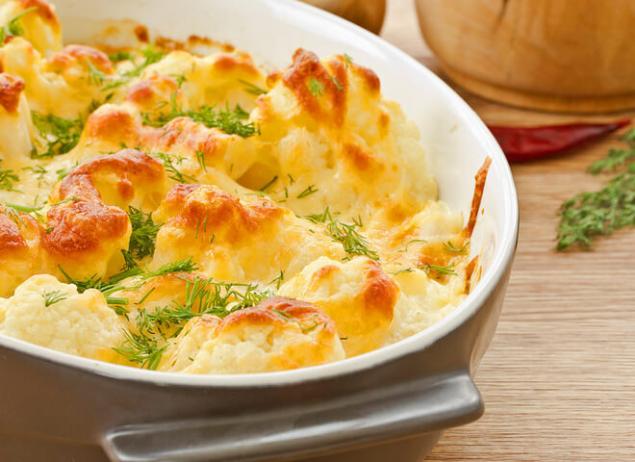 Preparation:
1. Cabbage divided into florets. Boil in boiling water for about 10 minutes, drain the water. Chop with a knife very finely.
2. Chopped bell pepper, onion, garlic, greens – add to the cabbage. Lightly beat the eggs, mix with vegetables. There also crumble the cheese (a little aside for decoration).
3. All mix well and put in a baking dish. On top lay the sliced tomatoes, season with salt and brush with olive oil.
4. Bake at 180 degrees for 40 minutes.  
Casserole of zucchini
Ingredients:
2 small zucchini
4 tomatoes of medium size
2 cloves of garlic
3 sprigs of rosemary
125 g cream 22% fat
150 grams of grated cheese
1 tablespoon vegetable oil
butter for greasing forms
half a Cup of milk
salt, pepper
Preparation:
1. Clean and wash courgettes, dry them and cut into thin slices. We scald the tomatoes with boiling water and remove the skins. Cut them in slices the thickness of a finger. Finely chop the garlic. Interrupts with sprigs of rosemary leaves and finely chop them.
2. Grease with butter a shallow heat-resistant form. Alternating, put into the form layers of zucchini and tomatoes, then sprinkle each layer with garlic and rosemary.
3. Sprinkle with salt and pepper laid out in the form of vegetables. Gently mix the cream with the milk and pour the mixture into the form. Sprinkle top of casserole with cheese and sprinkle with oil.
4. Put the form with the vegetable casserole in a cold oven and bake for 30 minutes at a temperature of 200 degrees. Cheese on the surface of the casserole should be melted and lightly browned.  
Cook with love!
P. S. And remember, only by changing their consumption — together we change the world! ©
Source: //vk.com/page-47029734_44552064