Recipe 1: Vegetable vegan casserole of zucchini and tomatoes
1 young zucchini medium size;
2 tomatoes;
bunch of fresh dill;
1 Cup flour;
3 tablespoons ground Flaxseed;
1 teaspoon baking powder;
3 tablespoons vegetable oil;
1 tbsp Apple cider vinegar;
salt to taste.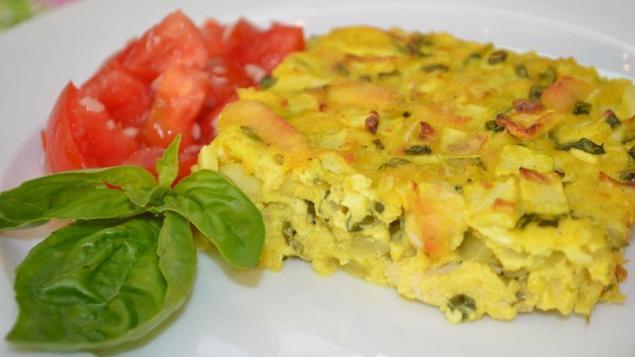 In our test, as the fastening component is used Flaxseed and Apple cider vinegar. In vegan baking flax seed can often replace eggs (1 egg = 1 tablespoon ground flax). So if you are fasting and not a vegan, then you can use instead of flax eggs (for the cake 3 pieces).
Now, knead the dough on our Lenten pie. First you need flax seed grind in a coffee grinder and pour water in the ratio 1:2 for a couple of hours. Washed and peeled the zucchini grate. Dill chop and add to the zucchini Certosa. Pour in the mixture of soaked flax seed, sift the flour, add salt, vegetable oil, Apple cider vinegar and baking powder.
The batter should be like very thick cream. The dough place in a baking dish, greased or covered with parchment, spread with. Cut tomatoes into thin slices and put on top of pumpkin batter. Put the form with the pie in a preheated 200 degree oven. Bake until tender (about 50 minutes).
Finished cake must first be cooled and then removed from the mold and cut. Otherwise there is a risk that it will fall apart. The cooled pie cut into portions and enjoy the wonderful taste.
Recipe 2: vegan vegetable casserole Muckamuck is a casserole of eggplant, a different interpretation which is popular in the Balkans and the middle East. Often in this dish add meat, but today we have a vegan version of moussaka. It is traditionally prepared aubergine and other vegetables, so we start from the fact that you can easily find in supermarkets, despite the cold winter.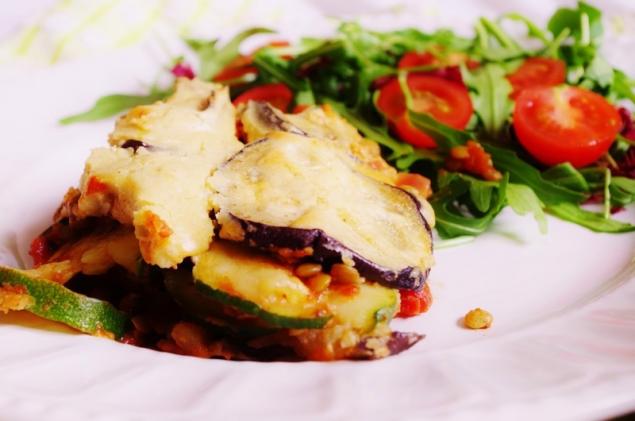 1 large eggplant
1 large onion
100 grams of mushrooms
½ Zucchini
4 tomatoes
275 ml soya milk
1 clove of garlic
80 grams of Greek nuts
30 grams wholemeal flour
Tomato puree
Bread crumbs
A mixture of herbs
5 tablespoons of sunflower oil
Salt and pepper
Greens
Eggplant and zucchini cut into slices. In a pan heat up 2 tbsp of sunflower oil and fry the vegetables on it. Lay them on paper towels to absorb excess fat.
Onion cut into cubes. Add to the pan 1 tbsp oil and ink onion for about 5 minutes. During this time, slice the mushrooms slices and add them to the onions. There also send chopped garlic and cook for another 5 minutes.
Add to the mixture onions, mushrooms and garlic tomatoes, diced, tomato puree and mixed herbs to taste, small fire cook until the consistency of sauce. Then add bread crumbs, ground walnuts, salt and pepper.
The remaining sunflower oil, soy milk and flour mix in the saucepan and on slow fire, whipped in a blender for about 5 minutes — mixture should be thick and without lumps. Can add a little more flour if necessary.
Baking dish brush with oil, spread out on the bottom and the edges of the eggplant and zucchini. On top pour the walnut-tomato pasta, then a layer of white sauce and again the walnut-tomato paste.
Bake about half an hour at 180 ° C. Decorate with nuts and herbs.
Recipe 3: vegetable casserole vegan pasta and vegetable
pasta 1 pkg
zucchini 1 piece
onion 1 piece
carrots (medium) 1 piece
tomato 2 PCs
mayonnaise (vegan) 1 Cup
greens 1 bunch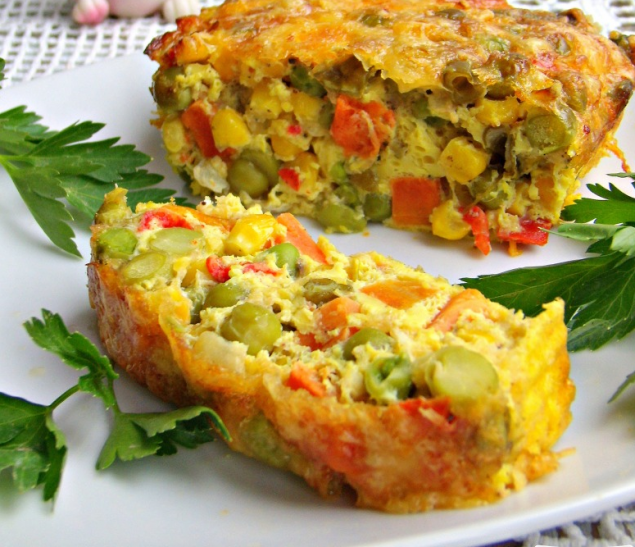 To give the unique aroma will need a bunch of any greens, pepper and oregano seasoning. Vegetables have to be fried in vegetable oil.
For fastening casseroles better to add a little flour.
Zucchini and carrots cut in small strips, you need to lightly fry in vegetable oil. Separately fry the onions, roughly chopped. While you are grilling the vegetables, boil in salted water for the pasta, but make sure that they do not seethe, after a few minutes, rinse with cold water.
Square deep shape to thoroughly lubricate with oil or fat, then spread it a third of the pasta. On the bottom layer place half of carrot and zucchini, season with salt, sprinkle with spices. The next layer should be formed from the second part of the pasta, leaving a little on the top layer. You can then put all the fried onions. The remaining macaroni to put in onions, cover with tomatoes, chopped into slices. Left to mix eggs with mayonnaise and pour cake, garnish the casserole with herbs, add the crushed garlic, spices and salt as needed.
Should withstand the baking sheet in the oven at moderate temperature for 15 minutes, then the dish will be ready. It can be cut with a knife into pieces and put on plates for serving.
Recipe 4: Vegetable vegan casserole with potatoes
Potatoes — 1.5 kg.
A mixture of vegetables (frozen) — 1 p.
Mushrooms — 1 pkg.
Carrot — 1 PC.
Onion — 1 PC.
Garlic, greens.
Salt, pepper.
Vegetable oil.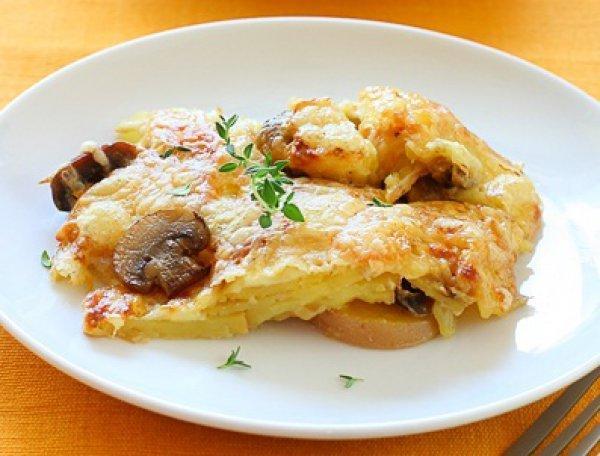 Cook the potatoes, while adding a bit of grated carrots to potatoes acquired appetizing Golden color.
Drain off half the water, which boiled potatoes and the rest do the mash, quite thick, add a little flour to bind.
In a pan fry the onion, carrots, mushrooms, vegetables, herbs, garlic in vegetable oil (for those not use in a post oil, you can simply put out with the addition of water).
Form for baking grease with vegetable oil and half puree evenly spread. Next, we spread our mushrooms with vegetables. We report the rest of the potatoes. With a spoon make waves and put in oven for 15-20 mins on a medium heat until Golden brown.
Recipe 5: Vegetable casserole with pita bread and vegetables
Armenian thin pita bread – 3 pieces (includes only flour, water and salt)
Eggplant (frozen) – 800 grams
Fresh tomatoes – 3 pieces
Zucchini – 800 grams
Soy milk – 1 Cup
Water – 2/3 Cup
Tomato paste – 2-3 teaspoons,
Spices, salt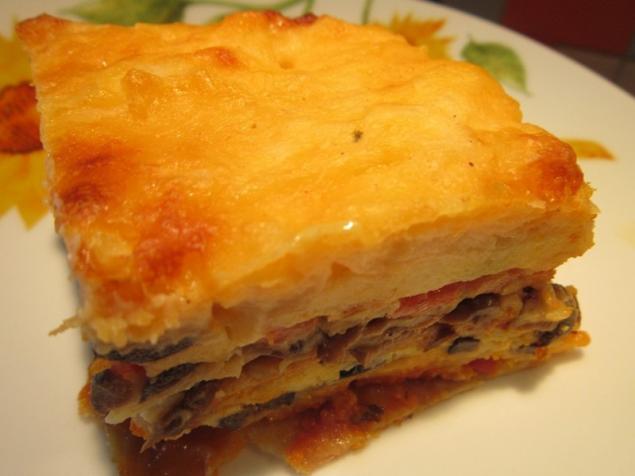 Preparation:
First you need to cut the eggplant into pieces. Soaked them in cold salt water, even if they are frozen. Squeeze the water. Cut into slices or diced tomatoes, then the same cut into cubes zucchini. All the vegetables stir. Prepare sauce: for he will take soy milk, add the tomato paste and all carefully mix. You can whip cream with a blender. If you haven't upgraded to a salt-free diet — add salt and favorite spices. All very quickly, our sauce is ready! Now for the pitas. Cut them in half. Take the right size shape or pan with large sides for baking. Put on the bottom of the foil, the foil lay out half of the pita, pour it with sauce. Put the next half of the pita. Upload ¼ of the cooked vegetable filling. The filling also pour the sauce. Again put half of the pita bread, toppings, sauce. Continue until all the ingredients. The casserole should have a top layer of the pita. It lubricates the remaining sauce. Put in oven and bake until it will turn brown at 180 degrees, approximately 1 hour, but still, of course, depends on your oven. Recipe 6: vegan Vegetable casserole of beans and potatoes
500 grams of potatoes;
200 grams white beans;
2 bulbs;
4 tbsp vegetable oil;
salt and spice blend "potato dishes" to taste.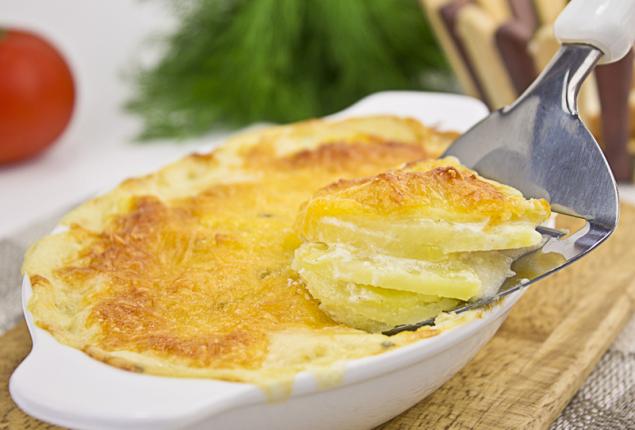 Beans will not be superfluous on the eve soak in water for a few hours, she then faster cook.
And now go directly to the cause! First comes the onion: we finely cut and carefully fry in 1 tablespoon oil until Golden brown.
Boil the potatoes in salted water, in which the end of action is not fully drained. Let us imagine that we prepare mashed potatoes.
Although what can I imagine, that's mashed potatoes and we're going to do. Here are just first boil the beans, send it in with a dish of potatoes and calling for help malco shall bean-potato puree. Do not forget to add salt in the process. By the way, if you are not lazy, instead of kneading to scroll through the beans with a potato through a meat grinder.
Form for baking grease with vegetable oil. A lot of beans and potatoes and divide in half. The first half spread on the bottom of the form. And then followed by a layer of fried onions.
Cover with a future casserole the second half of the puree. Beautiful level, generously sprinkle with spice mix for potato dishes and pour the remaining oil.
It remains only to bake a casserole in the oven until Golden, approximately 45 minutes at 180°C.
The final touch: a bit of fresh greens on a crispy crust.
Recipe 7: Vegetable casserole rice with olives
two cups of rice
vegetable oil 7 tablespoons
one carrot
tablespoon capers
black olives, pitted 100-150 grams
two onions
parsley
one stalk leek
salt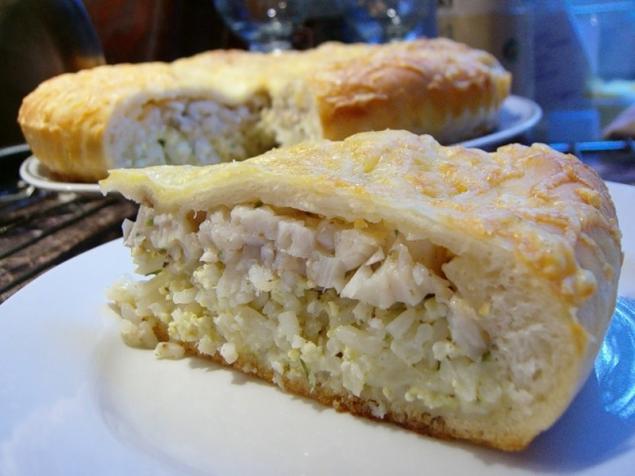 Cooking casseroles of rice I begin with preparing the vegetables. Clean onion and finely his ruble. Carrots will have the same fate. Just cut it into circles.
Pour into the pan 5 tablespoons of vegetable oil. Lay the onions and begin to fry it. The rice is not mine. Add it to the onions. Passerby until it becomes transparent. Slices carrots fried in vegetable oil. Leek finely ruble. Shift in a bowl and salt. Olives cut into two halves, add them to the onions. Put in a filling for casseroles of rice a spoonful of capers. Mix.
Half of the rice spread in the form. On it I put a layer of carrots. Carrots cooked stuffing. Pour the rice.
Pour one liter of hot water, salted and sent a casserole of rice in the oven for 40 minutes, the temperature of 180-200 degrees.
Before serving, sprinkle with parsley.
Recipe 8: Lean vegan casserole with rice and mushrooms
300g rice
200 g boiled mushrooms,
100g onions,
100g carrots,
50g vegetable oil,
greens, salt to taste.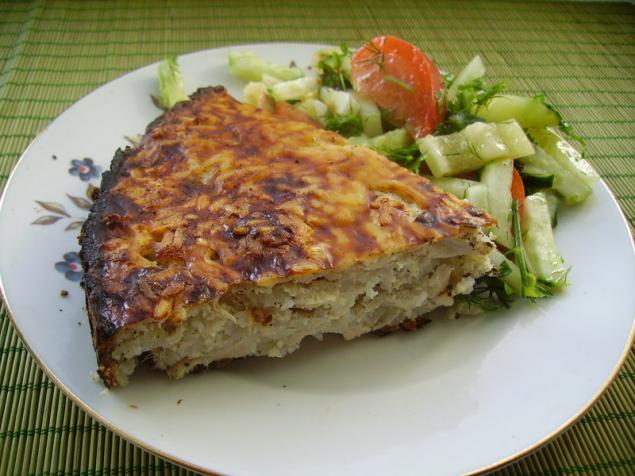 Onion peel and chop onions, carrots to wash, clean and RUB on a coarse grater. Prepared onions and carrots sauté in vegetable oil for 3-5 minutes.
Boiled mushrooms skip through Mincer. Boil the rice until tender in salted water, then drain and rinse.
Mix rice, mushrooms and fry vegetables, salt and pepper, stir, sprinkle with herbs and put in a baking dish.
Bake in the oven until Browning.published  
P. S. And remember, only by changing their consumption — together we change the world! ©
Join us in Facebook , Vkontakte, Odnoklassniki
Source: www.eat-me.ru/20140616/postnaya-veganskaya-zapekanka.htm