Blue – so affectionately known as the eggplant lovers of this vegetable. And they love it not only for the unique taste, but also for useful properties.
In addition, eggplants are rich in valuable trace elements that help remove toxins from the body and not allowed to assimilate cholesterol. Isn't that a reason to try as many recipes from eggplant in season and prepare them for the future for the winter? There are many ways to dispose of a crop of eggplant. We traditionally bring you 10 interesting blanks:
1. Spicy eggplant with honey
You will need:
2 tsp salt
5 tbsp wine vinegar
1 tbsp of coriander seeds, fennel and mustard seeds
the buds of cloves to taste
4 Bay leaves
400 ml of olive oil
4-5 cloves of garlic
1-1,5 kg eggplant
1 red onion
150 ml of honey
4 chilli pepper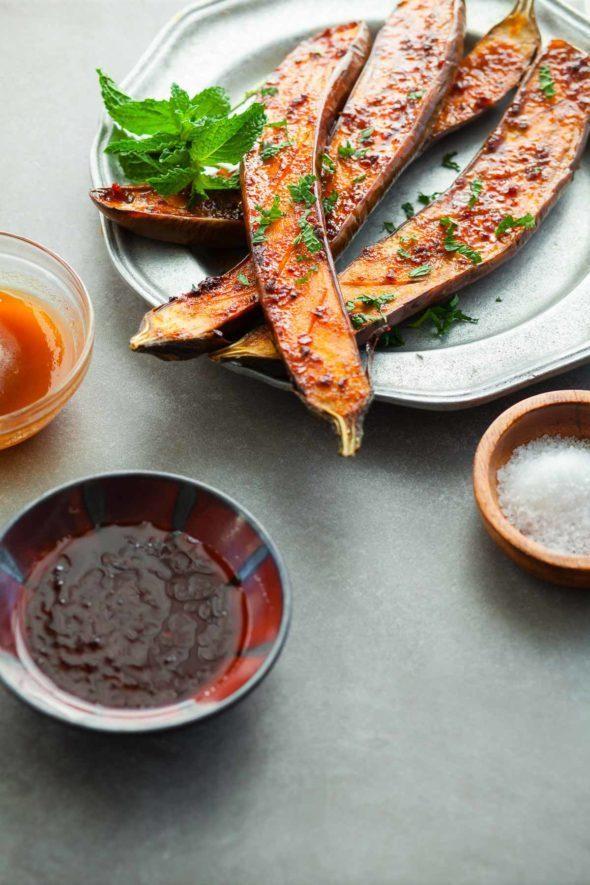 Preparation:the Oven heated to 200 °C. wash the Eggplants, cut into slices thickness of 0.5 cm Sliced eggplant spread out on a baking sheet, brush with olive oil and place in oven for 15-20 min. the Onion, peel a garlic, peppers to remove seeds, pulp, finely chop. The onion and garlic, also very finely chopped. In skillet, heat olive oil, fry chopped onion, garlic and pepper, then add the grain mustard, Bay leaves, coriander, fennel seeds and cloves. Once everything is well heated and remove from fire. To prepare the marinade. In a saucepan heat the honey (very low heat), add olive oil, vinegar and salt. Bring to a boil. Baked eggplant to shift into sterilized jars, sprinkling with seasonings. When the banks are already full, pour the hot marinade and roll up.
2. Lecho with eggplant you will Need:
4 kg of tomatoes
6 sweet peppers
2 eggplant
2 bulbs
tarragon to taste
salt, sugar to taste
3 tbsp vegetable oil
Preparation:All vegetables washed. Cut the tomatoes into slices. Pepper clear from the stalk and seeds. Eggplant cut into arbitrarily. Bow clean, cut rings. Tomatoes, onions, peppers put them in a saucepan, add 1 tbsp oil and 1 tbsp water and cook 15 min. Add the tarragon, salt, sugar to taste. Cook for another 20 minutes on very low heat, stirring constantly. Eggplant and season with salt and fry in vegetable oil until Golden brown. All combine and mix well. Spread out on the sterilized banks, roll, flip and leave until cool. Store in a cool place.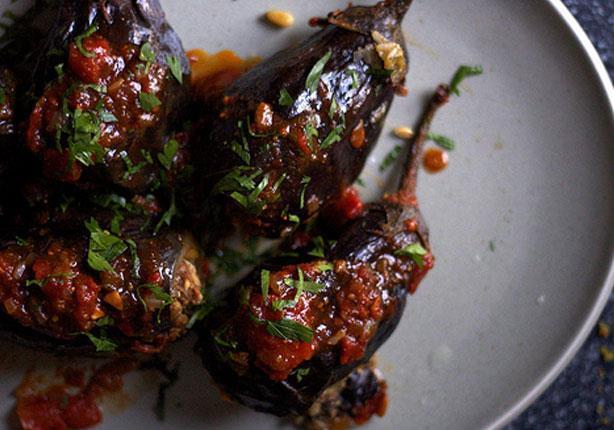 3. Stuffed eggplant
You will need:
2 kg of eggplants
0.5 kg of sweet pepper
2 heads of garlic
1 bunch parsley
1 bunch of dill
3 tbsp. salt
Preparation:Boil eggplant in salted water (on 1 l of water — 1 tbsp salt), put under the yoke. Pepper to clear of seeds and stalks, flesh cut at random, the garlic, peel and together with the pepper mince. Cooled and stecchi eggplant cut lengthways, a little pulp, stuff the halves of the garlic-pepper mixture, put the sprig of parsley and dill, salt. Tie the thread to lay down in the pan and put on top of oppression. When you receive the juice, place in prepared dry banks close the plastic lid. Store in a cool place.
4. Pickled баклажаны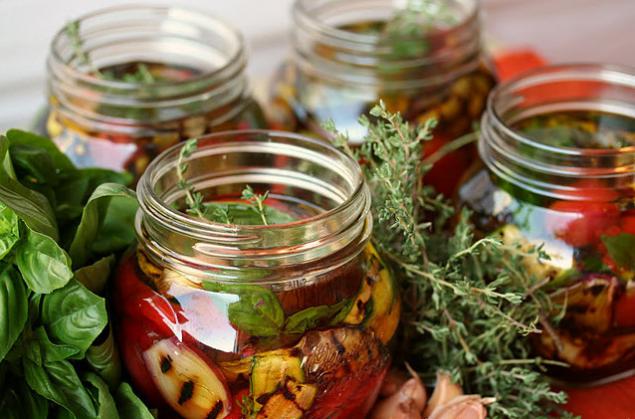 You will need:
1 kg of eggplants
1 Cup chopped celery greens
3 cloves of garlic
0.5 cups chopped parsley, savory, dill
1.5 tbsp salt
hot pepper to taste
Preparation:wash the Eggplants and make each of the longitudinal incision. Put eggplants in boiling water and letting it boil for 10 min, to shift for 20 minutes in cold water, then drain in a colander. To prepare the brine. Boil 4 cups of water, put the celery, after 5 minutes take it out and cool. The boiling broth add salt and cool. Greens to wash, chop, garlic peel and chop, hot pepper wash, chop finely, mix with salt. Eggplant filled with mixture. Put the eggplant tightly in a jar, pour cooled brine (brine should cover the eggplant), close screw cap and place in a cool, dry room.
5. Tongues of eggplant you will Need:
4 servings
1 kg of eggplants
1 kg of tomatoes
1 head of garlic
salt to taste
vegetable oil for frying
Preparation:
Eggplants soak in salt solution for 20 min. Then a good wipe with a paper towel, to cut off the ends and slice lengthwise stripes. Strips fry on one side in a pan with hot oil. Garlic peel and finely chop. Tomatoes wash, dry, cut into slices. A slice of tomato spread on half of the fried side of the strip of eggplant and sprinkle with tomato and crushed garlic. Cover the second half so that tomato was inside. Fry on both sides. Put into sterilized jars, sterilized 50 minutes drive Banks to tighten, store in the fridge.
6. Appetizer of eggplant with tomato will acompanadas:
4 servings
1 kg of tomatoes
3 bulbs
2 carrots
3 sweet peppers
5 table. tablespoons vegetable oil
500 ml of tomato juice
50 g greens of dill
4 Bay leaves
salt, ground black pepper
Cooking:Aubergines wash, dry, cut into slices 1.5 cm thick. season with Salt and leave for 15 minutes Then rinse well and gently squeeze. Fry in 3 tbsp oil. Tomatoes cut into slices thickness of 0.5 cm. finely chop the Onion. Do peppers remove seeds and stalks, flesh cut into small cubes, carrots wash, peel, grate on a coarse grater. Preheat a frying pan 2 tbsp oil and fry in it the onion until transparent. Add chopped peppers and carrots, pour tomato juice, salt, pepper and simmer 10 min. Into the prepared jars put Bay leaf and dill. Then put layers of eggplant, tomatoes mugs, pouring hot sauce over layers and compacting the layers, while the Bank will not be filled. Sterilize for 15 minutes, tightly covered with lids.
7. Eggplant rolls stuffed with bewareofbats: 3 cans 0.5 l
600 g of tomatoes
400 g sweet pepper
1 kg of carrots
1 bunch parsley
4 garlic cloves
500 ml vegetable oil
Cooking Vegetables thoroughly wash, dry. Aubergines cut along the thin slices and fry them on both sides in vegetable oil. Tomatoes cut into slices and cut each slice in half. Pepper to clear of seeds and stalks and cut into wide strips. Carrot peel and grate on a coarse grater.Greens good wash, dry, remove tough stems and finely chop. Garlic peel, crush and mix with chopped parsley. For roasted eggplant spread first mixture of parsley and garlic, then tomatoes, peppers and carrots. Eggplant stuffed tightly roll rolls. Put rolls into hot sterilized jars, pour boiled vegetable oil. Sterilize 0,5 litre cans 10 min, liter – 15 min.
8. Eggplant with tomatoes and butter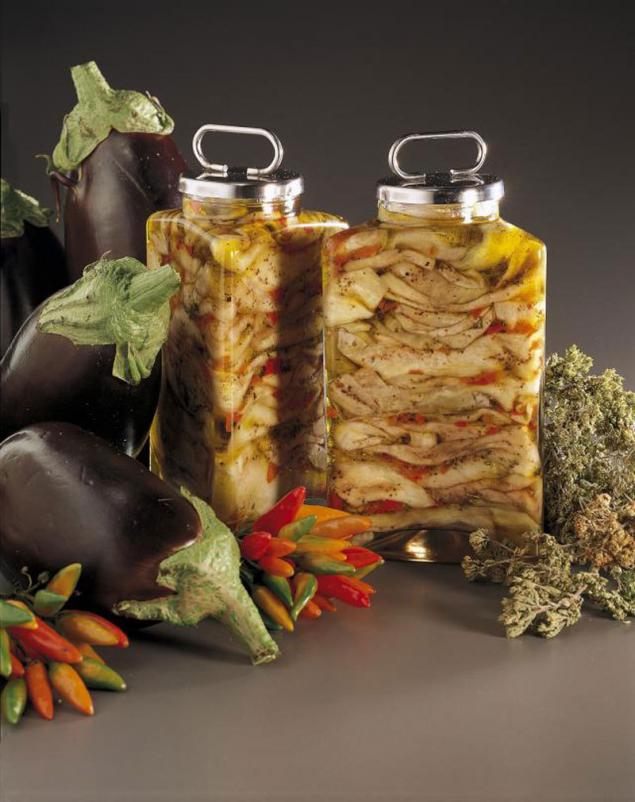 You will need:
500 g eggplant
200 g red onions
200 g tomatoes
1 head of garlic
1 pod of hot pepper
4 cloves Bud
10 peas of black pepper
salt
30 ml vinegar (9 %)
200 ml oil (sunflower or olive)
Cooking:Aubergines wash, dry and cut into slices thickness 2 see the Onion peeled and cut into thin rings. Preheat a frying pan 1 tbsp oil and portions fry the eggplants from all sides. Remove the eggplant from the pan, add the vegetable oil and fry the onion. Garlic clean, large cloves cut in half lengthwise. Tomatoes wash and cut into thick slices. Spicy pepper cut into rings. In a prepared jar to pour the peppercorns and cloves. Put layers of eggplant, onion, tomatoes, garlic and hot pepper. Each layer a little salt. Put the Bay leaf and pour in the vinegar. Oil pour into a saucepan and bring almost to a boil. Allow to cool to 70 and cover the vegetables. The Bank put in a pot and fill it with water on the neck. Bring almost to a boil and sterilize for 1 h 30 min. Carefully get the seal.
9. Caviar from aubergines with nuts and red barcelonagaudi:
For 4 persons
80 g peeled pine nuts
1 clove of garlic
50 g natural or Greek yoghurt
1 tbsp lemon juice
2 tbsp olive oil
ground red pepper
salt to taste
Preparation:wash the Eggplants and dry with paper towel. Preheat the oven to 190 °C. Put the aubergines on the grill and bake for 15 minutes Then turn off the oven, the fruit is carefully wrap in plastic foil and again place in the oven. When the eggplants are soft, remove them from the foil, peel and let cool slightly. Pine nuts lay on a dry pan (no oil added!) and lightly fry until Golden brown. A clove of garlic peel, wash and skip through the press. The flesh of the cooled eggplant, lightly mash with a fork, then mix with pine nuts, garlic, lemon juice and olive oil. Place the lot in a blender and make puree. Then add the ground red pepper and salt to taste, mix thoroughly. The resulting creamy mass lay on the banks. They should be stored in the refrigerator.
10. Caviar from aubergines with herbs will petrocephalus:
350 g onions
150 g parsley
1 head of garlic
150 ml vegetable oil
salt, sugar, pepper,
lemon juice to taste
Cooking:Aubergines wash, dry. Preheat the oven to 180 °C and bake the eggplants until the skin wrinkled. Eggplant remove, cool and then peel. The flesh of the eggplant and cut into small cubes. Onions clean, chop. Garlic is clean and skip through the press. Greens wash, dry and chop. In a saucepan put the eggplant, add onion, garlic, pepper, greens, vegetable oil, salt, sugar, lemon juice according to taste and simmer until tender. Banks to sterilize. Eggs to put in banks and roll covers. published
P. S. And remember, only by changing their consumption — together we change the world! ©
Source: www.7dach.ru/lublu_gotovit/v-pogrebok-10-receptov-zagotovok-iz-baklazhanov-15403.html