Again approaching the weekend, and we are irresistibly drawn in to redo all the things on the site, simply relax in the fresh air and, of course, to cook something tasty on the fire or grill. After all, summer is coming! This time we offer you 12 recipes of vegetable dishes. On an open fire they best retain the color, taste and useful properties. Treat yourself, family and friends a bright, light and spicy treat!
1. Kebab "easy" with curry sauce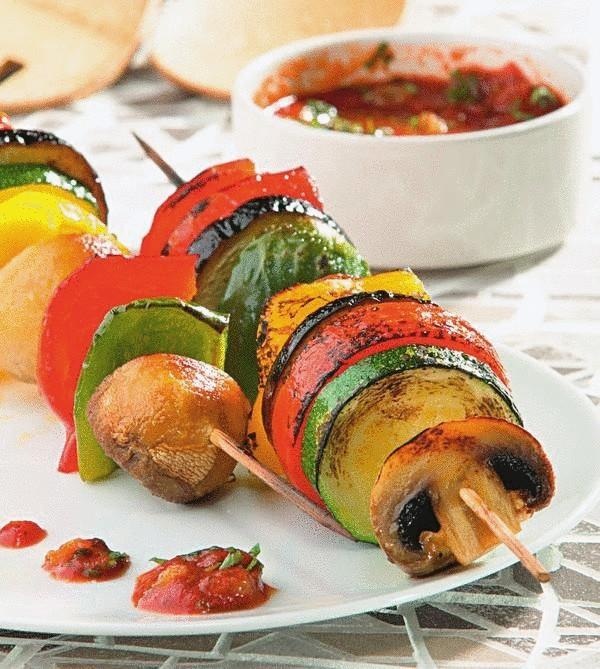 You will need:
2 zucchini
3 multi-colored peppers
2 tomatoes
6 mushrooms
3 tbsp of dry wine
2 tbsp lemon juice
1 tbsp honey
black pepper, salt to taste
2 tbsp olive oil
For the sauce:
1 tbsp flour
10 g ginger
1 tbsp curry
1 tbsp tomato paste
200 ml beef broth
2 tbsp raisins
30 g chopped parsley
50 g butter
4 servings
40 min
245 kcal
Preparation:
To make the curry sauce. Raisins wash. Peel the ginger, grate. Garlic to clean, chop, fry in skillet in butter. Add to a saucepan the flour, curry, cook on low heat 5 min. Put tomato paste, remove from heat, cool. Pour the hot broth, stir, add parsley, ginger, raisins, salt to taste, simmer for 20 minutes.
Eggplant and zucchini wash, cut into slices. Pepper wash, cut into 4 pieces, remove the seeds and the stalk. Tomatoes wash and cut into circles.
In a bowl pour the wine, add the lemon juice, honey, pepper and salt. Mix well. Put in the marinade the slices of eggplant, zucchini and pepper and leave for 1 hour
Mushrooms wash, cut in half. Vegetables and mushrooms strung on skewers alternately with tomatoes. Drizzle with olive oil and roast on a grill until cooked for 15 min. ready to Serve kebab with curry sauce.
2. Potatoes have bavarski onion and marinated peppers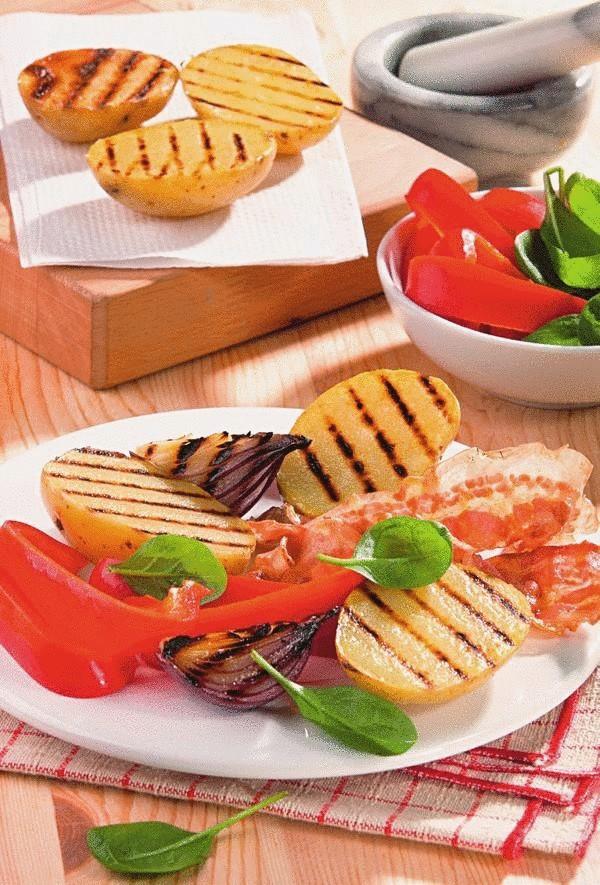 You will need:
2-3 red onions
400 g bacon (slices)
3 sweet pepper
For the marinade:
1 tbsp. salt
1 Bay leaf
2 tbsp. vinegar
8 servings
50 min
455 kcal
Preparation:Pepper to wash, dry, cut in half, remove the stalk and seeds, flesh cut into wide strips. To make the marinade. Boil in a pot 2 liters of water, add sugar, salt, Bay leaf, vinegar. Blanch the marinated peppers for 3 minutes, Drain in a colander. Onion peeled, cut each onion into 8 parts. Potatoes cover with cold water, wash thoroughly. Cut each tuber in half lengthways and. Heat up your grill. Fry in it the potatoes on each side until fried crust for 10 minutes Then add onion, fry for 3 min on each side. Lay out strips of bacon and fry on high heat. Put on a plate potatoes, strips of peppers, onions and bacon. Serve the dish hot. 3. French zakonopacheny in mushroom caps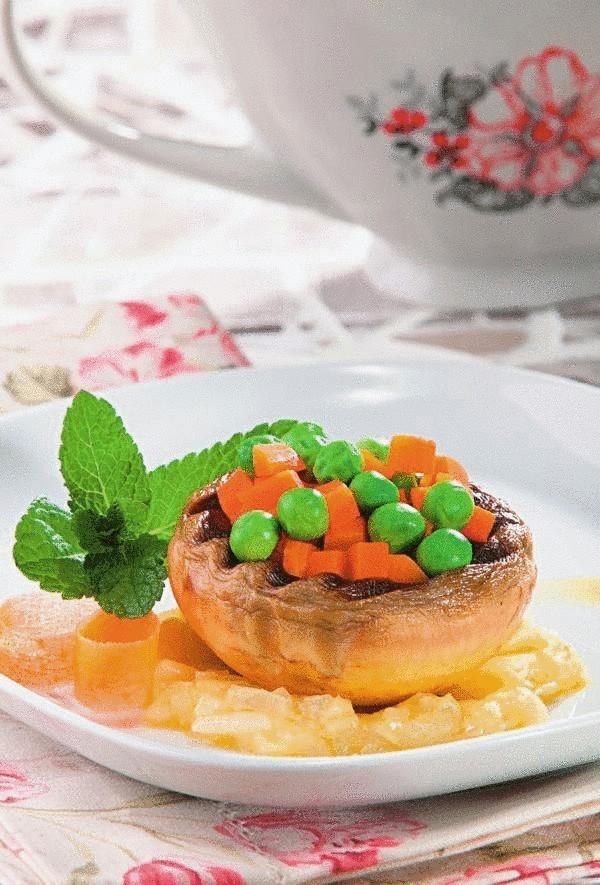 You will need:
1 jar of green peas
1 tbsp vegetable oil
6 hats of mushrooms
2 tbsp lemon juice
For the sauce:
4 large bulbs
1 tbsp. butter
100 ml champagne
herbs for decoration
For 3-4 portions
50 min
320 kcal
Preparation:mushrooms, pour with lemon juice, leave for 20 min. the Grate or grill to heat up, put the cap and fry Carrots 3 minutes, pour cold water, bring to a boil, cook 10 min. Remove from heat, carrots, cover with cold water to cool, peeled, cut into equal cubes. Canned peas drain in a colander. To connect peas and carrots. To make the sauce. Onions clean, chop. In a saucepan on low heat, heat butter, add onions and simmer on low heat for 15 minutes, until the onions are translucent, add the starch, mix well, pour the champagne and once again mix well. Mushroom caps to remove off the grill, cool, stuff the carrots with the peas and cook for another 10 min. Put the mushrooms with the stuffing on the plate and garnish with greens. Separately apply onion dip. 4. Slatekinsly warm and very tasty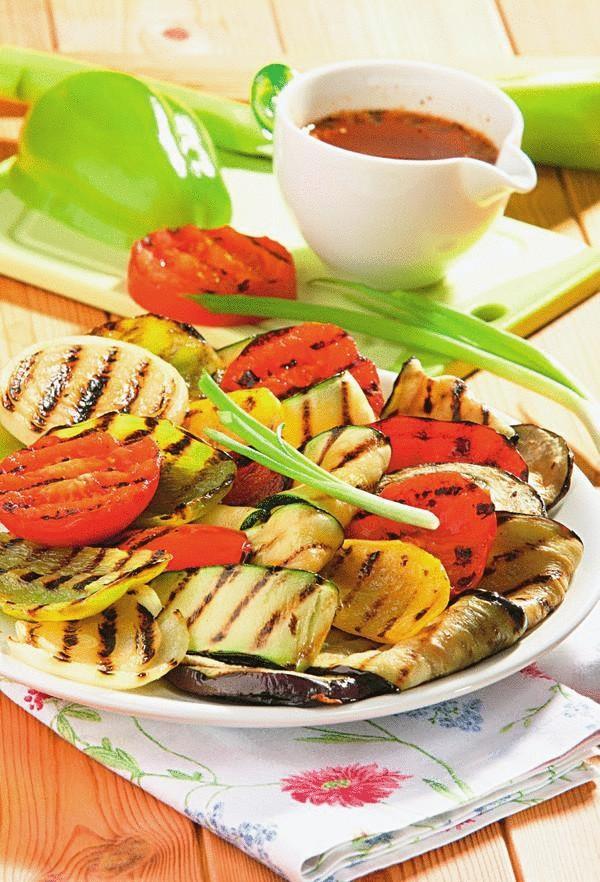 You will need:
1 zucchini
3 multi-colored peppers
2 tomatoes
1 onion
salt
For the sauce:
2 tbsp olive oil
1 tbsp flour
2 cloves of garlic
0.5 tsp. Tabasco sauce
0.5 tsp. paprika
For 2 servings
45 min
345 kcal
Preparation:Eggplant wash, peel, cut into slices, soak in salted water for 20 minutes, remove, dry with paper towels. Zucchini wash, dry, cut into slices, sprinkle with lemon juice. Pepper wash, cut in half, remove seeds and stalks, flesh cut into plates. Tomatoes wash and cut into circles. Onions cleaned, cut into wide rings. The grill or the grill heat to medium low and sauté the vegetables on both sides. To make the sauce. Garlic clear, skip through the press. In a saucepan, heat olive oil. While stirring, small portions add the flour, stir to avoid lumps, add salt, add the paprika, Tabasco sauce, mix well and remove from heat. Vegetables put on a plate, serve warm with hot sauce. 5. Pumpkin with tomatoes on gilmorisms in wine and honey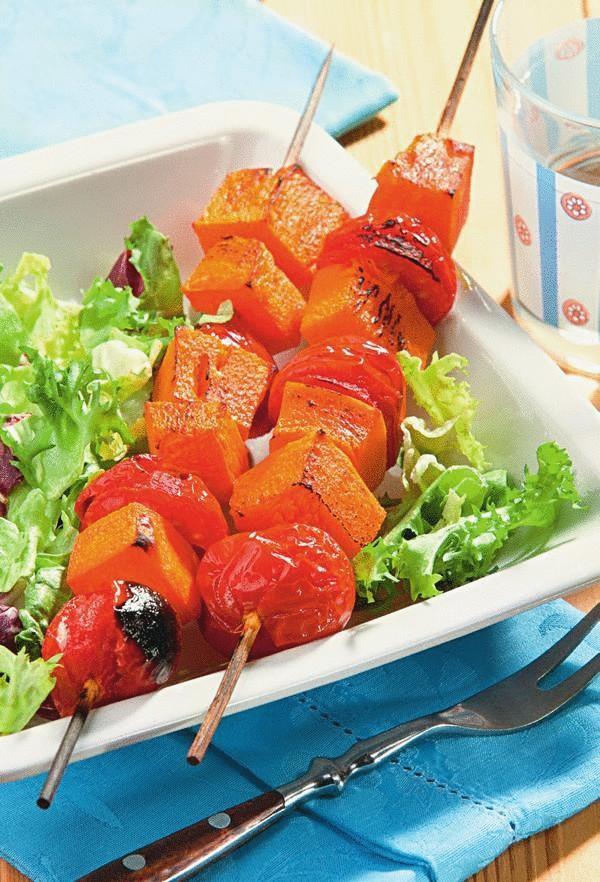 You will need:
For the marinade:
1 tbsp lemon juice
2 tbsp dry white wine
1 tbsp honey
ground black pepper pinch of
salt to taste
2 tbsp olive oil
4 servings
50 min
245 kcal
Preparation:Pumpkin peel, flesh cut into cubes. To make the marinade. In a large bowl pour the wine, lemon juice, honey, salt and pepper to taste, mix well. Put in the pumpkin marinade and leave for 30 min. the Tomatoes wash. Pumpkin slices out of the marinade, strung on skewers alternating with tomatoes. Drizzle with vegetable oil and fry on open fire until cooked for 10-15 min 6. Corn with tomatoes and titanomachia!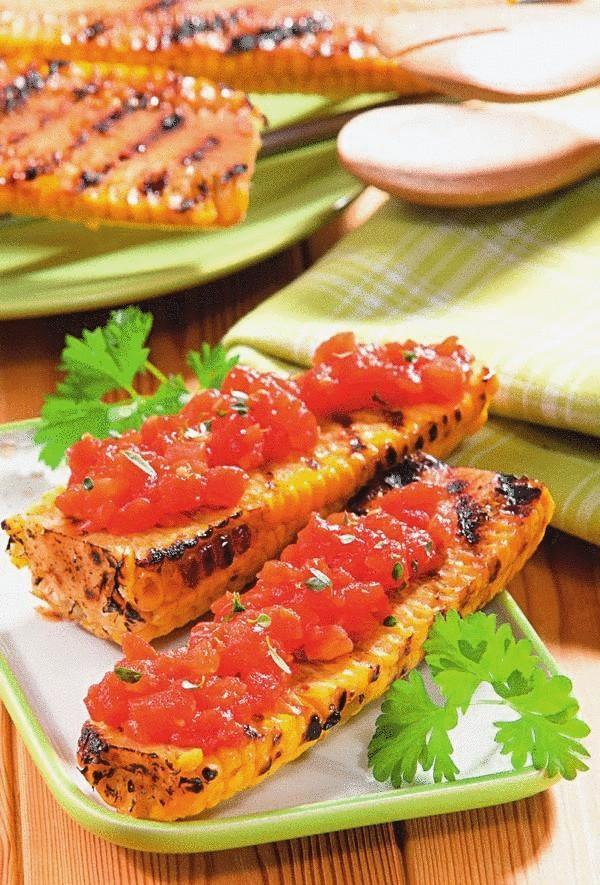 You will need:
6 cobs of corn sugar
1 tbsp honey
1 tbsp olive oil
1 tbsp thyme
1 kg of tomatoes
salt to taste
For 6 servings
40 min
365 kcal
Preparation:mix olive oil, honey, thyme, salt, mix well. Preheat grill to medium temperature. Corn on the cob cut in half, grate the mixture. Lay the corn on the grill rack, roast until tender, about 10-12 minutes, turning the cobs every 4 min. Tomatoes pour boiling water, leave for 30 s to Remove the peel, chop the flesh, add salt and pepper to taste. Put into serving dish corn on the cob, they are tomatoes and bring to the table. 7. Appetizer of baked Perseus olives and oranges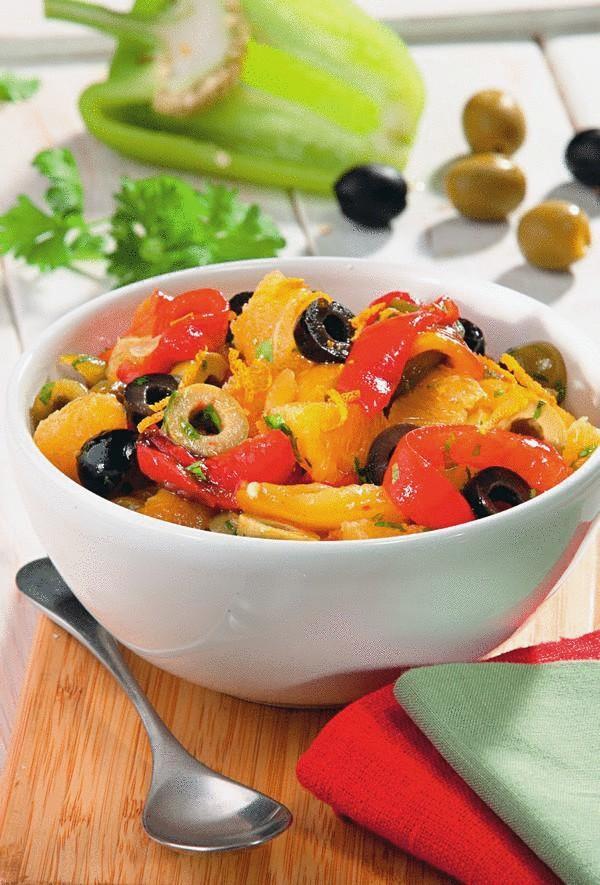 You will need:
5 large colored sweet peppers
2 large oranges
250 g black olives, pitted
250 g olives, pitted
3 cloves of garlic
1 bunch parsley
2 tbsp of orange juice
1 tbsp olive oil
salt, freshly ground black pepper to taste
6-8
55 min
235 kcal
Preparation:Peppers, wash, dry. Strung on skewers. To build a fire and over a flame to char the peppers on all sides. Remove the peppers from the skewers and put in a plastic bag and leave for 15 min. Garlic clear, skip through the press. The parsley remove tough stems, chop the leaves, combine with garlic. Remove the oranges with a fine grater a bit of zest, add to garlic and parsley, mix well. Oranges peel, cloves remove foil. Clean the peppers from the skin and seeds. The flesh is cut into strips. Olives cut in half. Mix the prepared olives with peppers and parsley with garlic. Add to the mix the peppers, olives, olives and parsley sliced oranges. Fill the appetizer of roasted peppers with the orange juice, olive oil, salt, pepper and bring to the table. 8. Eggplant with meconematinae Eastern dish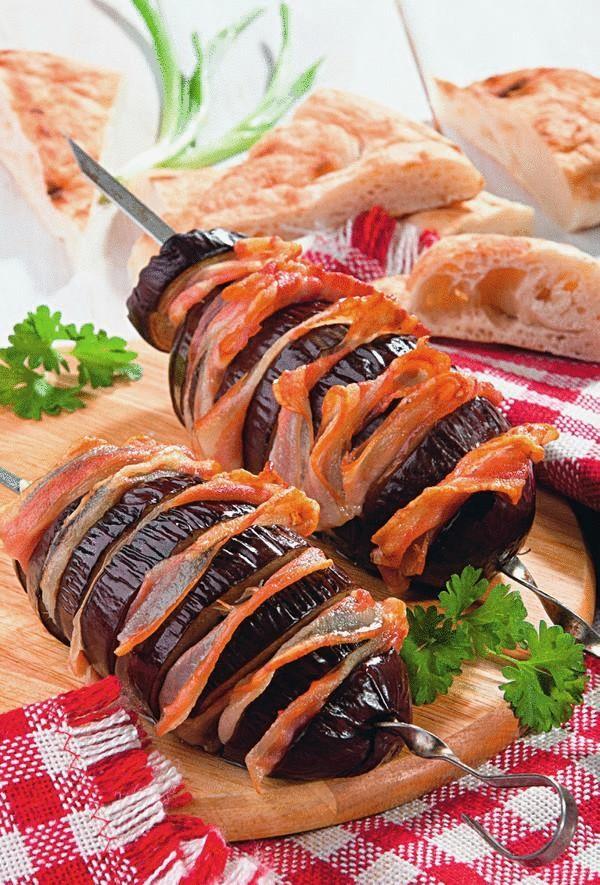 You will need:
1 bunch parsley
1 bunch of dill
1 tbsp paprika
6 large eggplants
salt to taste
black pepper to taste
200-300 g salted or frozen bacon
For 6 servings
80 min
450 kcal
Preparation:wash Eggplant. Each eggplant to make an incision across every 1.5 cm, not cutting through to the very end 1.5 cm Salt so that the salt got into every cut, leave for 20 minutes. Chop the bacon rectangular or square pieces. Bacon pepper and season with paprika, stir so the pieces are covered with spices. Lay a piece of bacon into the incisions. Skewered eggplant on skewers and roast over hot coals, turning often, for 15-20 minutes. Remove the eggplant from the heat and serve hot necessarily with greens and pita bread. 9. Stuffed Pertsev stuffing – mushrooms and greens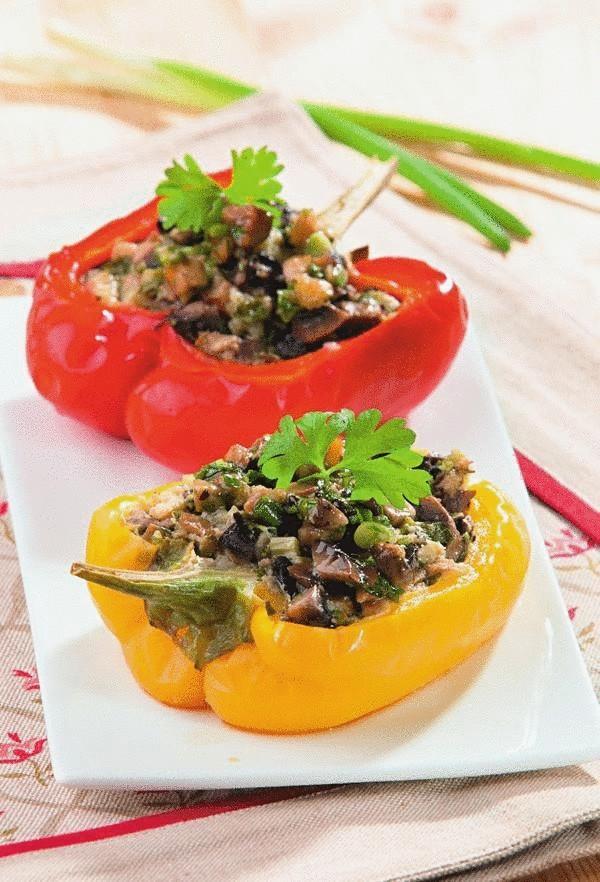 You will need:
600 g mushrooms
2 eggs
1 bunch green onions
1 bunch fresh cilantro
4 tbsp soy sauce
4 tbsp bread crumbs
vegetable oil for frying
6-8
60 min.
345 kcal
Preparation:Mushrooms wash, cut into cubes, fry in vegetable oil for 5 minutes, Green onion and cilantro, wash, dry on paper towels, finely chop. Peppers carefully cut in half lengthwise, remove the core, keeping the stalk. Beat the eggs with soy sauce, combine with greens and mushrooms. Add bread crumbs and mix thoroughly. Fill the halves of peppers, mushrooms, coat the peppers and stuffing with vegetable oil, wrap in oiled inner side of the foil. Lay the peppers on the grill and bake on not too hot coals, turning, for about 35 min 10. Tomatoes on helicase and simple. Try it!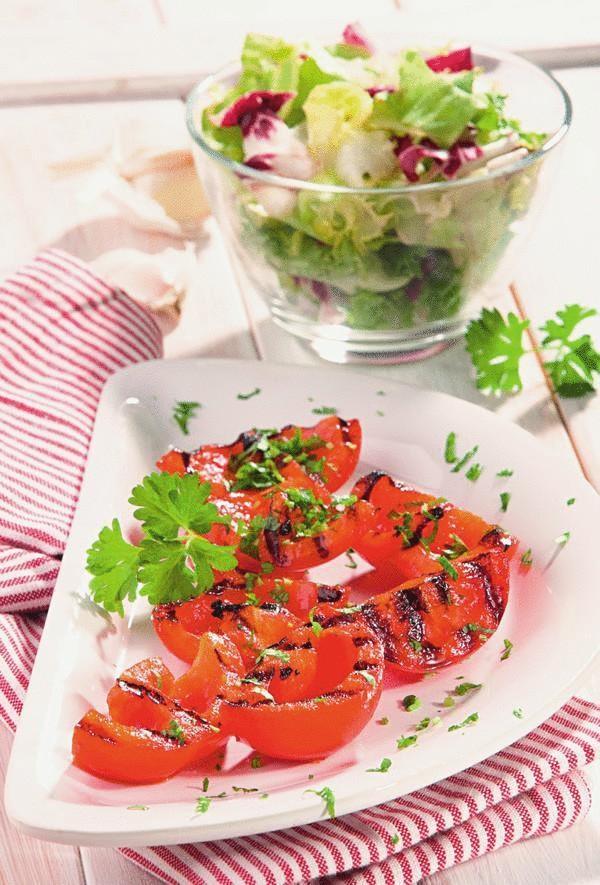 You will need:
1/2 tbsp red wine vinegar
0.5 cups of olive oil
1 clove of garlic
1 shallot
pepper, salt to taste
1 tbsp chopped parsley
For 6 servings
20 min.
220 calories
Preparation:Make a dressing. Onions and garlic peel, chop. In a bowl, whisk vinegar, 3 tbsp olive oil, garlic and shallots. Season to taste with salt and pepper. Tomatoes wash, cut in half, then horizontally. Carefully remove the seeds, sprinkle with a side of slice salt. To coat the tomatoes with the remaining olive oil. Put the tomatoes on the preheated grill and grill, turning, broil 6-10 minutes to Remove off the grill, drizzle with dressing, sprinkle with chopped parsley. Serve the tomatoes on the table hot. 11. Stuffed balagangadhara appetizer!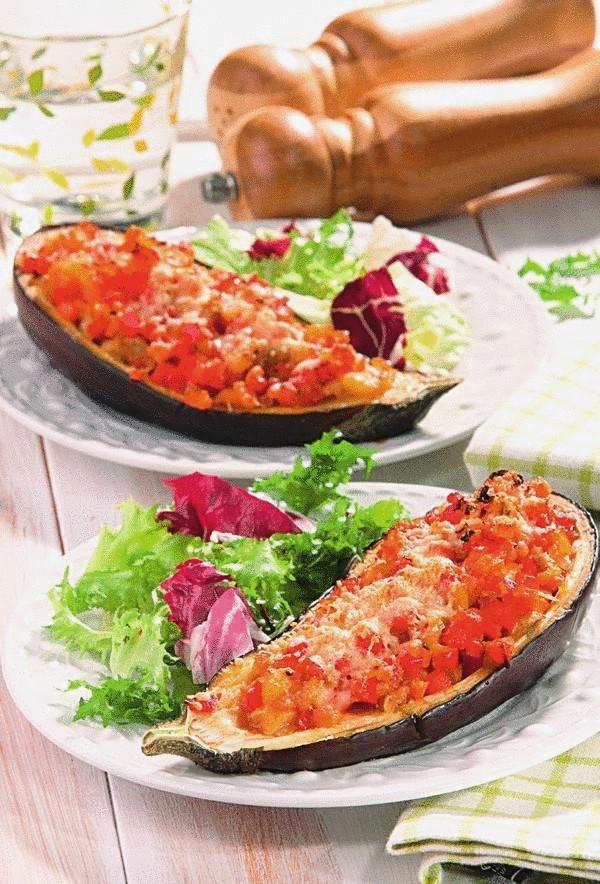 You will need:
2 tomatoes
2 carrots
1 onion
2 cloves of garlic
2 tbsp lemon juice
1 sweet pepper
1 bunch of salad
salt and pepper to taste
1 tbsp vegetable oil
100 g grated hard cheese
4 servings
45 min
360 calories
Preparation:Eggplant cut in half lengthwise, from the middle to cut out the pulp to get "boats". "Boat" salt and leave for 15 minutes, then rinse under cold water to remove bitterness. Drizzle the eggplant with lemon juice, leave for 10 minutes, Carrots, garlic and onions clear. The diced carrots, onion and garlic chopped. Tomatoes wash, cut into cubes. Lettuce to wash, to break. Pepper remove seeds, flesh cut into squares. Fry the onions and carrots in butter, add tomatoes, pepper, garlic and salt. Simmer 10 minutes over medium heat. Spread the vegetable stuffing into the eggplants, put them on a preheated barbecue grill and cook the eggplant, without turning, for 10-15 min. Remove from heat, sprinkle with grated cheese, return to grill and cook until then, until the cheese is melted and browned. Serve eggplant with a salad. 12. Rolls of pepper and cookingadverse and served on skewers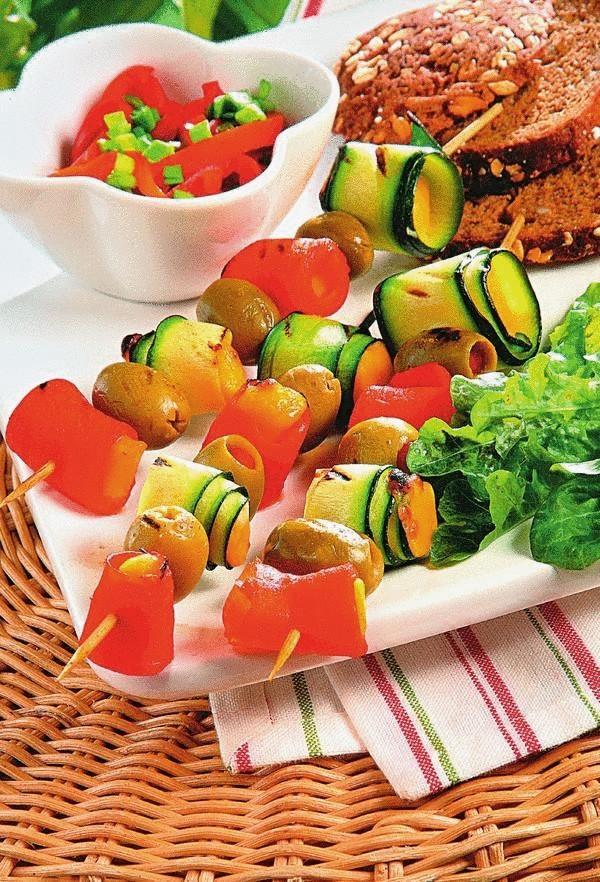 You will need:
2 zucchini
200 g of hard cheese
100 g olives stuffed with pepper
ground black pepper
250 g butter
250 g grain bread
sea salt coarse
4 servings
45 min
550 calories
Preparation:Pepper cut in half, remove the seeds and put cut up 8-10 min on the grill. Then cool, remove the skin and cut lengthwise into strips 3 cm wide and Zucchini wash, dry, cut lengthwise into thin plates. Cut the cheese into large cubes and wrap in a plate of courgette and strips of pepper. Wooden skewers soak for 1 hour in cold water. Strung on skewers, the rolls, alternating them with olives. Rolls salt and smear the softened butter. Bake on preheated grill on the grill until the cheese starts to melt. Rolls sprinkle with sea salt. Serve with grain bread and butter.published
P. S. And remember, just changing your intake, we, together change the world! ©
Source: www.7dach.ru