There is no better holiday than lunch outdoors in nice Sunny weather. Flavorful grilled vegetables, sweet and clear as a tear, ear and delicious pilaf you can cook only outdoors. Someone who appreciates the taste of food impregnated with the delicious scents of smoke, knows that a barbecue in the garden or in the country – a necessary thing. But this pleasure should not burden the owners with unnecessary hassle. Therefore, there are certain rules for choice of place for barbecue.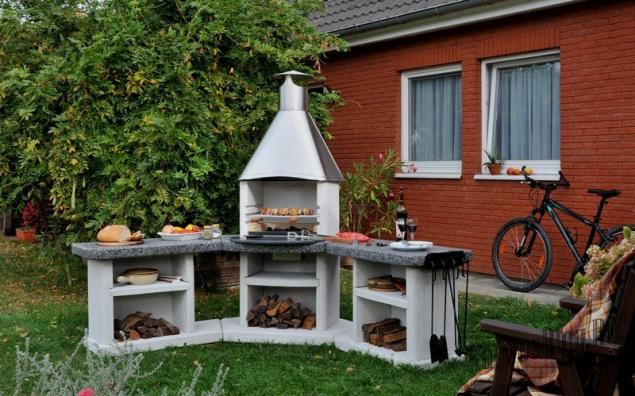 The rules of a grill
do Not place the barbecue under the spreading trees, because intense heat can severely damage them.
For the same reasons of fire safety do not install a barbecue too close to wooden buildings and fences, which can suffer from soot and fire.
The hearth should be placed so that the prevailing winds did not drive the smoke with the sparks in the side of the house and the audience to relax people. Well, if this place is surrounded by a green hedge of shrubs and plants. It also will cover from prying eyes of neighbors on a small garden plot. You can place a small decorative garden with greens and herbs.
If a BBQ is installed on the lawn, the grass will almost certainly be trampled due to active movement of people.
Therefore, the earth around a stationary barbecue is better to pave with tiles or natural stone.
Make sure that on the surrounding space could easily accommodate several people. If not, plan your area so that your guests can move freely around the barbecue.
There are several types of designs of barbecue grills. Prior to construction, and especially design, you need to decide for what purpose You need a barbecue, because this depends directly on its appearance and location.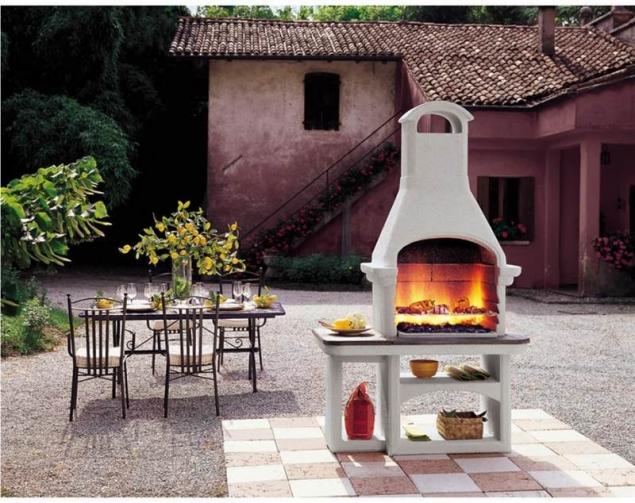 The barbecue
Stationary, the lightweight version will be used exclusively for cooking. It could just be area with oven, grill and a small work surface for cooking. Above it is a canopy to protect from rain and sun. The location of this barbecue must not be too far from the house, easily accessible from the kitchen, as you will need to bring to a BBQ, kitchenware, tableware and water. This is the most low-cost and quick version of BBQ.
Barbecue the complex is a separate structure in the form of a pergola or covered pavilion where there is a place for cooking, and for eating with a large table, and leisure (including active leisure with music). As they say, three in one. Such a structure is not necessarily linked to the house, but rather the opposite place away from him, like a secluded area. This option is barbecue more time-consuming and requires a significant financial investment.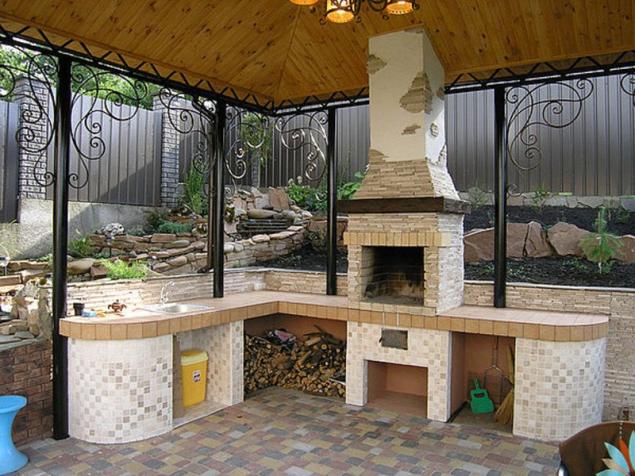 In any case, whatever kind of BBQ you choose, try to make it not only comfortable, may it be a decoration for Your site as one of the main elements of garden design. published  
P. S. And remember, just changing your mind - together we change the world! ©
Source: vk.com/dacha.life?w=wall-83256656_33883