This original table with BBQ in the middle of countertops will delight any company. Each of the guests will be able to monitor the dish cooked on the coals, while not departing from the table. Its design thought out to the smallest detail and the heat from the coals will not interfere with the guests, they don't burn feet under the table on hot metal boxes. Moments of fire safety it also. The details of creating a BBQ table with their hands on.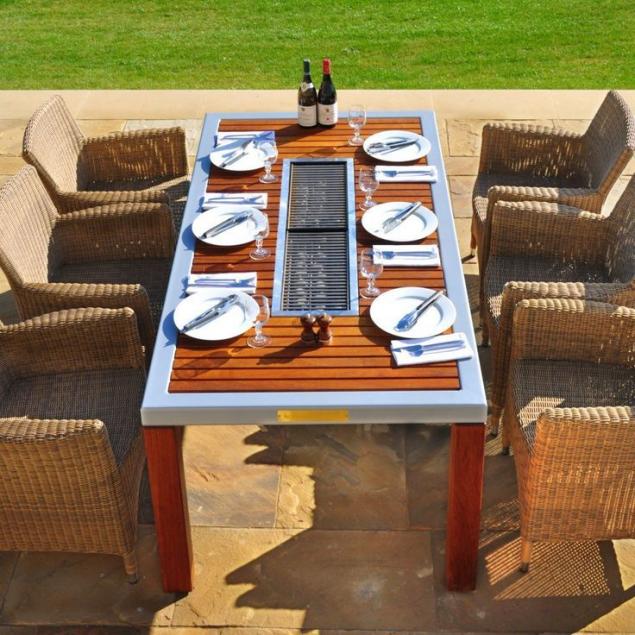 Materials
You will need:  
metal profile square cross-section;
deck boards or plywood;
mineral wool for heat insulation;
fiber cement boards;
varnish for wood;
joiner's glue;
silicone sealant;
paint for wood;
epoxy resin;
the rubber plugs for the table legs;
protective gloves;
protective mask;
magnetic parts;
screws, bolts and nuts;
Bulgarian;
welding machine;
sander;
jigsaw;
screwdriver;
drill and drill bits;
roulette.
Before the beginning of the project you need to illustrate all the details and carefully calculate every inch and dimensions not only of the table as a whole and its constituent parts.
Step 1
. First, you need to cut the profile into components of the frame for the table.
Step 2
. Weld the rectangular base frame. Inside it weld two crossbars at equal distance from each edge.
Step 3
. To cross the inner rail weld two longitudinal, forming the base for a barbecue and a wood lintel in the centre of the table
Step 4
. Using the magnetic angles, weld the table legs to the base, placing them strictly at an angle of 90 degrees.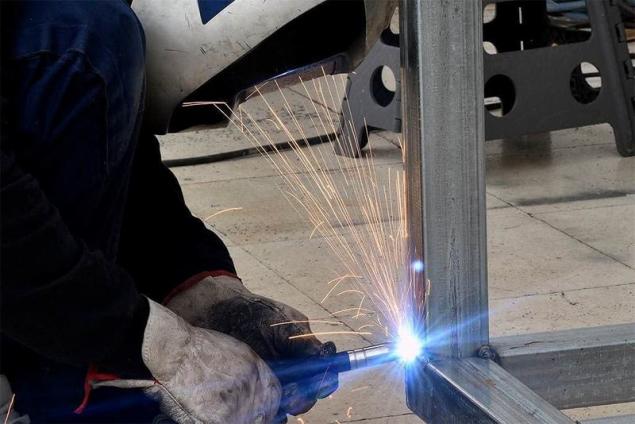 Step 5
. Take a hard nozzle for cleaning of metal and sand the frame in areas of weld.
Step 6
. Of material designed for decks, make a countertop. The material can be durable and water resistant plywood or natural, properly treated wood. The corners of the table cut with a jigsaw, making them rounded.
Step 7
. The edge of the countertop Polish, smoothing out the sharp edges.
Step 8
. In the legs of the table insert the special rubber plugs.
Step 9
. Make a rectangular cutout in the countertop, positioning it exactly in the center.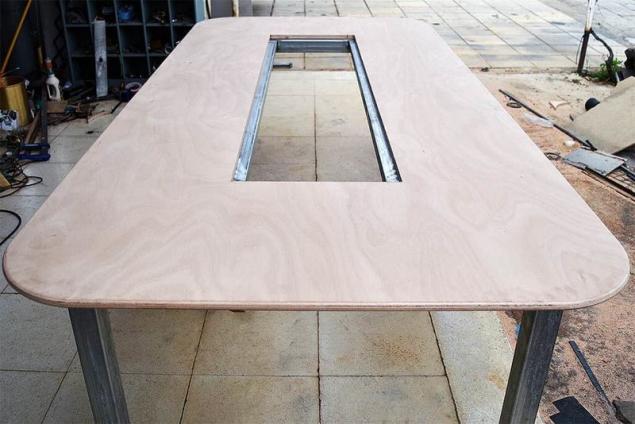 Step 10
. Of metal sheet cut out the base for the box BBQ. Using a hammer and holders, fold it, leading to the desired form. Be sure to make flat the tabs out at the top of the box, due to which it will be locked in the hole of the countertop. Cook box and power trowel welding seams.