From unripe tomatoes good canned food. It can be marinated, stuffed and pickled green tomatoes for the winter, and also eggs or salads. As additional ingredients used carrots, onion, bell pepper, various condiments and hot spices.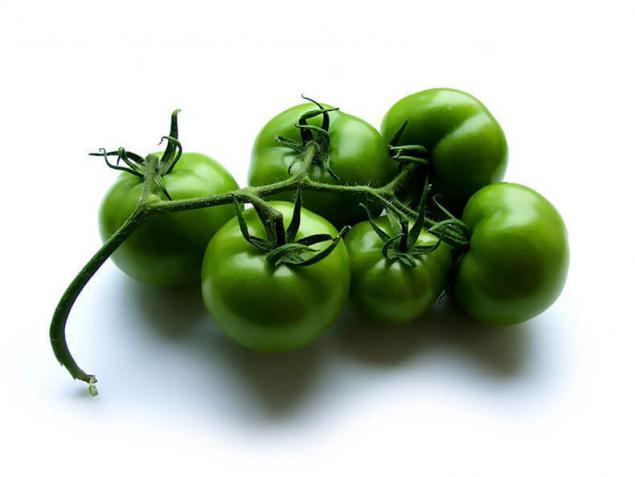 Green tomato "yum"Ingredients (for 3 lbs. of tomatoes):
200 gr. greens: parsley, dill, leaves cherries
(or currants)
100 gr. onions (I in each jar
sliced half bulbs)
1 head of garlic
Fill:
3 liters of water
9 tablespoons sugar
2 tbsp. salt
2-3 pieces Bay leaf
5 grains of allspice
1 Cup 9% vinegar
Vegetable oil (taken at the rate of 1 tsp per quart jar)
These same tomatoes can be prepared with different shading (on 3-liter jar):
1.5 liters of water
1 tablespoon sugar
1 tablespoon of salt
1 tablespoon vinegar
1 tbsp vegetable oil
How to prepare:
Into the jar first, lay out the greens, garlic, vegetable oil. Then tomatoes, and top bow. In the finished fill, add vinegar and pour hot marinade tomatoes. Sterilize 15 minutes.
Green tomatoes stuffed with garlicShading (three-liter jars):
1 liter of water
1 Cup granulated sugar
1 tbsp heaped salt
0.5 cups of 9% vinegar
Horseradish, dill, parsley
How to prepare:
Cut the tomato in several places. In these incisions insert the thinly sliced garlic. I cut the tomatoes in half, and large in four parts. Place green tomatoes in jars, pour hot brine. Sterilize 10-15 minutes from the moment of boiling water. Closed banks flip the lid down, cover with a thick cloth (preferably a blanket) and leave to cool.
My husband is delighted with Green tomatoes stuffed with garlic. Taste sensations among canned tomatoes men gave them first place.
Green tomatoes "drunk"Fill (7 – 700 grams. jars):
1.5 liters of water
4 tablespoons sugar
2-3 tablespoons of salt
3 Bay leaves
2 cloves of garlic
10 peas of fragrant black pepper
5 PCs of clove
2 tablespoons vodka
2 tbsp 9% vinegar
A pinch of bitter red pepper
How to prepare:
Prepared marinade pour tomatoes, sterilize 15-20 minutes and roll. Banks are well stored even at room temperature.
Green tomatoes "delicious"Fill:
1 liter of water
4 tablespoons sugar
3 teaspoons salt
100 gr. 6% vinegar
Sweet bell pepper
How to prepare:
Put the tomatoes and green pepper slices in the jars, twice pour boiling water on the third – the boiling brine and roll. The tomatoes came out very tasty.
I closed these tomatoes in tomato juice, but without adding vinegar. Made from tomato juice, add salt, sugar according to the recipe, and cinnamon on the tip of a knife, boil 5 minutes. Then poured tomato juice, added 1 tablet acetylsalicylic acid (aspirin) in a quart jar and immediately rolled with a lid.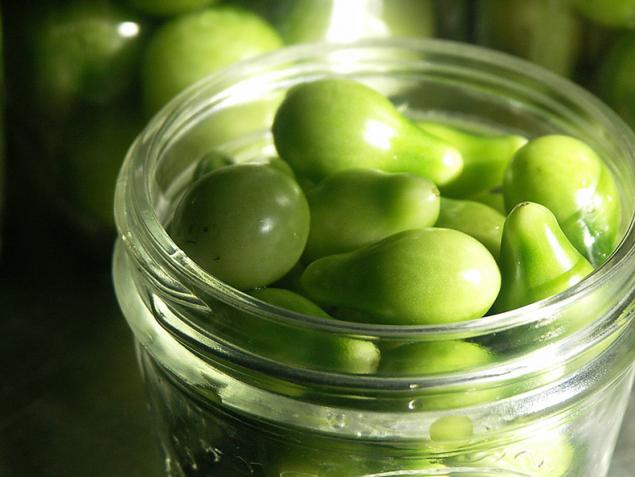 Green tomatoes with gelatin "miracle"Fill (1 liter of water):
3 tablespoons salt
3 tbsp. sugar
7-8 PCs. Bay leaf
20 of allspice
10 pieces of clove
Cinnamon
10 gr. gelatin
0.5 cups of 6% vinegar
How to prepare:
Gelatin pre-soak in warm water for 40 minutes. Make the fill, boil, add gelatin and vinegar, boil again fill. Fill the tomatoes with the filling and sterilize for 5-10 minutes.
I green tomatoes with gelatin never tried it, but heard good feedback. So I closed the two portions: of green and brown tomatoes.
PS no Wonder these tomatoes called "Miracle". It turned out very delicious and my girlfriend loves them.
Green tomatoes cabbageFill:
2.5 liters of water
100 gr. salt
200 gr. sugar
125 gr. 9% vinegar
Spices:How to prepare:
Green tomatoes and cabbage coarsely chop and put in a jar with spices. First time fill with boiling water, let stand for 20 minutes, the second time finished filling. Add 1 aspirin tablet in a quart jar and roll up.
Green tomatoes with apples in a pink pickleFill:
1.5 liters of water
1 tablespoon of salt
5 tablespoons sugar
70 gr. 6% vinegar
Sweet bell pepper
Parsley
Apples
Beets
How to prepare:
In a jar put the tomatoes, a few Apple slices and 2 small pieces of cleaned beets. The amount of beets depends on the rich color of the brine and taste. More than 2 slices of beets do not put, otherwise the brine taste will be astringent.
Pour for 20 minutes with boiling water. Then from this water make the filling, boil it. Hot brine fill the tomatoes and roll up cover. I did a little differently: in order to beet has not lost its color, I added in the fill, were boiled for 5 minutes with vinegar, and then pour in the banks. These same tomatoes can be done without the beets are also very tasty.
Salted green tomatoes in barrels (salting tomatoes)Brine (for 8 litres of boiled and cooled water):
Seasoning (for 10 lbs. of green tomatoes):
200 gr. sugar
200 gr. dill
10-15 gr. pepper (optional)
100-120 gr. black currant leaves or cherry
 
Salt can be green, and ripe brown tomatoes, but always separately. I give the recipe: how to pickle green tomatoes. Saline ordinary way green tomatoes ready to work quite hard. If desired, this can be corrected if before salting blanch the fruit in boiling water for one to two minutes. Washed fruit tightly lay into the prepared container (a barrel or aluminum cookware) together with the spices, which are placed on the bottom of the barrel in the middle and on top and pour sugar. When laying tomato dishes lightly shake and, after filling, pour the prepared brine. The riper and bigger the fruit, the stronger is the brine. Filled a bowl with the tomatoes close tight lid or put a wooden circle with a yoke. Store in a cool place. 40-50 days pickled tomatoes will be ready to eat.
Green tomatoes with sugar in tomato sauce (tomatoes are sweet)Ingredients:
10 kg of tomatoes
200 gr. black currant leaves
10 gr. allspice
5 gr. cinnamon
4 lbs. ripe tomatoes for tomato (or tomato paste)
3 kg. of sugar
Salt – to taste (at least 3 tablespoons)
Here is an unusual method of salting tomatoes: instead of salt you need to take sugar. Take the green (or brown), tomato, sort and put in the barrel, thus: a sheet of currant, allspice, cinnamon, they are on top of the tomatoes and sprinkle with sugar. Thus, make packing, not reaching to edge of container 20 centimeters. The top layer of tomatoes, cover with currant leaves and add tomato paste (made from ripe tomatoes) and sugar. On top put oppression. For this method of pickling green tomatoes, you can blanch it in boiling water a minute or two. For this recipe, you can make canned tomatoes in jars.  
 5 boring potato dishesTzatziki: famous Greek appetizer of cucumbers and yogurtGreen tomatoes (fresh)
Select thick-skinned tomatoes. Cut a little bigger than the salad. Put in jars with a capacity of 0,5 and 0,7 l. cover with cold water and leave to sterilise for 10-15 minutes. Roll up.
Such tomatoes in the winter is good to use for making salad. You open the jar, dump the water, pull out the tomatoes. They add salt, vegetable oil, onion, garlic, greens — fresh tomato salad is ready.
Cook with love ! Bon appetit!
Author: Svetlana Antonova  
P. S. And remember, just changing your mind — together we change the world! ©
Source: i.ovkuse.ru/blogs/kulinarija/podborka-receptov-po-zagotovke-zel-nyh-pomidor.html