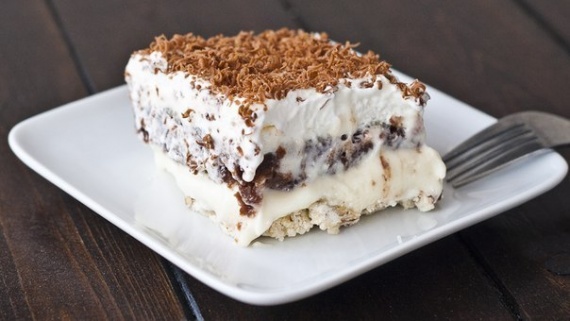 Ingredients:
Basis:
Walnuts (or pecans), chopped - 1 cup
Sugar - 3 tablespoons
Butter - 110 g
Flour - 1 cup
Filling:
First layer:
Cream cheese - 500 g
Powdered sugar - 1 cup
Cream 1 cup for vzbivaniya-
Vanilla pudding:
The dry mixture of vanilla pudding - 144 g
Milk - 3 cups
Chocolate pudding:
Dry mix vanilla chocolate pudding - 144 g
Milk - 3 cups
The last layer:
Whipping cream - 2 cups
Grated chocolate
Preparation:
Heat oven to 175 degrees.
Grease a baking dish with butter.
In a mixer, beat all the ingredients for the base. Put this mixture on the bottom of the dish and firmly tamp it.
Bake for about 20 minutes.
Vanilla and chocolate pudding with milk cook according to the package instructions (each separately). In a mixer, beat the cream cheese, powdered sugar and a glass of plum to air condition.
Cool basis. Spread the cream cheese layer. Top chocolate and vanilla pudding.Sverhu Put whipped cream and sprinkle everything with grated chocolate. Put in the fridge for a couple of hours and serve.