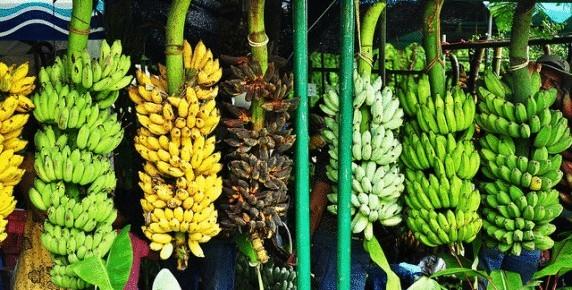 Banana is one of the oldest cultivated plants. The birthplace of the banana are the Islands of the Malay archipelago, where the inhabitants used bananas in addition to fish food. Island living and active navigation, give the bananas a opportunity to spread throughout Southeast Asia and very fast to get to India where they flourished and where they started their journey around the world.
The banana history
the First records of bananas are found in 5-6 centuries BC in the Buddhist canons. In the Indian ancient books of the Mahabharata, and the Ramayana tells of the Buddhist monks who drank the drink from bananas. Useful properties of bananas described in the 4th century BC the Greek philosopher and botanist Theophrastus. Roman writer Pliny the Elder describes the tasting of bananas Alexander the great in his Indian campaign of 327 B. C. E. the Macedonian and brought the seeds of bananas to Europe. But the real expansion of the tasty fruit back to the time of Arab colonization in the 7th century ad the East coast of Africa was heavily planted with bananas in the first Millennium, and by the 14-15 centuries bananas were growing on the Western coast of the black continent, in South America and the Caribbean. Curiously, until the late 19th century, bananas were exotic, available to Europeans only during visits to the countries where they grow bananas. The fact that the banana – perishable goods, and to bring the bananas by sea long before Europeans were required to maintain in the holds the temperature about 14 degrees. Only in the second half of the 19th century, after the invention of the industrial refrigerator, the bananas started to bring to the markets of Europe and the United States.Now the bananas are grown in almost all countries with humid tropical climate. Leaders in export of bananas many years are India, Philippines, China, Ecuador, Brazil, Indonesia, Tanzania, Guatemala, Costa Rica, Mexico, Colombia, Vietnam, Thailand and Egypt.
Use bananas
Dessert bananas contain large amounts of carbohydrates, vitamins and minerals. In bananas a lot of phosphorus and calcium, iron and carotene, vitamins B1, B2, PP, ascorbic acid, tryptophan, methionine and lysine. Tryptophan, lysine and methionine — essential amino acids, not synthesized by the human body.Lysine supports heart health and is necessary for proper calcium absorption and collagen helps to restore bone and cartilage tissue after heavy loads, injuries and operations.Tryptophan is involved in the complex process of internal synthesis and metabolism and is a natural antidepressant, reduces anxiety and stress, lowers pain sensitivity and helps to induce natural sleep (but not drowsiness).Methionine is a powerful antioxidant that helps to reduce fatty deposits around the arteries, affects the hair growth and skin condition. Methionine is an important element of the liver, enhances the action of vitamins and hormones, involved in the synthesis of adrenaline.
Varieties of bananas
All bananas are divided into two broad categories – sweet and platano (plantains), which require heat treatment. Platano bananas are green or reddish rind, unsweetened, hard, starchy flesh. They are steamed, boiled or fried, but most of platano are fed to livestock.Dessert bananas are descended from one ancestor, extracted artificially in the late 19th century.
In total there are about 500 cultivated varieties of bananas.
Most of them grow in one place in La Lima, Honduras – more than 470 kinds of bananas in a limited area. Interestingly, until the 19th century, all the bananas had large black seeds, and only the last 100 years, we can enjoy the fruits of breeding seedless.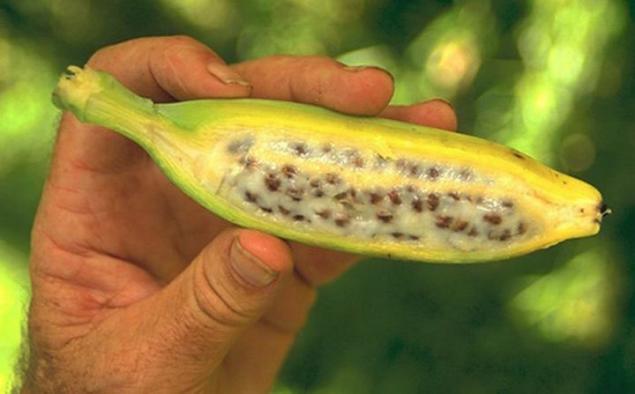 Modern varieties of bananas got beautiful names:
• Lady finger or Lady fingers. The fruit of 10-12 cm long, light yellow with bright brown stripes and with a thick skin. In one 12 to 20 bunches of fruit pulp is very sweet.
• Dwarf Cavendish. Fruit of medium size, bright yellow color, with thin skin. On the rind of a ripe fruit is visible hardly noticeable brown spots. Grows in Western and southern Africa and the Canary Islands.
• Giant Cavendish. The fruit is larger and with thick skin. Grows in Colombia, Australia, Ecuador, Taiwan, Hawaii and Martinique.
• Gros Michel. One of the most popular of Europe's top-selling varieties of bananas. The fruits are large, rounded, with a thick rind of yellow color and delicious sweet flesh. High content of starch. Cultivated in Central America and Central Africa.
• Lacatan. The length of the fruit is 15-20 cm tall from The family of bananas. Grows in Asia.
• Valerie. When cooking hardens and resembles a wax.
• Robusta. Similar to Lakatan. Is grown in the Caribbean, Brazil, and Australia.
• Mysore
. The main varieties of bananas in India. Fruit of medium size, with thin skin and sweet-sour taste of the pulp.
• Rajapuri. Large and very sweet fruit. Grows in India.
• The ice cream. Large fruit 17-23 cm, with a bluish silver tint of the peel of the immature and light yellow in color ripe. Grown in Central America and the Philippines.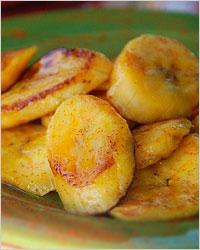 Where, how and what to cook bananas
Bananas are eaten fresh, added to desserts, pastries, ice cream, smoothies, prepare them liqueurs and garnishes.Caribbean bananas are boiled in their skins, adding vinegar, salt, pepper, olive oil, onion and garlic. In Costa Rica bananas make a thick syrup. In Latin America is popularly blademasters – ripe peeled platanos cut into slices, sprinkle with salt and fry in oil until crisp. A similar dish is known in Cameroon. Differences are only in oils and roasting. In restaurant kitchens often use olive oil or grill.In Venezuela the dish is prepared yo-yo. Between two slices of fried banana, put a slice of soft cheese and fasten with a skewer.
In Peru, prepared chappo.
With green platanos peel, boil 20 minutes and pounded. The resulting puree is chappo. Instead of platanos you can take the dessert bananas and then it will be sweet, chappo.On the Islands of Polynesia bananas are baked whole in the skin on the coals. Sometimes the bananas are cooked, slice them lengthwise, laying between the halves of coconut or coconut cream and wrapped in banana leaves. In this case, the bananas are baked in clay ovens.
In côte d'ivoire preparing a meal, aloko. Slices of banana fried with tomatoes, onion and red pepper in palm oil. Served with grilled fish. In West Africa, the bananas serve as a side dish to tuna or prawns, and in Ghana from banana pancakes, mixing the pulp with bananas, cornmeal, onion, ginger and pepper. These pancakes are called fatal. In the same region of bananas make Fufu stew. The stew is served with cold soups.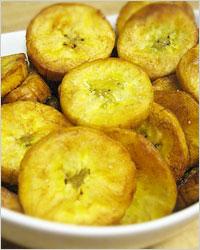 In the Philippines, prepare banana ketchup, which appeared during the Japanese occupation in the 40s of the 20th century as a replacement for the beloved residents of American tomato ketchup. Composition in addition to banana puree is vinegar, sugar, spices, and red food coloring.In USA very popular banana dessert with fresh banana slices, stacked on a plate with ice cream and whipped cream. Bananas are often part of baby food, mixtures for baking cakes, are used in jams, surrogate coffee, in ice cream. From cooking bananas chips, bananas, dried like figs or dates, and get a great nutritious "fruits".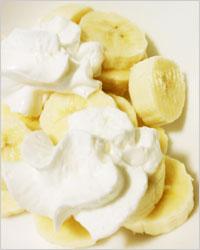 Of bananas serves wine and beer, liqueurs and tinctures. The young shoots of the banana are used in Indian cooking, for example, in the preparation of curry sauce.
Recipes with bananas
Banana cake
Ingredients:
For the dough:
• 2 tbsp. flour
• 200 g butter,
• 3 tablespoons water
• ¼ Teaspoon salt
• 1 egg selects syrup:
• ¼ Cup water
• ½ Cup sugar
• 2 g vanilla shards toppings:
• ½ Cup jam
• bananas.Preparation:
Oil mash, add the flour and the water with dissolved in it salts. Knead the dough and put in the cold. 2/3 of dough roll out to a thickness of 5 mm and fold up like a puff, ends inside. Repeat folding the dough two more times. Roll out the dough into a cake thickness of 5-8 mm and place on a baking sheet or form. Edges brush with egg yolk and bake the cake for 15 minutes. After baking, cover the cake with a layer of jam. Sugar and water boil syrup, add vanilla sugar. The banana slices down into the syrup for an hour, and then put on the surface of the cake.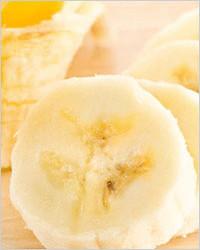 Curd pudding with bananas
Ingredients:
1 kg of cheese,
2 eggs,
3-4 tbsp. spoons of sugar,
5-6 tbsp. spoon semolina,
2 bananas,
2 tbsp raisins,
1 tbsp of sour cream.Preparation:
Cheese spread with raw eggs and sugar, add semolina and stir until smooth. Small pieces of peeled banana and add washed raisins in the dough. Mix well. Put the dough in shape, smooth, grease cream and put in preheated oven to bake until Golden brown. Serve the casserole hot, filing in a separate bowl the sour cream.
Pancakes with banana
Ingredients:
2 bananas,
1 Cup of flour,
2-3 tbsp. spoons of sugar,
1 teaspoon baking powder,
½ Tsp salt
¼ Teaspoon soda,
¾ Cup milk
50 g butter,
1 egg,
vegetable oil for frying
maple syrup,
bananas glaucescent.Preparation:
One banana mash with a fork, the second cut into cubes and set aside. In a bowl mix the flour, sugar, salt, baking powder and soda. To the mashed banana add milk, oil and egg. Whisk the banana mixture until smooth and pour into bowl with flour. Stir until smooth. Add the diced bananas. Fry pancakes on medium heat in vegetable oil. Serve pancakes hot with maple syrup. Garnish with slices of bananas.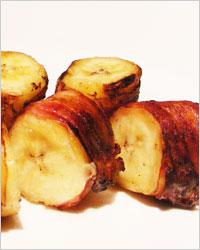 Pork with bananas
Ingredients:
500 g pork fillet,
4 banana,
1 mango,
1 pod of red pepper of Chile,
12 slices of bacon,
30 g butter,
20 grams green coriander (cilantro),
1 tbsp lemon juice
Black pepper,
Salt.Preparation:
Meat wash, dry. Fry in melted butter in one piece, pepper, and salted at the end of cooking. Add 125ml water, cover and cook 15 minutes. Wrap the meat in foil and bake 15 minutes in preheated oven. Peel the mango, finely chop, season with salt and pepper and purée in a mixer or blender. Clean the chilli seeds and mix with mango. Bananas cut into large pieces, wrap in bacon and fry in a dry frying pan for 2-3 minutes on each side. Meat cut into portions, serve with bananas, bacon and mango puree. Dish garnish with chopped coriander.
Banana bread
Ingredients:
150 g butter,
160 g icing sugar,
3 eggs,
3-4 banana,
½ Vanilla pod or vanillin on a knife tip,
350 g wheat flour
1 teaspoon baking powder,
¼ Teaspoon sea salt
100 g chopped nuts
125 ml milk
butter – for greasing form.Preparation:
Preheat the oven to 170 degrees. The butter, sugar, beat to a foam and gradually add the eggs. Bananas crush them with a fork and RUB through a sieve. Mix with butter-sugar mass. Remove the seeds from the vanilla pod by cutting it lengthwise. Sift flour, add to it the nuts, baking powder, salt, mix with milk and banana puree. Lubricate the form of butter. Place in a baking mix and bake for 50 minutes at 170 degrees on the middle shelf. Bread ready to be put on a rack and allow to cool.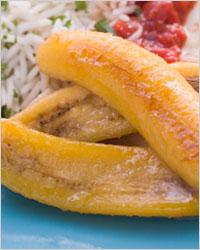 Chicken with bananas
Ingredients:
1 chicken,
1 Cup of rice,
2 cups water
1 bunch parsley,
1 head of garlic,
2 bananas,
30 g butter,
2 tbsp. spoons of breadcrumbs,
vegetable oil for frying
black pepper,
salt.Preparation:
Chicken wash, dry. Cut into portion pieces, add salt, pepper and make the meat small incisions. Prepare minced parsley and garlic, feed it meat punctures in the chicken. Preheat a deep frying pan butter, put the chicken pieces and fry until cooked. Cook rice. Bananas, peel, cut lengthwise, roll in breadcrumbs and fry in butter on both sides until Golden brown. Place on a large dish of rice, put the chicken pieces and around the edges arrange the fried bananas.Bananas are healthy, flavorful, delicious, nutritious and very simple food. Bananas are perfectly combined with meat, fish, vegetable and dessert sweet food. Don't be afraid of new combinations, and pretocopheryl! Alexei Borodin
Source: kedem.ru/glossary/fruits-veget/20120720-banan/